Corner St. Donuts in the old Taco Time building as seen from Alder Street. Danielle Bailey, who co-owns the donut shop with her husband James, said the location is perfect.
September 16, 2022
Stories this photo appears in: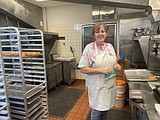 September 20, 2022 1:05 a.m.
Sweet and savory treats now freshly baked in Moses Lake
MOSES LAKE — Danielle Bailey and her husband James had a simple idea: Moses Lake needed a donut shop. "I have lived in Moses Lake my whole life," Bailey said as she sat in the very pink, blue and white interior of Corner St. Donuts. "I have very fond memories of Donut Depot back in the day. I used to go in there with my grandfather and play on the stools and hang out." Donut Depot was a gathering place, Bailey said, the center of a community where people came to visit. And she wanted to create something like that, a place where grandparents and parents can bring their children and make those same kinds of memories. So when the old Taco Time at the corner of Third Avenue and Alder Street closed and the building became available, Bailey said the opportunity was too good to pass up. "This was a good location, and definitely a need for it in Moses Lake," she said.
---