Donut time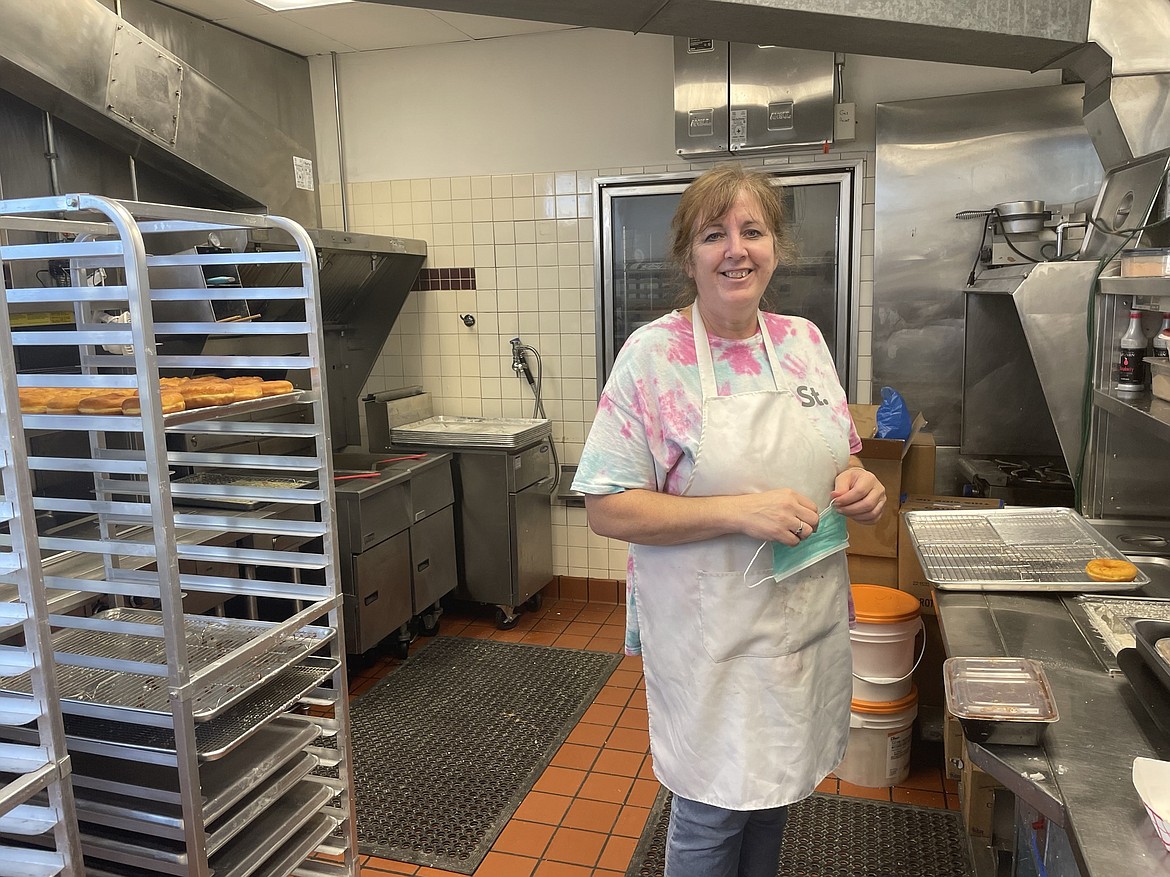 Danielle Bailey stands in the kitchen of Corner St. Donuts after a long day of baking, icing and selling donuts. Bailey opened Corer St. in the old Taco Time building at the corner of Alder Street and E. Broadway in downtown Moses Lake because the city needed a donut shop, and because she also had fond memories of going to Donut Depot with her grandfather and father and wanted to give other people the opportunity to make those kinds of memories as well.
Charles H. Featherstone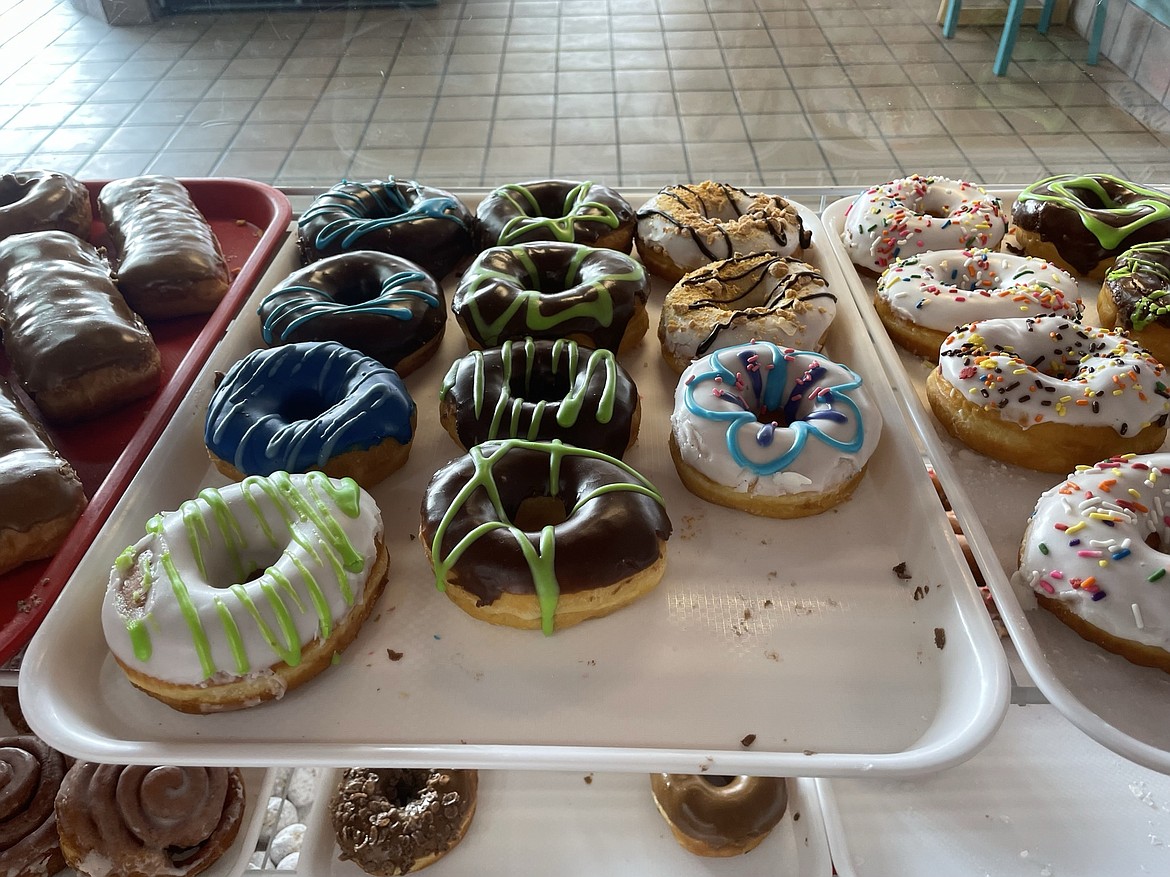 Glazed donuts sit waiting to be bought and eaten in the Corner St. Donuts display case.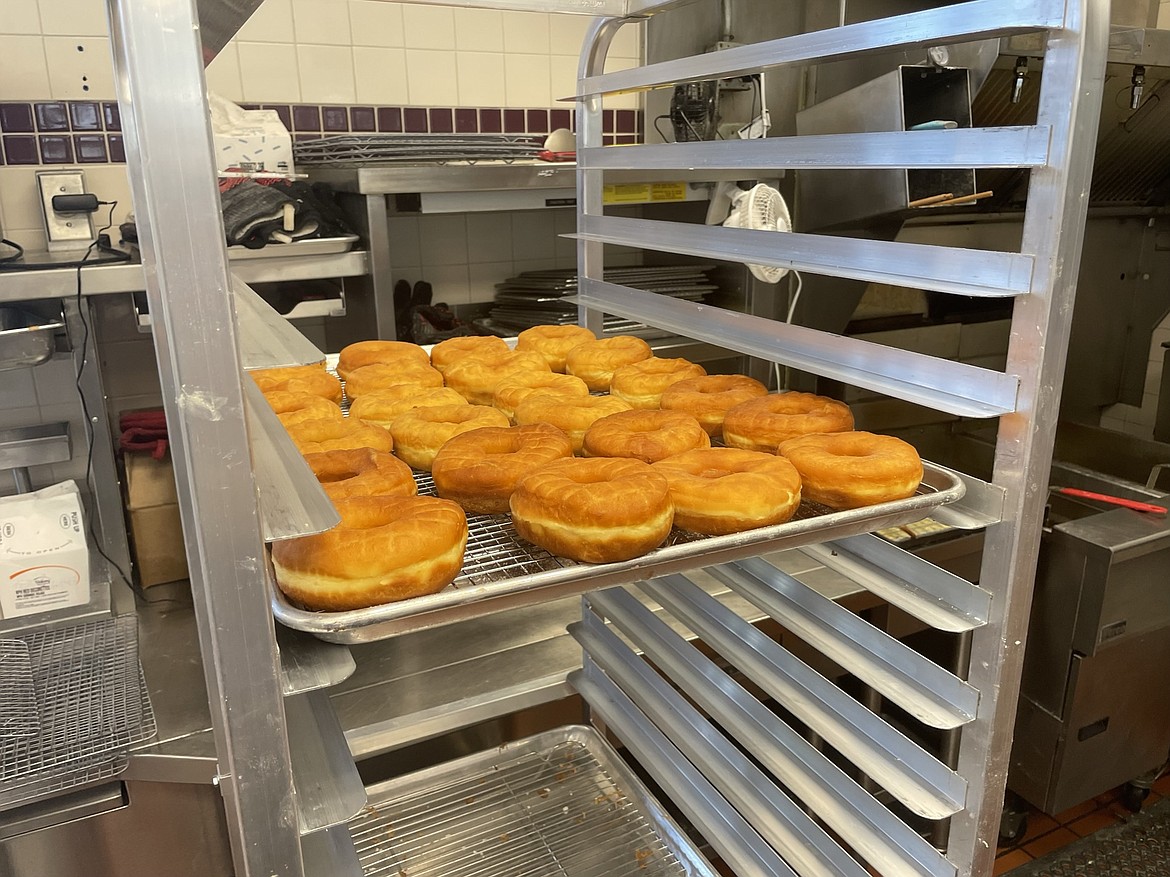 Freshly fried donuts await icing in the kitchen of Corner St. Donuts.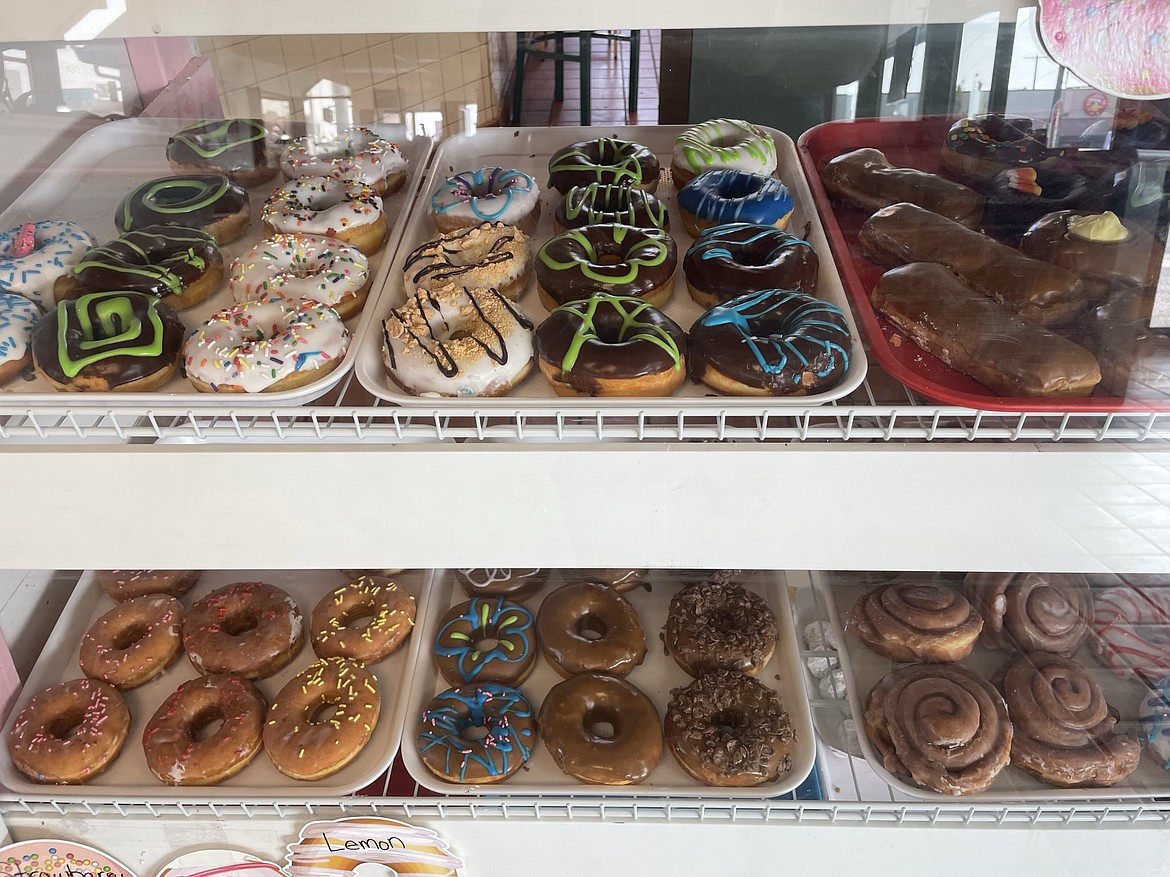 Glazed donuts sit waiting to be bought and eaten in the Corner St. Donuts display case.
Corner St. Donuts in the old Taco Time building as seen from Alder Street. Danielle Bailey, who co-owns the donut shop with her husband James, said the location is perfect.
Previous
Next
by
CHARLES H. FEATHERSTONE
Staff Writer
|
September 20, 2022 1:05 AM
MOSES LAKE — Danielle Bailey and her husband James had a simple idea: Moses Lake needed a donut shop.
"I have lived in Moses Lake my whole life," Bailey said as she sat in the very pink, blue and white interior of Corner St. Donuts. "I have very fond memories of Donut Depot back in the day. I used to go in there with my grandfather and play on the stools and hang out."
Donut Depot was a gathering place, Bailey said, the center of a community where people came to visit. And she wanted to create something like that, a place where grandparents and parents can bring their children and make those same kinds of memories.
So when the old Taco Time at the corner of Third Avenue and Alder Street closed and the building became available, Bailey said the opportunity was too good to pass up.
"This was a good location, and definitely a need for it in Moses Lake," she said.
You would never know that Bailey had little experience making donuts before opening Corner St. Donuts, having done little more than the kinds of baking most people do when they cook at home. She said they spent some educating themselves, and learning for her sister — who is a baker — before taking the plunge.
Demand was huge when they opened in July, Bailey said, and they struggled to keep up with the sheer demand for donuts, and oftentimes an afternoon trip to Corner St. Donuts found the shop's shelves bare and empty during the mid-summer.
"We were selling out fast. It was just a huge influx of people, you know, a new thing in Moses Lake, which was so exciting and a little bit overwhelming," she said.
In fact, demand was so strong in the first few weeks Bailey said donuts were going out the door hot with their sugar glazes barely set.
"We were telling people, your icing hasn't set up and your donut is still hot. So be careful. You know, but that's a good donut too," she said. "But yeah, we've kind of balanced out with that first initial flood now and we have a steady flow."
That steady flow is both customers and donuts, and now you can wander in around 2 p.m. and still expect to find a good selection of donuts on hand. Right now, Bailey said, it's all yeast donuts — fluffy raised donuts slathered with various kinds of sugar frosting, cinnamon rolls and fritters — but she hopes to expand to cake donuts — like old fashioned donuts that don't use yeast to make the dough rise — once a part for a piece of kitchen equipment they are waiting for arrives.
"You can do a lot more with the flavors," she said. "You can add so much to the batter. You can't do as much with the yeast because it affects the yeast."
Bailey said some of the cake donuts she would like to do involve adding strawberry, blueberry and even pumpkin spice, and even making buttermilk bars.
"A lot of people are requesting the cake doughnuts," she said.
However, none of this has stopped Bailey and her husband — who comes in at midnight to start making donuts — from experimenting, particularly with salty and savory toppings, like the chocolate-glazed donut covered with crushed potato chips.
"We just are kind of going with the sweet and salty, you know, the savory flavors. Just trying different things, seeing what will work," she said.
Now that things have begun to settle, Bailey is thinking about the future, both near-term and farther out. October is National Donut Month, and she'd like to celebrate that by rolling out some special holiday donuts, special donuts decorated for Halloween and different flavors for Christmas. They are still working to perfect the balance of air temperature in the kitchen while donuts rise and frying temperature, Bailey said.
"It's fun," she added. "We're still plugging away at it."
She also said she is looking at breakfast sandwiches in the future — donut-based, of course — as well as a lunch menu at some point that would include corn dogs, hot dogs and french fries. Bailey also said she kept the white butcher paper on the tables, each with a small bucket of markers, to allow kids and adults to doodle and draw while they eat donuts together. Bailey also said they are looking at expanding their hours — right now, they are open from 6 a.m. to 3 p.m. Monday through Friday, and 7 a.m. to 3 p.m. on Saturday — in order to catch children coming home from school.
She even joked about possibly opening a daycare inside her donut shop because she likes seeing young people come in her shop.
"I keep teasing people that I'm going to do a doughnut and daycare," Bailey said. "Playing with the babies for a while, sugar them up and send them on their way."
Charles H. Featherstone can be reached at cfeatherstone@columbiabasinherald.com
Corner St. Donuts
203 E. Broadway Ave.
Hours
M-F 6 a.m. - 3 p.m.
S 7 a.m. - 3 p.m.
Recent Headlines
---