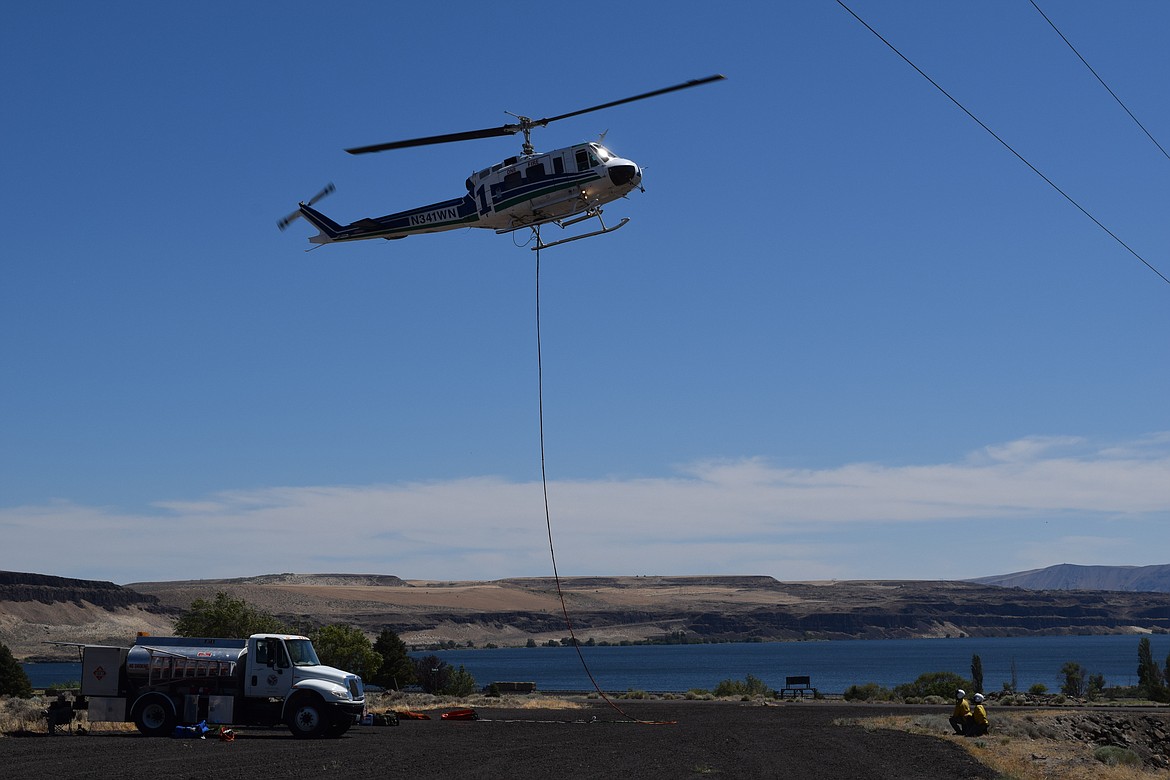 A helicopter takes off from the gravel lot in front of the fire station in Vantage. The line attached to the bottom of the aircraft is attached to a bucket used to pull water from the nearby Columbia River to dump on the fire.
August 2, 2022
Stories this photo appears in: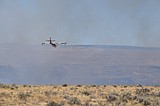 August 2, 2022 5:40 p.m.
Blaze impacts about 8,000 acres so far
VANTAGE - A fire is burning on the western side of the Columbia River north of Vantage along the Vantage Highway, leading to the mobilization of state resources to combat the roughly 10,500-acre blaze which threatened about 40 structures Monday. "We have resources from all across the state because this is a state mobilization fire now," said Grace DeBusschere, public information officer with Kittitas Fire District 7. "We have (Washington State Department of Natural Resources) ground resources from all across the state. We have local fire district resources and mutual aid partners." A small amount of Bureau of Land Management land is also involved in the fire, so BLM staff are on hand to assist as well, along with Department of Fish and Wildlife responders. The state mobilization order, authorized by Washington State Patrol Chief John Batiste at the request of Kittitas County District 4 Fire Chief William Rose, allows those additional resources to respond to the fire, DeBusschere said. Efforts to contain the blaze, which caused a haze of smoke across much of northern Grant and Kittitas counties, include aerial firefighting apparatus such as planes and helicopters. Boats with first responders aboard could also be seen from the Frenchman Coulee area moving around the area impacted by the fire, which she said was spreading in a northerly direction as of Monday at about 2 p.m. No cause has been identified for the fire at this time; however, it is thought to have started around 1 p.m. Monday. The fire caused the evacuation of the city of Vantage, along I-90 on the east end of the bridge over the Columbia River. No injuries or structure losses have been reported at this time, DeBusshere said...
---