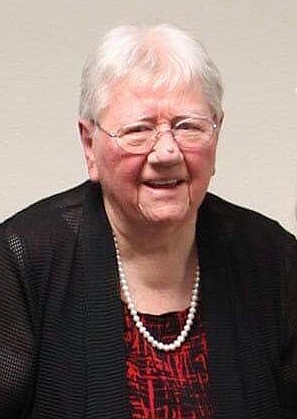 Stories this photo appears in:

August 1, 2022 1:03 p.m.
July 2, 1926 - July 21, 2022
Cletta Maurine Deines was born July 2, 1926 and passed away July 21, 2022 at the age of 96. Born in Pratt, Kansas to Orin Atherton and Wightie (Gibbs) Atherton, she was raised there with two brothers (Ralph and Dick) and four sisters (Marge, Doris, Shirley, and Peggy), all of whom preceded her in death. At the age of 12, Maurine dedicated her life to Jehovah God and was baptized as one of Jehovah's Witnesses. This decision guided every aspect of her life for the next 84 years. In 1944, when Maurine was 18, her parents moved the family to Milton-Freewater, Oregon, before settling for a while in Kennewick, Washington. It was in Kennewick that she met Zeke Deines. They married in 1945 and had four children: Susanne, Deborah, Sandra, and Brian.
---