Cletta Maurine Deines
Cletta Maurine Deines was born July 2, 1926 and passed away July 21, 2022 at the age of 96. Born in Pratt, Kansas to Orin Atherton and Wightie (Gibbs) Atherton, she was raised there with two brothers (Ralph and Dick) and four sisters (Marge, Doris, Shirley, and Peggy), all of whom preceded her in death.
At the age of 12, Maurine dedicated her life to Jehovah God and was baptized as one of Jehovah's Witnesses. This decision guided every aspect of her life for the next 84 years. In 1944, when Maurine was 18, her parents moved the family to Milton-Freewater, Oregon, before settling for a while in Kennewick, Washington. It was in Kennewick that she met Zeke Deines. They married in 1945 and had four children: Susanne, Deborah, Sandra, and Brian.
Maurine enjoyed her years as a homemaker, taking pride in her vegetable gardens and flowers. You could often find her sitting out in the garden pulling those pesky weeds. Her family enjoyed her cooking and benefited from her seamstress skills, but her real love was building things (yes, it's true!). She thoroughly enjoyed the planning, measuring, purchasing, and construction phases of any project she would undertake; ranging from storage sheds, making partitions in a bedroom so the kids could each have their own space, and much more. She also had a love for reading and jigsaw puzzles. Her grandchildren still have some of the stuffed animals she crocheted for them.
When Zeke became disabled in 1966, Maurine's role changed to working outside the home to make ends meet. She started working in potato processing plants, beginning with Country Gardens in Pasco. Along with some of the kids, she also picked fruit and pruned grapes. In 1977, Zeke and Maurine moved to Moses Lake, WA. She worked at Basic American Foods there for 11 years, then retired after a total of 22 years of processing potatoes.
In addition to her parents and siblings, Maurine was preceded in death by her husband of 53 years, Zeke, and her son, Brian. She is survived by her three daughters, Sue Deines, Sandi Deines, Debbie Weber, and son-in-law Ernie Weber. She also leaves 6 grandchildren (Steve, Stephanie, Michelle, Kelsi, Cade, and Tristina), as well as 11 great-grandchildren and two great-great-grandchildren.
Thank you to the wonderful staff at Avamere Assisted Living Facility in Moses Lake for your care of Maurine over the last 6 years. Extra hugs for Jodi, Kelly, Anthony, both Lauras, Joy, Tannis, and especially Peg – you are a gem!
A memorial of Maurine's life will be held over Zoom on August 20, 2022.
Psalms 37:11 says, "But the meek will possess the earth, and they will find exquisite delight in the abundance of peace." See you then Grandma, when there will be true peace on earth!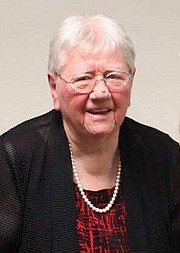 Recent Headlines
---