Honoring service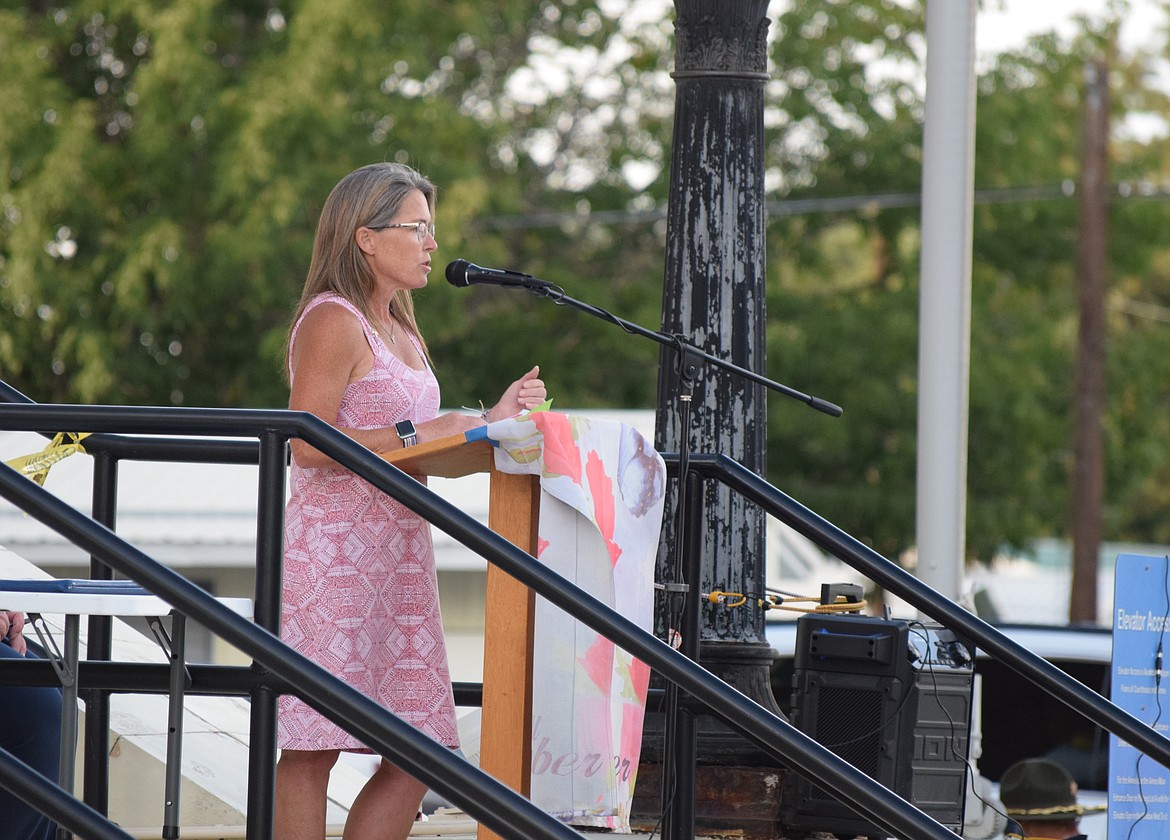 Keirsten Lyons, director of the Washington State Fallen Heroes Project and a Gold Star mom, speaks during Monday's Patriot Day event at the Grant County Courthouse in Ephrata. Lyons said her son, Jake, was killed while serving in Afghanistan in 2014 and she and the organization she heads make it their goal to ensure those who have fallen in service are always remembered.
R. HANS MILLER/COLUMBIA BASIN HERALD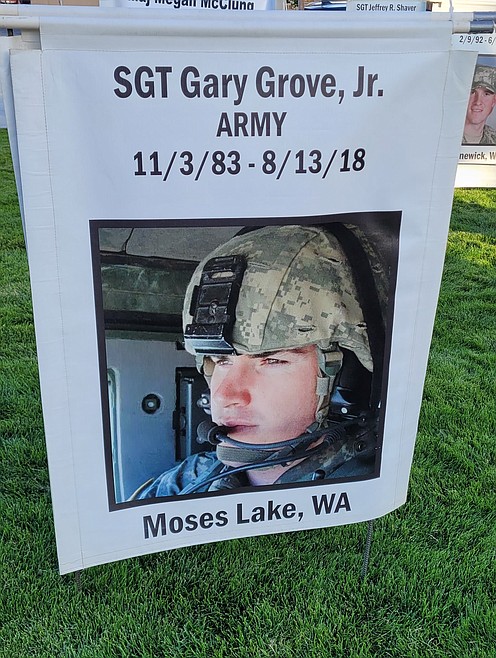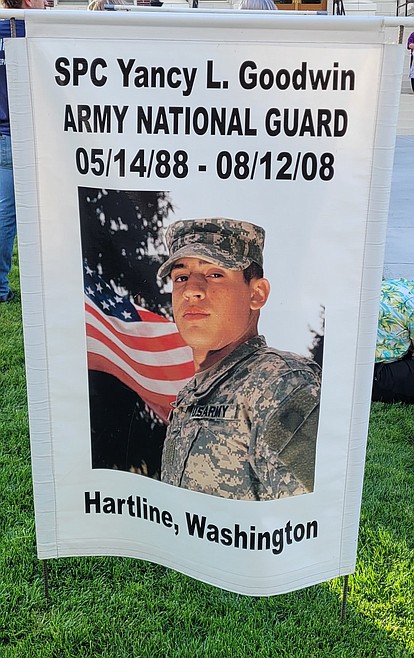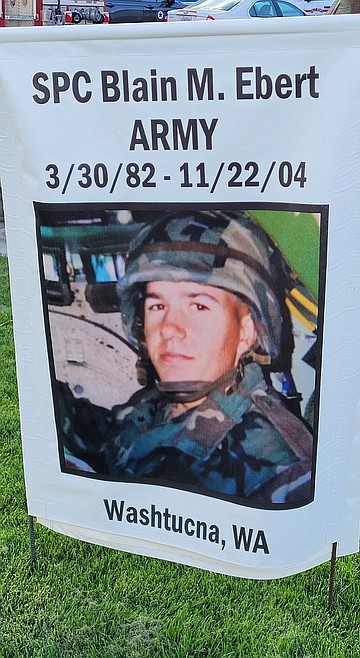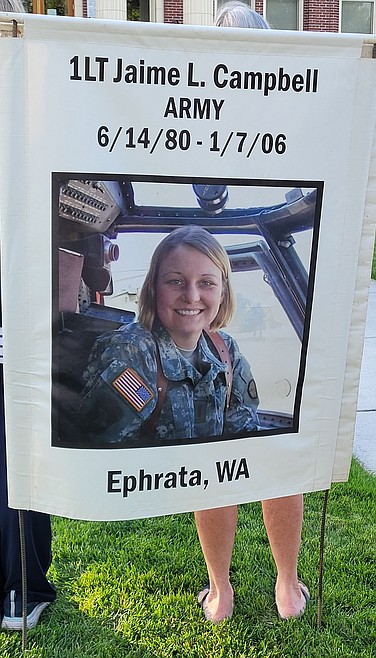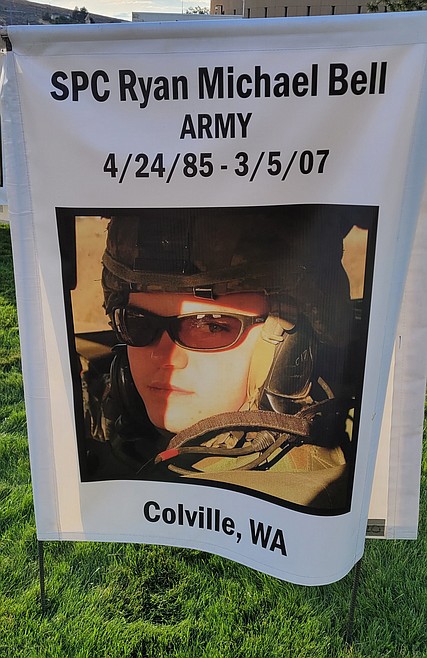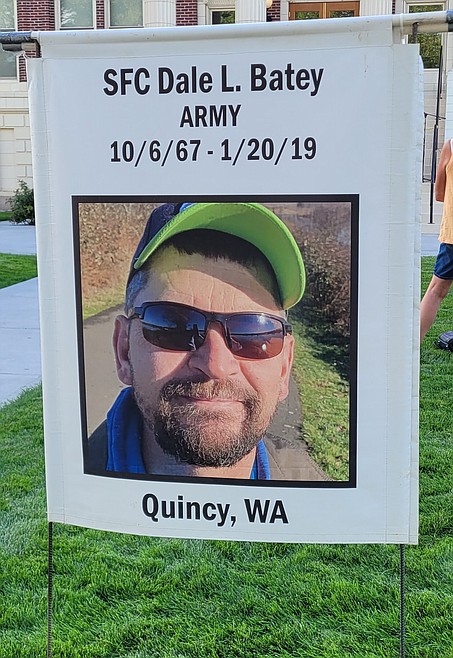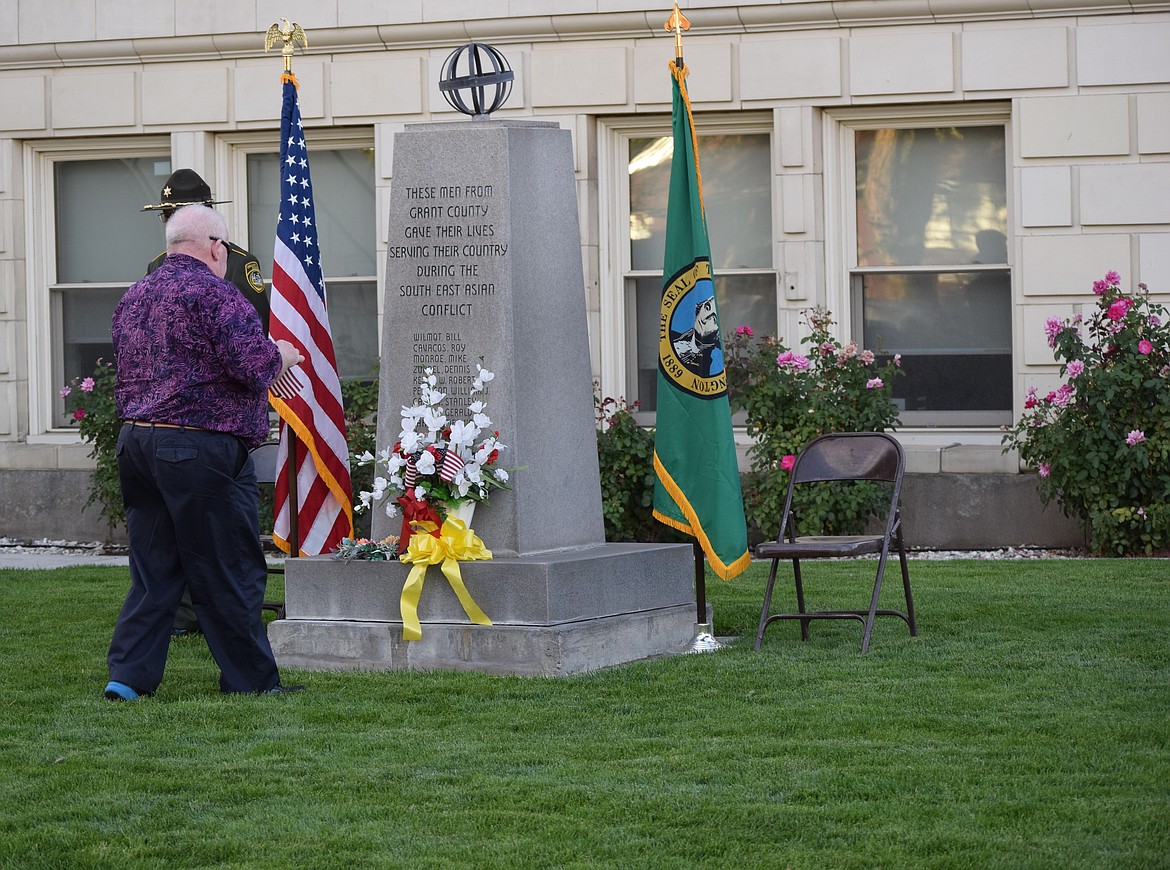 Ephrata Mayor Bruce Reim places a flag in a vase in honor of those who served in the military during one of the United States' seven major military conflicts. The memorial the vase is positioned on lists the names of Grant County service members who were killed during the Vietnam War.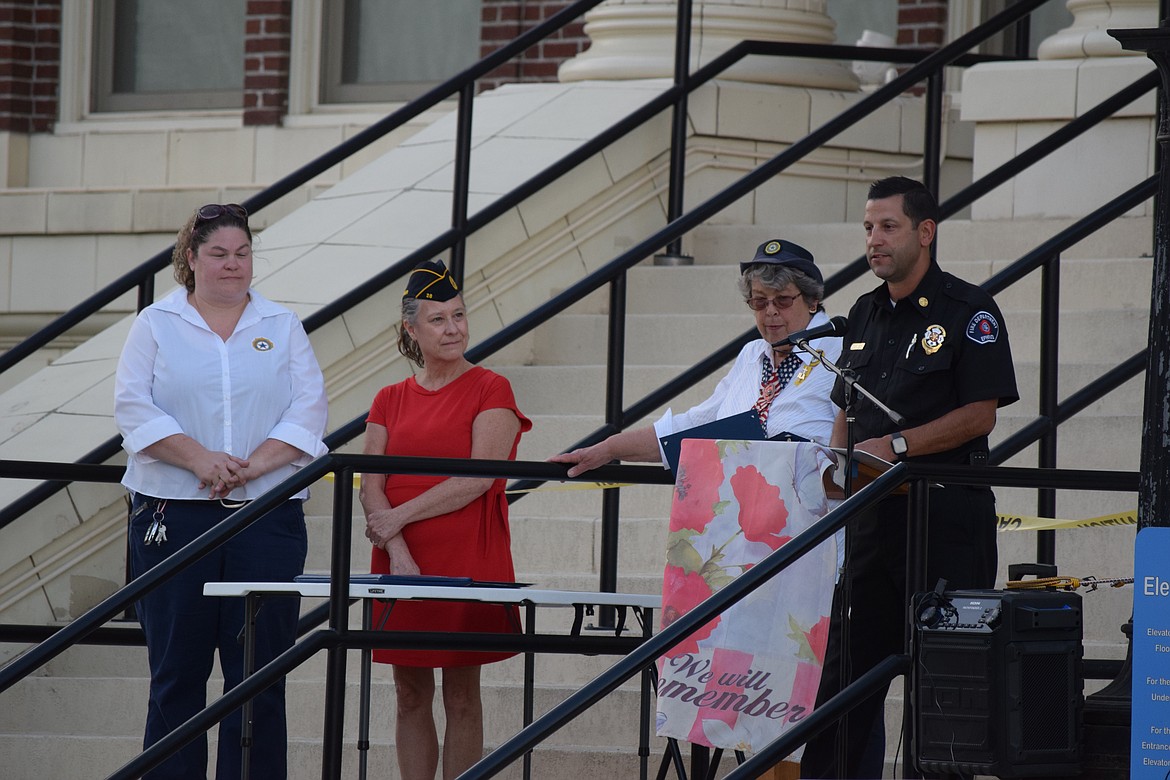 Members of the Ephrata American Legion Post Auxiliary stand in the background as Ephrata Fire Chief Jeremy Burns delivers comments.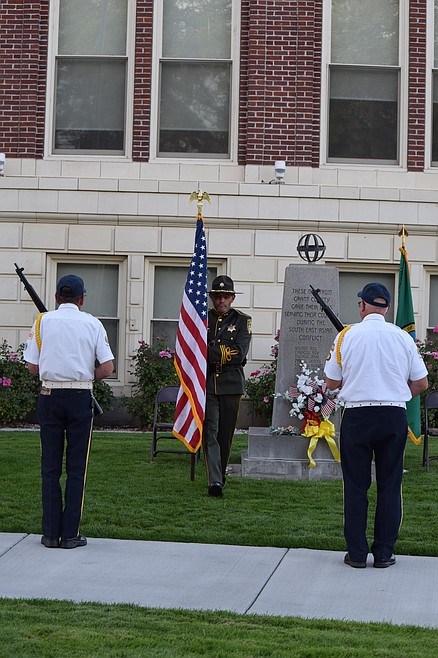 A Grant County Sheriff's Office officer performs his duties as part of the honor guard Monday, flanked by Legionnaires from the Ephrata American Legion post's honor guard.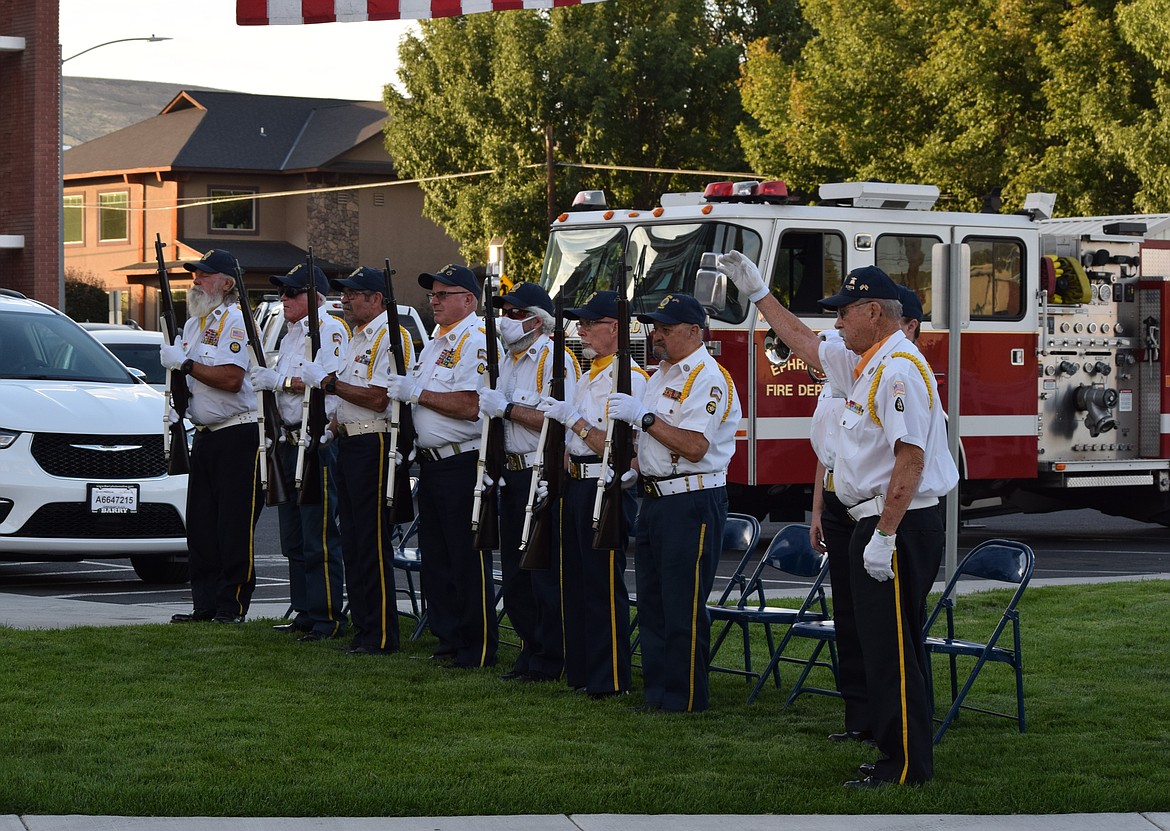 American Legion Post 28's Honor Guard stands at attention prior to a ceremonial 21-shot salute during Monday's ceremonies.
Previous
Next
by
R. HANS MILLER
Managing Editor
|
September 14, 2023 1:30 AM
EPHRATA — Dozens of residents, city officials and first responders showed up at the Grant County Courthouse in Ephrata on Monday to join the American Legion Auxiliary, Unit 28, and Legionnaires in remembering those lost Sept. 11, 2001, and in the various conflicts and emergencies since that day.
"None of us will ever forget what happened in America 22 years ago today," said Post Commander Kim Thomas. "The lives of more than 3,000 of our fellow citizens of the United States and other nations were tragically taken in the most horrific act of terrorism ever committed against our nation."
The event featured a variety of speakers including Ephrata Mayor Bruce Reim and the director of the Washington State Fallen Heroes Project, Keirsten Lyons. Multiple certificates were issued to area first responders for acts of bravery and service in the area, including multiple situations wherein law enforcement, firefighters or paramedics saved lives. In the backdrop of those honors, were hundreds of banners with photos of service members from almost every branch of the U.S. military, showing ranks, hometowns and the dates the service members gave their lives in service to the nation. Among them were local service members who came from in and around Grant and Adams counties.
Lyons said the loss of her son, Jake, had made her a Gold Star mom. Jake had gone into the military after Sept. 11, 2001. He died in 2014 while serving in Afghanistan, she said, at the age of 22. She said there was a sad happenstance in Monday's gathering, in that her son was 22 when he died, and it's been 22 years since the attacks on the World Trade Center.
"Twenty-two years is what I had with my son, Jake, before he died. A lot has happened since then. A lot has happened in the last almost 10 years. We have to wake up each day without him, and it's the same for all of these families," Lyons said, gesturing toward the banners displayed on the courthouse lawn.
Lyons said the events of Sept. 11, 2001, were hard for everyone, but that she wished she'd thought to normalize things more for her family at the time and manage the trauma of the day.
"But I can't do that any more than I can bring my son back," she said.
Reim read a proclamation by the Ephrata City Council recognizing the importance of service to community Sept. 11, which Congress has declared as a national day of service each year. The proclamation reminded those attending to step out on Patriot Day and come together as a community to support one another and the first responders, veterans and military members who serve the country.
Lyons said it is also important to remember the events of Sept. 11, 2001, and to ensure those who died then and since are honored for their sacrifices in service to a greater cause.
"So, yes, we'll never forget," Lyons said. "And we will always support those who serve. And we will always wish – at least I will – that the patriotism we felt when everyone came together after 9/11. I hope we see that again."
R. Hans "Rob" Miller may be reached at editor@columbiabasinherald.com. A resident of Ephrata, he lives there with his wife, Brandee, and their three dogs.
Want to know more about fallen heroes?
To find out more about the Washington State Fallen Heroes Project, visit www.wafhp.org. Those wishing to support the organization's work or who would like a family member to be honored in the banner display may inquire there.
Honors awarded
During Monday's Sept. 11 memorial ceremony in Ephrata, certificates were awarded to those listed below for services rendered in their duties as first responders.
Ephrata Fire Dept.
Steven Criss
Katie Hilliard
Jake Pearce
Mike Stussy
Jake Wezenberg
Ephrata PD
Sgt. Jack McLauchian
Officer Camden Eckhart
Officer Marvin Canizales
Ephrata School District
Superintendent Tim Payne
Asst. Superintendent Ken Murray
Grant County
Barbara Vasquez
Kevin Schmidt
Grant Co. Sheriff
Deputy of the Year: Josh Fitzhugh
MACC 9-1-1
All staff, including:
Brandy Elizalde
Barb Erichsen
Julene Imbert
Leah Nailor
Kristi Whitney
Paramedics
Colleen Winski, EMT
Joy Coy, Shift supervisor
Recent Headlines
---