Art and walk to raise Alzheimer's awareness set for Friday, Saturday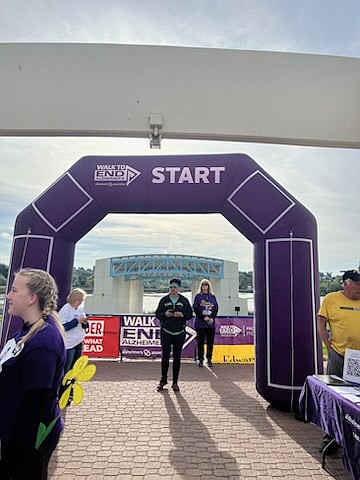 An archway to designate the beginning and end point of the Walk to End Alzheimer's was set up for last year. The purple, inflatable landmark is likely to be back this year to help participants find their way.
COURTESY PHOTO/KARISTI COX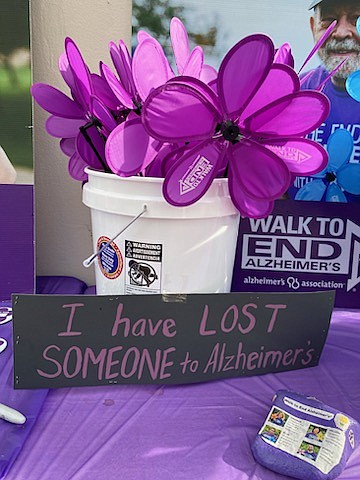 In addition to artwork along the sidewalks, participants will have a variety of visual options to push for more awareness of the impact of Alzheimer's Disease and to support research to combat its effects on patients and families.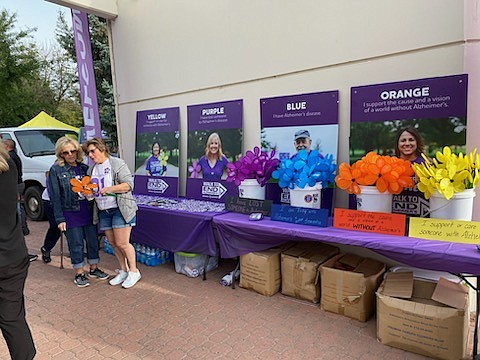 While purple is the color for Alzheimer's awareness, other colors denote someone who is fighting or has been otherwise impacted by the disease which severely affects memories.
Previous
Next
by
R. HANS MILLER
Managing Editor
|
September 14, 2023 1:30 AM
MOSES LAKE – Area residents will be flexing their artistic talents and putting on their walking shoes to decorate for Colors of Hope, Friday, and the Walk to End Alzheimer's on Saturday.
"I did a little bit (of art) last year, and people really enjoyed that. They enjoyed having something to look at, and it was something for them. Specifically for them," said Karisti Cox, who is organizing the event.
Cox is the community resources director and marketer for Summer Wood Alzheimer's Special Care in Moses Lake, and said she is hopeful that the artwork portion of this weekend's events catches on at other Alzheimer's fundraisers, possibly even going nationwide. Nearly 70 children are signed up to fill the walk's route with sidewalk chalk artwork to entertain and support those walking to raise awareness of the impact Alzheimer's Disease has on individuals and their loved ones, she said. This year, enough chalk for 100 artists has been donated by the Crayola company. The event is primarily an awareness event, but is also a fundraiser that allows participants and passers-by to make cash, check – Cox has envelopes available to protect sensitive information – QR code or other donations.
"First and foremost, is always to bring awareness, and absolutely, the fundraising is to continue research," Cox said.
The Food and Drug Administration approved a new drug earlier this year which addresses the root cause of Alzheimer's, Cox said. Lecanemab was approved by the FDA but is currently only available to patients in Utah and Florida. Cox said continuing the research to find an actual cure rather than just a treatment was important, as is reducing the side effects of available medications.
Lecanemab isn't a cure, but slows down the disease, according to the Alzheimer's Association.
"This treatment, while not a cure, gives people in the early stages of Alzheimer's disease more time to maintain their independence and do the things they love," said Joanne Pike, DrPH, Alzheimer's Association president and CEO in a press release earlier this year. "While we continue efforts to discover new targets and test new treatments, people living with this fatal disease deserve the opportunity to discuss and make the choice with their doctor if an FDA-approved treatment is right for them."
Friday's event is also set to teach youth about the value of participating in the community, Cox said.
"What an incredible opportunity to create an avenue for young people to give back to their community, and to learn how to volunteer at a young age and to learn about Alzheimer's," Cox said.
The route for the walk is about 10 blocks, she said. Volunteers will decorate the majority of it, but the last few steps will be reserved for the Walk to Remember portion of the event. That's where those who have been directly impacted by Alzheimer's can leave messages about their experiences on the sidewalk to continue to raise awareness after the event finishes.
"That is where they will also take sidewalk chalk and write down the names of who they're walking for in remembrance, and that is what will complete the art piece.
Cox asked that anyone who would like to participate in the Colors of Hope event contact Summer Wood at 509-764-1900 to ensure sufficient chalk is available for participants. While those who show up are welcome to contribute, the priority is for those who have registered to get the opportunity to draw.
The event takes place with a starting point at McCosh Park. Artists and walkers will decorate or walk up Dogwood Street, take a right on W. Third Avenue, turn right again on S. Division Street and finish the route by making their way down W. Fifth Avenue back to McCosh Park.
As a bonus, the walk coincides with the weekend farmers market at McCosh, Cox said. That means anyone participating can do a little shopping or listen to the music at the market as part of their outing.
"There's a lot of activity going on," Cox said. "We're going to have some games and hot dogs – all for free. Plus, while they're there, the farmers market is there, so it's a two-for."
R. Hans "Rob" Miller may be reached at editor@columbiabasinherald.com.
Colorful Events:
Artists and walkers are encouraged to wear their favorite purple garments – purple is the color for Alzheimer's awareness – and join organizers for this weekend's events.
Colors of Hope
Friday, 7 p.m.
McCosh Park
Register: 509-764-1900
Walk to End Alzheimer's
Saturday
Registration: 9 a.m., McCosh Park
Promise Garden Ceremony: 10 a.m.
Walk: 10:30 a.m.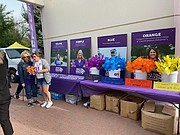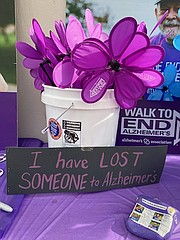 Recent Headlines
---