Othello PD hosting recruiting seminars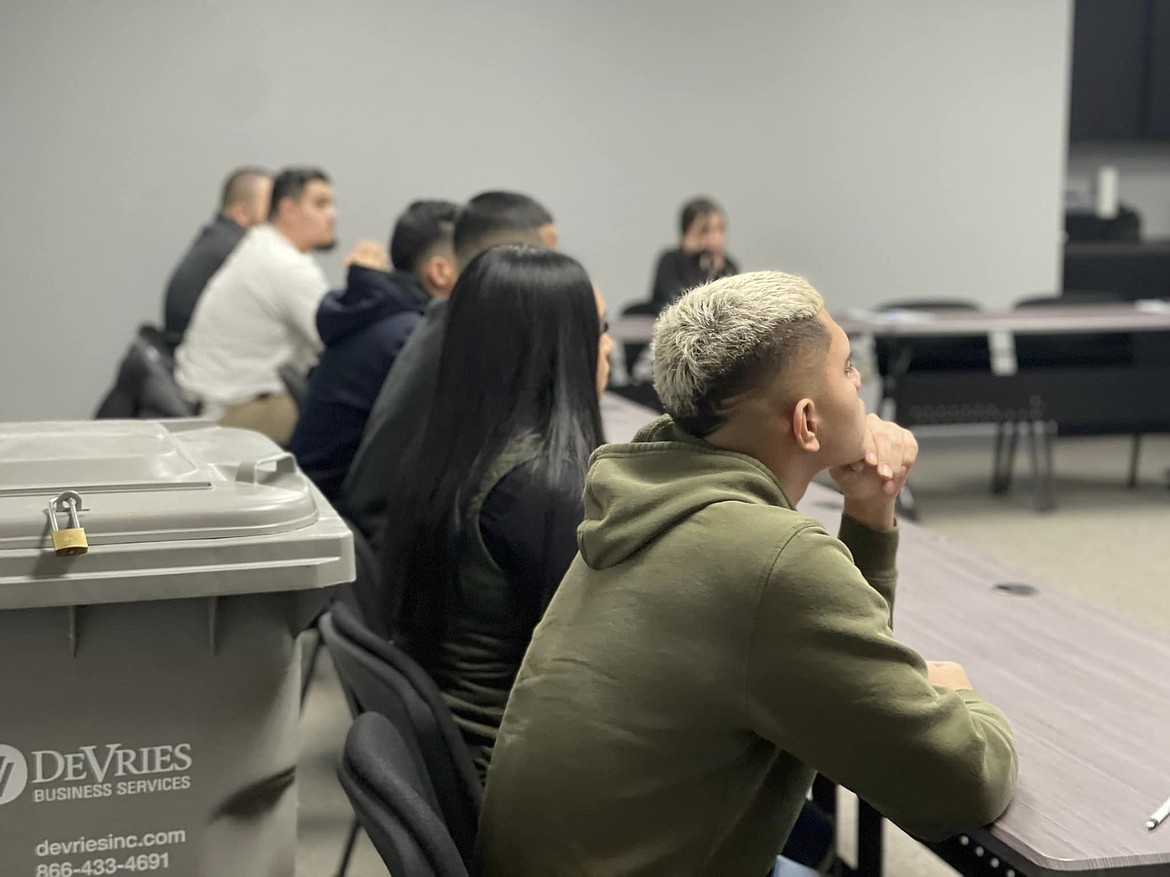 Attendees listen to a presentation at a recent seminar held by the Othello Police Department to help those considering a career in law enforcement navigate the application process. OPD Chief Phil Schenck said the seminars have produced a good result thus far and may help the department address recruiting challenges facing law enforcement agencies across the state.
COURTESY PHOTO/OTHELLO PD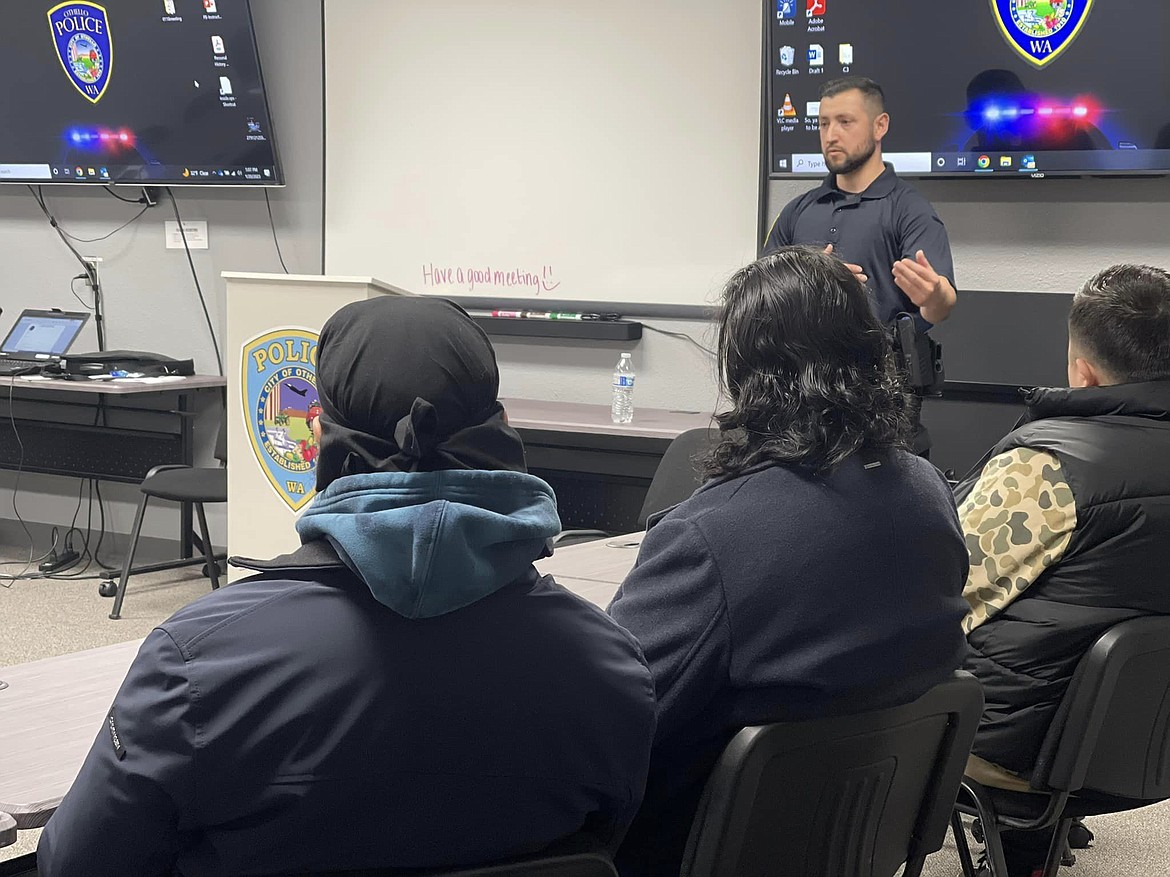 Officer Xavier Garza, one of Othello PD's newest recruits talks to attendees at a seminar on law enforcement on Friday. The seminars being conducted by OPD not only help with recruitment but are a great tool to connect with the community, OPD Chief Phil Schenck said.
Previous
Next
by
R. HANS MILLER
Staff Writer
|
January 23, 2023 5:08 PM
OTHELLO — The Othello Police Department is having a hard time recruiting like other law enforcement agencies across Washington state, OPD Chief Phil Schenck said. However, the agency isn't taking the issue lightly and is innovating to help new recruits pass muster.
"The first (seminar) was on how to get in physical shape. The last one (we held) kind of reiterated that," Schenck said. "But then we talked about how to do the written test."
The various steps in the hiring process can be daunting, Schenck said, especially given what he feels legislation coming out of Olympia and campaign rhetoric have done to paint police work in a less-than-optimum light. The protests and campaign rhetoric of the last few years have made it seem as though all officers aren't acting properly, he said, which has reduced in-community respect for officers to some extent.
"We went from 25 to 30 people applying to maybe 15 people applied," Schenck said. "And then, at our last test, we got five people."
Add to that the restrictions on enforcing the law due to legislation being passed that disallows most pursuits to catch suspects, legalization of controlled substances and a competitive market to hire officers, and it's difficult to fill the ranks, Schenck said. At a recent conference, a major recruiting firm told a gathering of police chiefs that there were two vacancies in Washington per applicant interested in law enforcement. Similarly, competition from other departments, many with more spending power for salaries, makes recruiting difficult in smaller departments like OPD. Existing law enforcement professionals who are looking at moving agencies are also in a realm of stiff recruiting challenges.
"The laterals are all being hired by the bigger agencies," Schenck said. "Where an officer might come to Moses Lake or Othello and make $75,000 a year; if they go to Tri-Cities, they would be making $100,000 a year and within a couple of years, $150,000. Or, they can go to Seattle where I believe they're paying a $30,000 signing bonus."

According to Indeed.com, the average salary for a police officer in Washington state ranges from $78,000 to $120,000 annually.
Schenck said the larger departments would be able to pay higher salaries, thus putting smaller, rural departments at a disadvantage.
Competing with those elements is difficult, Schenck said, especially when the hiring process is such a challenge. The seminars OPD has been hosting allow the agency to get to know applicants while at the same time giving the applicants opportunities to get some mentorship as they move into the process of applying to work as an officer. Additionally, it opens a window into what policing is like as a career and lets applicants understand the process of becoming an officer.
In all, Schenck said the seminars have gone well and with 14 people attending the last event, he believes that it can be a bridge between the department and potential officers.
"I think this is definitely something we're going to do routinely," Schenck said.
R. Hans Miller may be reached at editor@columbiabasinherald.com.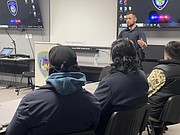 Recent Headlines
---