MLI donation will pay for new GCSO K-9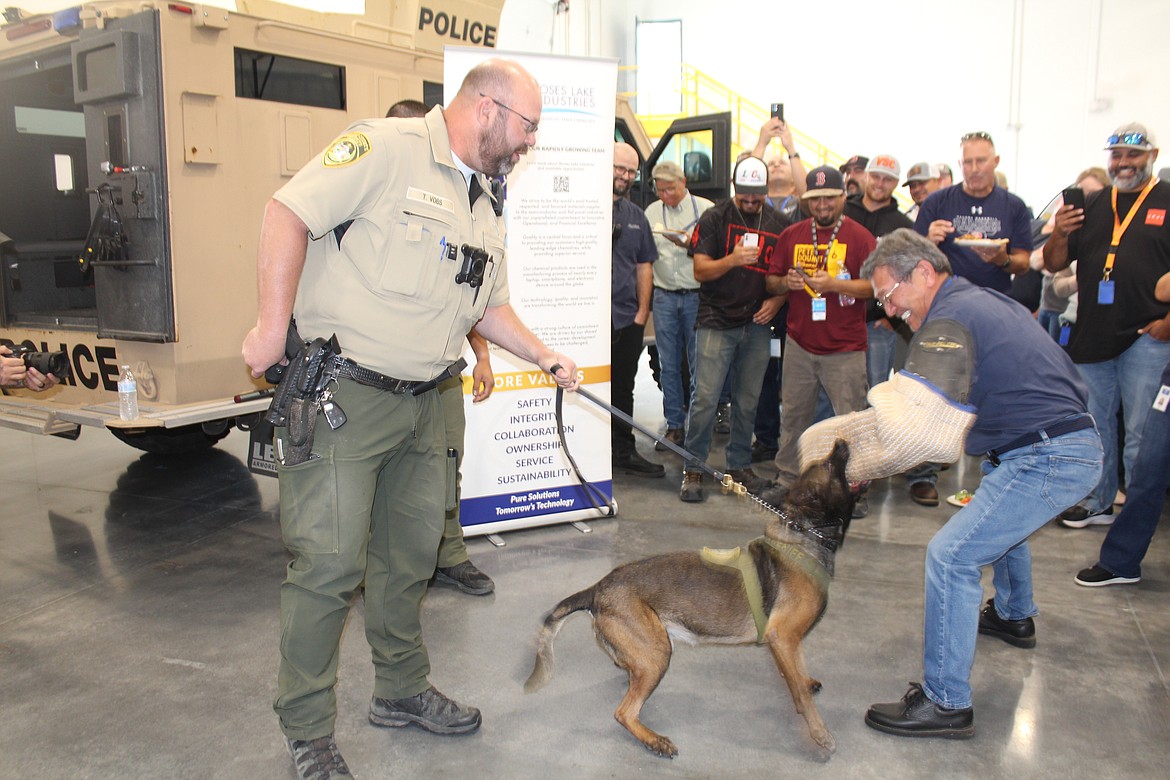 Moses Lake Industries president Hiroyuki Era, right, volunteered to be the demonstration partner for K-9 Edo and his handler Tyson Voss, left, during a ceremony recognizing a donation from MLI for a new GCSO K-9.
CHERYL SCHWEIZER/COLUMBIA BASIN HERALD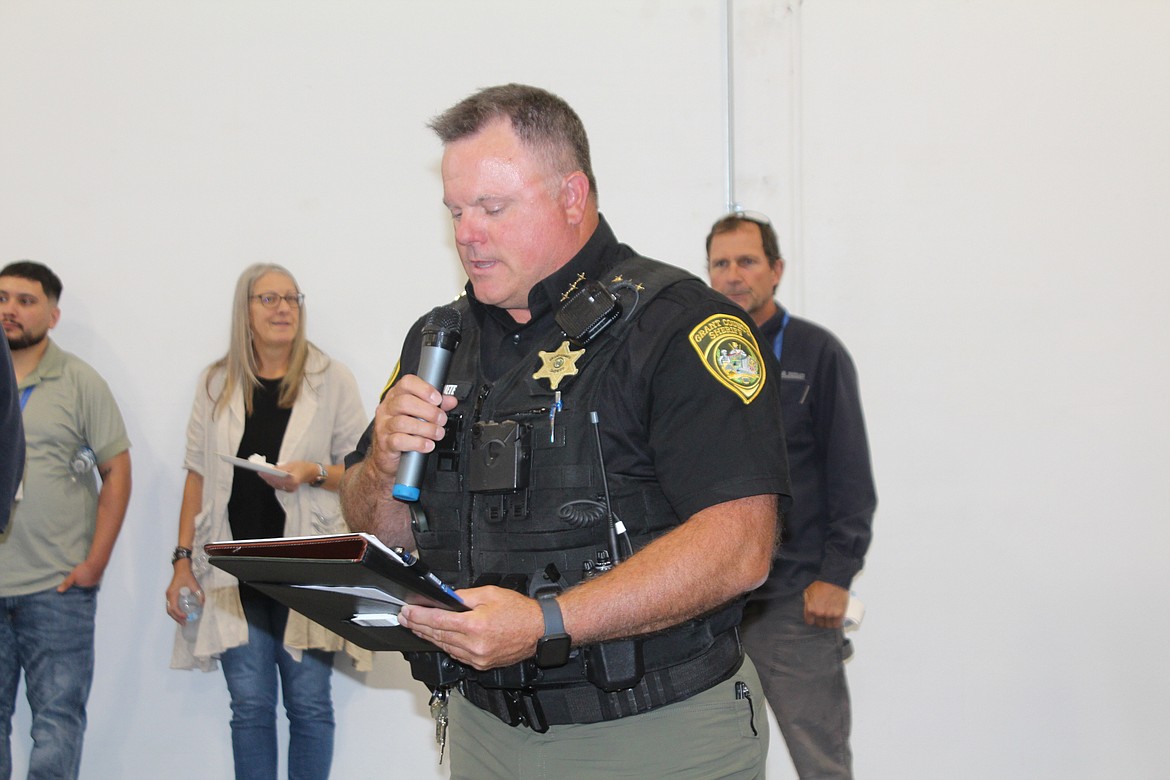 Grant County Sheriff Joe Kriete talked about the K-9 program during the presentation of a donation from Moses Lake Industries.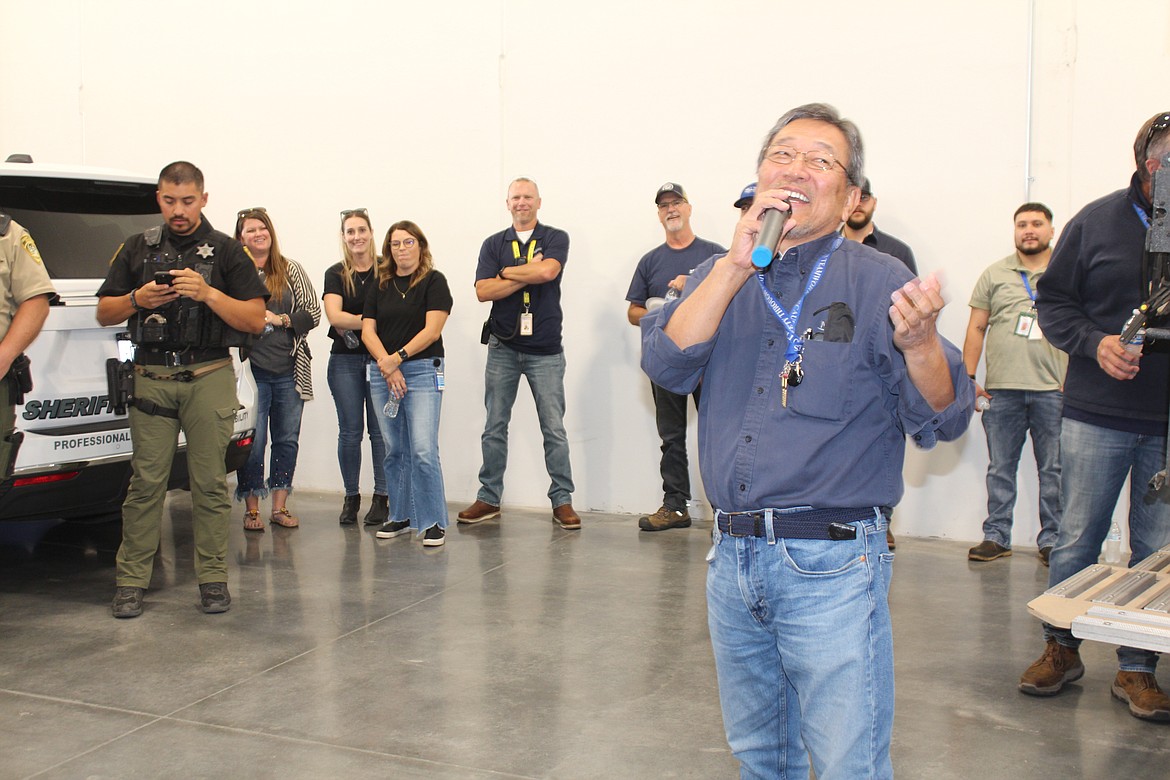 Moses Lake Industries president Hiroyuki Edo speaks to company employees and sheriff's deputies during a donation presentation to the Grant County Sheriff's Office K-9 unit.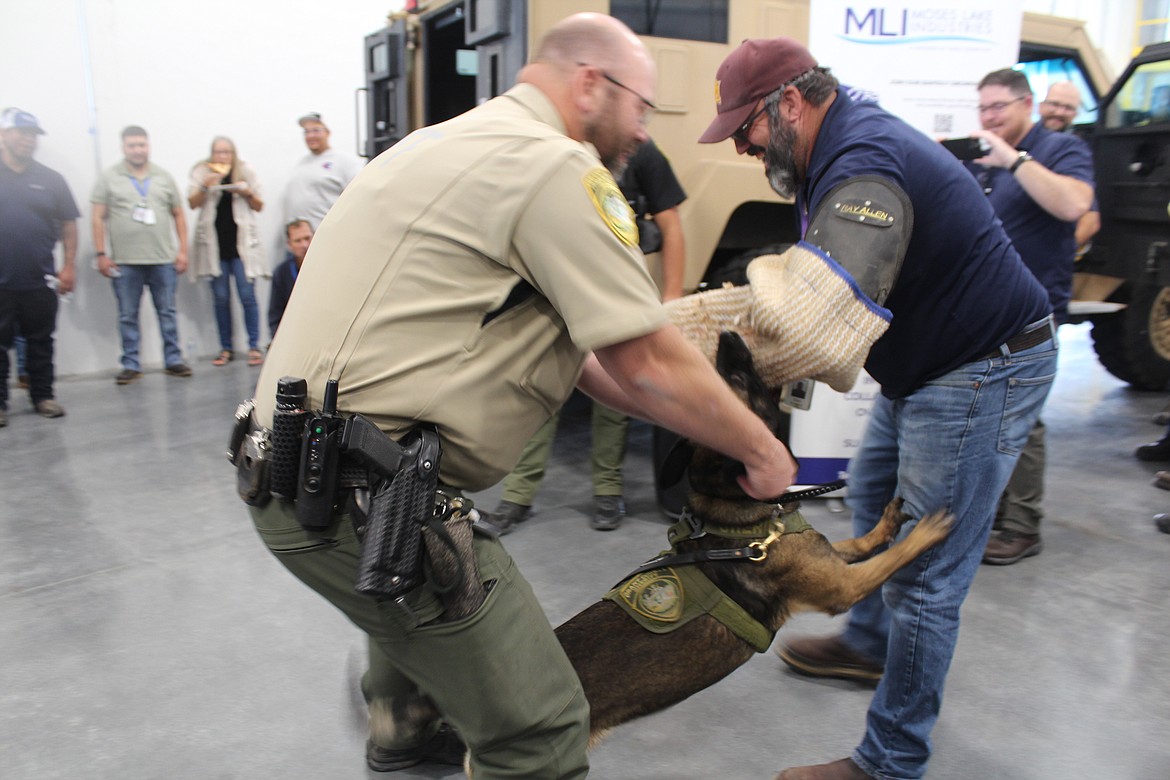 Moses Lake Industries employee David Rowland, right, volunteered to be a demonstration subject for K-9 Edo and his handler Tyson Voss, left.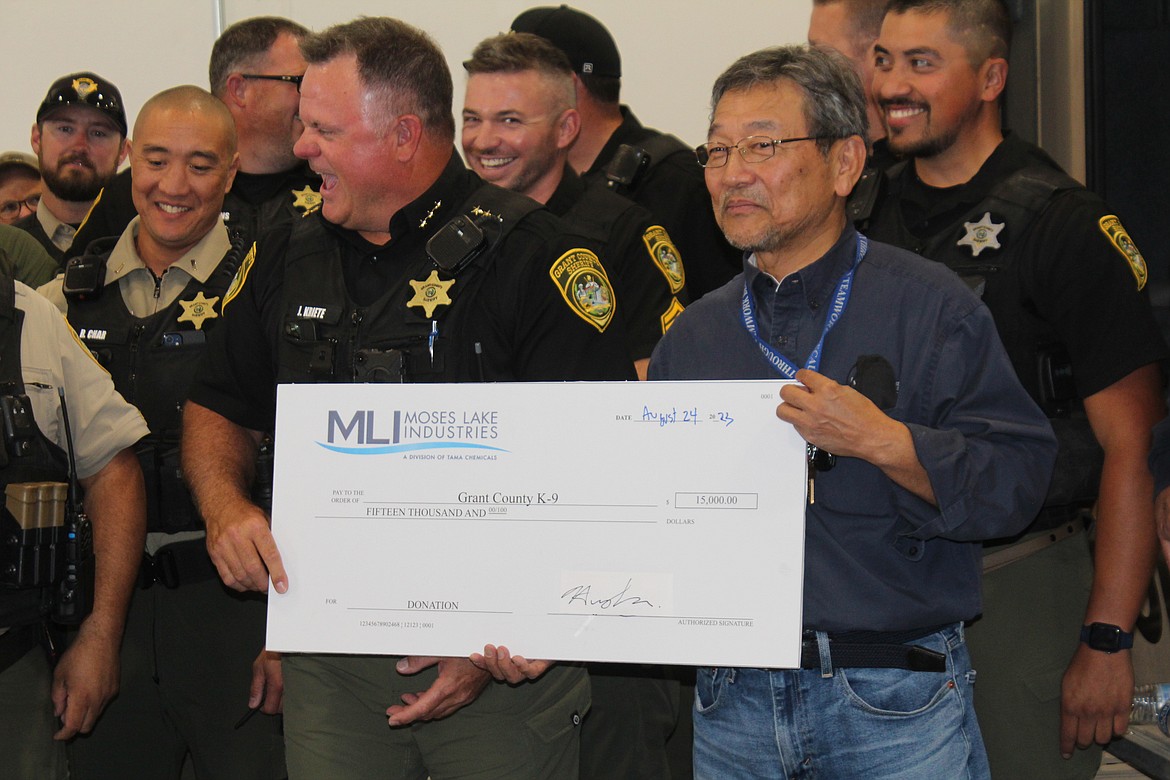 Grant County Sheriff Joe Kriete, left, accepts a check for $15,000 from Moses Lake Industries President Hiroyuki Era, right.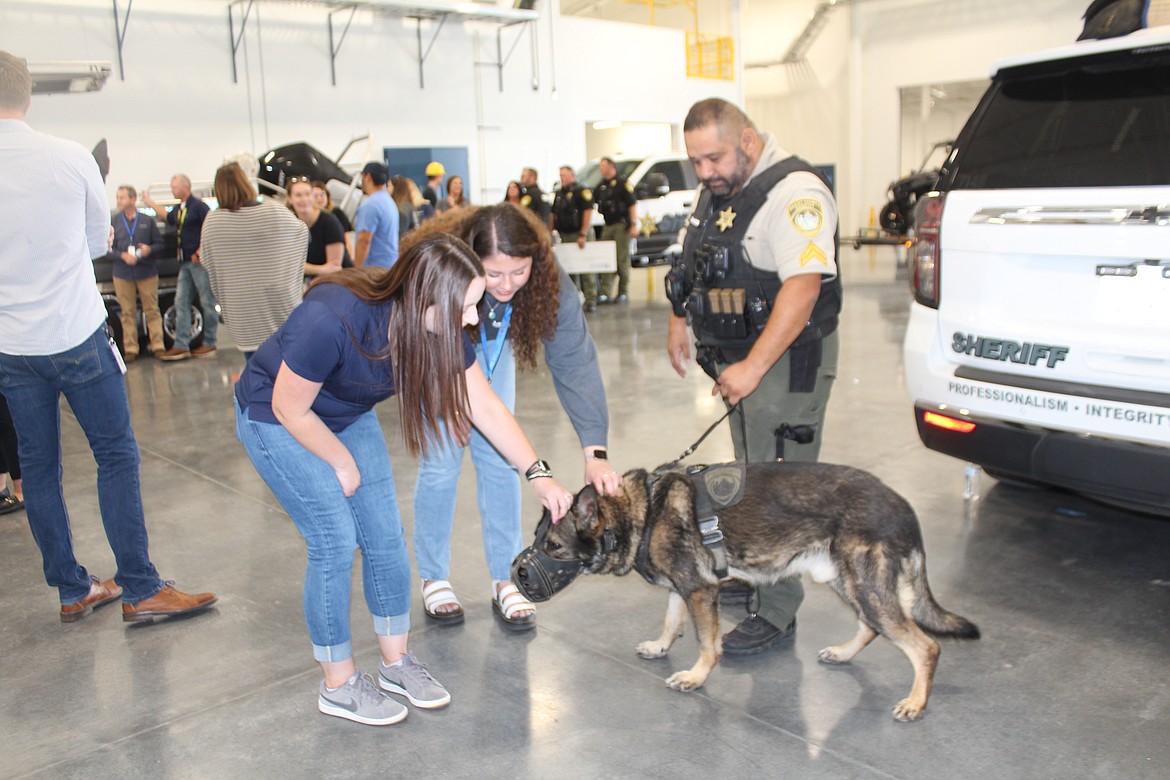 Two Moses Lake Industries employees give some attention to K-9 Hawk, in the company of his handler Dave DeLaRosa, left.
Previous
Next
by
CHERYL SCHWEIZER
Staff Writer
|
August 24, 2023 6:15 PM
MOSES LAKE — The Grant County Sheriff's Office brought some of its coolest vehicles and all but one of its K-9s to Moses Lake Industries Thursday at lunchtime to thank the company for its donation. Chief Operating Officer Brent Hansen said MLI officials looked on the donation as a way to contribute to public safety and to thank law enforcement and first responders in general for what they do for Grant County.
Most of the MLI employees listening to Hansen were in the dark, however.
"Oh. Maybe nobody knows what the donation is," Hansen said after a word from MLI's communications department.
"So MLI has stepped up and is providing $15,000 for the purchase of the new K-9," Hansen said.
Grant County Sheriff Joe Kriete said the new dog will be a replacement.
"Canine Chewie will be retiring this year," Kriete said. "Hence the reason we got the donation for the replacement dog. That's going to be great."
Chewie - Chewbacca is his full name - was not at MLI Thursday. Chewie, the sheriff said, can be a handful.
"Now, we didn't bring Chewie out because he equally hates everybody," Kriete said.

Moses Lake Industries President and CEO Hiroyuki Era said the company is committed to the community and is appreciative of the role played by law enforcement. Hansen said MLI has a donation fund dedicated to what it considers to be worthwhile projects around the community.
"This money came out of that fund," Hansen said. "It's our largest single donation ever."
The GCSO brought one of its off-road rigs, a marine patrol unit and its tactical vehicle as well as the K-9 units. Deputy Tyson Voss and his K-9 partner Edo offered to demonstrate how they work.
Era was the first volunteer and put on the sleeve that protects from the dog bite. He said it was a little disconcerting to be on the receiving end of the K-9 in action, even with the protective gear and Edo on a leash.
Two MLI employees also volunteered to serve as pretend bad guys. Lindsey Martin said Edo demonstrated his skills pretty convincingly.
"His eyes changed as soon as (Voss) started giving commands. It was crazy," she said.
"It was strong," she said, and fellow MLI employee David Rowland agreed.
"They're very powerful," Rowland said.
Moses Lake Industries will have a role going forward, Kriete said.
"What we're going to do is work with Moses Lake Industries and hopefully be able to come up with a name with your help," Kriete said.
Hansen said employees will be encouraged to submit suggestions for a name, and Kriete said five will be forwarded to GCSO. He had one caveat.
"If anybody gives me Fluffy, it's not coming. We're not using Fluffy," Kriete said.
Chewy's handler Nick Overland has been promoted, so the new K-9 will be assigned to a new handler, Kriete said.
The GCSO K-9 program is funded in large part by donations, Kriete said, with the exception of the deputy's wages and equipment.
"Everything else with the dog - food, the vest they wear, the training they go to - it's all covered by the community and groups like you that make it possible,' Kriete said.
Cheryl Schweizer can be reached via email at cschweizer@columbiabasinherald.com.
Recent Headlines
---