Wake For Warriors brings peace to wounded veterans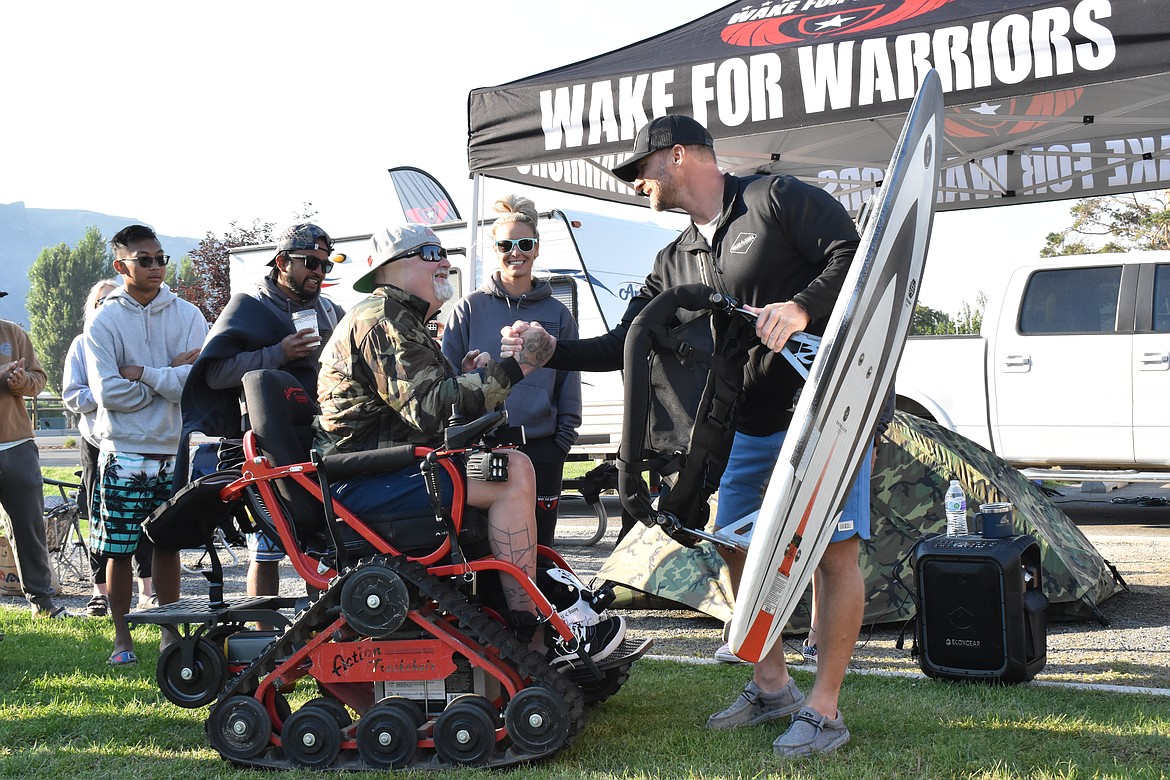 Matthew Hannon shakes hands with Luke Fournier of Wake N Grill, who presented him with a new sit-down wakeboard Saturday morning.
Rebecca Pettingill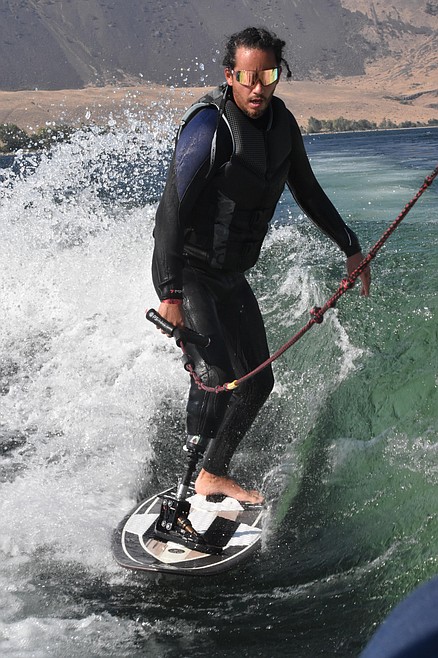 Anthony Farve surfs the Columbia River Saturday at the Crescent Bar Wake For Warriors event.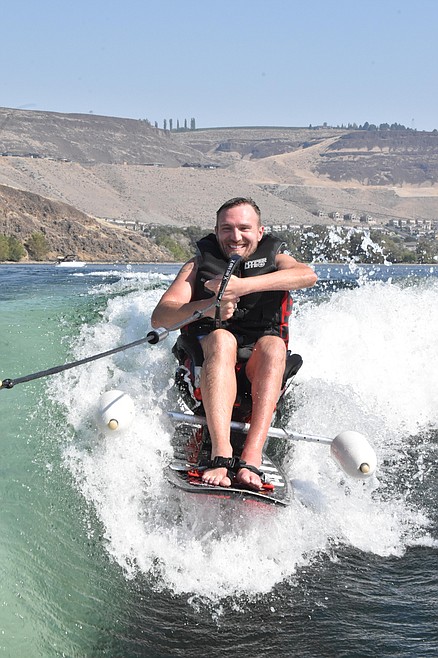 Patrick Edlin smiles as he wakesurfs on a sit-down board on the Columbia River Saturday.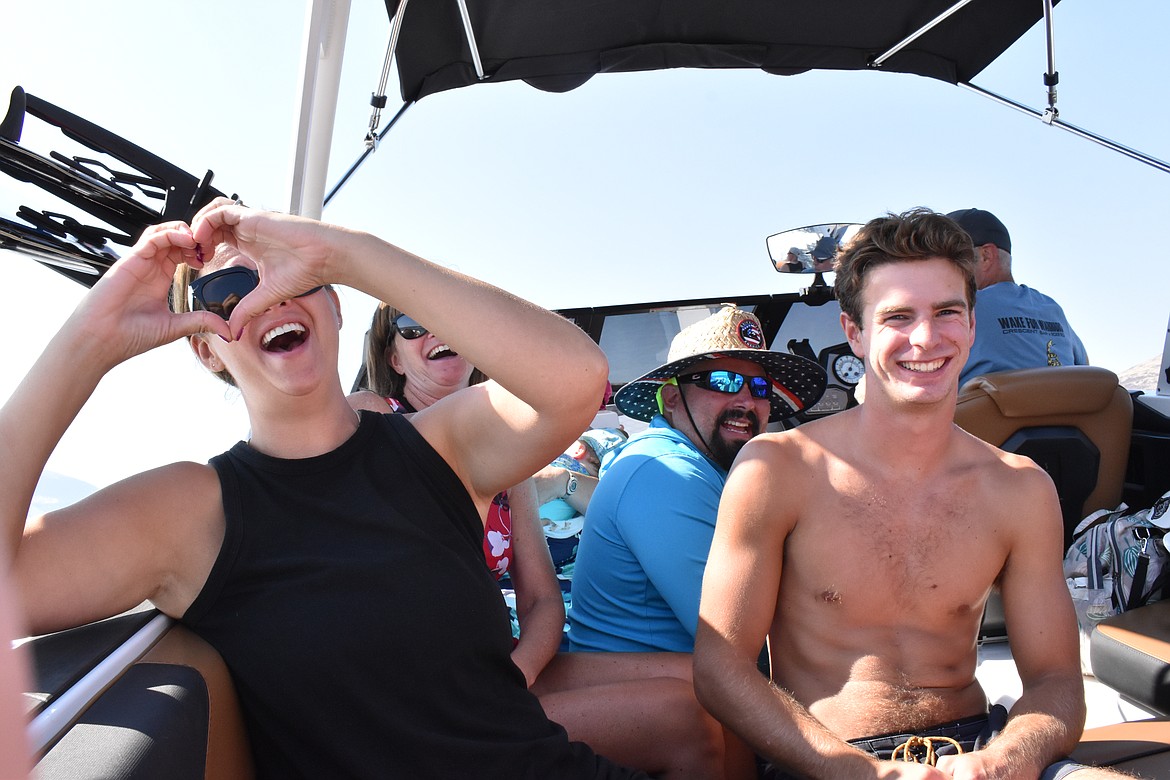 Those in the boats cheered on the participants in the water as they surfed.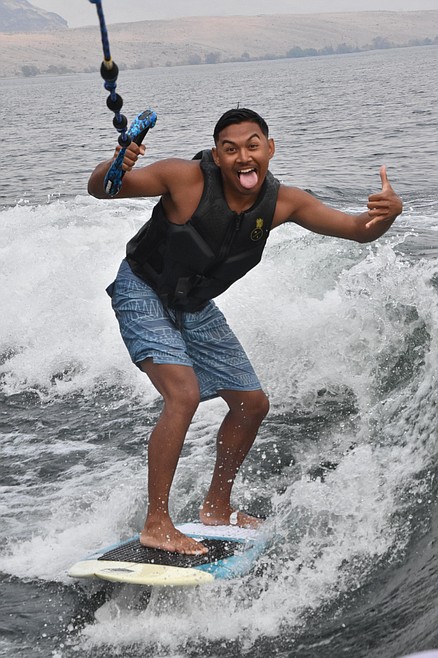 WFW participants had fun surfing the waters of the Columbia over the weekend.
Previous
Next
by
REBECCA PETTINGILL
Staff Writer
|
September 16, 2022 1:35 AM
CRESCENT BAR — Wake For Warriors held its fourth annual event at Crescent Bar over the weekend. The event brings military members and their families together through water recreation.
"There's nothing more satisfying than seeing another brother at peace," said Matthew Hannon as he watched fellow Wake for Warriors participant Patrick Edlin wakesurf on Saturday.
Hannon is a 43-year-old Marine Corps veteran living in Port Orchard who just got involved with Wake For Warriors this year. He said he heard about the event from his recreational therapist. He was confused at first at what they meant when they asked him if he wanted to wakesurf because he is wheelchair-bound, he said. Regardless, Hannon was willing to see what it was all about.
Due to his injuries in the military, he is constantly in pain, Hannon said, and faces other struggles. He explained he has been on numerous medications over the years and none have been able to help him.
"None of that has made a dent, none of that has been able to give me a minute of just peace," said Hannon. "And out on the water, for that one minute, you feel kind of normal. For that short amount of time that I'm in that chair in the wake just chilling."
Jim Lane, a second-year attendee and Air Force veteran, agreed.
"When I get up (on the wakeboard), everything slows down," said Lane.
WFW has many participants who have some sort of disability, physical and/or mental, that they face, usually related to their service. Because of this, they have custom wakeboards with chairs attached for those who struggle or cannot stand on the boards.
Hannon is one of the participants who uses the sit-down boards. He said that everyone involved in getting him in the seat and instructing him on how to wakeboard while sitting has been patient and knowledgeable in helping him be safe and learn the ropes.
On day two of Crescent Bar's three-day WFW event, Hannon was surprised with a brand-new sit-down board custom-made by Luke Fournier of Wake N Grill of Mesa, Arizona. Fournier came to Crescent Bar and presented the board to Hannon himself.
Hannon explained that there are many hobbies he enjoys and has tried to pursue, that he can't continue because he isn't able to focus on them due to some of the injuries and health issues he has faced, but that he is able to with wakesurfing. Crescent Bar was his third WFW event he has been to this year and plans to attend as many as he can next year.
"When it comes out in January, the list for next year, I'm just going to apply for everything," said Hannon.
WFW holds six total events in the Pacific Northwest, Crescent Bar being the largest. This year saw 49 veteran participants along with their families and WFW staff.
Each year the group comes up with a quote and design for the Crescent Bar event for them to have on sweatshirts, shirts and tank tops for the weekend.
"This year's quote for Crescent Bar is 'Always beside you' which came from one of our new veterans, Matt Hannon. I feel like this is a very fitting theme for this year," said WFW PNW Second Lead Alyssa Phillips. "Not only does it represent our veterans but also the Crescent Bar community. When we first started in Crescent Bar we had 10 veterans and two boats. The Crescent Bar community has continuously stepped up and became more involved in the Wake For Warriors family. They really do represent the 'Always beside you' quote for this year."
Back in May, the group raised over $10,000 at a silent auction and dinner held at Sunfire Grill in Crescent Bar. The money raised went toward the cost of the event because the group does not charge the veterans or their families to attend the event. Any money left over from the event or fundraiser will be donated to the nonprofit's national program to be used at other events across the country.
WFW, especially in the Pacific Northwest, is dependent on volunteers, sponsors and donations to keep the events free for the participants. The PNW chapter does not own any boats for the events; volunteers donate their boats and time for veterans to have these experiences on the water.
Hannon said that while he appreciates that WFW covers costs for veterans like him, he makes sure to put in his applications for events that he will pay for himself because he does not want that to be a determining factor in whether he is accepted or not.
"Because (of) that solace I get, that joy that I feel," said Hannon.
The three-day event at Crescent Bar also has group meals and bonding time apart from being on the water. This year, because the third day of the event landed on Sept. 11, the group invited Quincy High School's Hailey Beegle to sing the national anthem for them to kick off the final day on the water.
WFW holds events all over the country but was originally started in the South by Marine Corps veteran David Deep. WFW PNW Chapter Coordinator Terry 'TK' Knight participated in a Wake For Warriors weekend in Austin, Texas, and met Deep. Knight knew that he wanted to find a program like that in the Pacific Northwest and when he couldn't find one, Knight headed up bringing Wake For Warriors to Washington.
Knight said the reason behind Wake For Warriors is to build community for service members and create a space for them to connect with each other and enjoy a day or weekend together on the water without worrying about the struggles they face.
"Like I said yesterday," Hannon said on Sunday, referring to his comment about Edlin on Saturday. "Like I see Patrick, he's been through hell, and there's a lot of these folks that have been through hell."
For more information visit https://www.wakeforwarriors.org. The website has links to future events, merchandise and to donate to the nonprofit. To support future Wake for Warrior gatherings at Crescent Bar, contact Gerry Fierling at gfierling@confluent.io.
Rebecca Pettingill may be reached at rpettingill@columbiabasinherald.com.
Recent Headlines
---