Quincy veterans recognition wall always a work in progress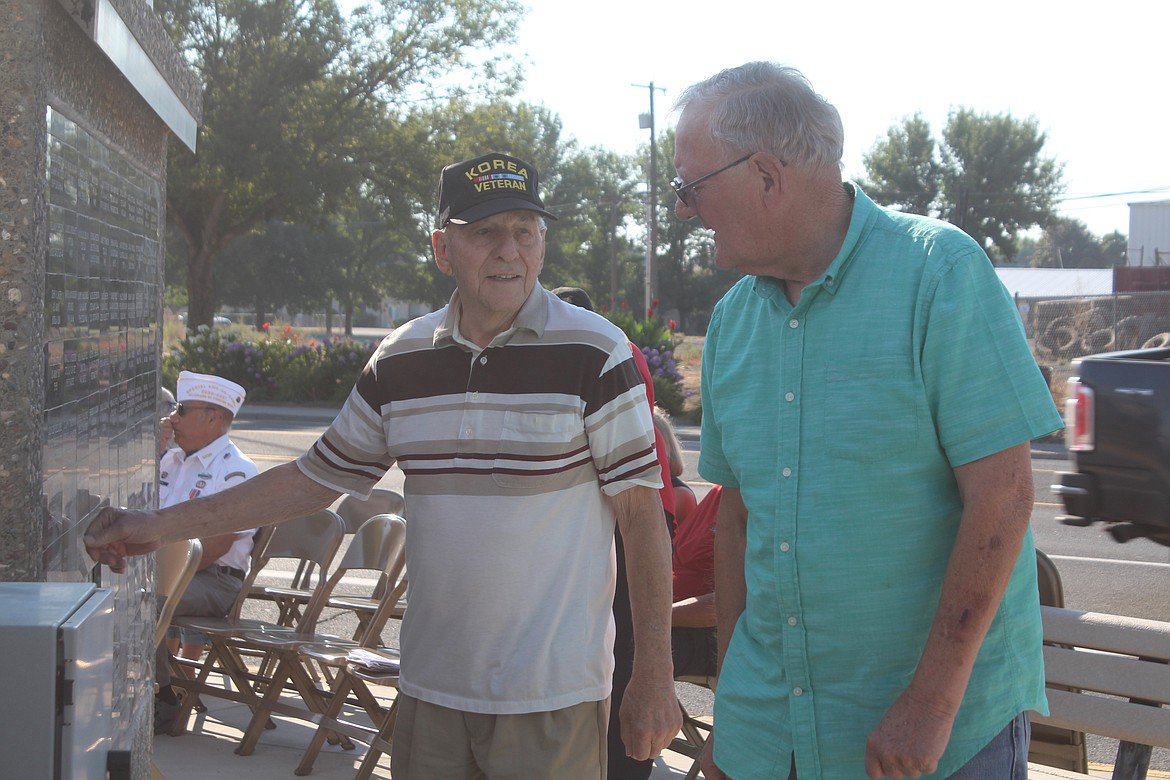 Mark VanBuskirk (left) points out the name of a fellow veteran to neighbor Bill Morris (right) during Saturday's ceremony at the Veterans Recognition Wall in Quincy.
Cheryl Schweizer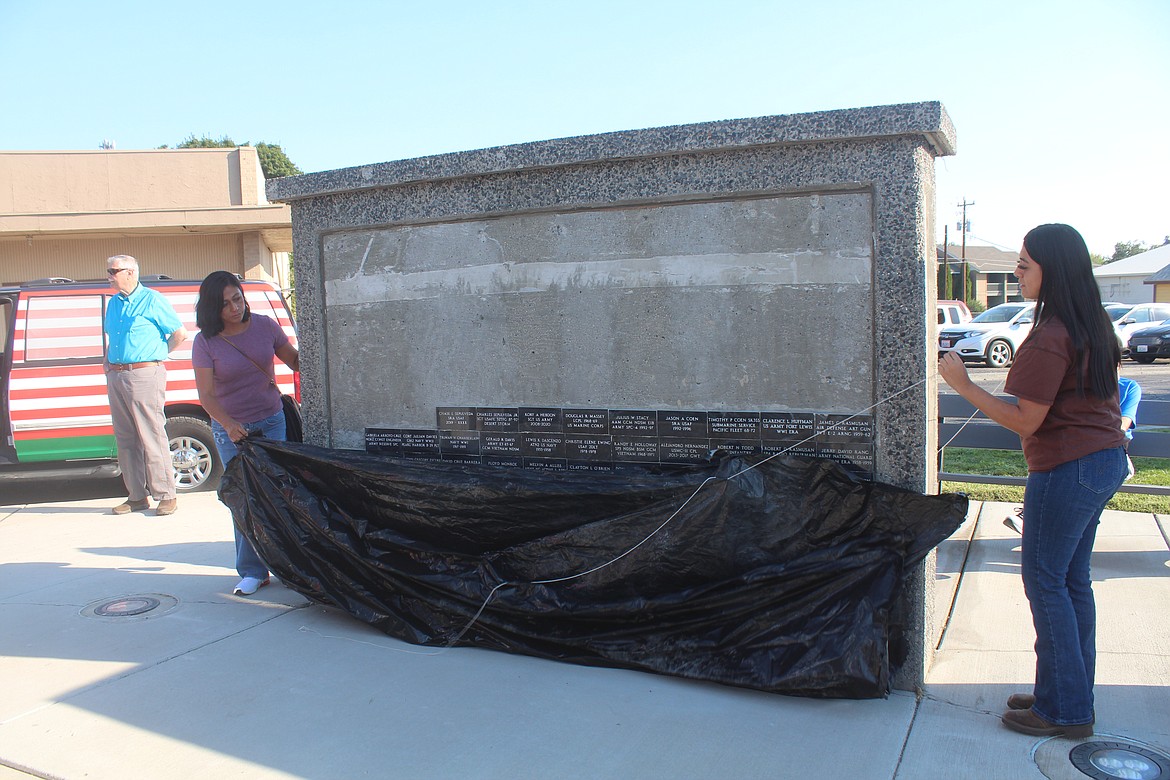 Elizabeth Arroyo and Eylin Arroyo reveal the new names added to the Quincy Valley Veterans Recognition Wall Saturday. The two were attending the event and were asked to do the honors.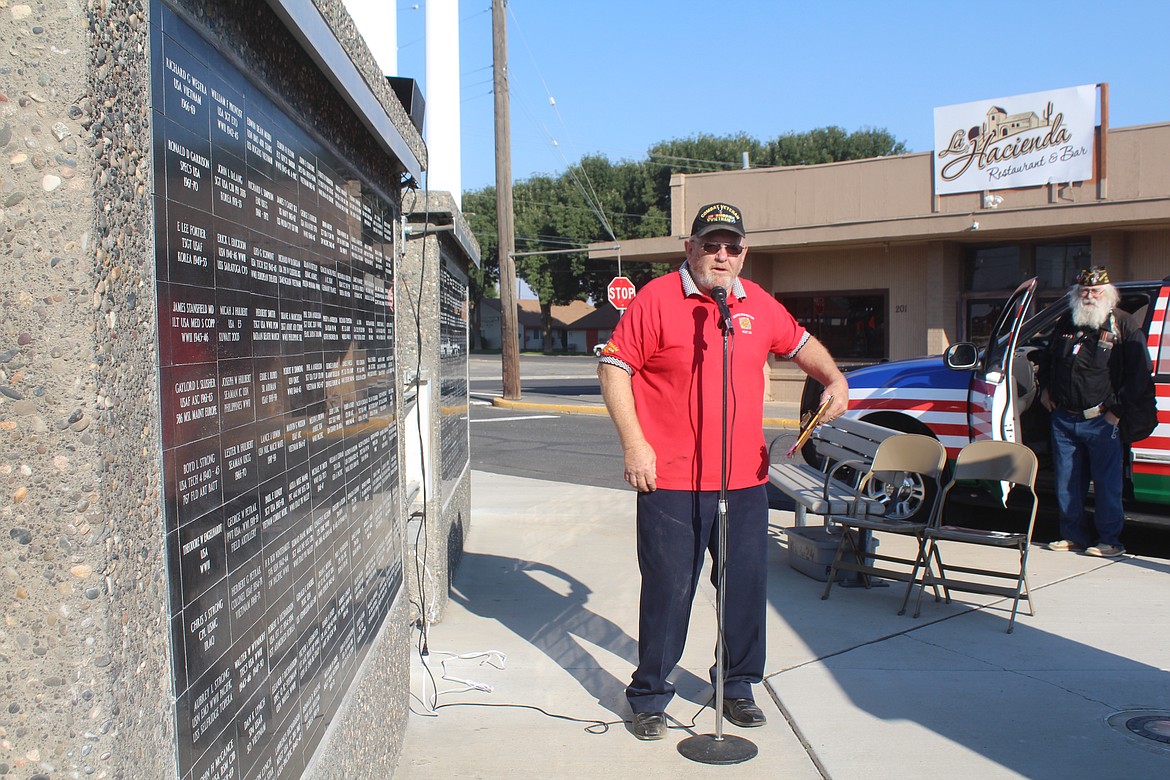 Phil Anderson (foreground) talks about the Veterans Recognition Wall. Mark Owens, who with his dad R. Judge Owens came up with the idea, is in the background.
Previous
Next
by
CHERYL SCHWEIZER
Staff Writer
|
September 15, 2022 1:05 AM
QUINCY — Mark Owens said his dad R. Judge Owens wanted the memorial to Quincy-area veterans to be something that could grow. And both Owens and his dad wanted a way to recognize all veterans.
"Everybody deserves recognition, no matter when they served," Owens said.
Over time, people and events slipped out of living memory, he said, and as a result his dad didn't like memorials for one era, or one war. That was part of the thinking behind their idea for the wall in Quincy, located in Memorial Park right next to State Route 28. The recognition wall has room for more names on its current walls, and room to grow when necessary.
New names were added to the wall in a ceremony Saturday morning.
Phil Anderson is one of the volunteers who serves on the committee overseeing the wall project.
"It's been 14 years since we started," Anderson said. "There are 450, close to 500 names on these walls."
Anderson said the project recognizes all veterans, living and dead, wherever and whenever they served. Anyone who lived in the Quincy Valley and served in the military is eligible for inclusion, he said.
"We've got officers, we've got enlisted," Anderson said. "Just about anybody who is a member of our community."
The wall is managed and maintained by a committee of community members.
"It's a community-wide project," Anderson said.
The walls include generations of families, including Anderson's own.
"My dad, me and my son are on there," he said.
Paul VanBuskirk is there too, a Korean War veteran.
"I was in heavy mortars," VanBuskirk remembered.
A pair of Quincy residents who served on the 442nd Regimental Combat Team are listed on the wall, Anderson said. The 442nd was made up of soldiers of Japanese descent; the unit served in Italy in World War II and became one of the best-known outfits in the Army. Many 442nd soldiers were from families who were forcibly relocated inland from the Pacific Coast.
Mark Owens is a Vietnam veteran, and his dad was in the service in World War II. A project at the Quincy cemetery identified veterans from the Civil War, and some of those names have been added. The wall includes World War I veterans, those who served in peacetime, in conflicts in the Persian Gulf, Iraq and Afghanistan.
There's room for more people. Applications are available at the Quincy Valley Chamber of Commerce; applicants are asked to submit supporting documents with the application.
The park has room for additional walls when the current ones are filled.
"It's ongoing - it's not just a static one," Owens said.
Cheryl Schweizer may be reached at cschweizer@columbiabasinherald.com.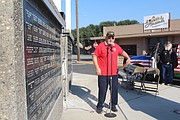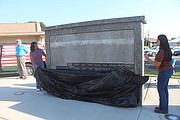 Recent Headlines
---