Fresh is best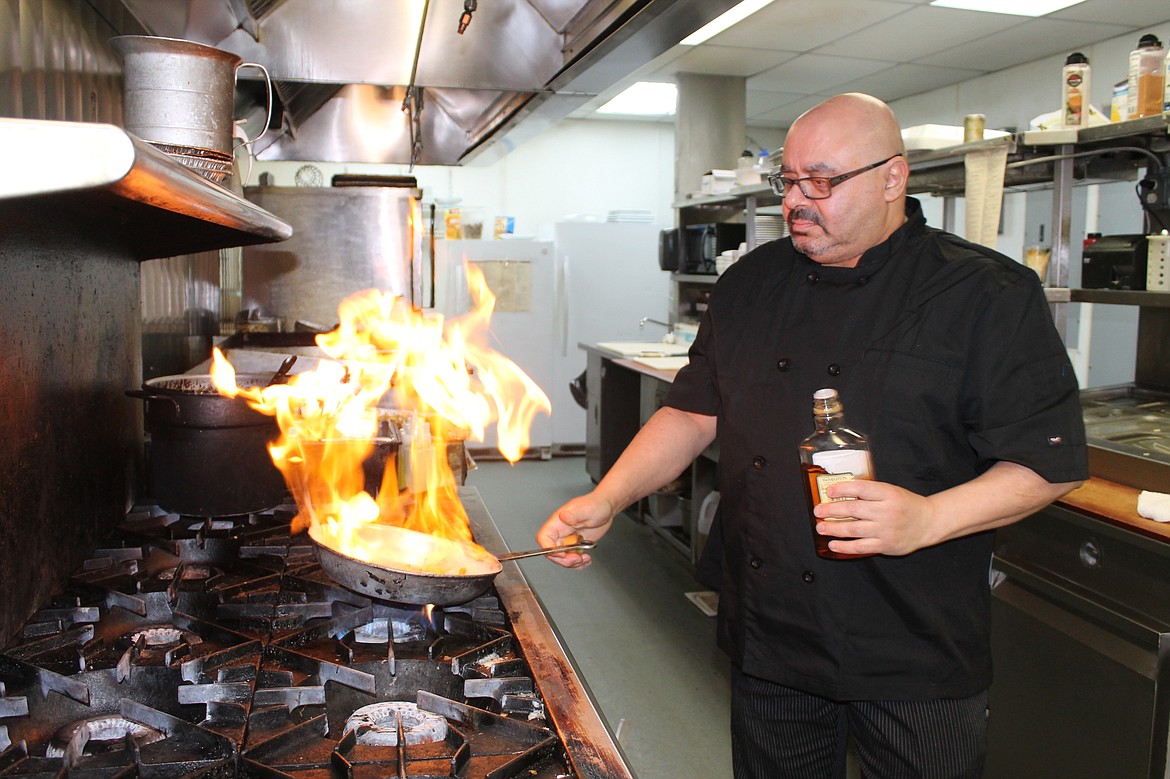 Pillar Rock Grill head chef Sameh Farag flambes vegetables for a dish. He said he tries to focus on fresh ingredients purchased as locally as possible. Farag isn't just about fancy shows though, the quality of his cooking has earned him multiple awards in local competitions.
CHERYL SCHWEIZER/COLUMBIA BASIN HERALD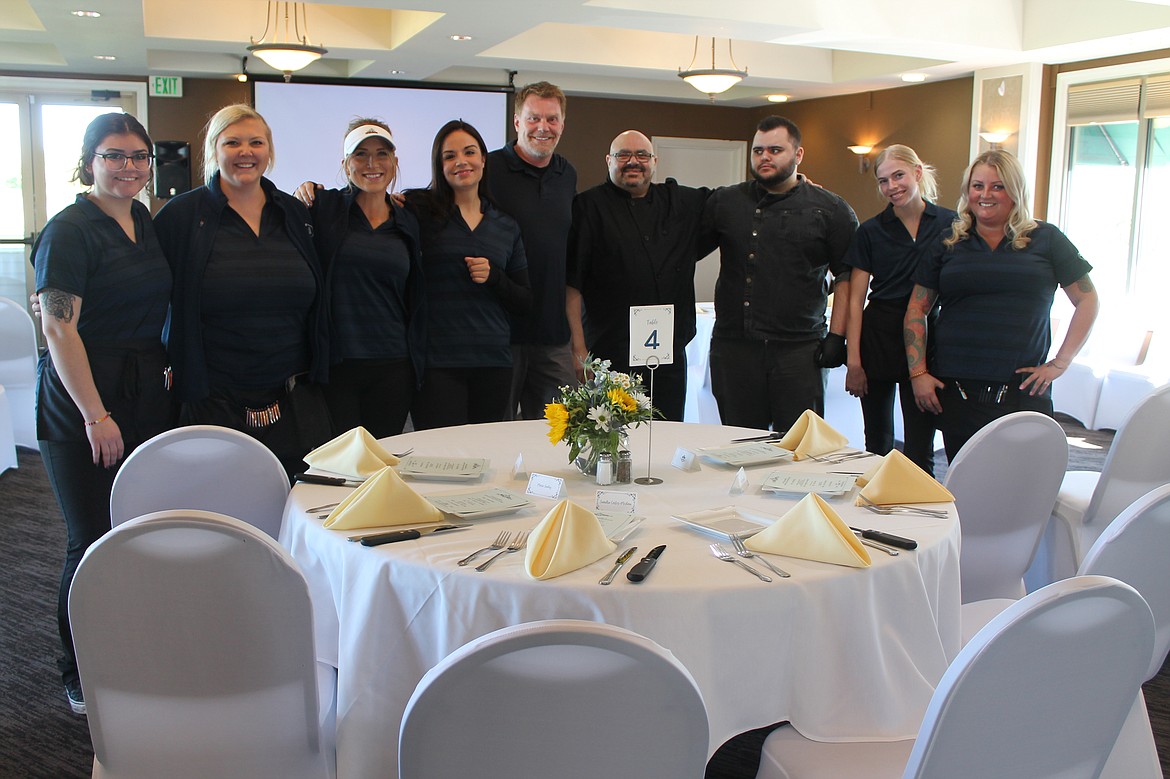 Pillar Rock Grill head chef Sameh Farag (fourth from right) with some of his staff. Pictured (from left) Mirah Farag, Cambree Letkeman, Shoshana Lutz, Destiny Barerra, Cory Bartelle, Sameh Farag, Isaiah Farag, Olivia Mayo and Mariah Koenig.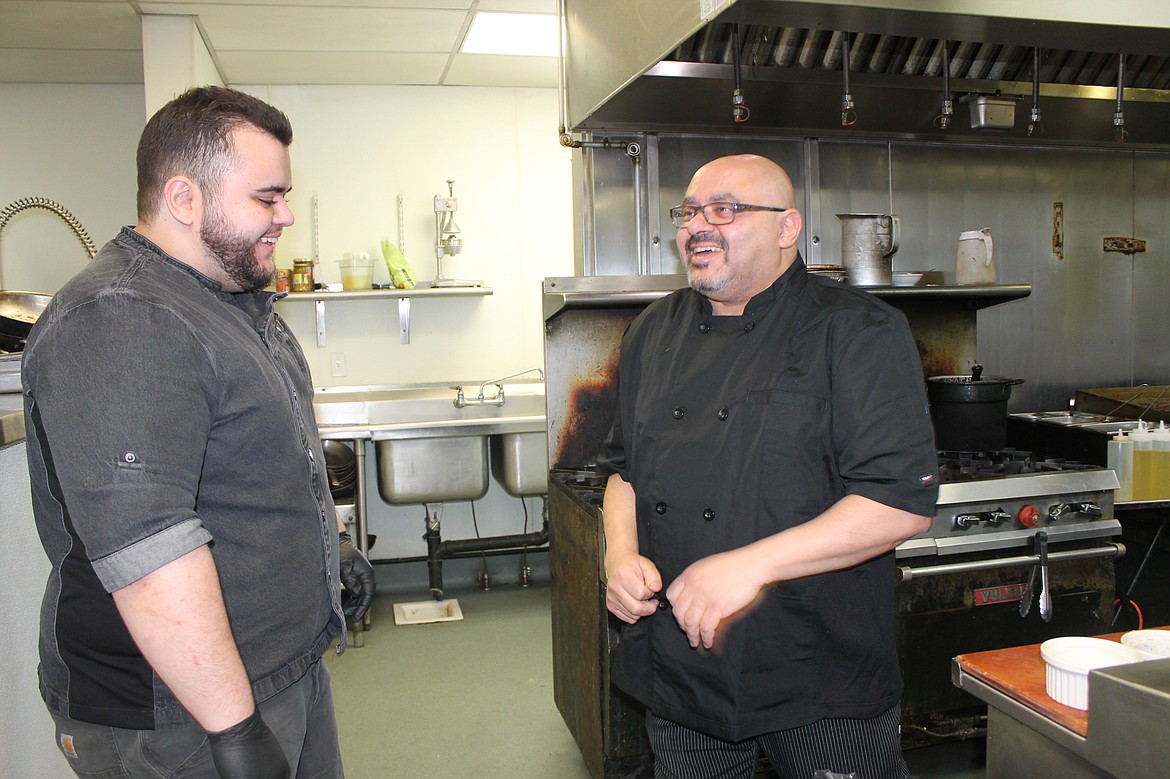 Pillar Rock Grill head chef Sameh Farag (right) talks with staff member Isaiah Farag at the restaurant Wednesday. Chefs don't simply cook food, they also manage and run the kitchen to ensure prompt, high-quality service.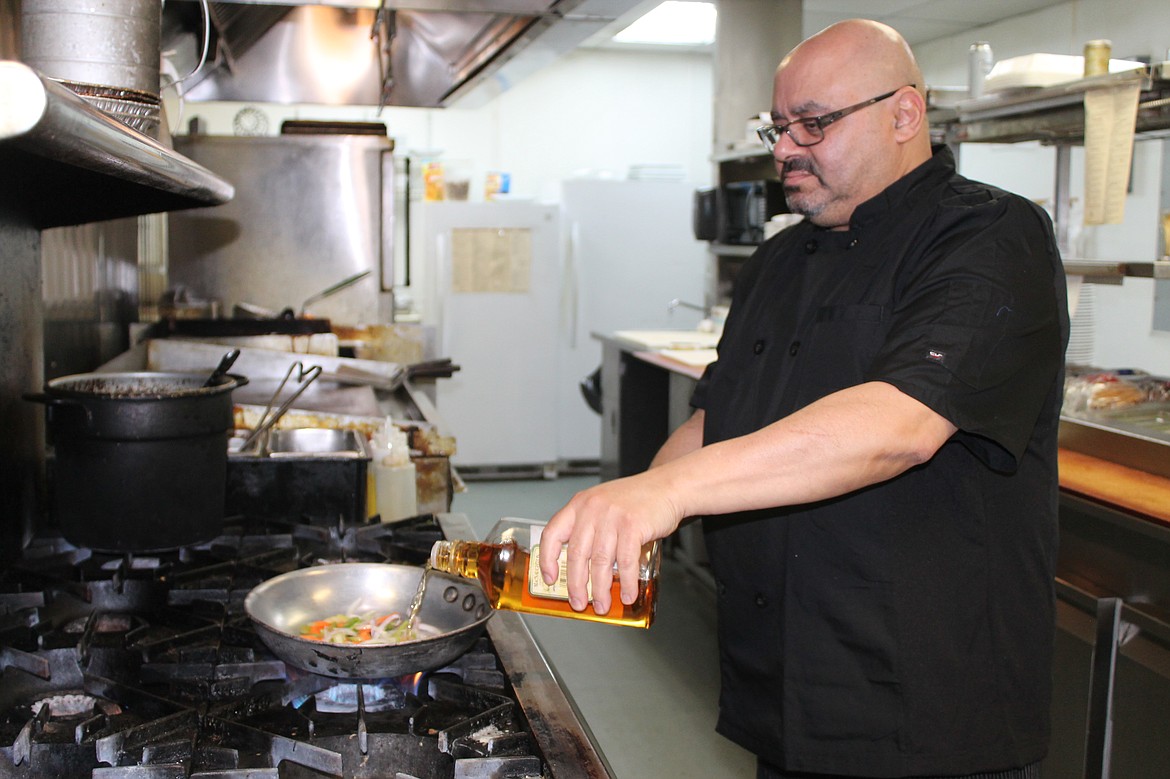 Sameh Farag, head chef at Pillar Rock Grill, works on a dish in the restaurant kitchen. Creativity is one of the attractions of cooking, he said. As head chef, he is also in charge of ensuring quality at the restaurant and keeping the kitchen organized.
Previous
Next
by
CHERYL SCHWEIZER
Staff Writer
|
May 16, 2022 1:00 AM
MOSES LAKE — Sameh Farag said when making a dish, fresh is best.
Farag is the head chef at the Pillar Rock Grill, the restaurant at the Moses Lake Golf Club located at 1373 Road F.2 NW in Moses Lake. The Pillar Rock serves an extensive menu, from eggs benedict florentine for breakfast to Cuban panini sandwiches for lunch or steaks and thai shrimp pasta for dinner.
Farag's favorite style of cooking, however, comes from Italy.
"I love making fresh pasta, garden-fresh sauces and seafood. The reason I love it so much is infusing the quality of freshness into every dish and the idea of family-style dining," he said via email.
However, for Farag, the kitchen is also a place to try something new.
"I love doing lots of creative items," he said in a separate interview. "Stuff that (we) can introduce our clientele to."
He said the menu gets most creative when staff work together.
"To inspire creativity in the kitchen, I work with all the kitchen staff to maintain a close team," he said. "I encourage suggestions and new ideas by having a weekly staff meeting. Having everyone's input is valuable, as they can see different things that I may miss."
Farag and his staff at Pillar Rock came home from the recent Bourbon and Bowties event sponsored by Samaritan Healthcare with two awards, the judge's choice for best entree and the people's choice for best overall dish.
Farag is a native of Egypt - born and raised there, he said - and came with his family to Moses Lake in 1985. He went to work at Pillar Rock in 1993.
"I started as the head chef, and then took a break for a little while, and went to Vashon Island in Seattle for a year and a half," he said. "And then I came back. When you're from Moses Lake, you come back to Moses Lake. And I didn't like the life of Seattle or Vashon Island as well."
A dish starts with the freshest ingredients available, he said.
"My favorite way to source ingredients is to visit the local farmer's markets and fairs in the summer. I build a relationship with local farms, ranches and vegetable markets. Often I can get locally-sourced ingredients all year round," Farag wrote.
Events like Bourbon and Bowties - and cooking in general, really - give him the chance to try new ideas and ingredients, and new combinations.
"I love searching, seeing what's out there, what's trending," he said. "I try to keep geographically limited to what Moses Lake is, and have a great time."
Keeping it local and looking at thematic dishes helps inspire him, he said.
"When creating new signature dishes, I take inspiration from a theme," he said. "I first decide on a theme and then create a menu around that theme. For example, for autumn, I focus on heavier, warmer meals that are nurturing and wholesome. I focus on local seasonal produce to inspire my dishes."
The winning dishes at Bourbon and Bowties featured some of that Italian influence.
"It was lemon zest risotto croquettes and roasted beef tenderloin, bacon-wrapped shrimp, and I used Basil Hayden bourbon for the (veal-based) demi-glace," Farag said.
Pillar Rock was part of the first Bourbon and Bowties dinner in 2019, winning the best dessert category. There were things about that first event that came as a surprise to Farage, he said.
"I had no idea it was a competition," he stated. "Because they said, 'Don't tell Sameh it's a competition because he's not going to do it.'"
Farag said he knew what he wanted to do for the next event - he was going for the entree competition - but Bourbon and Bowties was postponed and eventually canceled in 2020 and 2021. While he knew what he wanted to do, preparing it still took time.
"We started about three days before with the preparation," he said. "Knowing that we're trying to keep the restaurant running, and get Bourbon and Bowties going at the same time."
The Pillar Rock Grill is open to the public, serving breakfast, lunch and dinner, and is an event center for banquets and meetings.

"Between that and Bourbon and Bowties, it was a bit of a rough week for us," he said. "Lots of hours. Lots of hard work."
Success in the restaurant industry does require hard work, but there's more to it than that, Farag said.
"The top three qualities of running a successful kitchen, in my opinion, are organization, quality standards and communication," he wrote. "Organization is important for each position within the kitchen. It allows the kitchen to run smoothly and efficiently. Quality standards include food safety, quality ingredients and quality skills of the staff. Communication is vital so that the entire team stays focused."
That focus is important to keeping customers happy and coming back, he said.
"To me, customer service means that every guest leaves satisfied, having enjoyed a delicious meal and dining experience at a fair price. It is my responsibility to create quality standards within the kitchen so that my team understands what is acceptable and what is not," Faraq said.
Cheryl Schweizer may be reached at cschweizer@columbiabasinherald.com.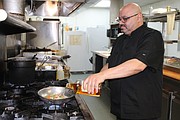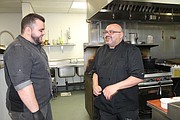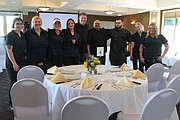 Recent Headlines
---