UPDATED: Fatality accident near George closes roadway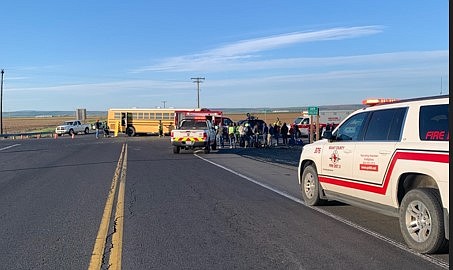 First responders are on the scene of an accident near George. The bus in the photo above is a retired school bus that was being used to transport
COURTESY PHOTO/GCSO
by
R. HANS MILLER
Staff Writer
|
May 13, 2022 5:56 PM
UPDATED: 5:56 p.m.
The Grant County Sheriff's Office has issued a statement regarding a fatality accident in the George area which occurred at about 5 a.m. Friday morning.
Martin Tapia Mosqueda, 65, Othello, was driving a full size passenter bus north on Adams Road North and attempted to turn west onto South Frontage Road East on the south side of I-90. GCSO reports that Tapia Mosqueda attempted to turn and wound up in the path of a southbound 2003 Chevrolet truck driven by Jose Guerrero Rosario, 43, of George. The resulting collision caused Guerrero Rosario's vehicle to collide with a 2003 Acura MDx driven by Christopher K. Wagner, 36, Arlington, who was stopped at the stop sign at that intersection.
Guerrero Rosario was declared dead at the scene and his body has been transferred to the care of Grant County Coroner Craig Morrison. An autopsy will be performed. His family has been notified.
Tapia Mosqueda's bus carried 26 adult passengers. Of those, one was flown to an area hospital and several others were taken to area hospitals to be evaluated for non-life-threatening injuries.
Jorge Jesus Martinez, 58, Quincy, was traveling with Guerrero Rosario and was transported to Quincy Valley Medical Center and later transported to Confluence Health/Central Washington Hospital in Wenatchee for the treatment of serious injuries, the GCSO statement said.
Wagner was transported to Quincy Valley Hospital and was later released.
The accident remains under investigation by GCSO, the statement said.
ORIGINALLY POSTED AT 8:12 A.M. ON MAY 13:
GEORGE - The Grant County Sheriff's Office has issued a statement that roads have been closed at the intersection of Adams Road N. and S. Frontage Road NW near George. The accident is on the south side of I-90.
The collision involves a retired school bus that was transporting farmworkers. No school children were aboard the bus at the time of the accident. At least one fatality and multiple injuries are reported.
GCSO spokesperson Kyle Foreman said those injured are being triaged and sent to area hospitals for treatment.
The statement made by GCSO indicated that multiple vehicles were involved in the collision but did not specify how many or what types of vehicles were involved.
Authorities are asking the public to avoid the area until the incident has been cleared from the roadway.
Recent Headlines
---