Off the road: MLSD forced to cancel bus routes due to COVID-19, seeks substitute drivers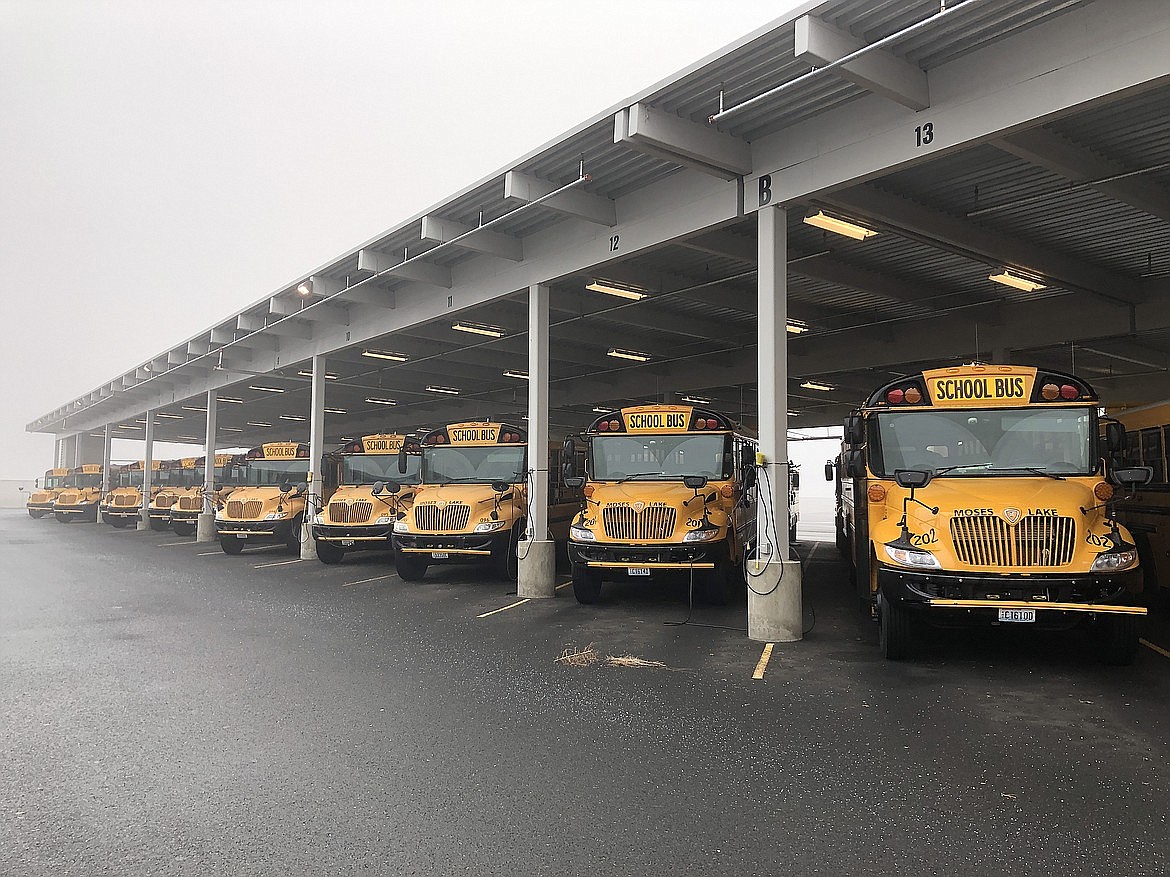 Buses sit at the Moses Lake School District Transportation Department in 2021.
Dave Burgess/Columbia Basin Herald
by
R. HANS MILLER
Staff Writer
|
January 24, 2022 1:07 AM
The Moses Lake School District was forced to cancel 13 bus routes on Wednesday, 15 Thursday and another dozen on Friday after bus drivers and bus driver assistants were in short supply due to having COVID-19 or being exposed to someone with the virus.
"Absences in our transportation department have been caused predominantly by the impacts of the omicron COVID-19 variant," said district spokesperson Claren McLaughlin. "… As the minimum quarantine time is five days, we anticipate the current staffing strain will improve in the coming days."
McLaughlin said Friday only three routes, 38, 45 and 77, were expected to be shut down by Monday afternoon, though it could increase by one or two routes depending on any exposures or illnesses occurring over the weekend.
Jeremy O'Neil, chief operating officer for MLSD, said the pandemic's current wave caused by the omicron variant of the SARS-CoV-2 presents a planning challenge for the district. He confirmed the cancellations were due to cases of the disease or close exposures.
"We're reacting in a very fluid environment," O'Neil said.
The five-day isolation period isn't set by MLSD, he added.
Five days must have passed since symptoms began or a positive antigen test was collected and no symptoms are ongoing or are resolving. And, those who have not received a positive diagnosis, but have come into close contact with someone who has or had COVID-19 are required to isolate for five days. For more information, go to the district's website at https://bit.ly/MLSDCOVIDISO. While those guidelines are the general policy, district spokesperson Claren McLaughlin said each incident of exposure is handled on a case-by-case basis.
School districts nationwide have reported shortages in bus drivers periodically throughout the pandemic. Many have appealed to parents and the community at large to look into becoming full-time or substitute drivers. MLSD appears to be no exception.
"We continue to appeal to all members of the Moses Lake community who are motivated to help our students get to school, and who have the capacity, to apply to be a substitute bus driver today," McLaughlin said.
O'Neil said those interested in applying may do so at mlsd161.org (click on the "Employment" button or by stopping by the transportation office if they need assistance completing the application.
In the meantime, the school is hopeful the latest wave of the pandemic will fade out quickly, O'Neil said.
"If you look at the spike that we're currently in the middle of, our hope is that it wanes as quickly as it arrived. But, that given, we really want to make an appeal to the community. (Bus driving) is a job that can fill your soul and it does a great service to the community. So, if you can do this for the community, please think about applying to be a substitute bus driver. We can surely use it," O'Neil said.
(Editor's note: This article has been updated to reflect correct information on the district's quarantine requirements.)
Recent Headlines
---