Grant County faces problem of catalytic converter thefts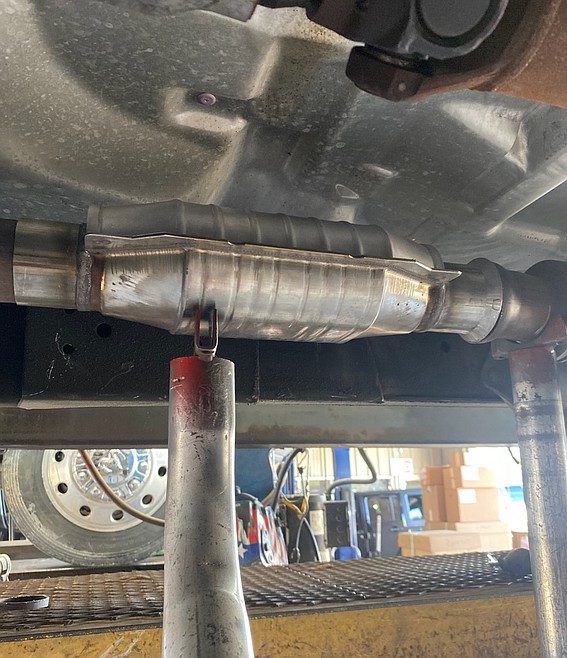 Catalytic converters, like the one shown here, contain precious metals, which make them a target for thieves with battery-operated reciprocating saws. When sold to recyclers, the devices, which change dangerous exhaust fumes into water and less harmful gases, fetch between $50 and $250 at recycling plants, according to the National Insurance Crime Bureau.
Jared Davenport/Courtesy photo
by
R. HANS MILLER
Staff Writer
|
January 20, 2022 1:05 AM
A catalytic converter was reported stolen from a transit bus at the Meditech Mobility facility at 630 E. Broadway Ave. in Moses Lake over the weekend, one theft of dozens like it already this year in Grant County, according to law enforcement authorities.
In unincorporated Grant County, there were 36 reports of catalytic converter thefts in 2021. So far in 2022, the unincorporated areas have only three reports, said Grant County Sheriff's Office Lt. Ricardo Char. He added most of those thefts occur in locations where vehicles are not monitored, such as in apple orchards or storage lots. While those numbers may not seem like much, he said they do not include thefts within the limits of cities like Royal City, Warden, Ephrata, Grand Coulee or Moses Lake.
"The last two years, we've been getting hit hard," said Moses Lake Police Chief Kevin Fuhr.
Fuhr said the theft of the catalytic converters – a part of a vehicle's exhaust system that contains precious metals – is commonplace and fast. It's also difficult to track down the thieves who take them because not everyone has cameras covering the areas they park in.
Char agreed with Fuhr in a separate interview, stating converter thefts are a "crime of opportunity." Criminals with theft in mind are often prepared with tools and practice and can get under a car and out very quickly.
"I mean, they have to lift the car up, right, so that takes some time. And then, using a reciprocating saw, battery-operated, it could be less than a minute, maybe even 30 seconds for them to take it out," Char said.
Fuhr said catalytic converter thefts are sometimes done by individuals, but gangs and professional crooks are also involved. Some are so brazen they even hit new car lots, storage units, auto repair business lots and even government motor pools.
"We have the Grant Transit Authority, which is our government agency that runs our transportation, our buses, or public transportation around here. Somebody broke into their yard several months ago and stole catalytic converters out of a bunch of buses – and they were in a blocked, fenced area," Fuhr said.
Nick Bench, manager at Columbia Basin Auto Repair in Moses Lake, said the problem is a common one for his customers. Thieves even hit vehicles his team was working on at one point last year, and while the business replaced the stolen vehicles, it was both an inconvenience and a costly situation. Replacing a catalytic converter can cost anywhere from $100 to $1,000 before labor costs are applied, he said. It just depends on the model of vehicle they were taken from. Many cars and trucks have multiple catalytic converters and usually, only the easiest to access are stolen, he said.
Bench said the precious metals used in their construction are why catalytic converters are targeted so often.
According to the National Insurance Crime Bureau, converter thefts are common throughout the U.S. and have increased in frequency as the price of metals has gone up.
"As the value of the precious metals contained within the catalytic converters continues to increase, so do the number of thefts of these devices," said NICB President David Glawe. "There is a clear connection between times of crisis, limited resources, and disruption of the supply chain that drives investors towards these precious metals."
NICB statements said rhodium at $13.25 per ounce and palladium at $1,934 per ounce – both metals used in the manufacture of catalytic converters – were large drivers of the trend in thefts.
"On a Toyota Camry – they're a four-cylinder – there's one (converter) that's right near the rear of the tires on the front. If they cut that out, it's usually about $300 to repair just that single one on that car, but other vehicles can be more difficult to change them and the price of the catalytic converter could be anywhere between $100 and $1,000," Bench said.
The expense isn't the only problem, Bench said. While replacing the exhaust parts can be fast once the parts are in, getting the converter may take a day or two. In the meantime, the vehicle's owner is left without the use of the vehicle.
Fuhr said preventing the crime can be a challenge, but there are steps he and Char suggested drivers take when choosing where to park and store their vehicles. Ensuring the vehicle is in a locked garage is the best option, they said. Otherwise, parking in a locked lot or well-lit area can help discourage thieves. Both also recommended adding video cameras, especially those with motion sensor activation, where the cameras can capture the vehicle and its surroundings. Taking those simple steps can prevent a lot of expense and inconvenience, they said.
Char also encouraged reporting any suspicious behavior around vehicles, such as raising a car when a flat tire or mechanical problem isn't obvious.
"Report suspicious behavior for people jacking up cars because there'd be no reason for them jacking up a car unless they're switching out a tire," Char said.
---