Inslee activates Washington National Guard due to omicron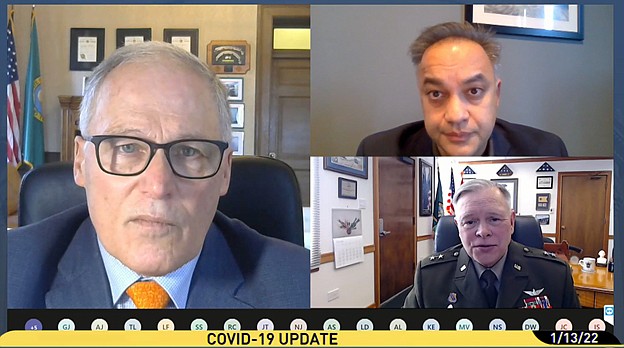 Washington Gov. Jay Inslee (left) speaks during a press conference Thursday announcing additional measures taken by the state to address the ongoing COVID-19 pandemic and the current surge in cases attributed to the omicron variant of the virus. He was joined by Washington Secretary of Health Dr. Umair Shah (upper right) and Maj. Gen. Bret Daugherty (bottom right), the commander of the Washington Army National Guard and the Washington Air National Guard.
Office of the Governor/Courtesy photo
by
R. HANS MILLER
Staff Writer
|
January 14, 2022 1:03 AM
Washington Gov. Jay Inslee announced during a Thursday afternoon press conference he is activating 100 Washington National Guard troops to help in hospitals and taking other measures to help hospital workers slammed with an overload of patients during the current surge of the omicron variant of SARS-CoV-2, the virus that causes COVID-19.
"This is non-clinical personnel, across the state, to help hospitals to assist in nonmedical tasks, to alleviate issues, particularly in their emergency departments, and also to add testing capacity at these hospitals to get the testing to alleviate the challenge in emergency departments," Inslee said.
The governor said the guard troops would be sent to Providence Regional Medical Center in Everett, Yakima Valley Memorial Hospital in Yakima, Confluence Central Washington Hospital in Wenatchee and Providence Sacred Heart Medical Center in Spokane. Troops will also be deployed to assist with testing at hospitals in Olympia, Richland, Seattle and Tacoma. Additional measures included requiring hospitals to use medically-appropriate personal protective equipment and restricting non-urgent health care services, procedures and surgeries performed in hospitals.
Inslee was joined by Maj. Gen. Bret Daugherty, who commands both the Washington Army National Guard and the Washington Air National Guard. Daugherty said there were multiple reasons for activating only 100 guard troops rather than using National Guard members to more fully staff hospitals overall. He explained guard members generally have civilian professions, so taking them out of their set roles would simply shift them from being private medical professionals to on-duty medical professionals, which wouldn't add to the state's overall hospital staffing. Further, the state is concerned about removing staff from businesses that need their workers.
Inslee said he is encouraging hospitals and long-term care facilities to use available staffing assistance provided by the state. The state currently offers supplemental staffing for those facilities through ACI Federal, at the state's expense.
Currently, Inslee said, the state is already providing more than 875 staff to hospitals across Washington with another 200 staff, such as nurses and other medical professionals, traveling to newly assigned hospitals. That leaves about 125 positions the state will pay for hospitals to use.
"I really urge hospitals to do this lifting. They've asked for the National Guard to step out of their civilian lives, and the guard is going to do that," Inslee said. "But we really need the hospitals to use this procedure to get more staff, even if they have to pay for it. We need this staff and I really encourage them to utilize (the ACI Federal contract)."
Washington Secretary of Health Dr. Umair Shah said it is important for residents to do their part, as well. He acknowledged staff at hospitals are tired after working for nearly two years during a pandemic. He said he encourages those who are not vaccinated to get vaccinated and for those who have not had their COVID-19 vaccine booster shots to get them.
"If you are unvaccinated, you're eight to 11 times more likely to be hospitalized than if you're fully vaccinated (against COVID-19) in Washington state," said Deputy Secretary for COVID Response Lacy Fehrenbach.
Shah also said Washington residents can help lighten the loads of health care workers by using resources properly. He stressed it is important for everyone to get vaccinated and to get their booster shots.
Inslee noted about 87% of patients who are currently hospitalized in Washington for COVID-19 are unvaccinated and most breakthrough cases – those situations wherein a vaccinated person has gotten sick with COVID-19 – are primarily among those who have not gotten their booster shots.
According to the state Department of Health's website, as of Monday, 78% of eligible Washingtonians had at least one dose of a COVID-19 vaccine and about 71% were fully vaccinated. About 1.02 million cases were active in the state and 48,603 patients were in the hospital with COVID-19. At the county level, the state reports 945 hospitalized with the disease in Grant County and 186 in Adams County. To date, more than 10,000 Washingtonians have died from COVID-19. Of those, 183 were Grant residents and 35 were from Adams County.
Shah also asked residents to wear appropriate masks whenever they venture into public spaces with a preference for medical-type masks due to the omicron variant's high level of contagiousness. Additionally, he asked Washingtonians not to go to emergency rooms unless necessary.
"Do not go to the hospital emergency department, unless you have an urgent and emergency issue," Shah said. "Do not go there to confirm a test that you received a positive result on for COVID-19. Do not go there if you have mild symptoms. (Those are) the messages that we really need to share with our community members, because the hospitals and health care system is truly stretched right now."
Inslee said he is planning to work with legislators in Olympia to streamline the process for guardianship declarations. The process, which can often take months, has kept people in hospitals who should either be in long-term care or at home with family members who can care for them. By streamlining the process, he said he is hopeful more beds will open up as the pandemic continues.
Guardianship is just one issue keeping people in hospitals, Inslee said. He added staffing of medical professionals at hospitals and nursing homes has to be addressed. He said he would work with legislators to add money to the state's budget to facilitate training and certification for medical professionals. However, to have a more immediate impact, the state will be looking to increase its current 60 contracted staff at nursing homes by another 200, which he estimated would free up an additional 240 hospital beds across the state.
Both Shah and Inslee emphasized throughout the press conference it was vital for Washingtonians to get vaccinated and to obtain the subsequent booster shots to help fight the pandemic.
"Some folks are saying, 'Well, gosh, if omicron is giving mild symptoms, why do I need to get boosted?'" Shah said. "(The) reminder is that you don't know who's going to have the mild symptoms (or) who's not. But also, you may be transmitting that virus to someone else in your community, in your neighborhood, in your family or your workplace who may actually have a more serious outcome. And that's why we're really, really wanting people to do everything they can to get their boosters."
Recent Headlines
---