Moving toward permanence: Moses Lake identifies new site for Open Doors Sleep Center

Moses Lake's Project Open Doors Sleep Center is shown here. Moses Lake City Manager Allison Williams told Grant County commissioners the city is addressing the problem of shelterlessness for the city and its county-level partners.
City of Moses Lake/Courtesy photo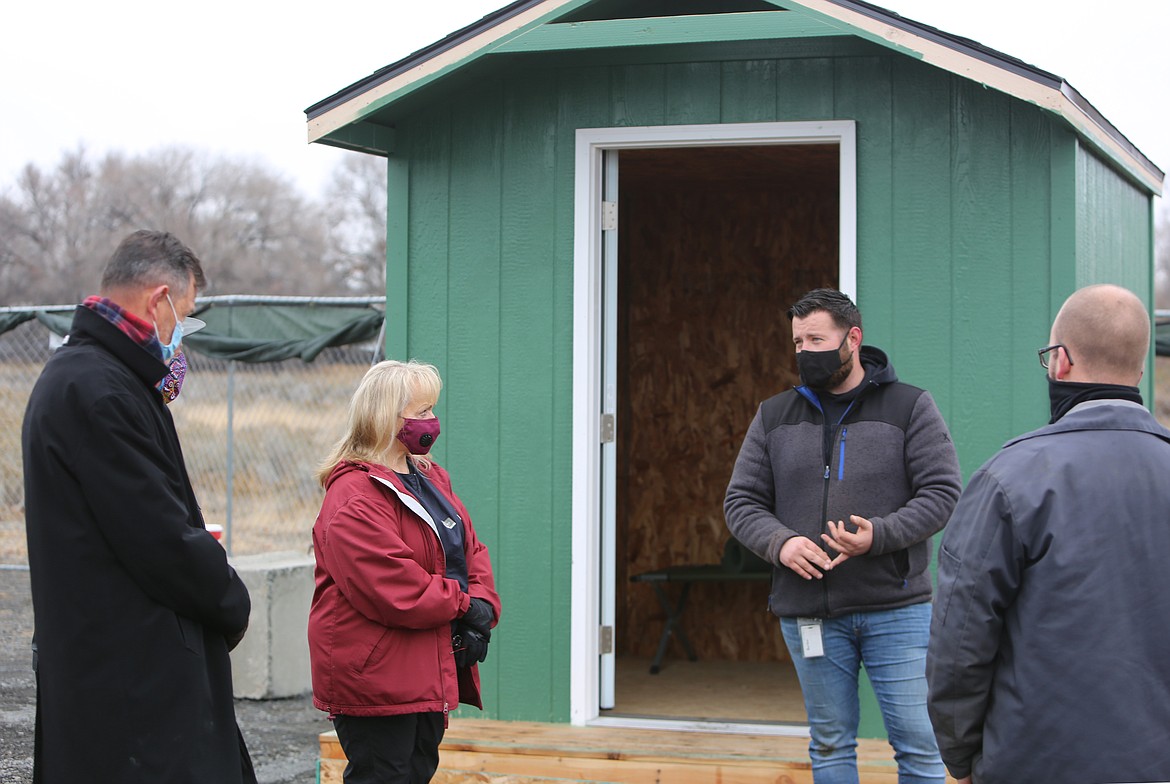 From the left, former Moses Lake Mayor David Curnel, former council member Karen Liebrecht, Housing and Grants Coordinator Taylor Burton and council member Don Myers (with others) meet at the city's new Sleep Center in December 2020.
Previous
Next
by
R. HANS MILLER
Staff Writer
|
January 13, 2022 1:07 AM
Moses Lake City Manager Allison Williams provided an update on the city's plans to address the needs of those facing shelterlessness in the city during Tuesday's Grant County Board of Commissioners meeting.
"As a city, one of our big projects is transitioning the Sleep Center (Open Doors Sleep Center) from its temporary location into a permanent location. We've identified a property and, based on our work in this arena, particularly (Grant County's) plan to end homelessness, which informed the city's Housing Action Plan, we have a huge need for affordable housing," Williams said.
Williams said the land for what is dubbed the Moses Lake Transformational Campus is about 5 acres. The city is working on asking for proposals from consultants who would conduct a market analysis and site a development plan for the property. Generally, she said, the facility would be mixed-use, with temporary sleeping arrangements and semi-permanent housing options to help those facing a housing crisis improve their overall living situations. According to documents provided by Williams, the land is located on North Central Drive, just northwest of Goodwill, across from Smulligan's Pizza & BBQ. The site is near three bus stops and within a walkable distance from the anticipated location of a new food bank to be located near the intersection of Grape Drive Northeast and Beacon Road Northeast.
"Our current Sleep Center is on 1 acre. It needs to be moved to a permanent location and upgraded. So that is the first need, and then we're looking to the market analysis to define what other needs are out there," Williams said.
Tentative plans for the new site would include a 20-unit enhanced shelter that would provide immediate access to housing, case management and stabilization services for those in need. A drop-in shelter and warming center would provide opportunities for those without homes to take care of hygiene needs. Additionally, a 50-unit affordable housing project with units dedicated to shelterless households is proposed with attention paid to green standards adopted by the state of Washington. Services, such as rental, energy and food assistance would also be coordinated at the Moses Lake Transformational Campus.
The projected cost to build the campus is estimated at $20 million, which would be split in halves in two phases, according to city documents. Funds would come from a variety of sources, including tax-credit financing, equity investors and the city's budget.
Williams said the city is also looking at federal aid, such as American Rescue Plan Act funding, to assist in construction and operation of the center. Total costs are not fixed because additional planning is needed, Williams said.
Williams said she was asking the county to pitch in with help on the costs for market analysis because any facility created by Moses Lake, the county's largest town, would be used by clients from throughout Grant County.
"(We) just want to be a part of the whole county-wide process. And, as the largest city, I think we can offer a place that people are coming to anyway for services," Williams said.
County Commissioner Danny Stone said he understands the county is facing a housing shortage for lower-income residents. He said he would like to see a tiered approach to the development of a low-income housing facility, which motivated tenants to work to reach the next step of housing. He added he knew it would be a difficult situation because housing has become very expensive throughout the northwest.
"The step between where some of these people are and where our housing costs are at right now is a huge leap. I don't know what the lowest rent is, but my son in Coeur d'Alene, (Idaho) is paying $2,800 a month for rent," Stone said.
According to Rentdata.org, a site that tracks housing market trends, the median rent prices in Grant County are higher than average. A one-bedroom apartment has a median rent of $704; a two-bedroom, $870; a three-bedroom $1,245; and a four-bedroom $1,375. However, rental listings on Zillow.com show a lack of availability at or below those prices at all home sizes. In many cases, Zillow's listings are nearly twice the median rental rates noted by Rentdata.
According to documents provided by Williams, about 2,100 households in Moses Lake alone would qualify for low-income or income-based housing units per the Department of Housing and Urban Development's guidelines as of 2020. Hispanic households are about 5% more likely to qualify under those guidelines with U.S. Census Bureau data indicating about 50% of Hispanic households in Moses Lake making less than $45,000 annually – in contrast to 40% at the state level and 44% nationally.
Stone asked Williams what role the Housing Authority of Grant County and other similar organizations would need to have in solving the housing challenges of Grant County residents.
Williams said those other resources, including the El Rancho Motel and assistance provided through HAGC, are essentially at capacity.
To address that issue, Williams said the city is looking to put together a housing task force, which would include stakeholders in the process of helping people overcome housing challenges.
No formal action was taken at the meeting. However, commissioners expressed appreciation for the city's efforts in combating shelterlessness.
"It's good to get this update from you," Stone told Williams. "Let's continue to communicate."
R. Hans Miller can be reached via email at rmiller@columbiabasinherald.com.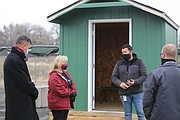 Recent Headlines
---