Hankins named Moses Lake mayor; Myers deputy mayor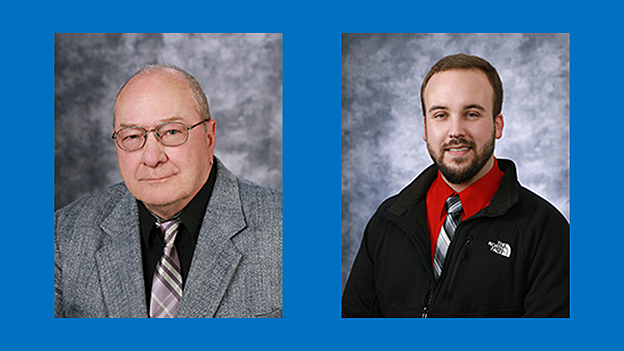 Councilmember Dean Hankins, left, was voted into the Moses Lake mayoral seat Tuesday evening, while council member Don Myers was voted into office as deputy mayor. Both have terms ending Dec. 31, 2023.
City of Moses Lake/Courtesy photos
by
R. HANS MILLER
Staff Writer
|
January 13, 2022 1:05 AM
The city of Moses Lake has a new mayor, as city council members voted to elect Dean Hankins to the role during their Tuesday evening meeting.
"Now I feel like we've just entered into the Twilight Zone," Hankins said. "First of all, I'd like to say thank you for the vote of confidence in performing these duties. Even with the limited duties the mayor has in this form of government, I consider this a privilege and honor, and I will do my best to not make people who voted for me regret it in the future."
Prior to the nominations of Hankins, as well as council members Don Myers and David Eck for the role, Moses Lake City Manager Allison Williams explained the role of a mayor in a council-manager city form of government. The mayor is the chairperson of the council, she said, and presides over meetings. The mayor is also recognized as the head of the city for ceremonial purposes and by the governor for the purpose of military law, she said. While the sitting mayor has no regular administrative duties, during a public emergency, the mayor may take charge of the police to maintain law and order.
Newly elected council member Mark Fancher nominated Hankins for the mayoral role with Dustin Swartz, Fancher and Hankins also voting in Hankins favor. Council member David Eck was nominated by Deanna Martinez for the role and both she and Eck voted for him. Council member Judy Madewell nominated Myers and she and Myers cast votes for him.
Myers was confirmed as deputy mayor shortly after the vote installing Hankins as mayor. The deputy mayor serves as mayor whenever the sitting head of the council is not able to perform those duties, Williams said.
For Madewell, Swartz and Fancher, Tuesday's meeting was their first on the council after the Nov. 3, 2021, election put them ahead of incumbents and challengers. Martinez took her seat in December when Mike Riggs resigned after losing to Martinez.
The next regular Moses Lake City Council meeting is scheduled for 7 p.m. Jan. 25 at 401 S. Balsam St. Anyone wishing to attend online may do so through the Zoom link in the agenda which will be posted at https://bit.ly/MLAGENDAS.
R. Hans Miller can be reached via email at rmiller@columbiabasinherald.com.
(Editor's note: This story has been updated to clarify when Martinez took her council seat.)
Recent Headlines
---