Students, supporters protest mask requirement at MLSD meeting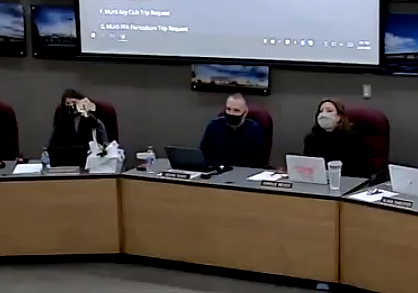 Moses Lake School Board President Kevin Fuhr (center) asks protesters to leave the board meeting on Thursday, Feb. 24. Fuhr said he supported the right to protest peacefully, but mandates from Olympia needed to be complied with to serve the best interests of the district. He said he has seen the impact refusing to comply with the mandates has had on other districts. Fuhr is flanked by board vice president Shannon Hintz (left) and Interim Superintendent Carole Meyer.
Moses Lake School District/Courtesy Photo
by
CHARLES H. FEATHERSTONE & R. HANS MILLER
Staff Writer
|
February 28, 2022 1:00 AM
MOSES LAKE — Several students and their supporters were asked to leave after they refused to wear masks at last Thursday's Moses Lake School District Board of Directors meeting.
Students in the group said they were frustrated with the extended length of the mandate which they'd been told would only last two weeks when the pandemic first began.
"We were supposed to wear it for two weeks but that kept getting pushed back, and now it's been two years," said Moses Lake High School student Beck Ashton.
Ashton, who was joined by more than a dozen fellow students and supporters, said he was aware that Washington Gov. Jay Inslee had announced an end to the mask mandate with a scheduled date of March 21. However, he said he and his fellow protesters were concerned that the date would once again be pushed back, as it has been multiple times for more than two years now.
Ashton's aunt, Kortni Nelson, said the students whom she showed up to support had discussed multiple concerns as they organized their protest. The students had questioned what seemed like ever-changing science behind the mandates and other COVID-19-related policies.
"It's not just about the masks; the mandates are coming for vaccines. We're talking (about the fact) that kids don't have choices over their bodies and it seems very confusing," Nelson said. "And, our voices are not being heard or even asked (for). We weren't even heard today."
The students and supporters had refused to wear masks while sitting in an open school board meeting and were subsequently required to leave by MLSD Board President Kevin Fuhr.
Fuhr said he supported the students' right to protest peacefully, but the district did not have a choice whether or not to comply with Inslee's executive orders, which establish the mask mandate.
Several attendees who were not part of the protest verbally applauded the students for exercising their First Amendment rights and standing up for what they believed in.
Some school board members also voiced frustration over the mask mandate and support for the students' concerns.
"I wanted the mask mandate on the agenda, several board members and many citizens wanted that," said Board Member Paul Hill. "I am formally asking that it be on the March 10 agenda."
Fuhr responded that he did not put a formal discussion of mask mandates on the board's agenda for Thursday because he saw what had happened at other school districts where local boards ended the mandates.
"I saw what happened in Richland. They had to close the schools and reverse the decision, and (the Department of Labor and Industries) closed Kettle Falls," Fuhr said.
Earlier in February, the Kettle Falls School Board voted to end its mask mandate and make mask-wearing optional for students and staff. However, the district closed schools on Thursday and reversed its decision for staff following the launching of an investigation by L&I.
On Feb. 18, Gov. Jay Inslee publicly announced the Monday, March 21 end date for the state's mask requirement. Meanwhile, the Centers for Disease Control said masking indoors was no longer necessary for most Americans in a Friday announcement.
Board Member Susan Freeman said the MLSD has spent too much time "policing the mask issue" and that a student's failure to wear a mask should not result in suspension.
"That's a violence thing, not a disobedience thing," Freeman said. "We need to give the community an end date on that, and I'm disappointed it didn't happen."
Nelson and Ashton both emphasized that they understood the impact that COVID-19 has had on many families and said they sympathize with those who have lost loved ones.
"I'm not downplaying any hospitalizations or deaths," said Nelson, who added that she is an educator. "I am strictly saying, from a teacher's perspective, what we have lost over the last two years is immense."
Recent Headlines
---