Safeway begins online programs to fight food insecurity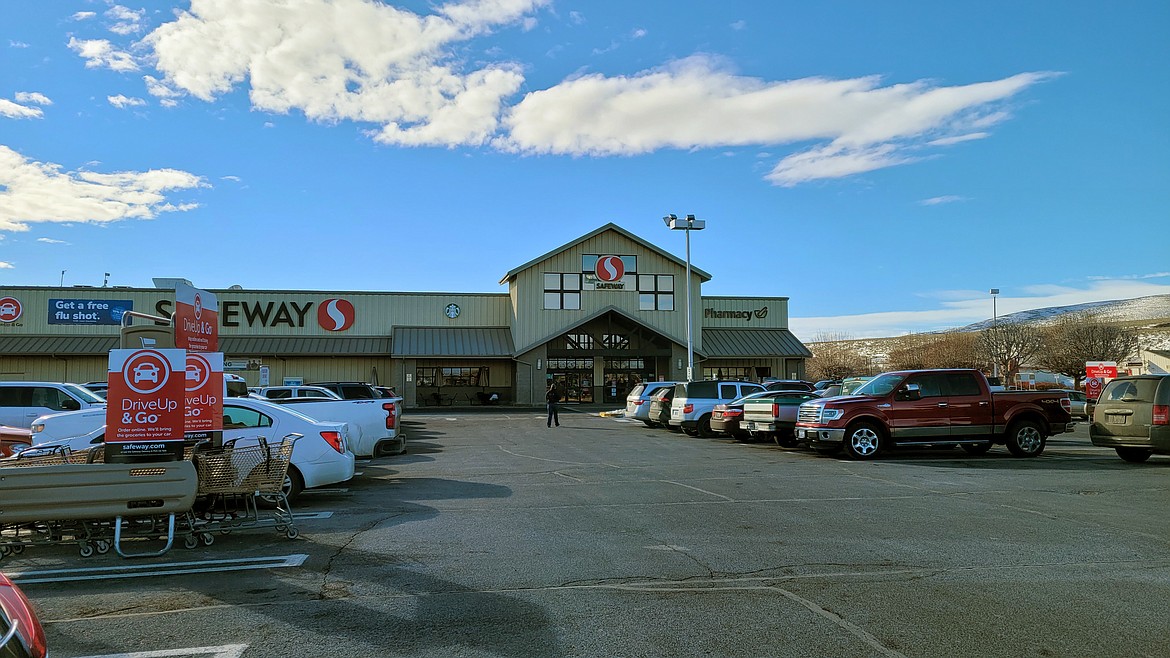 The Safeway in Ephrata, shown here on Tuesday, is one of more than 130 locations across Washington that will offer Supplemental Nutrition Assistance Program benefits online.
R. Hans Miller/Columbia Basin Herald
by
R. HANS MILLER
Managing Editor
|
February 2, 2022 1:07 AM
Safeway announced on Jan. 6 it is accepting online Supplemental Nutrition Assistance Program benefits in addition to several other measures meant to fight food insecurity under its newly-dubbed Nourish Everyone Campaign.
"Food insecurity is a problem this nation can and should solve. Food banks can't do it alone and we think grocery stores are the cornerstone to solving this issue," said Sara Osborne, Safeway's director of external affairs, in a press release.
The program could help Grant and Adams county residents who qualify. Those could include state Food Assistance Program participants in Grant County, which made up 18% of the county's population (17,300 participants) in November 2021, the release stated.
But according to Feeding America, a nonprofit that tracks food insecurity across the nation, almost 11,000 Grant County residents live with food insecurity, or about 11.6% of the county's population. The organization estimates about $5.6 million annually is needed to eliminate food insecurity in Grant County.
The new program at Safeway takes multiple programs started five or more years ago and combines them under one umbrella with a pilot program to use SNAP benefits online. The company donated $6 million in grocery cards to more than 200 organizations throughout Washington and Alaska, as part of the launch for the consolidated program. Further, the company – a part of the Albertsons family of grocers – hopes to expand the program nationally, Osborne said. That includes a program wherein anyone using SNAP to order produce online can get a $10 coupon for each $10 of benefits they spend on fruits and vegetables.
"Safeway has long been an ally in helping fight food insecurity in Washington," said deputy secretary of strategic partnerships at the Washington State Department of Health, David Bayne, in the release. "They have doubled our SNAP Produce Match benefit and provided SNAP customers online ordering and purchasing, pickup, and delivery options."
Anyone interested in the program can speak with their local SNAP office or visit Safeway.com with their benefits information available. Statewide, 131 stores are online with the program, with additional locations being brought into the Nourish Everyone Campaign in the coming weeks, Osborne said.
The produce coupons can be used online or in-store on the SNAP participant's next grocery bill, Osborne said. The online service is the only way to get the increased $10 benefit, rather than the SNAP $5 produce match.
Safeway hopes the online access to delivery and curbside services eliminates barriers to using SNAP, Osborne said. The online access allows SNAP beneficiaries to obtain their groceries without anyone knowing they're using food aid. However, the primary barriers eliminated are those related to mobility and transportation concerns, Osborne said.
"It's just making it so much easier for people with transportation issues if they're walking or if they rely on public transportation, just less time to actually access food, so they have more time to do other things in their lives," Osborne said.
Younger people, such as college students, can access the program more easily, as well, Osborne said. About one in six community college students qualifies for SNAP, but they don't access the program for some reason. Providing online access can help eliminate that barrier to ensure they complete their education and have proper nutrition, she said.
The final element of the Nourish Everyone Campaign is Safeway's prescription program, Osborne said. By working with local clinics throughout the state, the store can honor grocery coupons provided by doctors to patients. This allows those with chronic health conditions, malnutrition or general food insecurity to eat properly, she said.
"The clinics, they're working with a lot of people who have chronic illnesses, or that screen positive for food insecurity or malnutrition. And so, it just gives them a way to immediately, right there, provide them with as many $10 vouchers for produce as they deem necessary," Osborne said.
While there are no local clinics enrolled in that program, Osborne said she hopes that portion of the campaign expands soon. Additionally, the Nourish Everyone Campaign is expected to branch out to the other Albertsons banner companies, where she hopes the success with the Safeway program will be repeated.
"What we really like about it is that we see a very high retention rate with these (produce) vouchers, which means that the education and the counseling that they're receiving, along with receiving the coupons, really is effective in people responding and utilizing the produce vouchers," Osborne said.
Recent Headlines
---