Bellevue's Max Herendeen takes Junior PGA title
Bellevue's Max Herendeen poses with the Jack Nicklaus Trophy after winning at the Junior PGA Championships.
CONTRIBUTED PHOTO/PGA OF AMERICA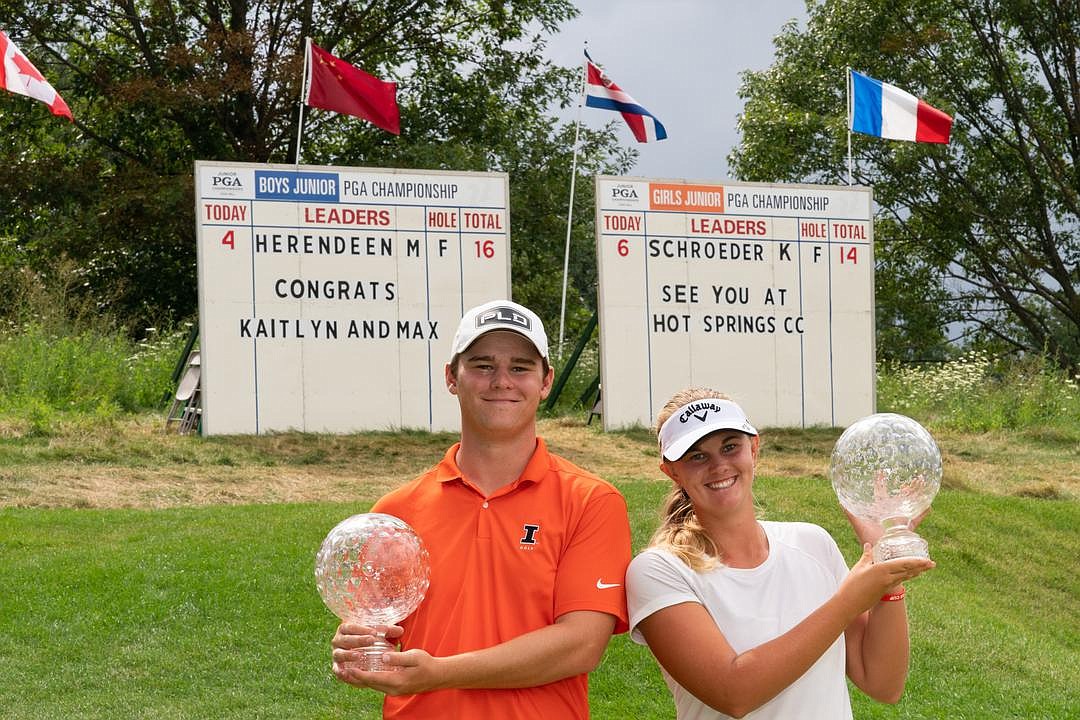 Junior PGA Championships winners Max Herendeen and Kaitlyn Schroeder stand with their trophies after their wins.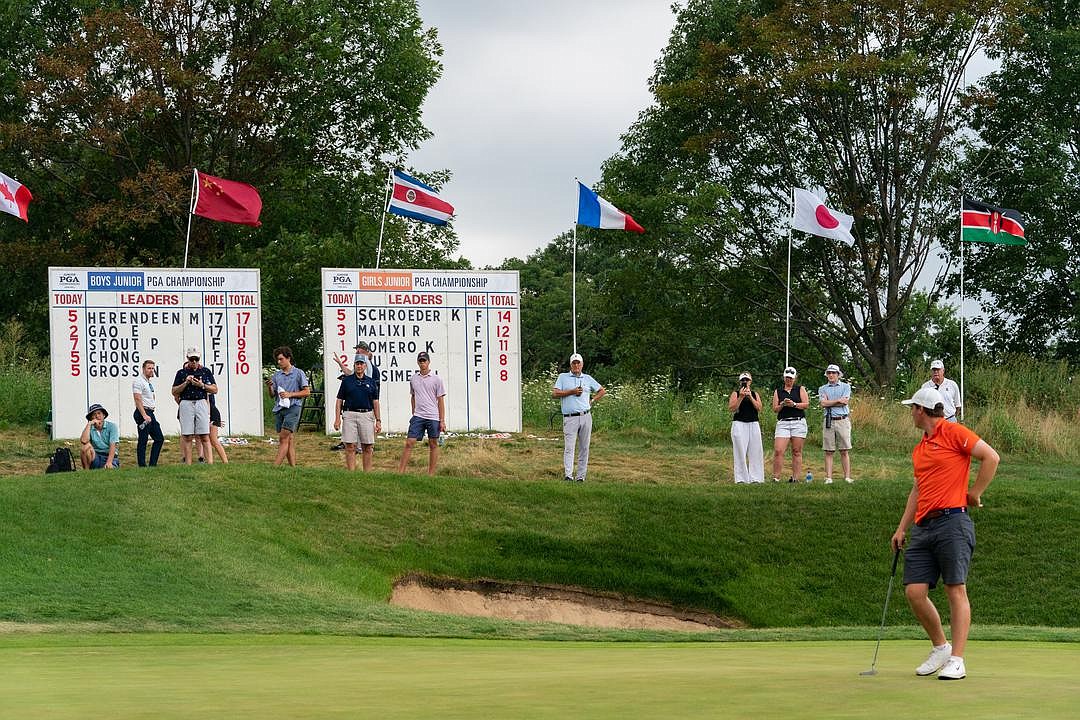 Max Herendeen looks on at the 18th hole at the Cog Hill Golf & Country Club
Previous
Next
PALOS PARK, ILL. – Max Herendeen of Bellevue and Kaitlyn Schroeder of Jacksonville, Florida were crowned Junior PGA champions on Friday, held at the Cog Hill Golf & Country Club in Palos Park, Illinois.
Herendeen held a five-shot advantage en route to victory, while Schroeder shot six-under for a 66, winning by two strokes at the 46th Junior PGA Championships.
In the final round, Herendeen shot four under par, finishing with an overall of 16-under for a score of 272. Schroeder finished 14-under overall, overcame a two-shot deficit and won the Patty Berg Trophy.
"It was definitely a ball-striking week," Herendeen said. "I didn't putt as well as I probably could have. I struck the ball well. I left a lot of shots out there with the putter. I just knew if I kept giving myself opportunities, I'd have good chances. Mentally I got myself around the course really well, played to the smart side of the holes, really eliminated the big numbers. That was my goal for the week, no doubles and we got through the week with no doubles."
Before she could celebrate, Schroeder had to wait to see Mikhaela Malixi bogey on 18.
"It was a good day," Schroeder said. "I finally was able to make a good amount of putts. I made a couple of 40-footers, which always help. I played well the day before yesterday. So that gave me a little more confidence coming into today. I like chasing. They only had a two-shot lead. So coming in today, I felt comfortable where I was. I knew if I did what I did today - not make any mistakes, hit quality golf shots, hit quality putts, it could go my way. I just wanted to give myself a chance to win today and I did."
Schroeder, who ranks No. 6, and Herendeen, a commit to the University of Illinois, both credited college coaches for their wins.
"More than anything, since I committed, he's been a huge mentor to me," said Herendeen about Illinois men's head coach Mike Small. "We talk regularly, just about what I need to improve on, what I need to get better at, the mental side of the game. He's been a huge part of my entire golf game. I wouldn't be here without him."
Schroeder's father is the head golf coach at the University of North Florida.
"I love having my dad as a coach," Schroeder said. "Him being a coach and growing up around it has been great for me. He teaches me the same way he teaches his players. It's helped me learn more about the game. Seeing how his players do things and comparing it to how I do things has been great for me."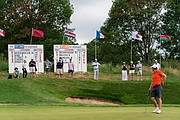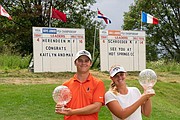 Recent Headlines
---