No dirt needed: Moses Lake gardener offers tips on hydroponic growing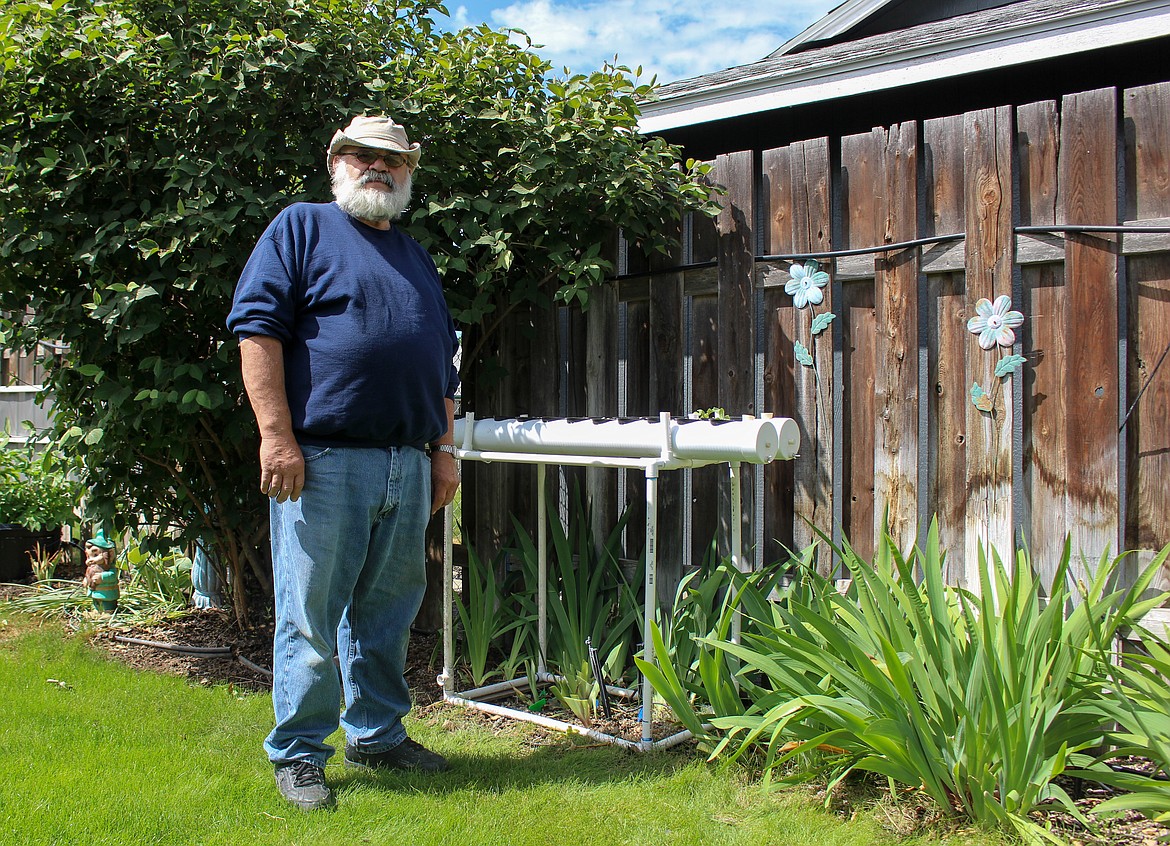 Ken Rosecrans of Moses Lake stands beside his hydroponic growing setup in his backyard on Wednesday morning.
Casey McCarthy/Columbia Basin Herald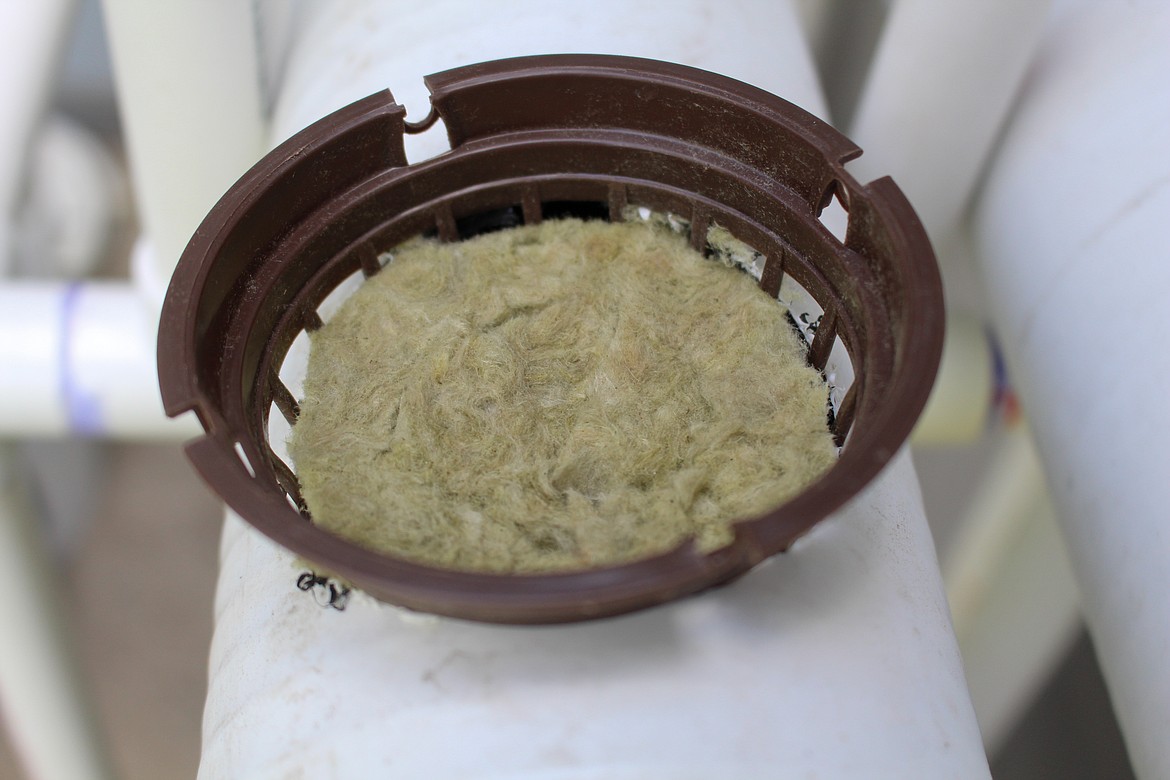 Rock wool, pictured here, helps hold the seed in place while helping to soak up the nutrients from water mix in Ken Rosecrans' hydroponic growing setup at his home in Moses Lake.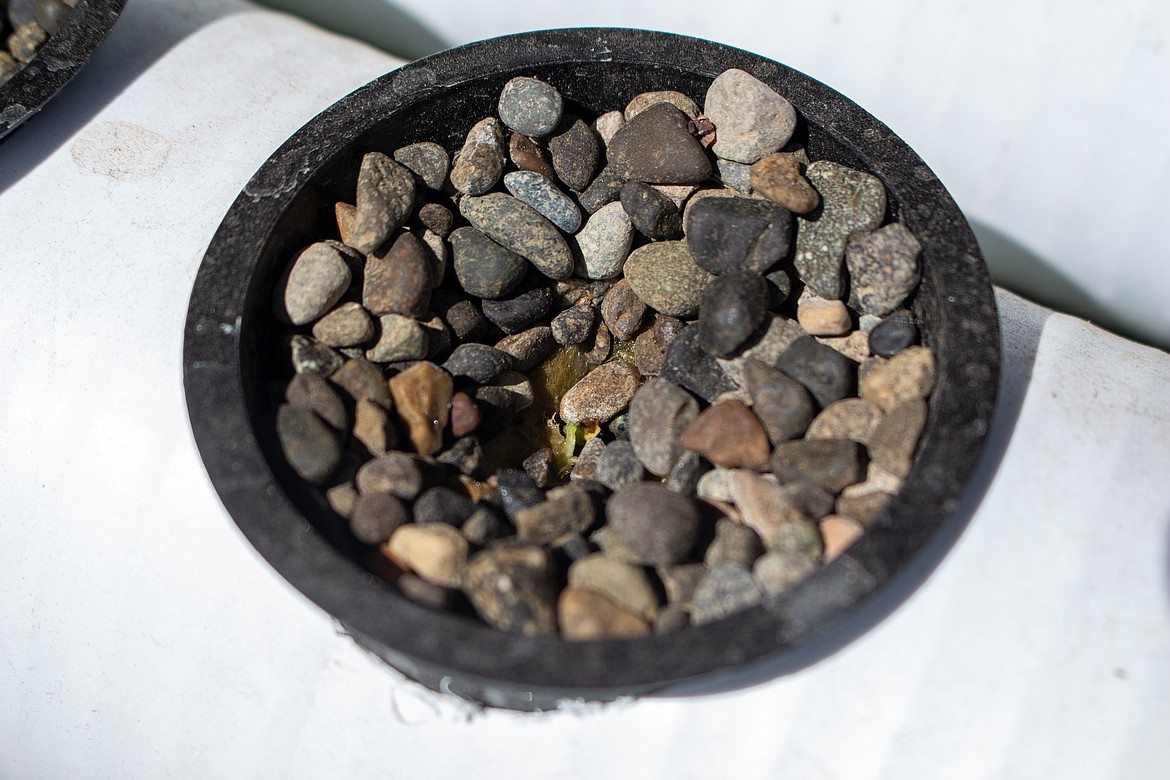 A radish plant peeks out from under the rock filling up the plant container on Ken Rosecrans' hydroponic growing setup.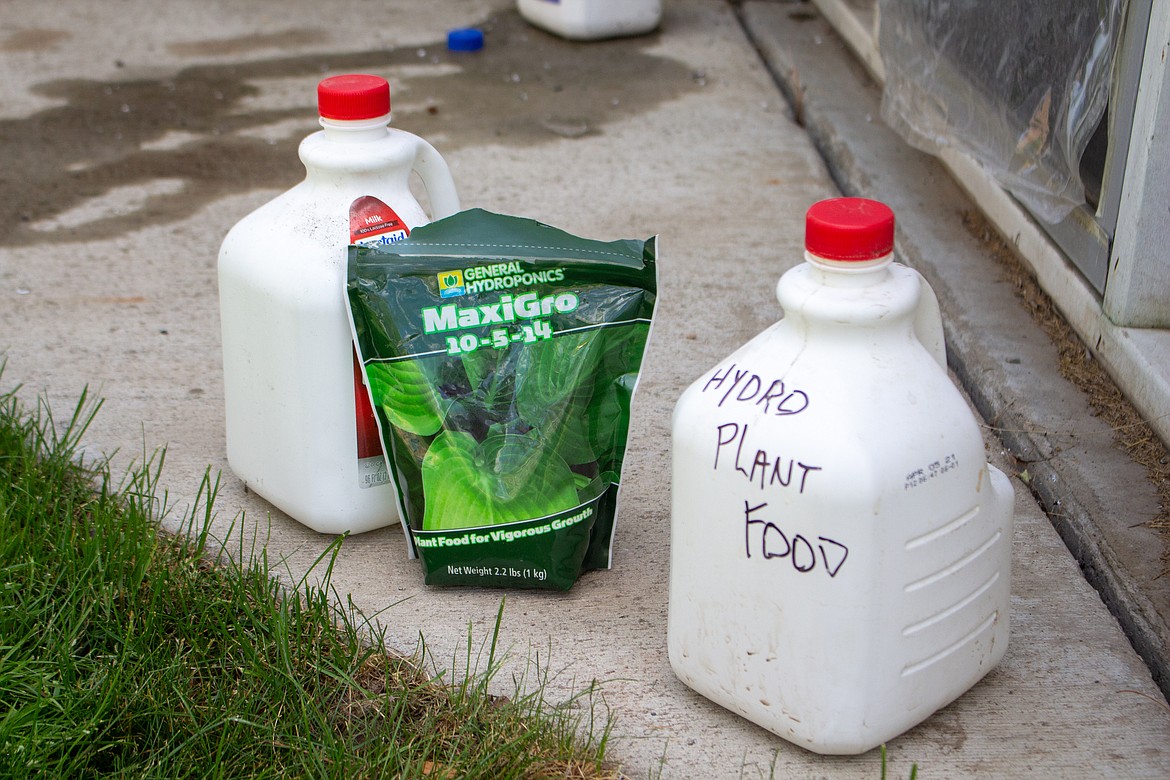 Ken Rosecrans' hydroponic nutrient mix and liquid mix containers sit on his back patio behind his home in Moses Lake.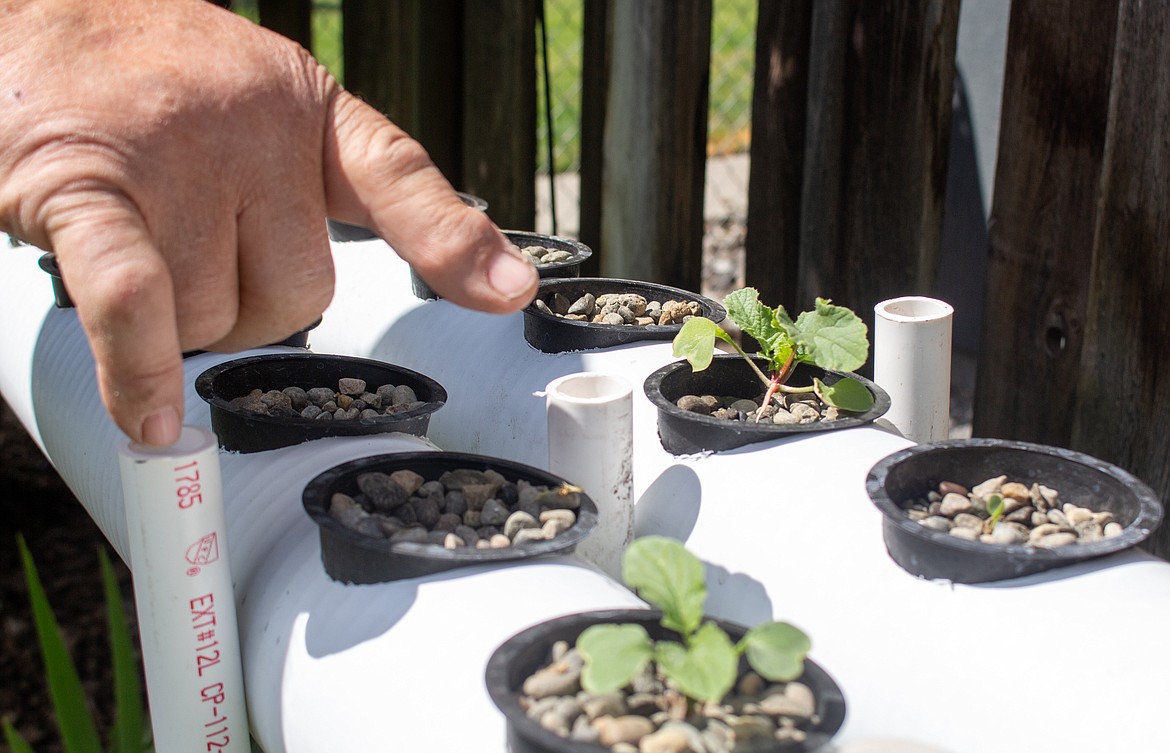 Ken Rosecrans points to one of the radishes emerging in his hydroponic growing setup.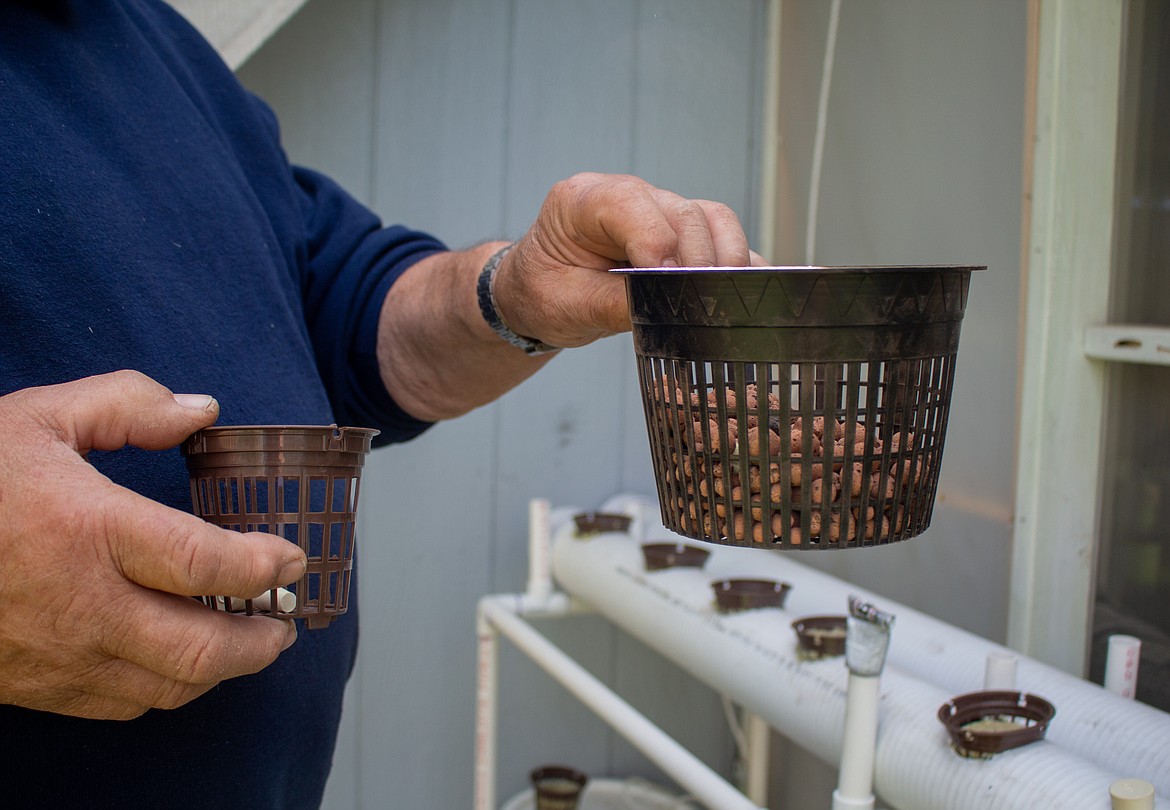 Ken Rosecrans holds up some of the buckets he uses in his hydroponic growing setup to hold seeds in his backyard.
Previous
Next
by
CASEY MCCARTHY
Staff Writer
|
June 12, 2021 1:00 AM
MOSES LAKE — There's an old adage that says there's more than one way to skin a cat. Well, that saying rings true in gardening, as there's a litany of methods to grow different crops in and around your garden.
Hydroponic gardening is a method of growing plants and vegetables that involves no soil, relying on a water base to deliver the nutrients to the plant roots. Ken Rosecrans has lived in Moses Lake for about eight years and has a variety of different garden setups at his home, from raised garden beds to succulents to his greenhouse.
Rosecrans, along with his brother, recently decided to give hydroponic gardening a try, after it sparked his interest.
"I kind of got interested in hydroponics just reading stuff to help him out," Rosecrans said. "He teaches a high school class for troubled teens and we were interested in maybe getting them started in this."
Rosecrans said he found a setup on the website Pinterest and got to work building his own at his home. He said there's a variety of different setups someone can go with, but his features a pair of plastic tubes similar to PVC pipe.
The plastic tube has cutouts in the top, where seeds are placed into pieces of rock wool, which help the seeds soak up the nutrients from the liquid mix. The pipe is capped off at the end with a drain hole and a fill-level hole on the end.
"You're growing medium is basically rock wool, that's what you put your seed in," Rosecrans said. "You can put it in a device like I've got with cotton wicks underneath it to soak up the nutrients up into the rock wool or put the rock wool directly into the water."
Inside the pipe, Rosecrans fills the tube to his desired level with a gallon of water mixed with a few tablespoons of dry hydroponic nutrient mix. Rosecrans said he checks the liquid levels a few times a week and recommends changing out the liquid completely every two to three weeks to prevent any algae from building up.
Rosecrans said he started his hydroponic gardening process by growing radishes, seeing leaves come up after just two weeks and small radishes coming up after just three weeks.
Without any soil, Rosecrans said pests and worms are a non-issue. He said he loves growing radishes and rutabagas in his garden, but has had his crops decimated by worms.
After having success with his radishes, Rosecrans said he's already started on a second station to grow rutabagas.
He's also said he's hoping to grow lettuces and micro greens. Without having to process anything out of the soil, he said the plant crops will grow a little faster and a little bigger.
Another benefit of growing vegetables and plants this way is that it's much easier to see where the fruit of the plant is in the process. He said when the radishes form, you can see it right away rather than having to go into the garden and dig down to see if they're ready for harvest.
The temperatures in the summer in this area can be detrimental to the plants, as Rosecrans said he lost a few of his radish plants to the heat wave that hit the Basin a few weeks ago. Now, he said he has a sun shade over his setup to keep the temperature down.
"The smaller your container is that your liquid is in and your crops are in, the quicker it heats up and the hotter it gets," Rosecrans said. "So you've got to have a way to keep that cooled down as much as you can. I'm hoping the sun shade will keep the heat down so they can stand it."
Rosecrans said some more intricate setups have water reservoirs kept in a cool spot that pump cooler liquid into the planting trays.
Light is another factor to watch out for with hydroponic setups, as even a small amount of light coming in can help algae flourish inside the liquid mix, which can be detrimental to the plant. Making sure there aren't any gaps letting light in near the plant trays can help prevent algae from building up as quickly, or at all.
Rosecrans said both he and his wife's family grew up with gardens around the house. After giving hydroponics a try this year, he said he thinks it's something he'll stick with for a little while and he's excited to try some different things and see what he can do.
Casey McCarthy can be reached via email at cmccarthy@columbiabasinherald.com.
---