Harold Crose: 'Retired' conservationist still making a difference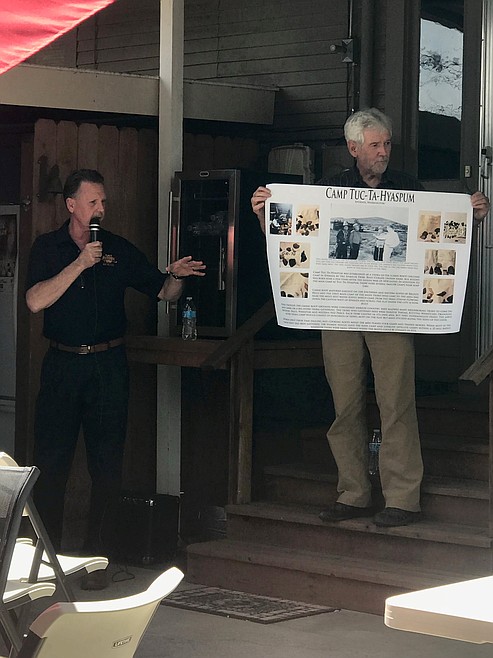 Harold Crose, right, assists Ephrata businessman Mike Scellick in naming the third power house at Grand Coulee Dam. "This had to go through U.S. Congress for approval. We were successful."
Harold Crose/courtesy photo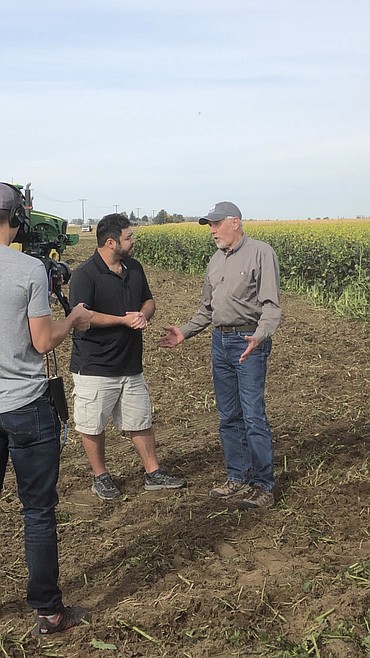 Harold Crose, right, gives an interview for a 2019 "Washington Grown" TV episode on soil health and cover cropping.
Previous
Next
by
SAM FLETCHER
Staff Writer
|
July 15, 2021 1:00 AM
Editor's note: This is part two of two, highlighting the work of Harold Crose, who is working on several projects in the Columbia Basin, including helping to keep Moses Lake clear of algae. Part one appeared in the July 8 Columbia Basin Herald and can be found here.
When conservationist Harold Crose first arrived in the area, the flood irrigation was eroding tons of soil from the field each season. Crose's team introduced the use of polyacrylamide, which virtually eliminated soil erosion, and it's used on most every field in the Columbia Basin today, he said.
Another major milestone was the idea to lay grain seed down right before the potato harvest -- which leaves light and frothy soil -- to have cover crop for the next spring. It was a bit experimental, he said, and it worked.
Crose is thankful for the opportunities he's had, he said.
"I don't think leaders are necessarily born. I think their peers make them leaders," he said. "Somebody recognizes a skillset you have, because I've never looked at myself as a leader. I never envisioned myself as anything more than one of the people working. But I'm capable of making strategic decisions, I'm honest, I have integrity, I'm transparent, what you see is what you get, and I think that resonates with people."
One of his favorite moments was when he left Ellensburg and a grower told Crose he never considered him a government employee, but part of the family, he said.
"I've never taken a job for the money," Crose said. "I've always taken it for the objective. Can I fit in here, and can I make a difference?"
Crose has climbed every peak in the northwest and has formed and taught climbing groups, he said. Upon his 2013 retirement, these adventures never slowed. The first thing he did was ride a bicycle with a friend from Astoria, Oregon, to Yorktown, Virginia, in 60 days, he said. They camped roadside and traveled 70 miles a day.
But he couldn't stay retired forever.
Several years in, the Grant County Conservation District asked if he would consider helping develop a plan to protect agricultural lands as part of the Growth Management Act, he said. This became the Voluntary Stewardship Program, essentially a comprehensive plan for agriculture where growers voluntarily enact environmental control as opposed to state mandates.
Crose and the team spent a year and a half drafting the plan, he said. It was the first one submitted to the state and it soon became a model for other counties.
"It was a huge deal for Grant County," he said. "I'm pretty proud of that work and what it did for agriculture."
An ongoing role, Crose still trains planners to administer the program. They've also been helping "jump start" the comprehensive plan for Adams County, he said.
About three years ago, Crose was invited into a group organized by Rep. Tom Dent, R-Moses Lake, and Sen. Judy Warnick, R-Moses Lake, to study ecological issues in Moses Lake, he said, along with representatives from the Grant County Health District, City of Moses Lake, Department of Fish and Wildlife, Department of Ecology and others.
From that meeting, they formed the Moses Lake Watershed Council, to create a watershed plan for protection, he said, and they've seen results.
"We have some funding streams coming in, but I think more importantly we have the community behind it," he said.
By diluting the lake with Columbia River water, Moses Lake is currently cleaner than it's been in 40 years. The council doesn't have any formal agreements with the Bureau of Reclamation, Crose said, but representatives are listening and it's making a difference.
This is ecologically important, but also economically so, he said. The watershed council conducted a study of recreation and property values and lake health.
They're just getting started, too, he said.
"What I really want to do is bring the lake into balance with nature, where you can have aquatic vegetation on shore banks, getting homeowners to think about buffers," he said.
Natural buffers will absorb phosphorus and other pollutants from entering the lake, he said.
"We are starting to have a vision and a plan that will take years and years and years to accomplish, but we've turned the trajectory," he said.
The hard work is yet to come, Crose said. Money's the hardest part, but it's much easier when the community as a whole is involved and sees the benefit of the work.
Another big issue today is the Odessa Aquifer, he said, which is in danger. Columbia Basin is classified as a sole source aquifer, he said, and it's depleting much faster than it's regenerating.
Crose is on a steering committee to create a plan to remedy this, he said.
"When we're successful, which we're going to be in the end, we're going to take 122 wells off the aquifer," he said. "We're going to save billions, literally billions of gallons of water a year that were used for irrigation purposes before, and we're going to put them on Columbia River water, and so we're changing water sources so we'll preserve and look at ways of recharging that aquifer as well."
The project will take many years, he said, but it's incredibly important.
"Towns like Odessa, Othello, Moses Lake and Warden, we're building the future of water for them," he said. "This is huge."
Crose is unaware if he will ever fully retire, he said. These are such good causes.
"I've been blessed, a fairytale career as it were," he said. "I've never woken up a day of my life and didn't want to go to work and do what I did."
Sam Fletcher can be reached via email at sfletcher@columbiabasinherald.com.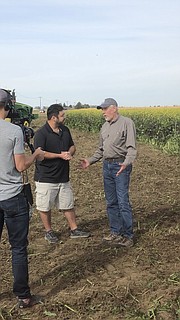 Recent Headlines
---