Harold Crose: Now-'retired' conservationist begins his work
by
SAM FLETCHER
Staff Writer
|
July 8, 2021 1:03 AM
Editor's note: This is part one of two, highlighting the work of Harold Crose, who is working on several projects in the Columbia Basin, including helping to keep Moses Lake clear of algae. Look for part two in next week's Columbia Basin Herald.
Harold Crose never sought out leadership roles, he said, but he keeps finding himself in them.
Crose worked for the Natural Resource Conservation Service (NRCS) for 41 years, laboring on countless projects, from the hyperlocal to the national scale, looking at soil health, agricultural energy conservation, water quality, forestry and integrating new technology into these systems. Even in retirement, he has an ongoing role at the Grant County Conservation District and on numerous committees.
His interests to this day hardly stray from what they were as a kid growing up in South Bend, he said, playing in the woods, studying his surroundings and chasing adventure. This led to a keen scientific mind in high school and, despite his family's disapproval, enlisting in the U.S. Army right out of it, during Vietnam's height.
After basic training, advanced infantry training, Army Ranger training and Army Special Forces training, Crose traveled through Cambodia, Laos and Vietnam. Seven months in, his team was ambushed and he was left severely injured.
After several months in the hospital, he spent the rest of his contract in Korea, he said.
Continuing to chase his passion led Crose to study geography, geology and engineering at Washington State University and Central Washington University, where he earned his master's degree.
"But that's not where I got my education," he said. "I got my education when I went to work for NRCS."
He first learned about the department by chance on a poster at the post office, he said. At the time, it was called the Soil Conservation Service.
Starting out, he joined a watershed team doing surveys along the Bear River Watershed in southwest Washington, he said. The work required a lot of knowledge in geography, communication and mapping, he said. His military background came in very handy.
The team put together a plan for flood control via gates and draining systems, he said. He quickly became fascinated by hydraulics and hydrology – how water moves in an environment.
In the mid-1970s, Crose moved to Ellensburg to build irrigation systems and improve farms, he said. Next, the state conservationists elected him for a field office management position in White Salmon, where he was trained in forestry.
"It was never my desire to do that," he said, "but others apparently saw things in me that I didn't see in myself."
After a year, Crose went to Othello in the middle of the Columbia Basin Project – converting from surface and flood irrigation to center pivots, a circular sprinkler system. Here, he measured soil and water, scheduled irrigation and managed an office of engineers, he said.
The upward trend continued as time went on. Around 1986, when the Soil Conservation Service officially became the NRCS and split into larger teams, Crose started managing several offices out of Ephrata, he said.
By the '90s, he was managing the entire central region, he said, and decided to stop there, where he could still get out into the field while managing a large staff.
"They were kind of grooming me at that time to move all the way up the ladder, who knows where, but I made a conscious decision that I didn't want to go that far away from the field," he said.
Crose liked the fieldwork, he said. He knew what he was best at.
"I'm an environmentalist. I'm a conservationist. I know the environment. I know my skill sets. I know the technical parts of it. I get a great deal of satisfaction working with producers or growers or groups to solve a problem that works for everybody," he said.
And he was on to something. The central NRCS team found a lot of success in following years, he said.
"We built a very strong team in Washington. In fact, I like to say the strongest in the state," he said. "We were bringing in more federal resources and money into the central area than any of the other two areas combined. Millions of dollars were brought in to help farmers improve their systems, and that was exciting times."
Crose is most proud of the technology he brought to the area, he said, which virtually changed the agricultural landscape.
"In Ellensburg, they were irrigating out of earthen ditches and pretty primitive systems. I started the first field trials of bringing gated pipe into Kittitas Valley," he said. "People thought, 'This isn't going to work,' but it changed water management in Kittitas Valley."
It was the first such system in the United States, he said. It involved traveling to Washington, D.C. to meet with the head of NRCS.
When he first arrived in the area, the flood irrigation was eroding tons of soil from the field each season. Crose's team introduced the use of polyacrylamide, which virtually eliminated soil erosion, and it's used on most every field in the Columbia Basin today, he said.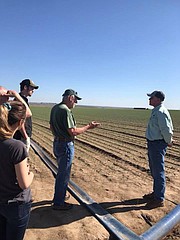 Recent Headlines
---