Along with football, the Washington Officials Association is seeking officials for other sports in an effort to support area student-athletes.
August 15, 2022
Stories this photo appears in: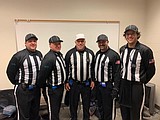 August 16, 2022 1:25 a.m.
Washington Officials Association looks to recruit a new generation of refs.
COLUMBIA BASIN – The Columbia Basin Football Officials Association is in search of officials for the upcoming school year, to help with refereeing the different sports offered to student-athletes. "We're looking for anyone who's willing to step out on the field and try to officiate games for us," President of the WOA Football Association Jeremy Cranston said. "We cover 12 schools, from Lake Roosevelt to Mattawa." The Washington Officials Association, which oversees and serves as a union-like entity for referee associations across the state, looks for those interested in refereeing, especially for football right now. "If you have any interest in football," WOA Assigning Secretary Mike Mortimore said of what they look for. "We have a big spectrum of people who are with us – we have some young kids who just came out of high school and a lot of older guys." Mortimore added that with a significant number of the referees being older, they are preparing for them to retire in the near future. "A lot of older generation are ready to retire or are retiring," he said. "It's harder to get this younger generation involved." ...
---