Untreated liquid waste was spilled in the aftermath of the City of Mattawa Wastewater Treatment Facility fire on Jan. 9, 2020. Approximately 2,000 gallons was recovered from this ditch between the facility and Road U SW. The Grant County Department of Health worked with the city on the clean up.
October 21, 2020
Stories this photo appears in: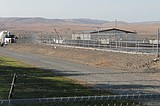 October 24, 2020 1 a.m.
It has been 10 months since the Mattawa Wastewater Treatment Facility blower room was destroyed by a fire. Since that time, progress has been made on repairing the facility, with work expected to be completed in the next few months.
---