Warriors fall in second-half Saturday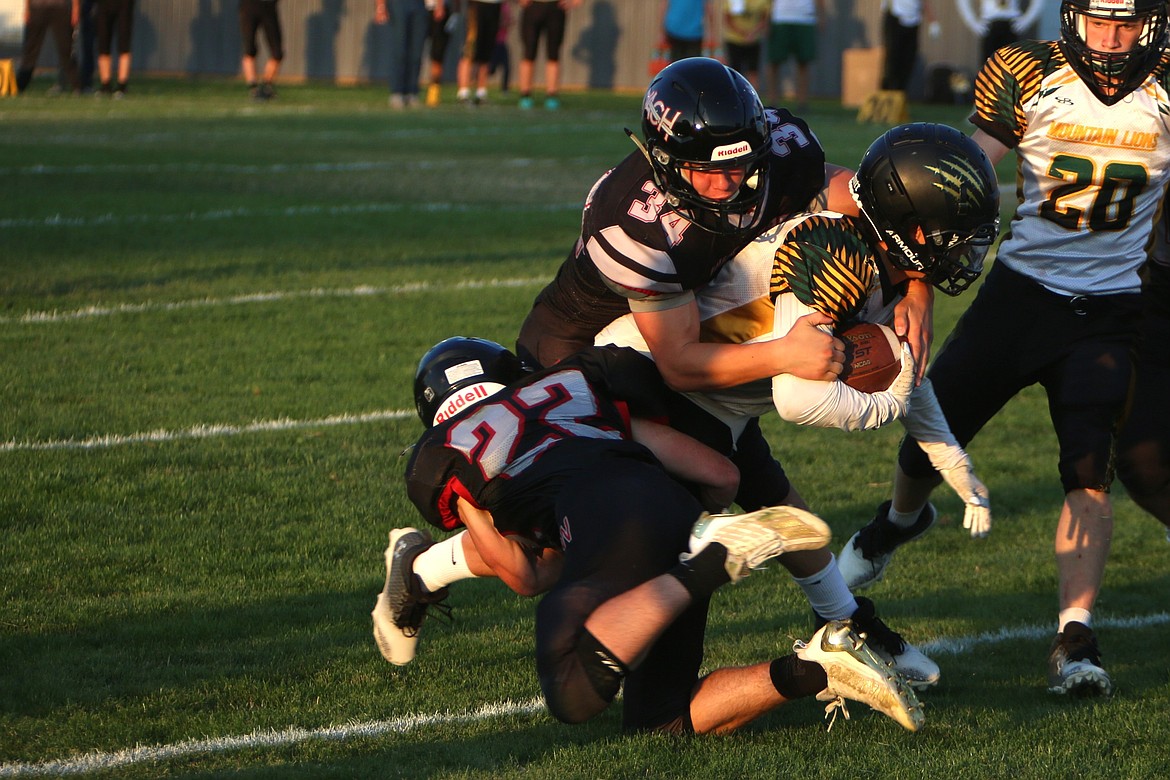 ACH senior Everett Wood (34) and sophomore Harvest Parrish combine for a tackle against Liberty Bell on Saturday.
IAN BIVONA/COLUMBIA BASIN HERALD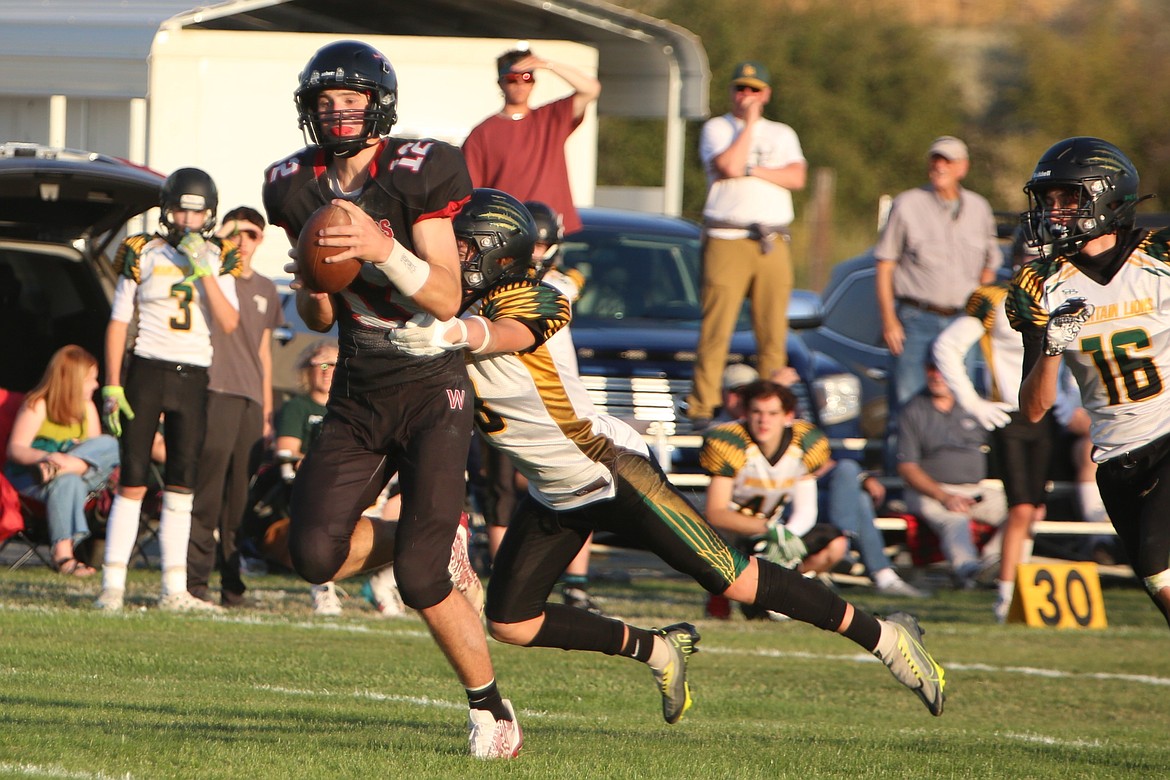 ACH freshman Max Grindy (12) hauls in a 62-yard pass, where he broke a tackle and scored.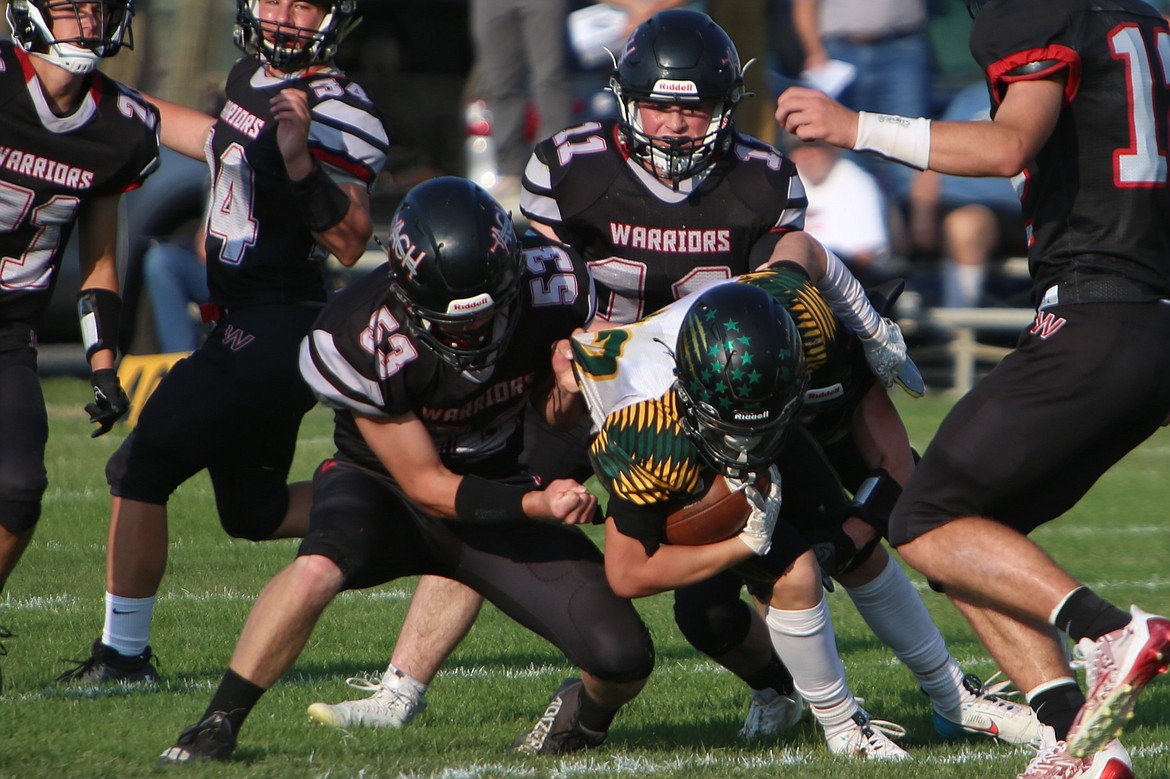 ACH senior John Pierce (53) and junior Carter Pitts (11) go in for a tackle.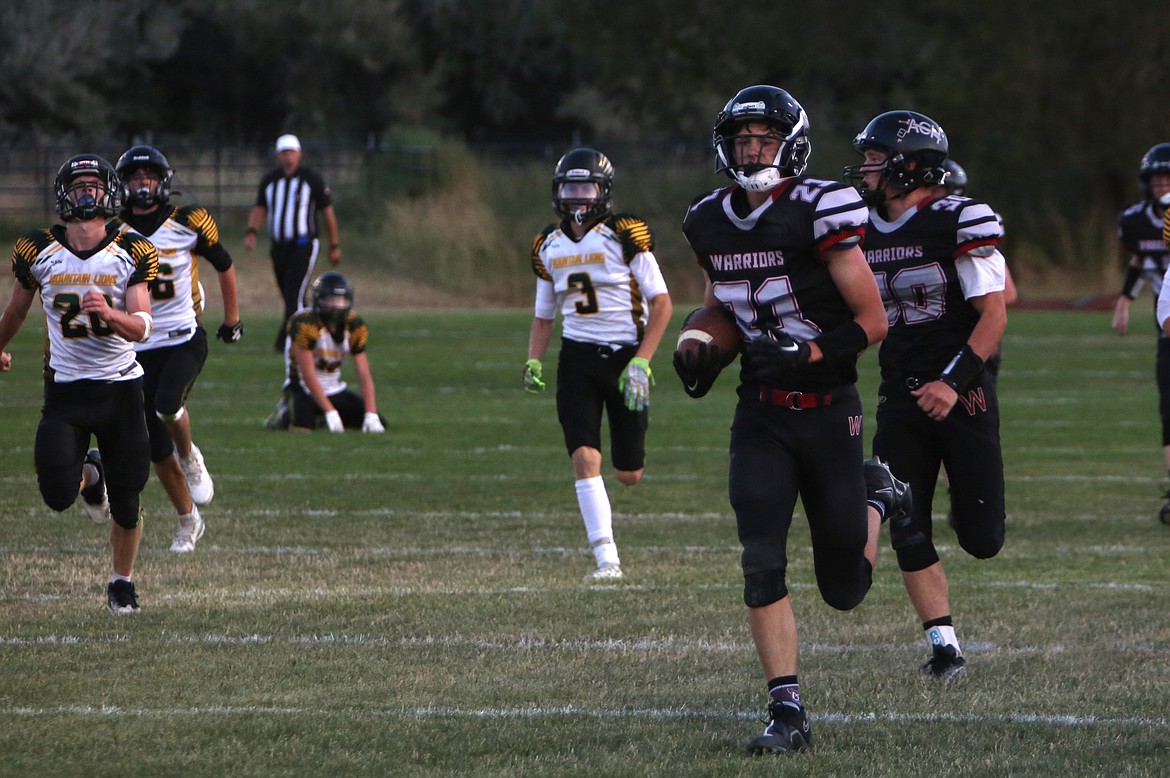 ACH sophomore Brady Roberts runs past the Liberty Bell kickoff coverage on an 85-yard kickoff return touchdown against the Mountain Lions on Saturday.
Previous
Next
by
IAN BIVONA
Sports Reporter
|
September 18, 2023 4:34 PM
COULEE CITY — Though the score didn't fall in the Warrior's favor, ACH Head Coach Brandon Walsh said there were positive takeaways from Saturday's 64-34 loss to defending 1B state champion Liberty Bell.
ACH was down by a score after the first half, but the Mountain Lions outscored the Warriors 36-14 in the second half.
"We were excited for the game," Walsh said. "We wanted to see how we were going to do against that team, we know they're the favorite to probably win the title again — on paper, that's where they're projected, and we want to see how we match up with them."
After the Warriors scored to cut the Liberty Bell lead to 28-20 with 2:31 remaining in the second quarter, the Mountain Lions drove down to the field and into the red zone with 30 seconds left. The Warrior defense held firm on a goal-line stand, with senior John Pierce recording his second sack of the game on fourth down to end the first half.
"There's a reason he's a senior leader on our team, that's the way he plays," Walsh said. "The kid's a great athlete, plays with awesome energy. He's a nightmare, quick enough and strong enough off the defensive end and he can drop down and play defensive tackle. He's like our version of Aaron Donald, he's fun to watch."
While momentum appeared to be on the Warriors' sideline to begin the third quarter, Liberty Bell quickly snatched it back by returning the opening kickoff of the second half 60 yards for a touchdown, putting the Mountain Lions back up by two scores.
"There was momentum, the kids were excited and it was fun to finish the half that way," Walsh said. "Now we've just got to be able to sustain that energy, we can't have that letdown. It's unfortunate halftime happened because we had some momentum right there. If we could've had the ball and go the other way, maybe we'd tied it up."
ACH turned the ball over on downs on its ensuing drive, and the Mountian Lions quickly scored on a 49-yard rushing score by quarterback Remi Paz. Warrior sophomore Brady Roberts scampered into the end zone on a 66-yard rush that allowed the Warriors to shorten the lead to 40-28 in favor of Liberty Bell, but the Mountain Lions added an additional three touchdowns down the stretch of the third and fourth quarters. ACH's final touchdown of the game came on a kickoff return by Roberts late in the third quarter.
"We hung right there with those guys for two-and-a-half quarters — that's the defending state champs, and a positive (takeaway) was our effort was awesome," Walsh said. "I'm never going to question that, we played hard."
Liberty Bell jumped out to a 14-0 lead early in Saturday's contest, scoring on rushing plays from three and 30 yards out. Warrior sophomore Harvest Parrish got his team on the board by scoring on a 67-yard rush, and after another Mountain Lion touchdown, ACH sophomore Caden Correia ran into the end zone on a 12-yard run to make it a 20-14 game.
"The kids just kept grinding away, staying in assignments and playing hard," Walsh said. "Just played hard and got a couple things going our way."
The loss was the first of the year for the Warriors, who fell to 2-1 on Saturday.
"We've got to be able to sustain execution for four quarters in a tough game against a tough opponent," Walsh said. "I think as the year goes on some of the mistakes are going to sort themselves out because we're going to get more experience."
ACH begins league play at home against Inchelium on Friday at 7 p.m.
"We have seven weeks now in the regular season to make adjustments," Walsh said. "We get to figure out where we've to get better and fix some of the things we saw that are areas of weakness. With the youth on this team, as many young guys as we've got in key spots; we got better in this game as the game went on in some areas."
Ian Bivona may be reached at ibivona@columbiabasinherald.com.
Box score
Liberty Bell: 14-14-20-16 64
ACH Warriors: 0-20-14-0 34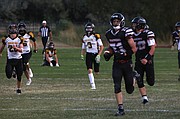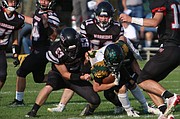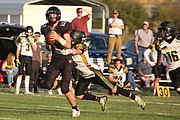 Recent Headlines
---