Soap Lake water accounts cause frustration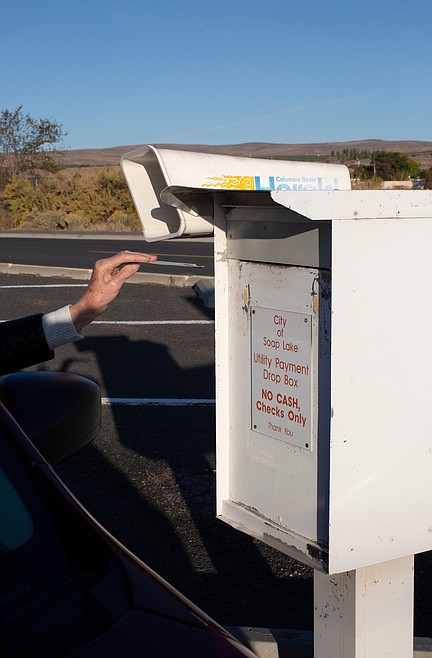 The utility drop-off box in Soap Lake. Mayor Michelle Agliano said there has been an increase in water utility late notices and past-due payments, but residents claim the city isn't managing water bills properly or communicating clearly.
COURTESY PHOTO/CITY OF SOAP LAKE/KIETH & SADIE DOLGE
A water shut-off notice was sent to residents of Soap Lake with past due payments on their account Monday Sept. 11. City officials said references to "payment arrangements" mean to pay the bill immediately. However, verbiage near the top of the notice and prior experiences had residents thinking payment plans were an option.
Previous
Next
by
GABRIEL DAVIS
Staff Writer
|
September 18, 2023 6:05 PM
SOAP LAKE — The city of Soap Lake has experienced an increase in past-due water utility payments and shut-off notices, said Mayor Michelle Agliano. However, city residents say the issue is as much with the city's billing processes as it is with nonpayment.
"Payments are due on the 28th," said Agliano. "The late notices go out the 29th and then if we have not gotten a payment by, usually the 4th after the new billing, we start sending out shut-off notices, which are hand delivered to each resident and I'll tell you what, there were a ton of them this time that had notices."
The city delivered water shut-off notices Sept. 11 for accounts that were past due and that had already received late notices.
Former city council member and current Soap Lake resident Andrew Arnold said Sept. 12 that he had issues with his water utility billing Sept. 11. A termination notice was delivered to him that day which demanded that he bring his city water bill current by 4 p.m. that day.
"The way that the bills fall, we have always had to pay our bill a month late," said Arnold. "We pay the late fee, no big deal. You know, we're used to it. Generally, about this time every month, we call our utility companies, Soap Lake and the PUD, and they've always worked with us to set up payment arrangements. So we called in last week before we even got a door notice to try to set up the payment arrangement. They said, 'Sorry, that's not going to work.'"
Arnold said he tried to call and then visit Soap Lake City Hall on Sept. 11 to make arrangements to pay on Sept. 15, four days after the shut-off notice, but he said the city hung up on him and then asked him to leave when he went to City Hall in person.
Soap Lake Finance Director and Clerk Ruth Wade said that, despite what the shut-off notice says, they allow an extra day for the individual in question to pay the past due amount. The city then puts a second notice on the past-due address's door the next day before shutting off the water if it has not been paid.
Angliano said she was not aware of any instances of citizens paying their bills and yet still receiving a shut-off notice Sept. 11.
"We have a new person in the utility billing and she was getting training and so that whole day, day and a half, when people would come down because of the shut-off notices, she was in training," said Agliano.
The mayor added that part of the training was reviewing to see if residents had habitual late notices. Additionally, she said, in recent months the city hasn't been able to send out service termination notices for water due to state regulations that prohibit terminating water service during the hottest months of the year. As a result, some residents that had gotten delinquent ended up getting the notices and subsequently had their water service stopped as a result.
"Because this month is now cooler, we were allowed to send out shut-off notices," said Agliano. "Unfortunately, that meant that there were quite a few people who had late notices that we didn't hear from, so they ended up getting shut off. So, that's basically what happened. Some people had a history of late notices. So that was part of some issues."
City representatives also claim that residents misunderstood information on the termination notices they received.
Agliano said the late notice states, "You may contact City Hall to make arrangements to bring your account current."
However, the water shut-off notice states "Avoid shut off/on fees" and "Make payment arrangements today." It then says, "Service will be discontinued if not paid or arrangements made by 4 p.m. today."
However, Wade said the statement, "You may contact City Hall to make arrangements to bring your account current," does not entail making a payment plan for a future date or multiple payments. Instead, it is an arrangement of the payment method by the shut-off date.
"I really think it's just a miscommunication or misunderstanding," said Agliano. "About the arrangements to make payment. That does not mean to make a payment plan or anything like that. It is that you need to pay your bill. Just like everybody else, we need to pay our bills," said Agliano.
However, some residents say there is a history of Soap Lake not managing utility billing properly.
Soap Lake resident McKenzie Hartley said in an email to the Columbia Basin Herald that she has had issues with utility billing.
Hartley said she still received a water shut-off notice this month after she had paid her bill. When she spoke with City Hall, she said, they told her that she did not owe any money and to ignore the shut-off notice. However, her water was shut off and her husband had to go to City Hall in person to request water service be turned back on.
Hartley said the scenario had happened multiple times.
"We have been charged late fees on our (water, sewer and gas) bill more times than I can count," said Hartley. "We always pay the bill on time, and even if it is paid on time, we have almost always been charged a late fee."
Gabriel Davis may be reached at gdavis@columbiabasinherald.com. Download the Columbia Basin Herald app on iOS and Android.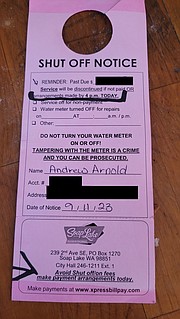 Recent Headlines
---