Sip & Stroll draws wine, art, music lovers downtown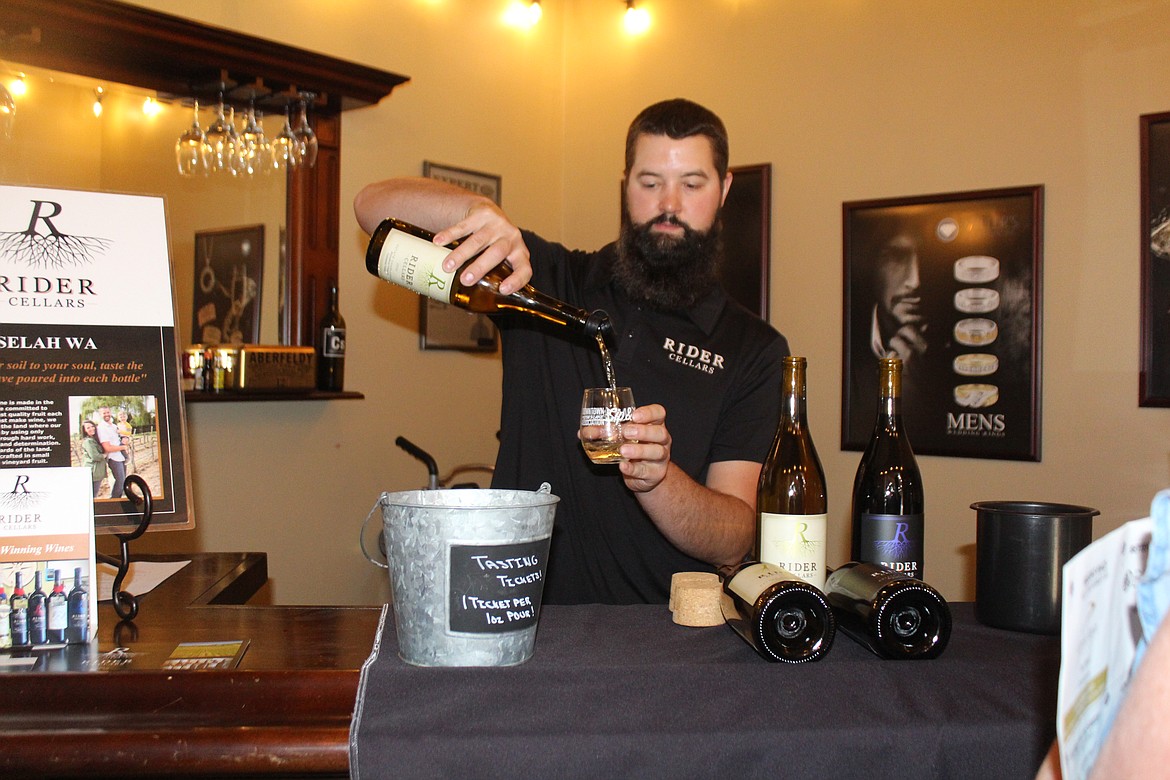 Colby Rider of Rider Cellars pours out the wine during the Sip 'n Stroll art, music and wine walk sponsored by the Downtown Moses Lake Association Saturday.
CHERYL SCHWEIZER/COLUMBIA BASIN HERALD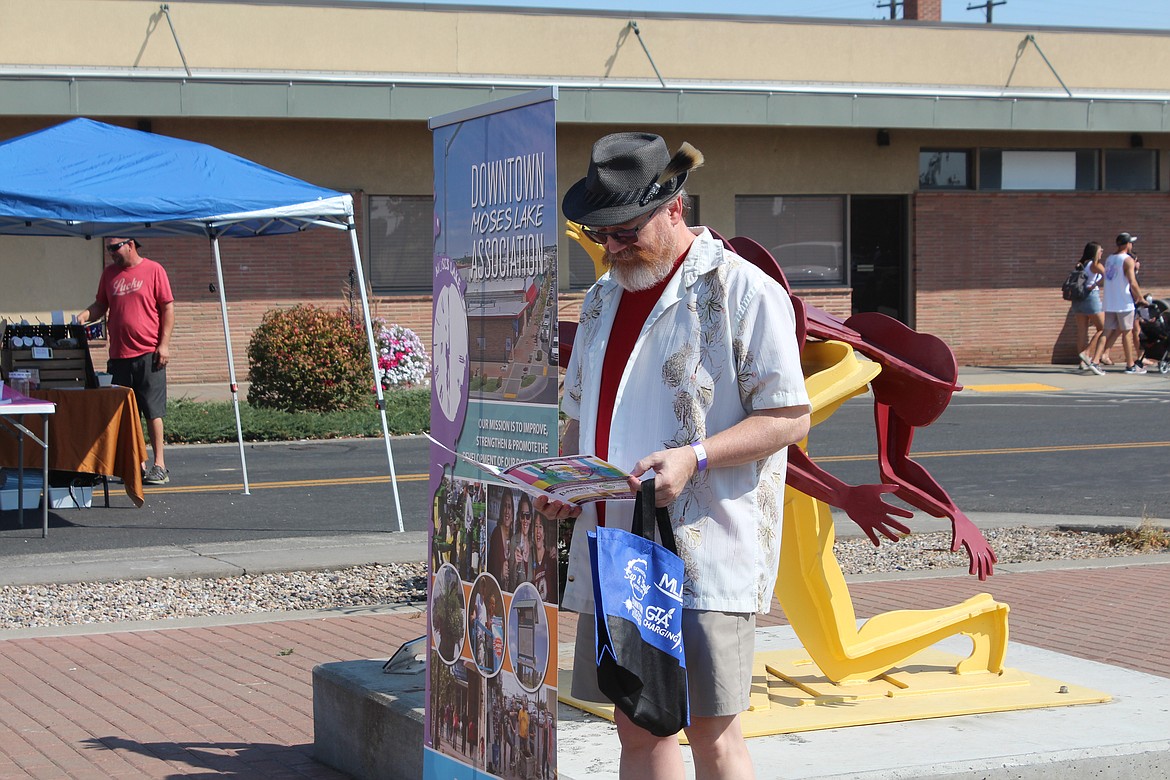 Erina Napiontek, right, pours a sample of the offerings from the Moses Lake Distillery during Sip 'n Stroll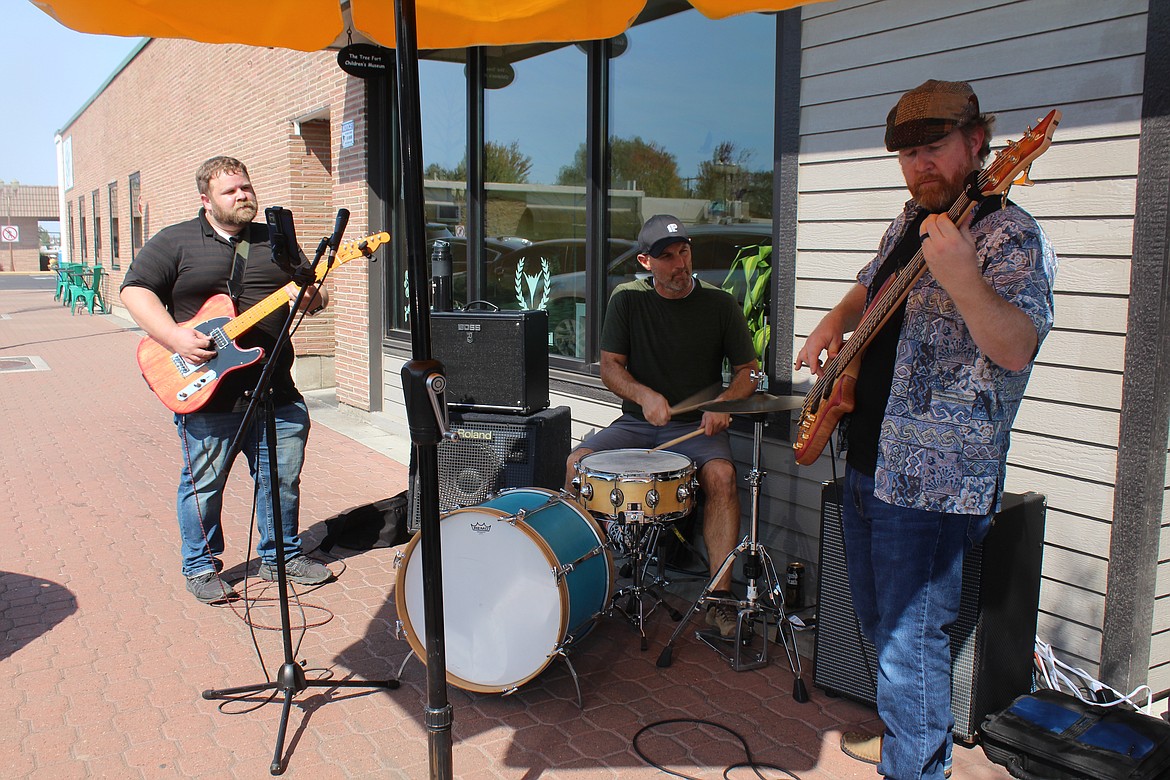 The Pangoleers, from left, Jack Tacher, John Owens and Michael Donaldson play a little rock 'n roll during Sip 'n Stroll, sponsored by the Downtown Moses Lake Association.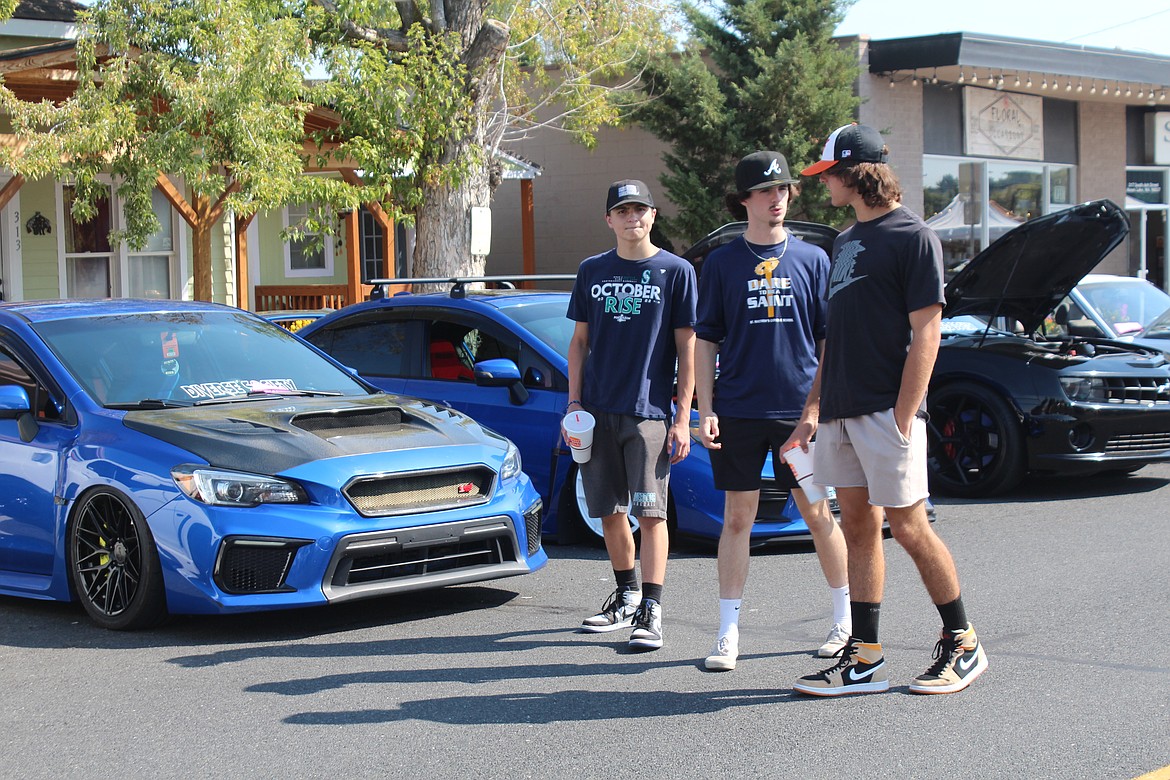 The Moses Lake Classic Car Club brought cool rides of all kinds to its car show Saturday, held during the Sip 'n Stroll event.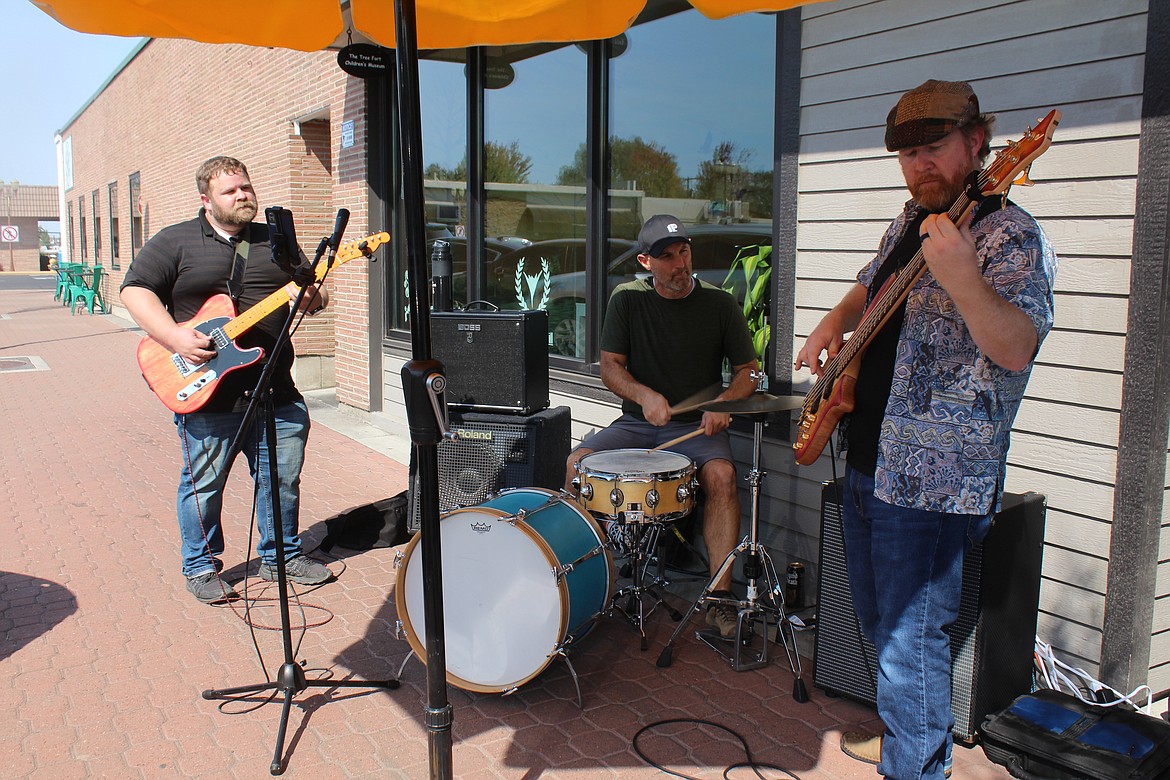 Participants in Sip 'n Stroll filled downtown Moses Lake Saturday.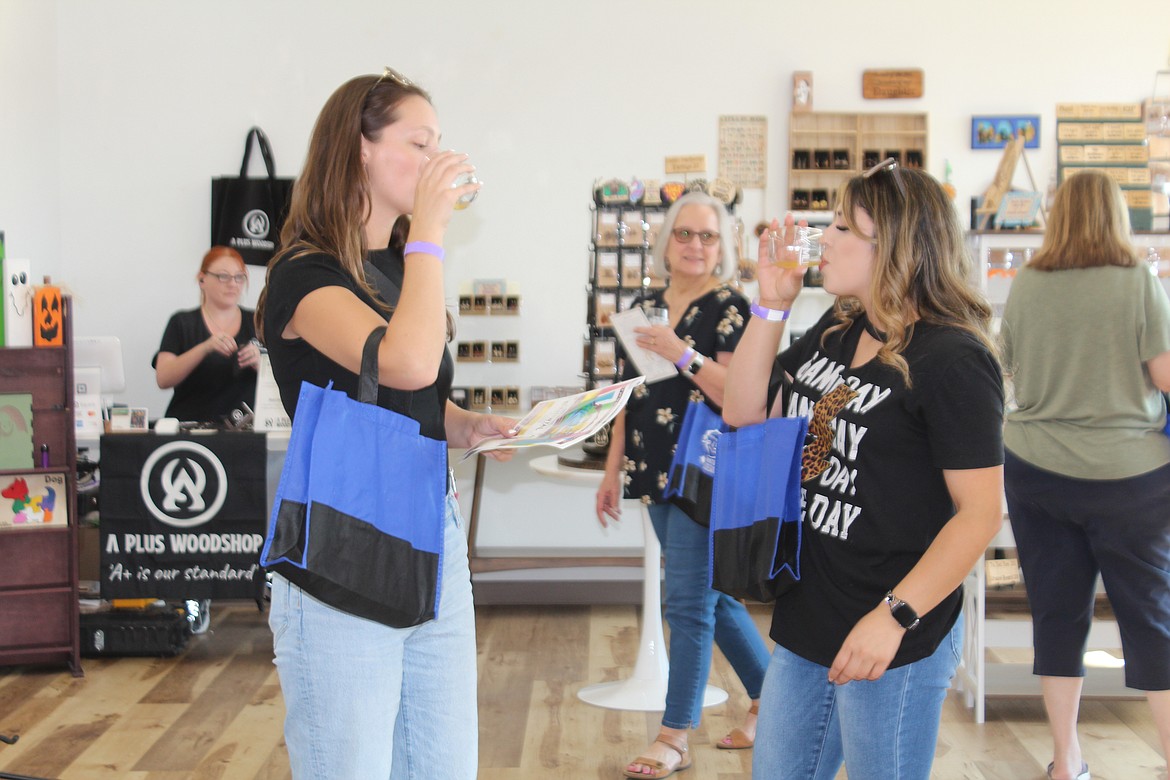 Sip 'n Strollers try out the options at the Obra Project building.
Previous
Next
by
CHERYL SCHWEIZER
Staff Writer
|
September 18, 2023 1:30 AM
MOSES LAKE — A warm sunny day brought wine and spirit aficionados, art lovers, music lovers and shoppers to downtown Moses Lake on Saturday. The annual Sip & Stroll was sponsored by the Downtown Moses Lake Association.
Association board president Denise Kinder said in midafternoon that participants had been arriving in a steady stream.
"It's been a really great turnout," Kinder said.
Participants who bought tickets got a chance to try wines and spirits produced by wineries and distilleries from throughout Eastern Washington. The wines were accompanied by live music in many of the participating businesses, art on display and a chance to see what the stores downtown have to offer. The Moses Lake Classic Car Club sponsored a late-summer car show, bringing cool rides of all kinds downtown.
Steve Standley said the trip downtown was part of the attraction.
"Walking through businesses you wouldn't otherwise walk through on any given day. This is cool," he said.
Despite being a Moses Lake native, he's not really that familiar with what's available on Third Avenue, he said. Sip 'n Stroll provided an opportunity to take a look at stores like Miller's Jewelry, where Standley was sampling wine from Rider Cellars, Selah.
Winery owner Colby Rider said events like Sip 'n Stroll are valuable for his business, too.
"I love it because I get to bring the wine I create to people," Rider said. "They don't have to come to me."
Rider Cellars is relatively new, producing its eighth crop of grapes in 2023. As far as Rider knows, it's the first winery in Selah, he said.
Participants checked out the merchandise at participating businesses; it was a full house at the Obra Project business incubator, with people looking through jewelry and handcrafted wood items. Sip 'n Stroll even offered an opportunity for volunteering - employees of Moses Lake Industries poured the wine at the Obra Project for an out-of-town winery. An MLI employee is on the DMLA board, said fellow MLI employee Alicia Ellestad, and the employees are always looking for places to volunteer.
The musicians got the chance to play before live audiences. The Pangoleers — no, the Pangoliers — no, wait. Nobody was really sure.
"However you spell it," said bass player Michael Doaldson.
Anyway, the band set up on South Division Street.
"We like supporting the stuff that Moses Lake does," Donaldson said.
Besides, it was a good chance to practice, have some fun and do something they want to do.
"We're three middleish-age men," said guitarist Jake Tacher. "This is the dream, right here - playing with a rock band."
Sip 'n Stroll was held in conjunction with the second annual Care Fair, which provided a venue for nonprofit organizations to tell people about their services. (A separate story on the Care Fair is coming next week.) Care Fair organizer Michaelle Boetger said Sip 'n Stroll also illustrates the principle of working in tandem.
"It's an example of organizations coming together," she said.
Cheryl Schweizer can be reached via email at cschweizer@columbiabasinherald.com. Find more photos of this and other events online at columbiabasinherald.com.
Recent Headlines
---