Marge Dyck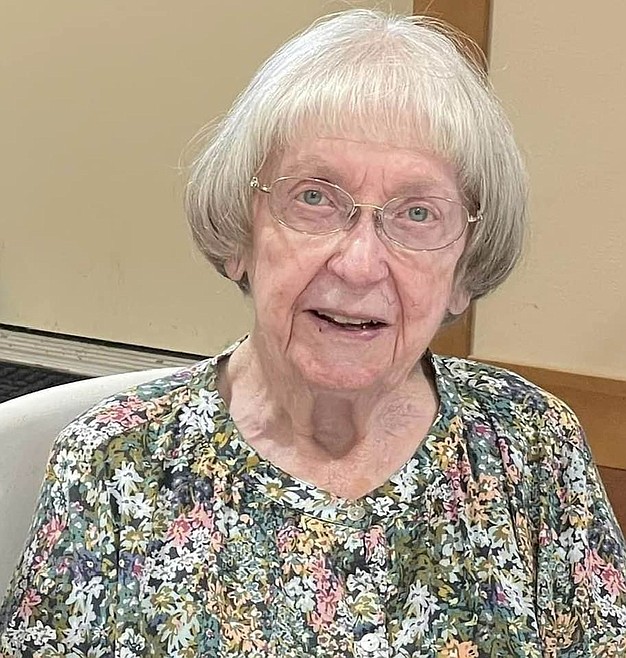 |
September 18, 2023 12:00 PM
Marjorie "Marge" Ellen Bumgarner Dyck was born July 10, 1932, to Ralph and Bessie Bumgarner. She was joined by a brother, Robert, eight years later. She spent a lot of time with her grandparents, Frank and Minnie Bumgarner, when she was growing up. While Marge's mother liked to be outside tending her large vegetable and flower gardens as well as her chickens, Marge liked to be inside, ideally reading a book. She loved books her whole life!
She graduated from Colfax High School in June 1950. After mutual friends introduced them, Alven L. Dyck and Marge eventually married June 25, 1950. She moved from the Palouse country to the dry land wheat farming near Schrag, Wash. where electricity had just been hooked up and there was no telephone. In September 1951, Bill was born, and in November 1953, Sally was born.
Marge was taken to a Methodist Church in Colfax for Sunday School when she was little but after she married, she became very active at Menno Mennonite Church. She sang in the choir, often typed and mimeographed the bulletin and taught adult Sunday School. She was the first woman deacon at the church. During that time, there wasn't a regular pastor, so her gifts for putting worship together were appreciated.
After the family moved to a farm nearer to Ritzville, times were tough and Marge decided she would go to work in town. This was not easily accepted by some in the family but it turned out to be a very good decision for her. She worked for the Montgomery Ward catalog store, then the Department of Social and Human Services, and finally for several decades, she was the librarian at the county's Carnegie library. All of these jobs put her in direct contact with people on a daily basis, which she enjoyed. As a result of her work at the library, she was the first person in the family to use a computer. With help, especially from her grandson, David, she was able to use the computer until the last weeks of her life.
Marge and Al moved to Ritzville in 2000. There Marge began to teach a Bible study with women from the Methodist church while attending the United Church of Christ and enjoying fellowship with remaining members of the Mennonite church. Sometimes her Bible study read a book together but mostly she enjoyed developing her own Bible studies with the help of her extensive Bible resources.
In 2016 Al and Marge moved to Monroe House in Moses Lake. Marge was done cooking! Monroe House was a good place for her, especially during the time of Al's death in February 2019. During the first years of COVID-19, no Monroe House resident got it. While she couldn't go out, she enjoyed reading and talking with friends and family on the phone and zooming. She also enjoyed going to Palouse Falls and going to the Moses Lake airport to see all the 737s, the big Russian plane and a 747 that were there, as well as some smaller planes.
Marge is survived by her son, Bill (Sharla), and daughter Sally (Ken Ehrman), grandson David Crogan (Jordan) and brother Robert (Sandy Jackson) Bumgarner, as well as cousins, nieces and nephews from both sides of the family.
Services will be held at Menno Mennonite Church (1378 N. Damon Road, Ritzville, WA. 99169) at 11 a.m. Sept. 30, 2023. Memorial gifts can be sent to the Menno Mennonite Church at the above address. Please make checks out to Camp Camrec, for a new building project.
Recent Headlines
---