Lions topple Eagles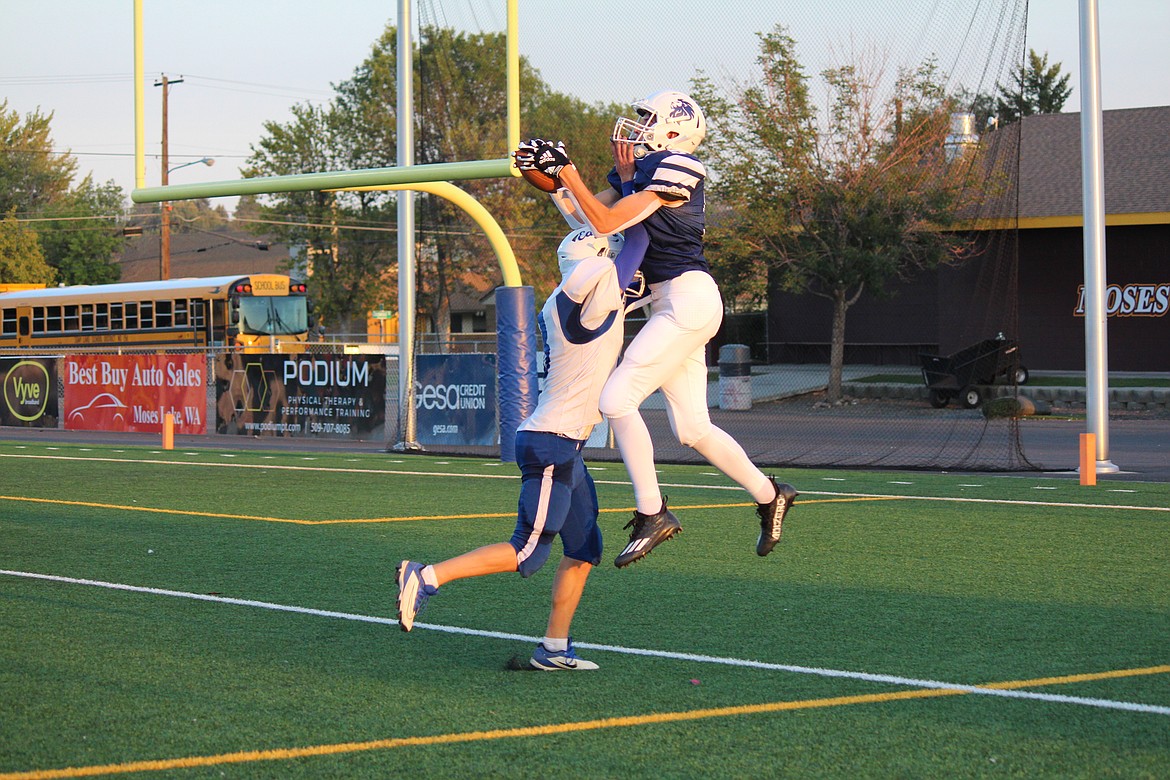 MLCA/CCS receiver Jonny Ferguson (5) hauls in a touchdown pass over a Soap Lake defender in the Lions' 44-30 win Saturday.
CHERYL SCHWEIZER/COLUMBIA BASIN HERALD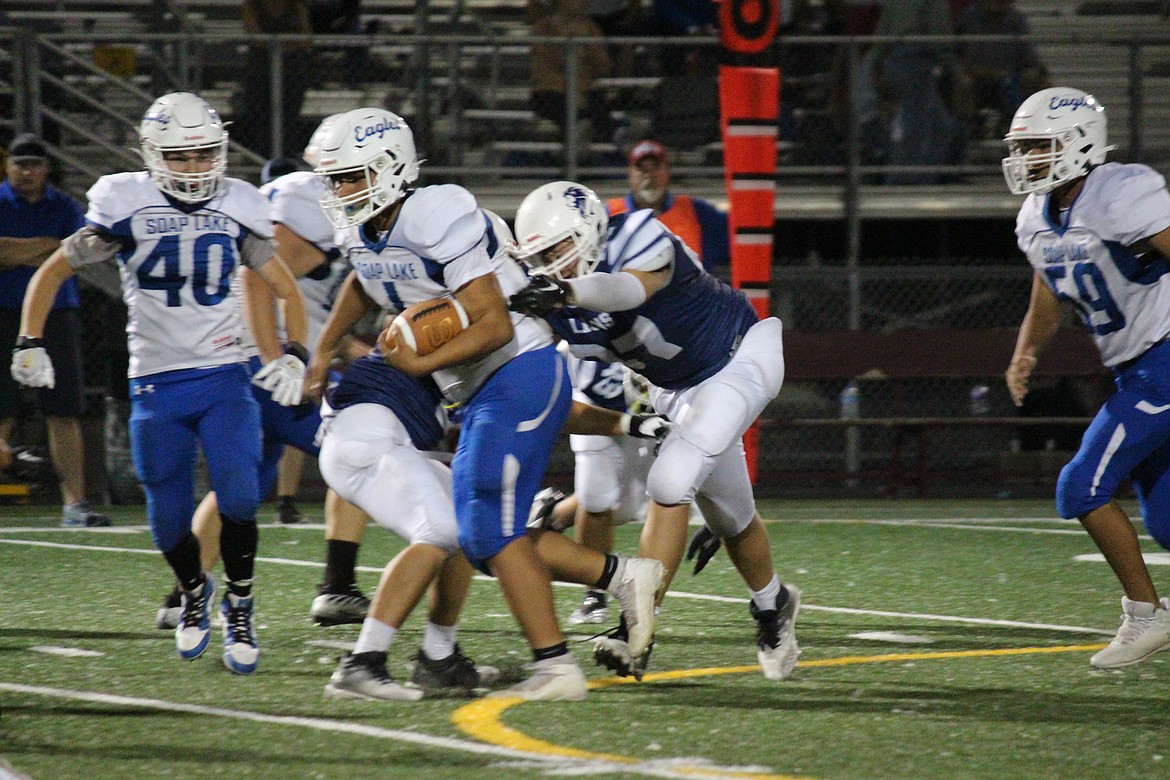 Soap Lake quarterback Jairo Lopez (4) escapes the grasp of a MLCA/CCS defender.
Lions receiver James Robertson (17) battles an Eagle defender for the ball.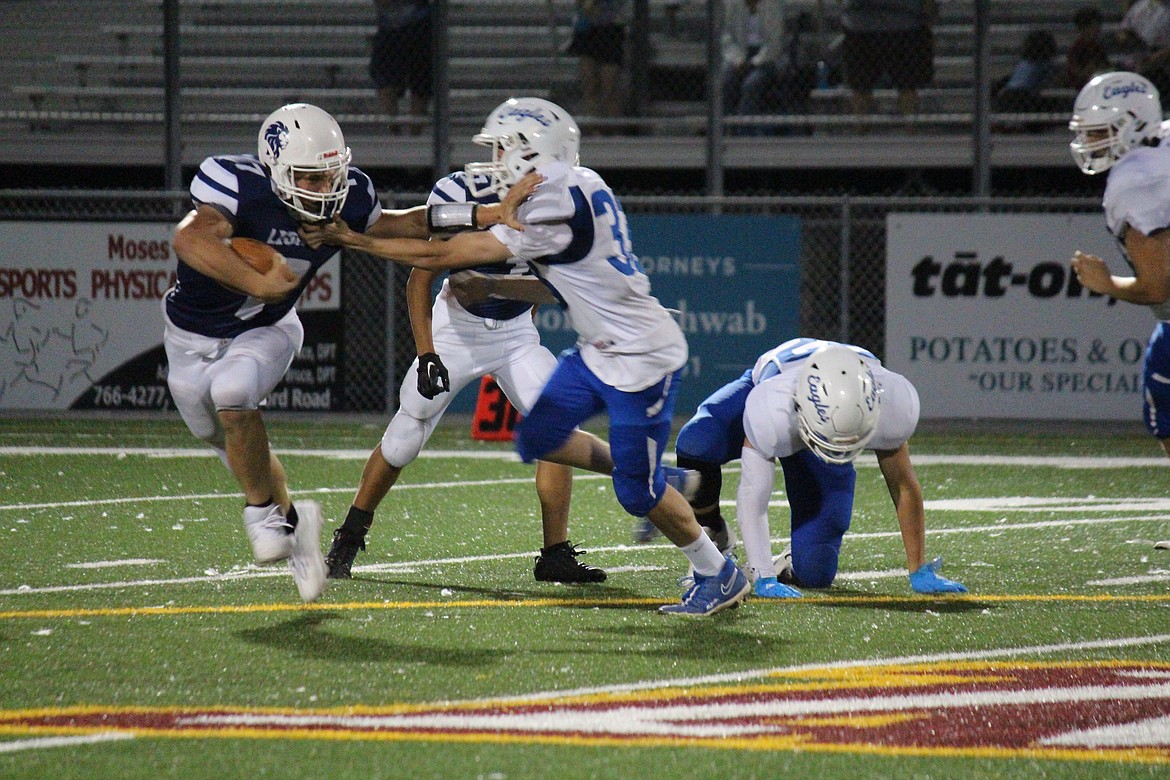 MLCA/CCS quarterback Ruben Uyanchuk (7) stiff-arms Soap Lake defender Grayson Pippens (33). The Lions defeated Soap Lake for their third straight win.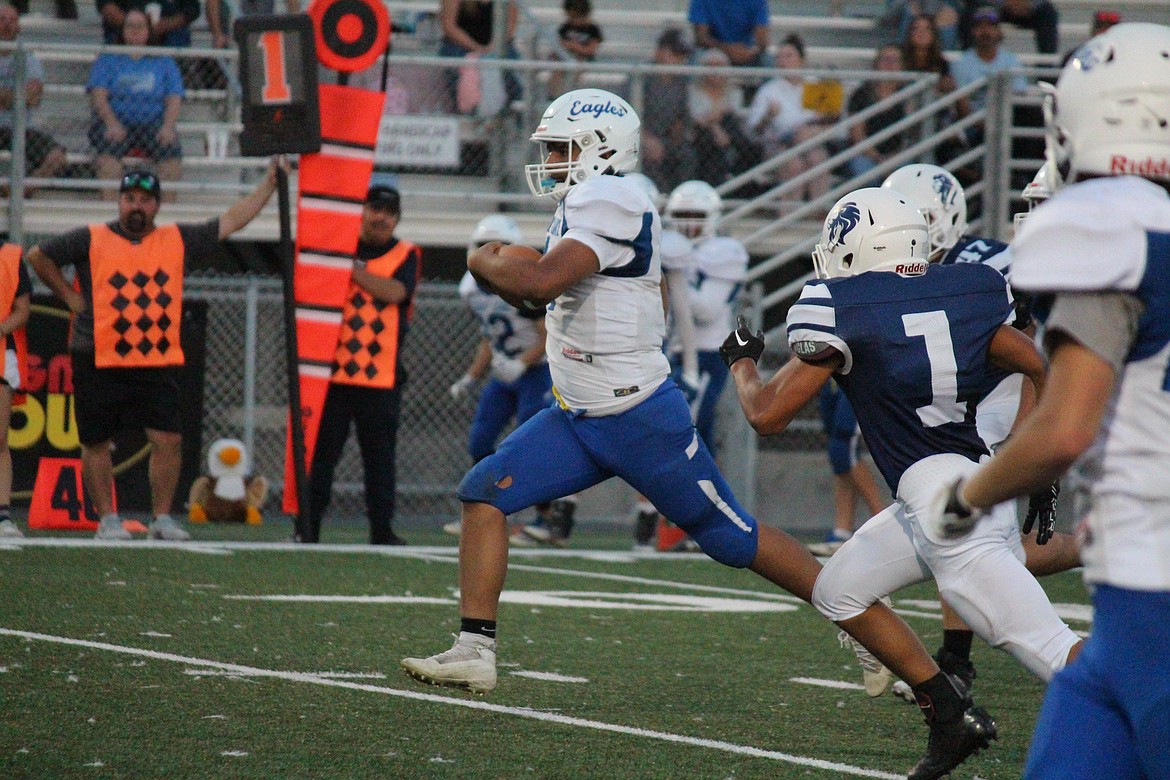 Soap Lake quarterback Jairo Lopez (4) heads downfield during Saturday's game.
Previous
Next
by
CHERYL SCHWEIZER
Staff Writer
|
September 18, 2023 4:22 PM
MOSES LAKE — The Moses Lake Christian Academy-Covenant Christian School Lions football team pushed their record to 3-0 with a 44-30 win over the Soap Lake Eagles on Saturday at Lions Field.
It was the third game ever for MLCA/CCS, and coach Aaron Noble said his team met and overcame some challenges Saturday night.
"I really liked that we persevered. We had a guy go down in the game, other players getting nicked up and injured, and we had guys filling in in positions they weren't used to. And they were able to step up and fill roles that we needed to secure the win," he said.
"Everybody having each other's back — we say 'IGYB, I got your back.' So we're making sure we have each other's back. We just played team football, and I think that was the key," Noble said.
The Lions scored the first touchdown, a 39-yard pass to receiver James Robertson from quarterback Rubin Ulyanchuk with 7:15 left in the first quarter. That was the score at the end of the quarter, and while it was a slim lead, Soap Lake coach Garrett Devine said the first quarter was decisive.
"We made some critical errors in the first quarter," Devine said. "We got off to a poor start."
The Lions widened their lead to 12-0 on a 15-yard touchdown reception by Jonny Ferguson about halfway through the second quarter. The two-point try was unsuccessful. Soap Lake scored its first touchdown on a 38-yard pass reception to Trey Landdeck; the Eagles converted the two-point try and cut the MLCA/CCs lead to 12-8.
Devine said Eagles quarterback Jairo Lopez missed his first five passes, then completed his next 15, while Landdeck had 202 receiving yards during the game.
The Lions came back to score, taking a 20-8 lead. The second quarter ended with Soap Lake on the five-yard line but unable to reach the end zone.
"That's a learning situation right there," Devine said.
MLCA/CCS took two plays to score on their first possession of the third quarter, then Soap Lake came back and scored on three plays. The Lions had a 36-22 lead at the end of the quarter.
Soap Lake held MLCA/CCS on a fourth down play early in the fourth quarter, but a roughing of the passer penalty gave the Lions a first down. MLCA/CCS scored and took a 44-22 lead with 4:14 left in the game.
"We've got to finish," Noble told his team as the defense gathered on the sideline.
The Eagles scored and converted the two-point try, but MLCA/CCS ran out the clock to win 44-30.
The Lions have won three straight to start their first-ever football season, and Noble gave credit to the school administration, the assistant coaches — and his team.
"We're challenging them to be their best on a daily basis," he said. "We talk about accountability, relentless effort and competitive excellence, and we're holding them accountable. They're working really hard."
Cheryl Schweizer may be reached via email at cschweizer@columbiabasinherald.com.
Recent Headlines
---