Cougars fall at home to Kiona-Benton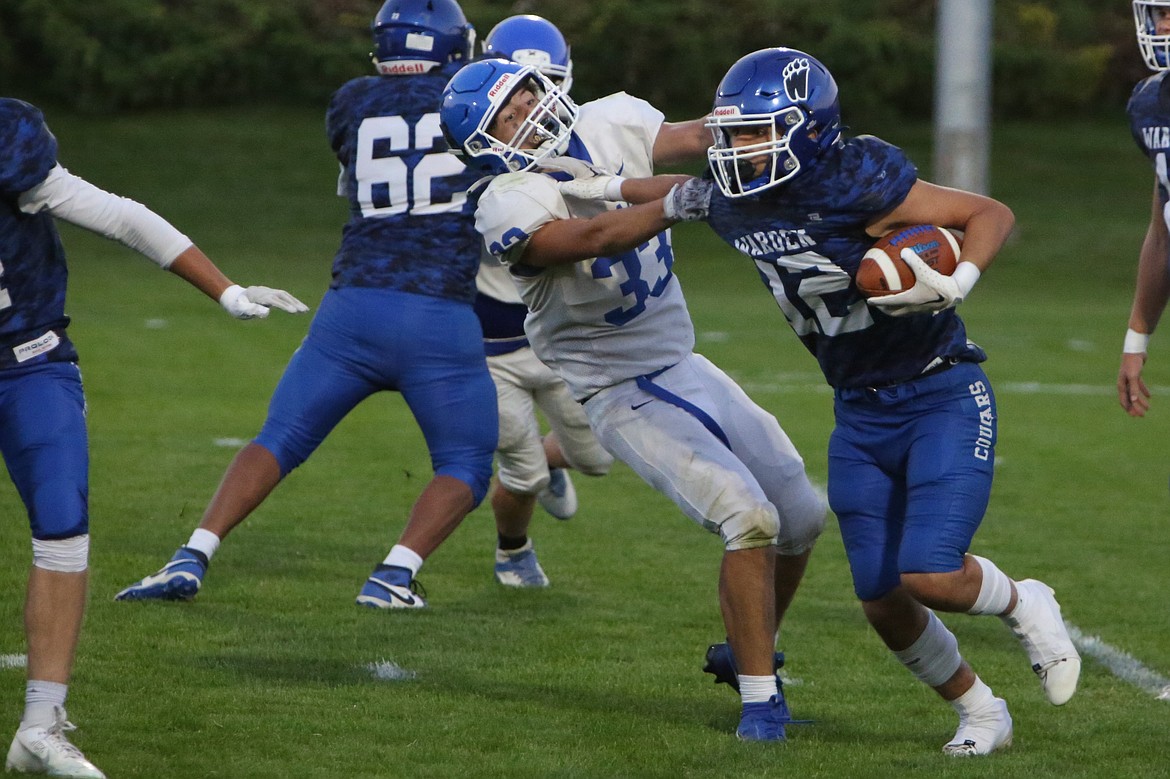 Warden junior Elijah Ruiz stiff-arms a Kiona-Benton defender on the Cougars' opening drive of the game.
IAN BIVONA/COLUMBIA BASIN HERALD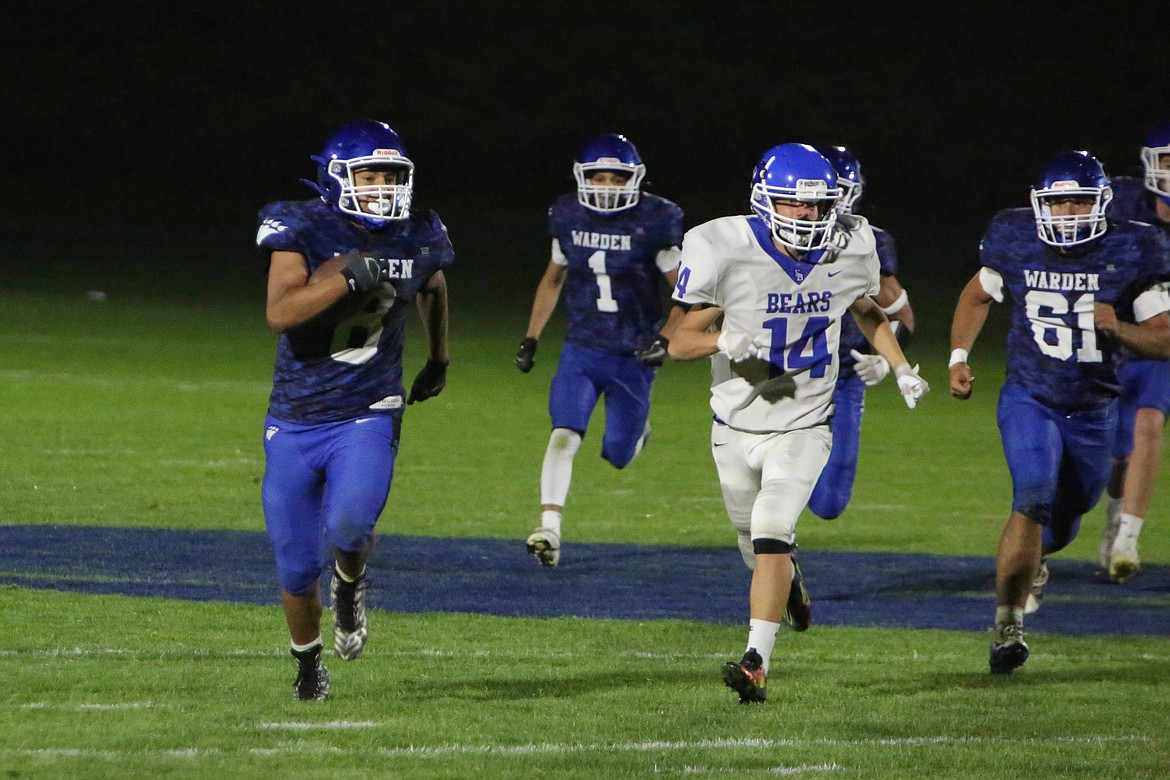 A long kickoff return by sophomore Gustavo Canales (8) in the second quarter set up Warden's first touchdown, a 20-yard pass from freshman Kameron Jensen to senior Angel Lino Segoviano.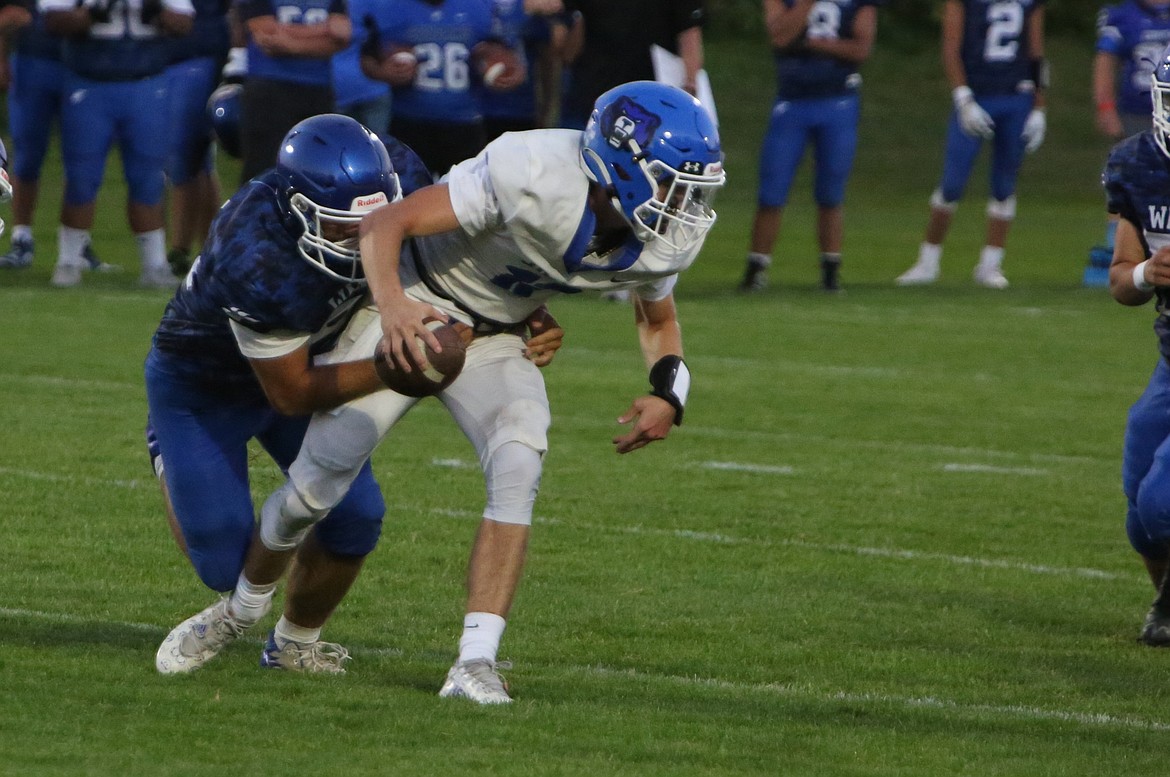 Warden sophomore Ryan Jorgensen, in blue, recorded three sacks in the first half against Kiona-Benton on Friday.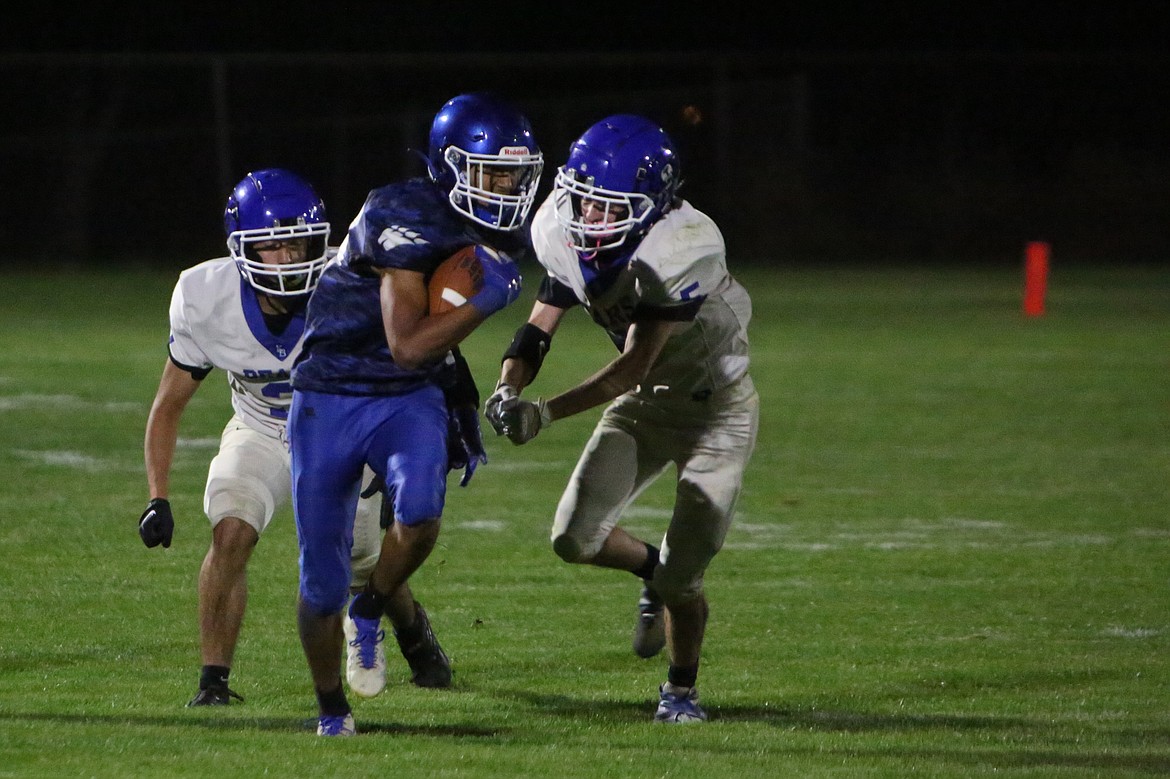 Warden senior Angel Lino Segoviano, in blue, caught seven passes for 115 yards and a touchdown in Friday's loss to Kiona-Benton.
Previous
Next
by
IAN BIVONA
Sports Reporter
|
September 16, 2023 2:13 PM
WARDEN — Penalties and turnovers marred the Cougar offense and its ability to sustain drives Friday night against Kiona-Benton, leading to a 36-12 home loss to the Bears.
The Cougars turned the ball over six times, and while penalties consistently kept Warden behind the chains on offense.
"I felt like we were our own weakness," Warden head coach Dallyn McLean said. "We stopped ourselves every time we'd go down the field. Our players just needed to believe in themselves a little bit more to finish the series."
The first turnover of the evening came on the opening kickoff, fumbling the ball at Warden's own 45-yard line that the Bears used to score a 45-yard touchdown on a deep pass down the field on the first play from scrimmage. Kiona-Benton reached the end zone again two drives later on a 22-yard touchdown pass and scored again on a wide receiver screen from 48 yards out after a Cougar interception. By the end of the first quarter, Kiona-Benton led 18-0.
"It's going to take a little bit of experience, the boys have never been in this situation — this high-pressure situation that we put them in," McLean said.
Kiona-Benton added another pair of touchdowns on its first two drives of the second quarter, pushing the Cougar deficit to 30-0. A long return by sophomore Gustavo Canales on the ensuing kickoff set up a 20-yard touchdown pass from freshman quarterback Kameron Jensen to senior receiver Angel Lino Segoviano for Warden's first score of the game. Segoviano caught seven passes for 115 yards and a touchdown Friday night.
"Angel's a senior, he's coming off an injury and we told him this week that when the time matters we're giving the ball to our best guy, and he's definitely one of them," McLean said. "He practices like it."
At halftime, Warden found itself down 30-6 to the Bears.
The Bears added another touchdown late in the third quarter, scoring from 75 yards out on a touchdown pass. Warden reached the end zone again early in the fourth quarter on a 16-yard touchdown pass to junior Anthony Gutierrez but was unable to cut into the Kiona-Benton lead more and lost 36-12, falling to 1-2 on the year.
Warden was gaining momentum on offense on the opening drive of the third quarter, but holding and personal foul penalties pushed the Cougars back to a fourth-and-31 after being in the red zone, which Warden didn't convert. On the second Cougar drive of the second half, another holding penalty negated a long catch-and-run that would have set Warden's offense up just outside the red zone.
"It's going to come down to the boys wanting it," McLean said. "We practice, we put time in — the one thing that is difficult about 2B football is that a lot of boys in the off-season play other sports. It's the beauty of it, but it's also the difficulty because when we come in, half my team's going to play football. We're teaching the discipline of football; it's going to take them wanting it."
The Warden defensive line was able to get pressure on Kiona-Benton quarterback Kegan Kinter early in the game, highlighted by a three-sack performance by Cougar sophomore Ryan Jorgensen. Later in the second half, the Cougar defense forced a Bear fumble on the goal line that was recovered by senior Anthony Contreras. On special teams, Warden blocked two extra points and stopped the Bears on two-point conversions three times.
"(Jorgensen's) actually a middle linebacker; we moved him to D-line because he's a country boy farmer who likes to play downhill," McLean said.
Warden returns to the field on Friday, hosting Granger at 7 p.m.
Ian Bivona may be reached at ibivona@columbiabasinherald.com.
Box score
KiBe — 18-12-6-0 36
Warden — 0-6-0-6 12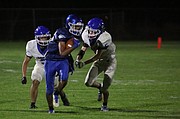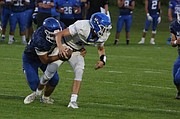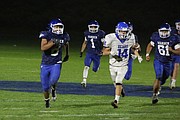 Recent Headlines
---