Magnetic Ink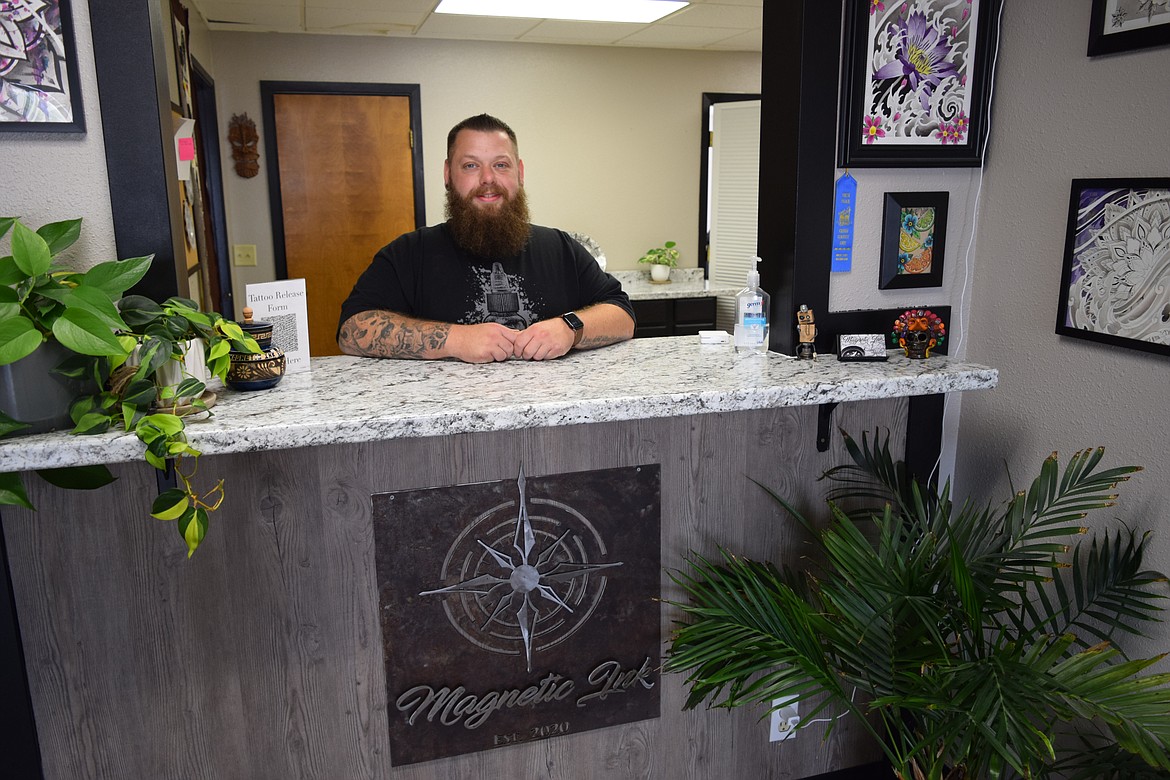 Eddie Bernier stands behind the counter in his tattoo shop, Magnetic Ink, on South Balsam Street in Moses Lake. Bernier said he installed the counter himself.
GABRIEL DAVIS/COLUMBIA BASIN HERALD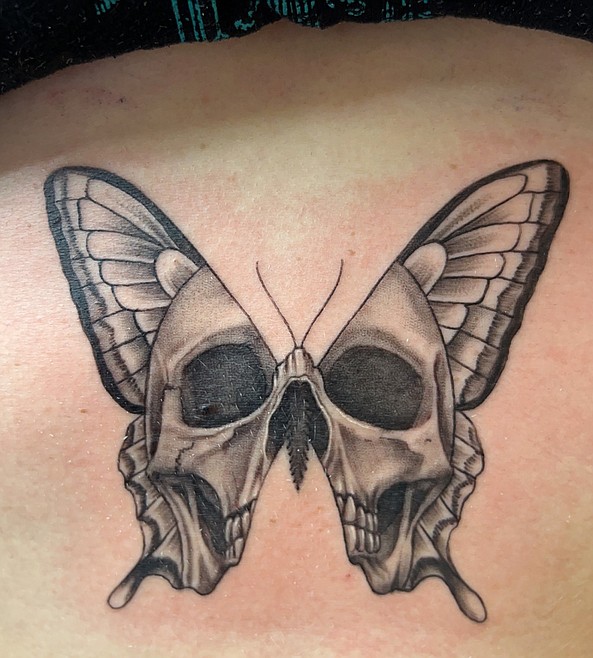 An example of fine line work.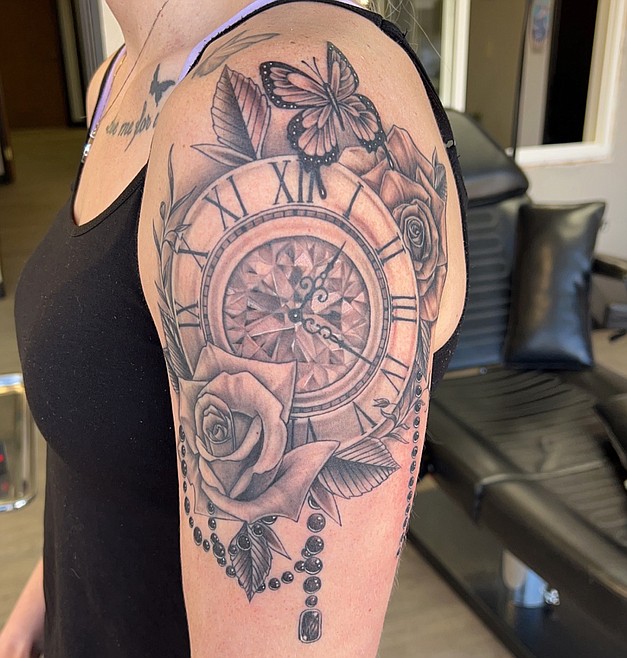 An example of Eddie Bernier's work. Bernier has been tattooing for several years.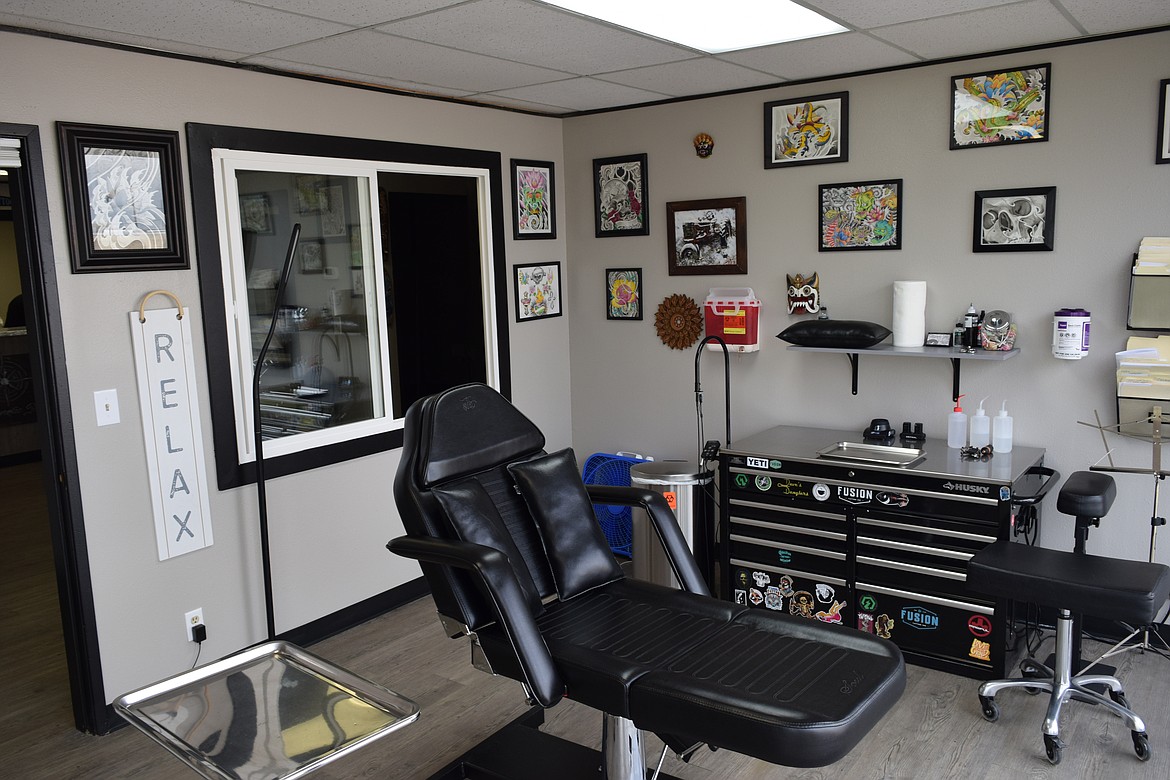 The seat where Eddie Bernier tattoos his clients at Magnetic Ink. Bernier's own artwork lines the walls above the chair.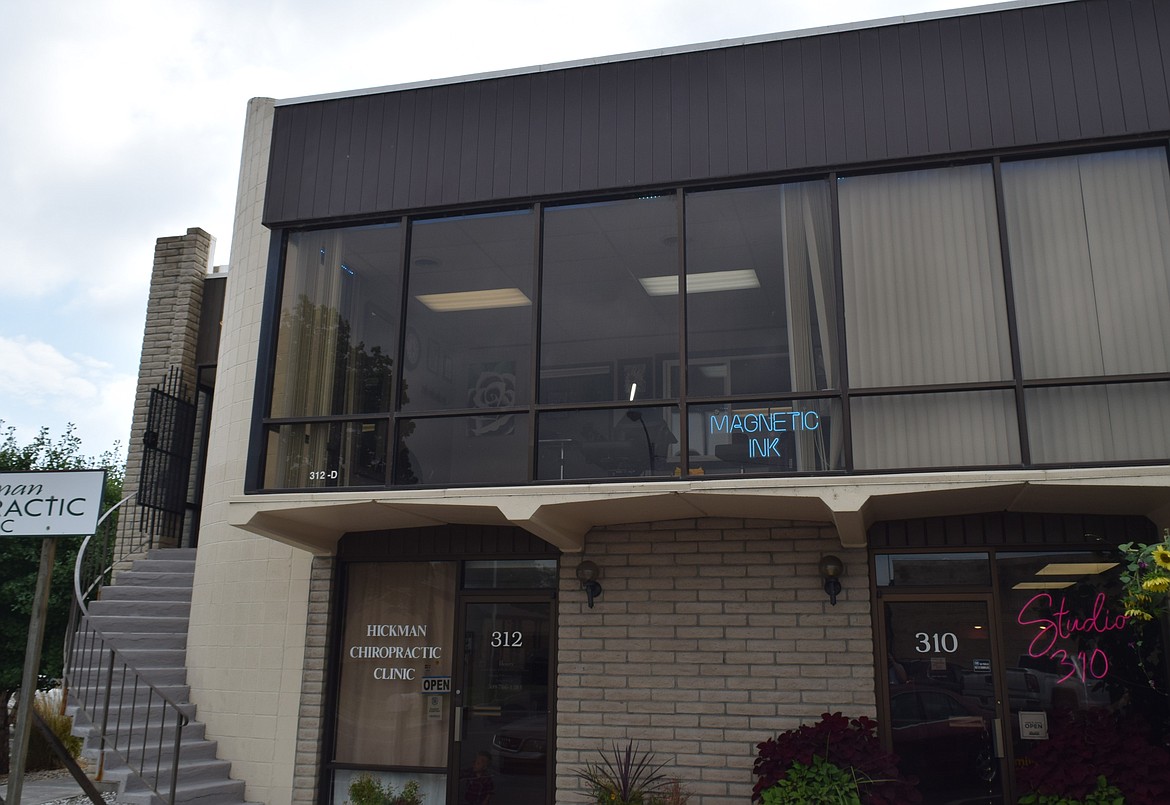 The Magnetic Ink tattoo shop on South Balsam Street in Moses Lake, which owner, operator and Moses Lake native Eddie Bernier opened in 2020 after leaving his position at fellow Moses Lake tattoo shop The Hive.
Previous
Next
by
GABRIEL DAVIS
Staff Writer
|
September 15, 2023 1:35 AM
MOSES LAKE — Moses Lake native Eddie Bernier, the owner and operator of the Magnetic Ink tattoo shop, said near the beginning of August that business is doing well for him.
Bernier can be found at his shop tattooing clients in a second floor room with floor-to-ceiling windows looking out onto South Balsam Street. Rows of Bernier's own artwork hang on the walls of the shop.
"I've been tattooing for, I believe about nine to 10 years now," said Bernier. "I used to apprentice at The Hive when I first started tattooing, back in 2012."
Bernier said he split from the Hive and started his own tattoo shop in 2020, during the COVID-19 pandemic.
"Right when COVID started happening everything shut down, everything kind of stopped, and it just kind of wasn't working out anymore there. I figured maybe I could make it on my own and it kind of went a little better than I thought it was going to. Yeah, it's pretty exciting."
Bookings for the shop have been very good for Bernier since starting on his own, he said.
"Business is good, six days a week right now, booked until the middle of October," he said. "So it's going pretty good. It's really fun. I like meeting new people, just kind of listening to people and getting to know them…Some people have really cool ideas."
Magnetic Ink operates by appointment only due to the level of demand Bernier said he's had recently. Bernier then spoke about his preferences for what tattoos he works on.
"There's just so many different styles. I like the…thinner line, lighter shading type of stuff like that," said Bernier. "I mostly like to do black and gray, finer line stuff like those mandala deals, like the flowers. I do a lot of floral stuff."
Larger tattoos may be more intricate, complex and sometimes more artistic, but Bernier said they have more room for error than smaller, simpler tattoos. However, he said he likes having a variety of tattoos to work on.
"I like the custom stuff. It depends on what it is because people get this misconception that since you're a tattoo artist you can do everything," said Bernier. "And yes, we can attempt to do everything, but really we like to do certain stuff. I like to do the larger size tattoos, and longer sessions. But at the same time I like doing the small stuff because you meet more people doing the…cute little 45 minute tattoo."
Bernier said that he usually prefers not to have too much creative freedom when he is working on people's tattoos.
"Ultimately in the end, the client wants what they want," said Bernier, "so I like to have the most input from them because say I come up with something and you're not too crazy about it but you also don't want to say 'hey, I want to change this whole thing.'"
Much of Bernier's own artwork hangs on the walls of the shop, which show his personal influences and creativity. Bernier's artwork is why he started in the tattoo industry, he said.
"I've really been into art ever since high school. So I really liked art class the most. I liked it because you get to hang out and get to do cool things with the art and just talk," said Bernier. "As far as the tattooing goes, I've wanted to do it since high school, and straight out of high school I started working at Genie for a year, and then after that, I started my apprenticeship at the Hive and that took about three years."
Bernier said he doesn't have as much time as he used to for his personal artwork now that he has his own business to attend to, which has been very busy.
"I used to paint quite a bit, but anymore, I've just been really working with the clients, been really busy. It's hard to do anything on the side right now," he said.
For now Bernier is the only tattoo artist at the shop, but he said he might consider hiring an apprentice in the future.
Bernier said people can view his art on his instagram @edtat2, and find more information on Magnetic Ink on Facebook at www.facebook.com/magneticink.
Gabriel Davis may be reached at gdavis@columbiabasinherald.com. Download the Columbia Basin Herald app on iOS and Android. See more about local tattoo artists in today's Lifestyle section, starting on page C1.
Recent Headlines
---