Jacks enter 2023 under new HC Avalos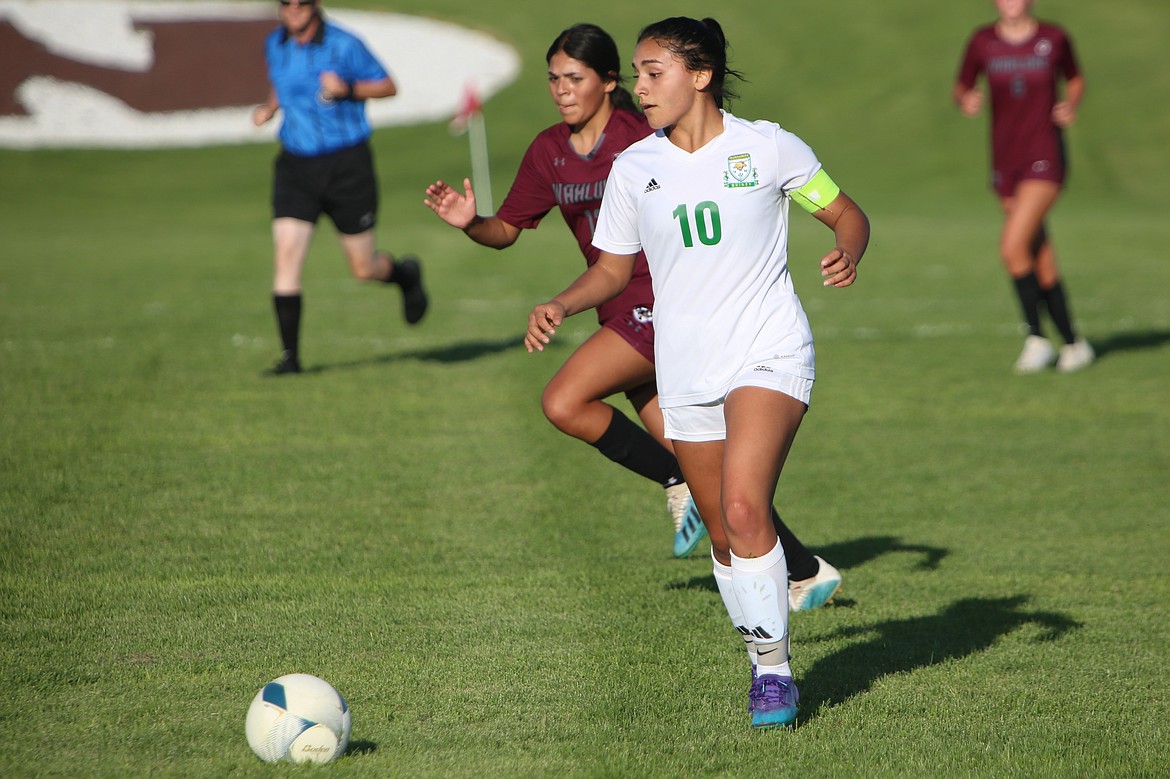 Quincy senior Michelle Acevedo pushes the ball upfield against Wahluke on Sept. 7.
IAN BIVONA/COLUMBIA BASIN HERALD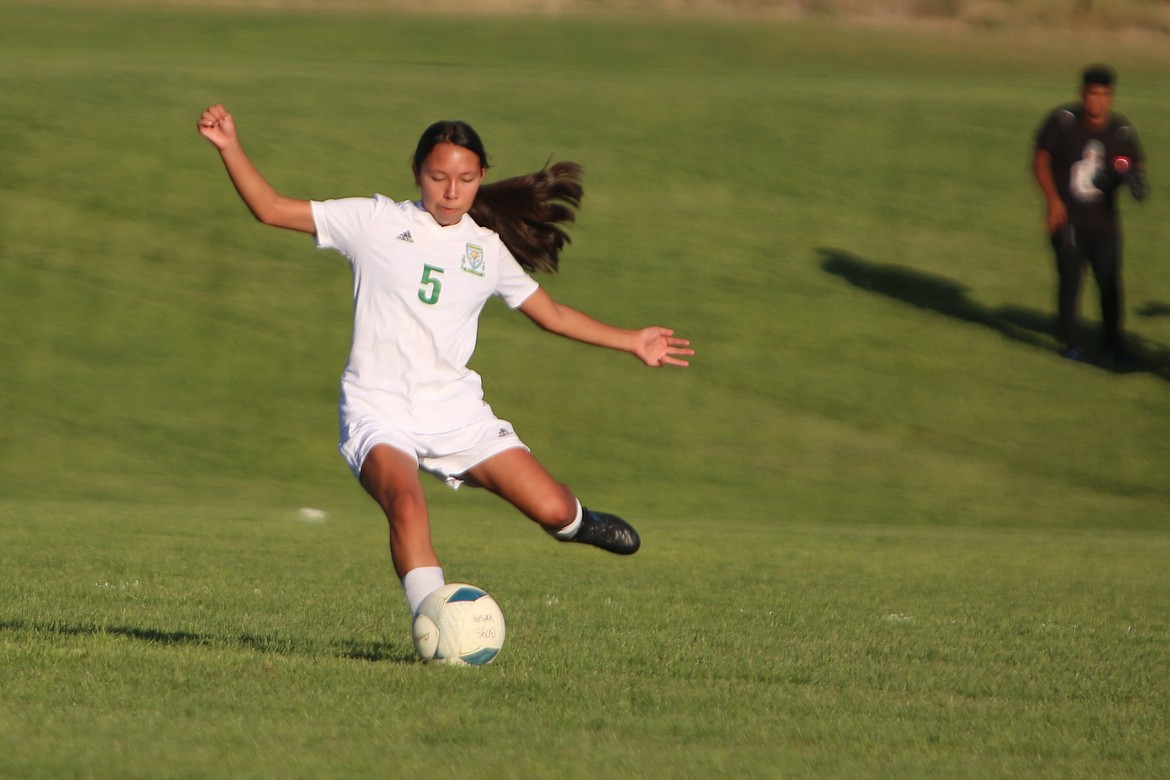 Quincy freshman Emiko Kondo passes the ball toward the Wahluke net in a 3-2 win over the Warriors on Sept. 7.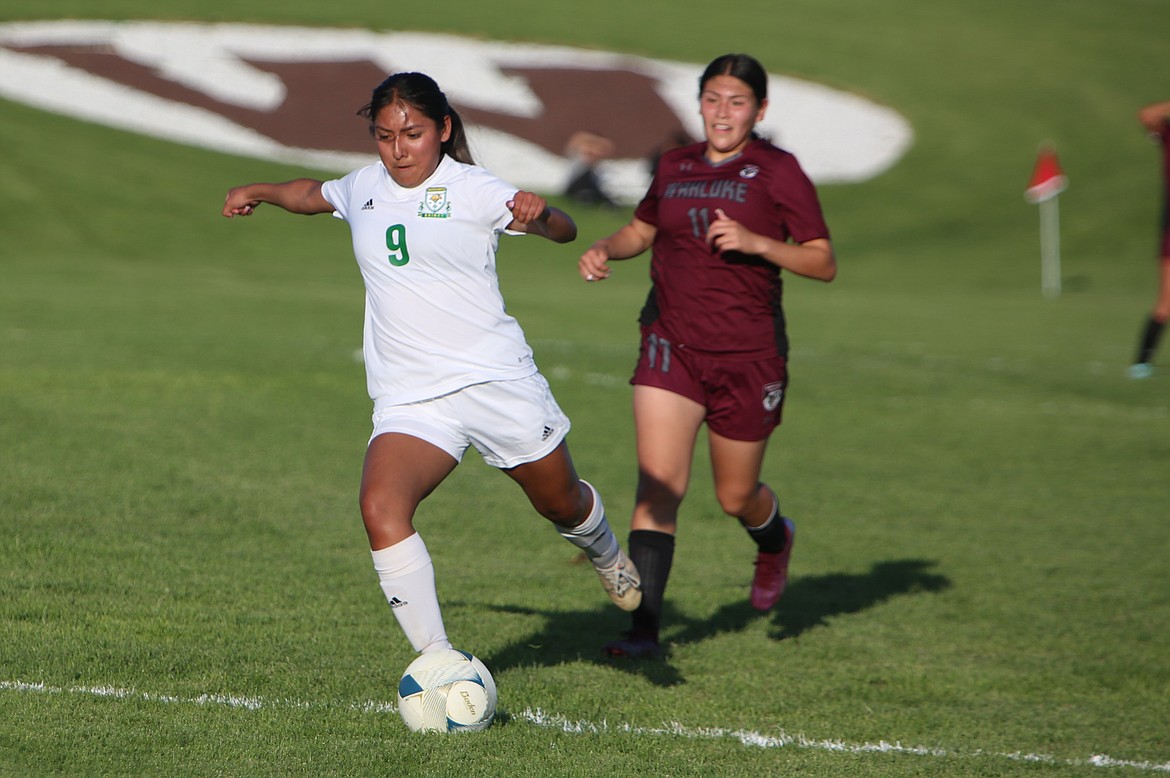 Quincy junior Crystal Vargas (9) is one of four returning players for the Jacks who received all-league honors in the Caribou Trail League last season.
Previous
Next
by
IAN BIVONA
Sports Reporter
|
September 15, 2023 1:00 AM
QUINCY – Off to a 2-1 start to the 2023 season, the Quincy Jackrabbits girls soccer team is under the tutelage of new Head Coach Kim Avalos, a former assistant coach for the Jacks.
"I anticipate it going well, and I'm looking forward to watching the girl's growth and their performance over the next couple of weeks," Avalos said.
Avalos brings in coaching experience from both soccer and wrestling, serving as a wrestling coach at both Moses Lake and Quincy high schools, as well as being an assistant coach on the Jackrabbit girls soccer team last fall. As a physical education teacher in the Quincy School District, Avalos said she shares many things in her approach to leading on the field and in the classroom.
"I relate it a lot to teaching – I'm a P.E. teacher, and so things that I already naturally do transition really well into coaching," Avalos said. "A lot of those same philosophies I have as a coach are the same philosophies I have in the classroom. The biggest thing for me this season has been making sure that the team knows that nothing goes unnoticed."
Coaching wrestling and knowing many players on the team from their time in middle school helps open up a "two-way street of communication" from coach to player, Avalos said.
"I think it's helped me a lot, and I also think about how many of those athletes are also athletes in a different sport," Avalos said. "A lot of those girls have had experience with me – whether it's wrestling or soccer, I've had some of those athletes as middle schoolers. There's a lot of that connection and mutual understanding of where we are coming from."
Avalos said a strength of the Jacks so far this season has been the team-first focus shared among players, allowing everyone on the field to contribute and play a role.
"For team sports to work, they really do need to feel like they are a team," Avalos said. "It's not just one person that's going to do all the work, but knowing that whatever their role is, it's important because it's going to help the team."
Many familiar faces return to the field for the Jackrabbits this fall after the team only graduated three players off of last season's 22-player roster. Among the returners are sophomore Hayden Morris, junior Crystal Vargas, sophomore Jourdan Ferguson and junior Adelina Perez, all of whom earned all-league honors in the Caribou Trail League last fall.
The Jacks are coming off an 8-12 season, defeating Chelan 2-1 in the first round of the CTL Tournament before falling to Cascade (Leavenworth) for a chance to advance to the 1A District 6/7 Crossover.
"I think that's another motivator for some of them, just knowing this is how far we got last year," Avalos said. "This is where we're at right now, this is where we feel good, but these are the areas that we need to focus on so that we can reach that goal again or surpass that goal."
After a season-opening loss to Othello, Quincy bounced back with wins over Wahluke (3-2) and Mabton (10-0). The Jackrabbits play host to Warden on Saturday at 11 a.m.
"I feel privileged and happy to have the opportunity to be part of their journey, because, at the end of the day, they are the ones that step onto the field and get the results, whether it's the intended ones or not," Avalos said. "I just want to keep supporting them through that journey and do whatever I need to, and what we need to as coaches, to help them achieve those goals."
Ian Bivona may be reached at ibivona@columbiabasinherald.com.
Quincy Girls Soccer Roster
No. 0 - Aylen Garcia - 9
No. 0 - Brooklyn Garcia - 11
No. 2 - Alondra Cordova - 11
No. 3 - Addison Compton - 9
No. 3 - Adelina Perez - 11
No. 4 - Michele Gramajo - 11
No. 5 - Emiko Kondo - 9
No. 7 - Hayden Morris - 10
No. 8 - Denisse Ruvalcaba - 10
No. 9 - Crystal Vargas - 11
No. 10 - Michelle Acevedo - 12
No. 11 - Jourdan Ferguson - 10
No. 15 - Ruby Gonzalez - 9
No. 17 - Arlene Bolanos - 9
No. 18 - Juliza Herrera - 11
Quincy Girls Soccer Schedule
Sept. 5 - vs Othello - 2-1 loss
Sept. 7 - @ Wahluke - 3-2 win
Sept. 9 - @ Mabton - 10-0 win
Sept. 16 - vs Warden - 11 a.m.
Sept. 21 - @ Brewster - 4:30 p.m.
Sept. 23 - @ Lake Roosevelt - 11 a.m.
Sept. 26 - @ Chelan - 4 p.m.
Sept. 28 - vs Cascade (Leavenworth) - 6 p.m.
Oct. 3 - @ Omak - 6 p.m.
Oct. 5 - vs Cashmere - 6 p.m.
Oct. 7 - vs Kiona-Benton City - 11 a.m.
Oct. 10 - vs Breswter - 6 p.m.
Oct. 12 - vs Chelan - 6 p.m.
Oct. 14 - @ Freeman - 12 p.m.
Oct. 17 - @ Cascade (Leavenworth) - 6 p.m.
Oct. 19 - vs Omak - 6 p.m.
Oct. 24 - @ Cashmere - 6:30 p.m.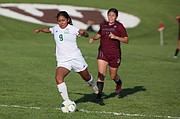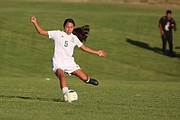 Recent Headlines
---