"I feel like we are a stronger team this year"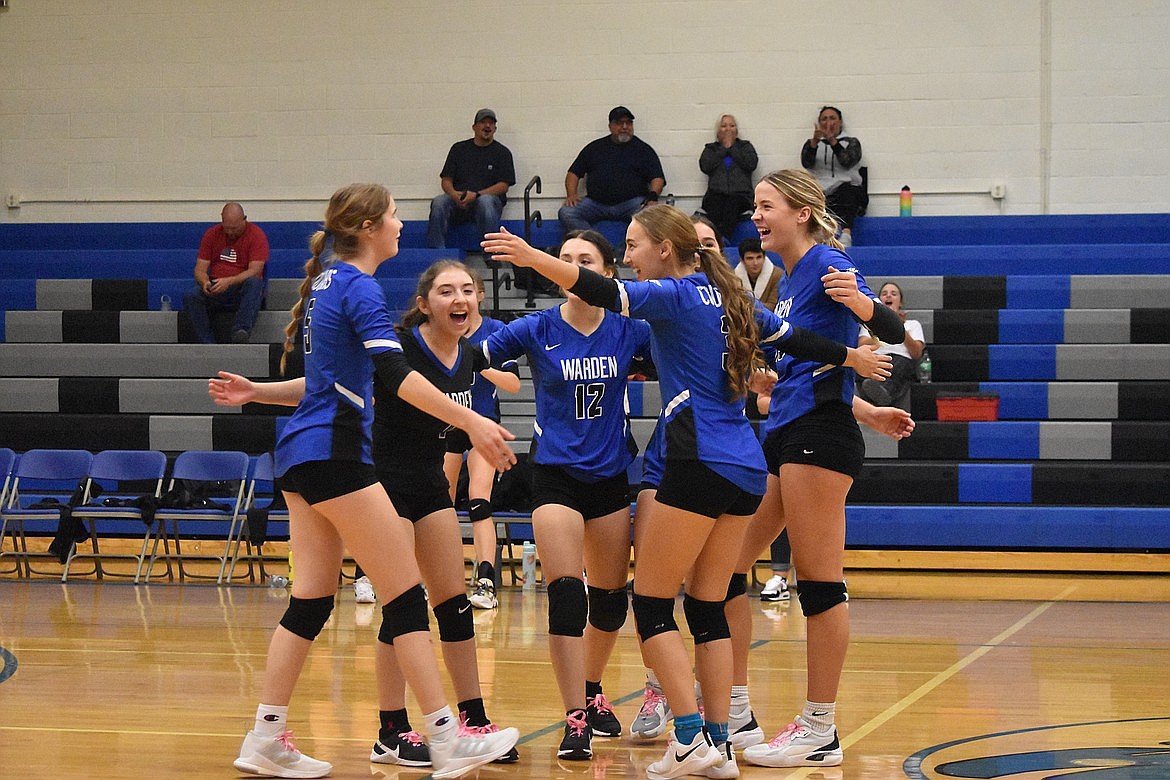 Warden players celebrate on the court during a match against Walla Walla Valley Academy in the 2022 season.
FILE PHOTO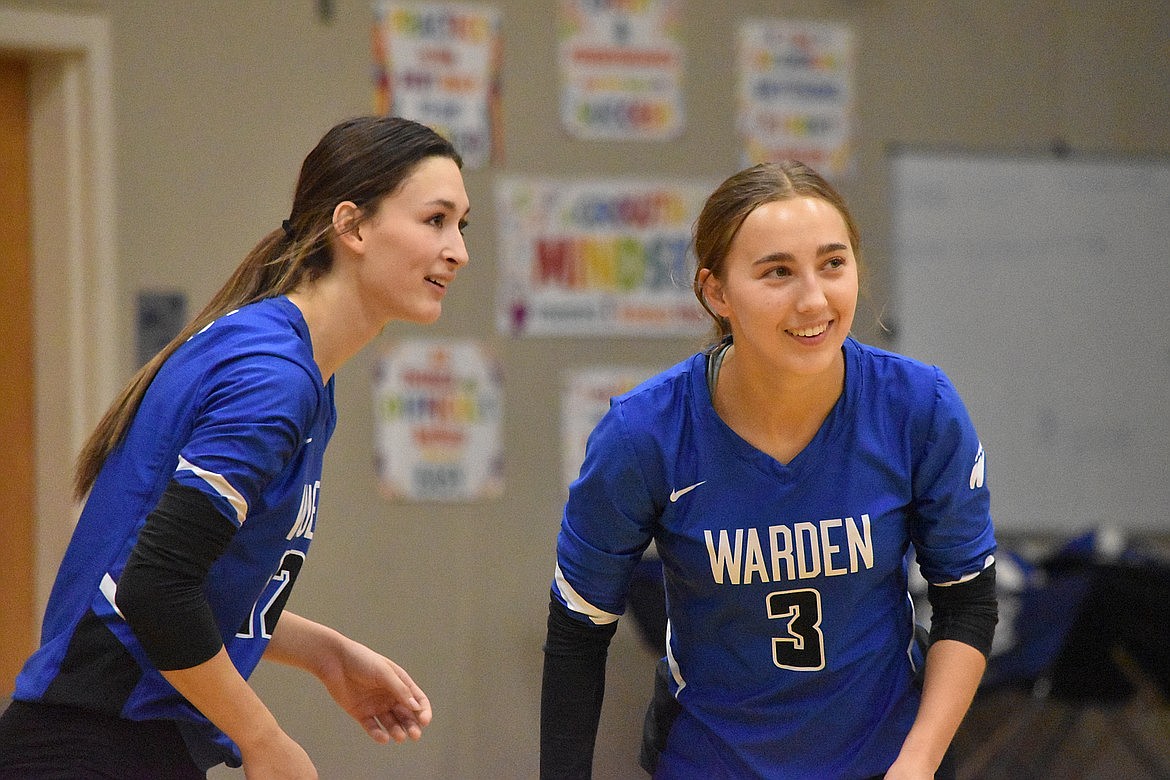 The Cougars lost five seniors from last year's roster, one of which being Kaylee Erickson (3). Senior Brianalee Martinez, left, is one of four returning seniors for Warden this season.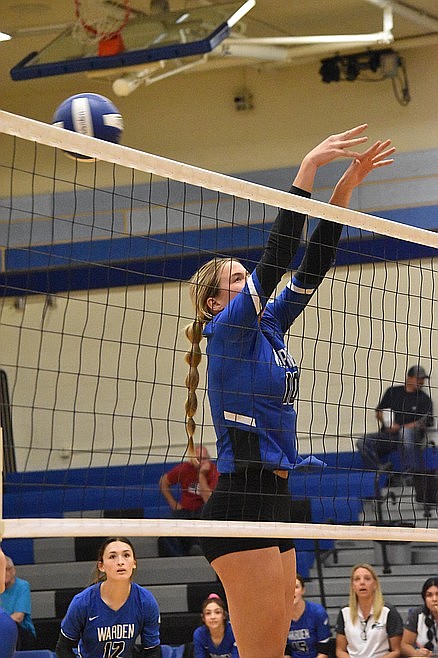 Warden senior Lauryn Madsen attempts a block.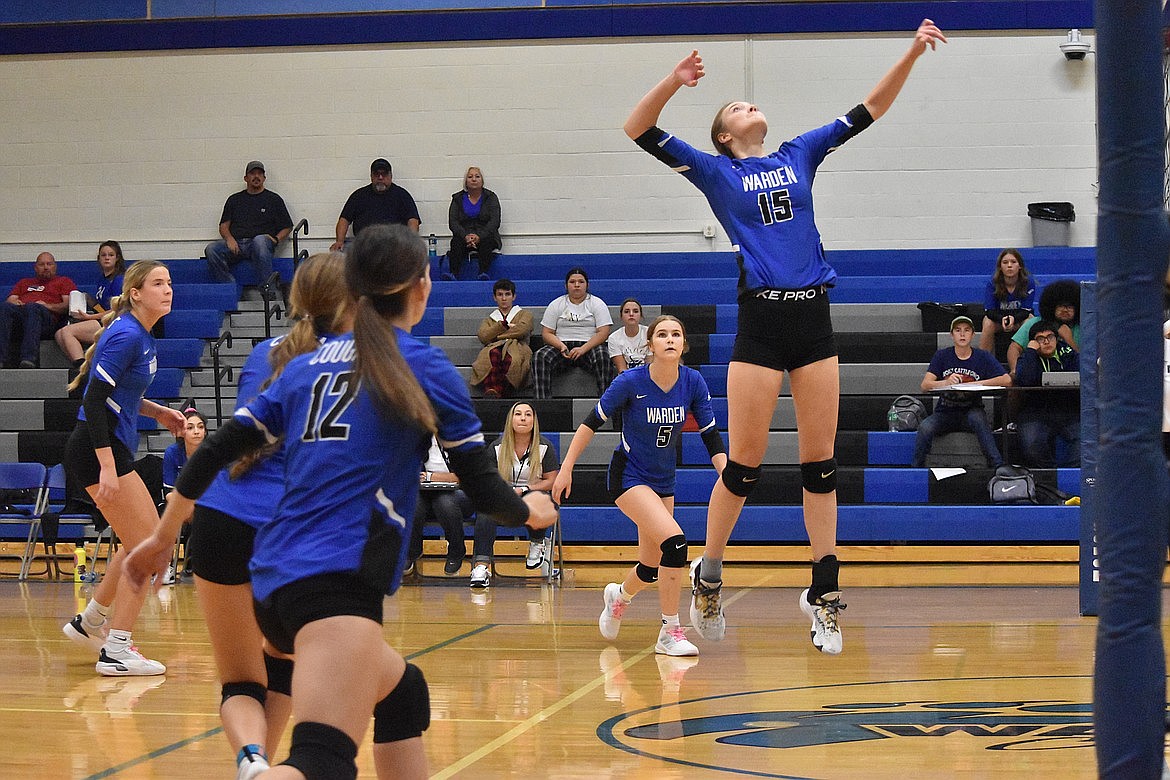 Warden junior Lauren Chamberlain (15) rises up for a spike against Walla Walla Valley Academy last fall.
Previous
Next
by
IAN BIVONA
Sports Reporter
|
September 15, 2023 1:00 AM
WARDEN – After a 10-6 regular season last fall, the Warden Cougar volleyball team is aiming for a run in a highly talented Eastern Washington Athletic Conference.
Warden finished the 2022 season with an 11-8 record, falling to Granger in the consolation semifinals of the EWAC Tournament last November.
"I feel like we are a stronger team this year," Warden Head Coach Shanna Golladay said. "Our competition is going to be just as tough. We have a really tough league on our side; Tri-Cities Prep, Walla Walla Valley Academy, River View and us I feel are all equally competitive."
Among the seven returners from last year's varsity roster are seniors Lauryn Madsen and Brianalee Martinez, both of whom earned first-team all-league honors on the court last fall.
While Warden lost five seniors from a year ago, Golladay said this year's team is deep and has improved on its defense.
"I had some players that played full-time JV last year that sat the bench for varsity, and so they fill those spots really well," Golladay said. "We had perfect replacements for those positions that graduated. The only area that I didn't have a full position for was setting, so we're going from a 6-2 offense to a 5-1 offense."
Along with Madsen and Martinez are fellow seniors Jada Hernandez and Aliza Leinweber, an athletically talented senior class, Golladay said. Going to the bench won't be a problem for the Cougars this season, giving Golladay options on the court.
"Our four seniors are really strong athletically, most of them are 2-3 sport athletes and have all been on very successful teams," Golladay said. "All around I'm really spoiled with my starting seven, and even going to my eighth person who's probably going to see some more playing time as the season goes on."
While having returning players and a strong corps of depth is beneficial, Golladay said there are still things the Cougars are working on throughout the early weeks of the season before the team reaches the teeth of league games later this month. According to the second-year head coach, the early weeks of the season are helpful for getting used to playing with one another in games.
"We definitely need to be more automatic in our movements, right now we're thinking too much about them before we are doing them so that's slowing us down a little bit and causing some unwanted loss of points," Golladay said. "Right now it's just getting in a groove, learning each other's movements and strengths and making it all connect into one."
Ahead of Thursday's non-league road contest against Wahuke, the Cougars have opened the 2023 season 4-0, defeating Cle Elum 3-2, Mabton 3-0, East Valley (Yakima) 3-1 and Walla Walla Valley 3-0. Warden's next outing is a home league game against Columbia (Burbank) at 6:30 p.m. Tuesday.
"I'm really excited for a couple of my girls for people to see what their growth has been and the improvements that they have from last year to this year," Golladay said.
Ian Bivona may be reached at ibivona@columbiabasinherald.com.
Warden Volleyball Roster
No. 1 - Jada Hernandez - 12
No. 3 - Brianalee Martinez - 12
No. 5 - Lauren Chamberlain - 11
No. 8 - Reagan Golladay - 11
No. 9 - Aliza Leinweber - 12
No. 10 - Lauryn Madsen - 12
No. 11 - Amaya Erickson - 10
No. 14 - Miranda Martinez - 10
No. 16 - Hannah Roylance - 9
No. 18 - Jamylex Pruneda - 10
No. 20 - Haley Sicklovan - 11
No. 23 - Genesis Ozuna - 11
Warden Volleyball Schedule
Sept. 5 - @ Cle Elum - 3-2 win
Sept. 7 - vs Mabton - 3-0 win
Sept. 11 - vs East Valley (Yakima) - 3-1 win
Sept. 12 - vs Walla Walla Valley - 3-0 win
Sept. 14 - @ Wahluke - 6:30 p.m.
Sept. 19 - vs Columbia (Burbank) - 6:30 p.m.
Sept. 21 - @ Quincy - 6:30 p.m.
Sept. 25 - vs Prosser - 6 p.m.
Sept. 28 - @ Connell - 6:30 p.m.
Sept. 30 - @ Walla Walla Valley - 7:30 p.m.
Oct. 3 - vs River View - 6:30 p.m.
Oct. 7 - @ Tri-Cities Prep - 12 p.m.
Oct. 10 - vs Tri-Cities Prep - 6:30 p.m.
Oct. 18 - @ Columbia (Burbank) - 6:30 p.m.
Oct. 21 - vs Tonasket - 2 p.m.
Oct. 26 - @ River View - 6 p.m.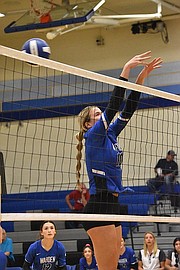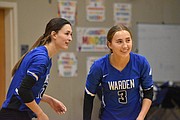 Recent Headlines
---