Pending home sales up for second month in a row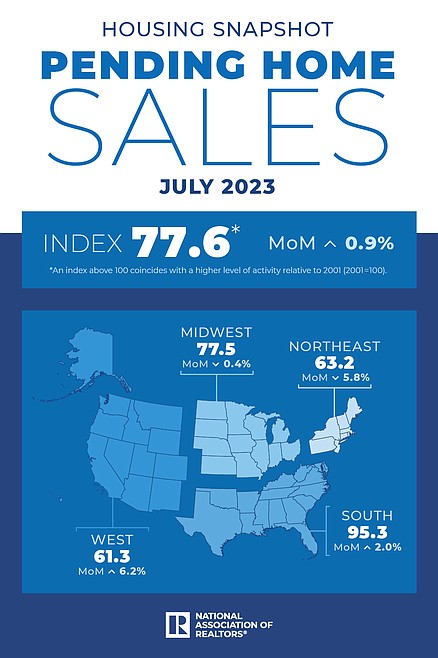 SOURCE: NATIONAL ASSOCIATION OF REALTORS
by
JOEL MARTIN
Staff Writer
|
September 13, 2023 4:18 PM
WASHINGTON, D.C. – Pending home sales increased 0.9% in July, rising for the second consecutive month, according to an announcement from to the National Association of Realtors. The Northeast and Midwest posted monthly losses, while sales in the South and West grew. All four U.S. regions saw year-over-year declines in transactions.
The Pending Home Sales Index, a forward-looking indicator of home sales based on contract signings, rose 0.9% to 77.6 in July, according to the statement. Year over year, pending transactions fell by 14.0%. An index of 100 is equal to the level of contract activity in 2001.
"The small gain in contract signings shows the potential for further increases in light of the fact that many people have lost out on multiple home buying offers," NAR Chief Economist Lawrence Yun wrote in the announcement. "Jobs are being added and, thereby, enlarging the pool of prospective home buyers. However, rising mortgage rates and limited inventory have temporarily hindered the possibility of buying for many."
The Northeast PHSI shrank 5.8% from last month to 63.2, a decrease of 20.2% from July 2022. The Midwest index fell 0.4% to 77.5 in July, down 16.0% from one year ago.
The South PHSI lifted 2.0% to 95.3 in July, declining 10.9% from the prior year. The West index improved 6.2% in July to 61.3, dropping 12.8% from July 2022.
"Interestingly, the West region experienced a meaningful price decline in the past year and buyers are quickly returning as a result," Yun wrote.
The Pending Home Sales Index is a leading indicator for the housing sector, based on pending sales of existing homes, according to the announcement. A sale is listed as pending when the contract has been signed but the transaction has not closed, though the sale usually is finalized within one or two months of signing.
Pending contracts are good early indicators of upcoming sales closings. However, the amount of time between pending contracts and completed sales is not identical for all home sales. Variations in the length of the process from pending contract to closed sale can be caused by issues such as buyer difficulties with obtaining mortgage financing, home inspection problems, or appraisal issues.
Recent Headlines
---