News Bites for Sept. 13, 2023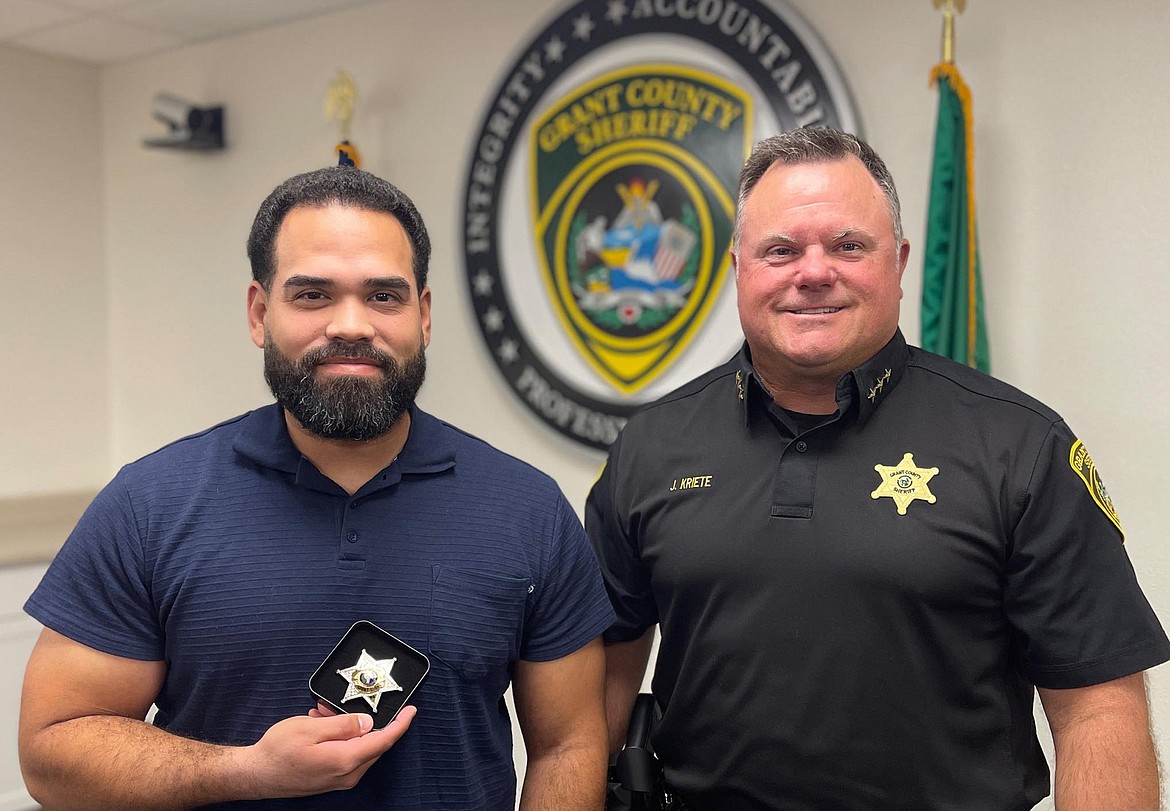 Corrections Deputy Jose Sorto, Jr., left, was sworn in by Grant County Sheriff Joe Kriete before an audience of Sorto's new colleagues.
COURTESY PHOTO/GCSO
by
STAFF REPORT
Staff Report
|
September 13, 2023 1:30 AM
CLE ELUM — Two pedestrians died after being struck by four vehicles on Interstate 90 Sunday night, including a Washington State Patrol trooper, according to a statement from the WSP.
At a little before 11 p.m., the two pedestrians, who were not identified pending notification of next of kin, attempted to cross the westbound lane of I-90, according to the WSP. The pair were struck first by a 2011 Ford Explorer driven by Carlos A. Zuniga Estrada of Benton City, then in succession by a 2017 Toyota Tundra driven by Jason D. Crandall, 44, of Edgewood; a 2008 Kia Optima driven by Madison Young, 21, of Tacoma; and a 2020 Dodge Charger driven by WSP Trooper Caleb M. Hudson, 26, of Hooper.
Young and Hudson were alone in their vehicles, while Zuniga Estrada and Crandall had passengers, including small children.
Both pedestrians were declared dead at the scene, the WSP statement said. Nobody else was injured. The cause of the incident was given as illegal crossing, and no charges will be filed. It was unknown whether drugs or alcohol was a factor.
"The WSP requested (Kittitas County Sheriff's Office) assist for full transparency during this investigation," the WSP said in a statement. "Our hearts go out to all who are affected by this tragedy."
GEORGE — Grant County Sheriff Joe Kriete issued a statement over the weekend that included an apology for traffic issues near The Gorge Amphitheater. Traffic issues included area residents not being able to get home for hours as concert-goers worked their way into or out of the venue for two events Friday evening.
"I want to say that I'm sorry to the local residents and concertgoers who had to wait so long," Kriete said. "I can only imagine how frustrating that must have been."
Kriete said additional security measures at the venue's campground entrance contributed to the delays.
GCSO staff, including Kriete, met with Live Nation, county commissioners, the Grant County Public Works Department and The Gorge's security contractor, Crowd Management Services, on Tuesday to examine opportunities to prevent such issues from happening again.
"During the meeting, Sheriff Kriete expressed to Live Nation that the Sheriff's Office cannot support another Gorge-caused gridlock incident," a Tuesday GCSO statement said. "Those assembled today all agreed to work together to help make sure it doesn't happen again.
For more information, see page A5.
OTHELLO — The Adams County Sheriff's Office has announced that K-9 Officer Nado and his handler, Deputy Joe Phillips will be conducting demonstrations at the Othello Fair. Demonstrations are set for 2:30 and 4:30 p.m. Wednesday; 3:30 and 5:30 p.m. Thursday; 2:30 and 4:30 p.m. Friday; and Saturday at 3:30 p.m. and 5:30 p.m.
QUINCY — Two men were arrested Saturday after they were caught burglarizing two Quincy area farm shops, according to a statement from the Grant County Sheriff's Office.
At about 7 p.m., a property owner in the 16900 block of Road 2 Northwest caught the pair, identified as Glenn Richard, 45, of Quincy and Jesus Rangel, 28, of Mattawa, breaking into a shop and held the men at gunpoint while while calling 911, the statement said. Deputies found two shops on the property had been burglarized, a box of stolen property staged outside, and shoe prints matching the men's shoes inside the shops.
Richard and Rangel were arrested for second-degree burglary and booked into Grant County Jail, according to the statement.
Recent Headlines
---