Sip & Stroll, Care Fair set for Saturday in Moses Lake
by
CHERYL SCHWEIZER
Staff Writer
|
September 12, 2023 5:38 PM
MOSES LAKE — Some wine, some art, information on volunteer opportunities — downtown Moses Lake will be full of events Saturday afternoon.
The annual Sip & Stroll art and wine walk is scheduled for 1 to 5 p.m.; it's sponsored by the Downtown Moses Lake Association. Participants buy a ticket and can sample the wines and accompaniments at the participating businesses. There's art in the venues too, and food and craft vendors will also be setting up along the route.
Participating businesses include Sue's Gift Boutique, Mason's Place, Edward Jones, Mason's Place, Salon Envy, the businesses in DMLA's Obra Project business incubator, Settler's Market, Stella & Me, Florist in the Garden, Better Homes & Gardens Real Estate, Youth Dynamics and the Grant County Transit Authority.
Youth Dynamics also is the home for the second annual Care Fair on Saturday from noon to 5 p.m.
The Columbia Basin Allied Arts Association will sponsor the art show. Vendors will be in and out of the participating businesses, with art for sale and art to view. Craft vendors include the Cactus Closet Company, Prissy Pants & Bows, Sutton & Co. clay art, Beth's Threads and Wild and Knotty.
Moses Lake Distillery and Wheel Line Cider will be among the participating beverage vendors. Wineries include Bianchi Vineyards, Chris Daniel Winery, Treveri Cellars, Camas Cove Cellars, Sleeping Dog Wines, Hamilton Cellars, Rider Cellars and Recusant Cellars. The food vendors will include Blacky Smokin' Sweet BBQ, the Butter Stick bakery, El Charro Birria, Nosh and Porky's Hot Dogs. The Moses Lake Classic Car Club will have cars on display.
Participants will have the option of a "designated driver" ticket, which would not include the wine tasting. Tickets are available at Stella & Me, and on the DMLA website, www.downtownmoseslake.org.
The Care Fair brings together service and charitable organizations throughout Moses Lake, where people can learn what those groups do, as well as sign up to volunteer. It's sponsored by Care Moses Lake, and CML founder Michaelle Boetger said she's been volunteering since she moved to Moses Lake. She encouraged others to do the same.
"It really does make a difference," she wrote. "Whether you can volunteer your time, make a financial donation or use your voice to let others know about local groups, it really helps."
Boetger said there are more than 50 charitable and service organizations in Moses Lake, each with a different focus.
"Whatever it might be, there's a group you can support," she wrote.
Care Fair participants include the local Kiwanis chapter, Boys & Girls Clubs of the Columbia Basin, Moses Lake Community Coalition, Central Basin Community Concert Association, CBAA, SkillSource, HopeSource, the Salvation Army, New Hope/Kids Hope, Moses Lake Community Health, Family Services of Grant County, NCW Tech Help, Youth Dynamics, Care Moses Lake and Moses Lake Spring Festival.
Cheryl Schweizer can be reached via email at cschweizer@columbiabasinherald.com.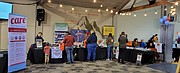 Recent Headlines
---