'We start today'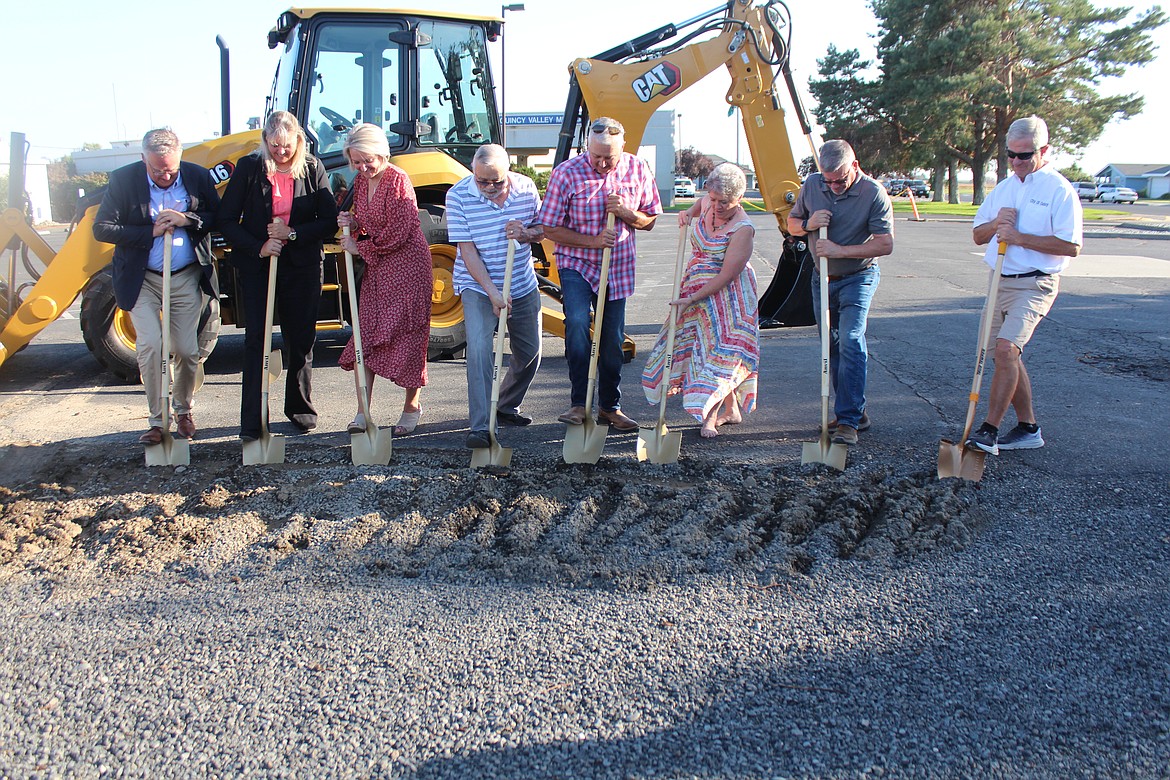 From left, Project Manager Joe Kunkel, Commissioner Michele Talley, CEO Glenda Bishop, Commissioners Robert Poindexter, Anthony Gonzalez, Sherri Kooy, Randy Zolman and Quincy City Administrator Pat Haley dig into the dirt at the groundbreaking ceremony for the new Quincy Valley Medical Center.
CHERYL SCHWEIZER/COLUMBIA BASIN HERALD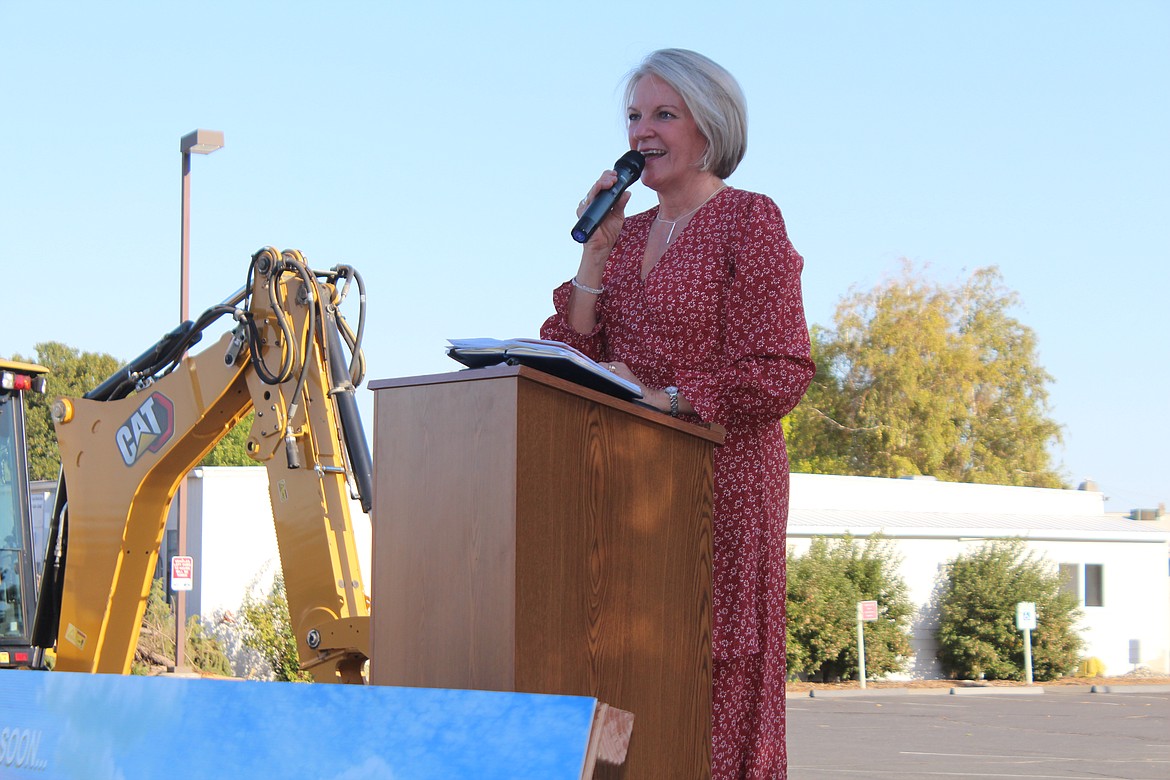 Glenda Bishop, CEO at Quincy Valley Medical Center, speaks during Saturday's groundbreaking ceremony.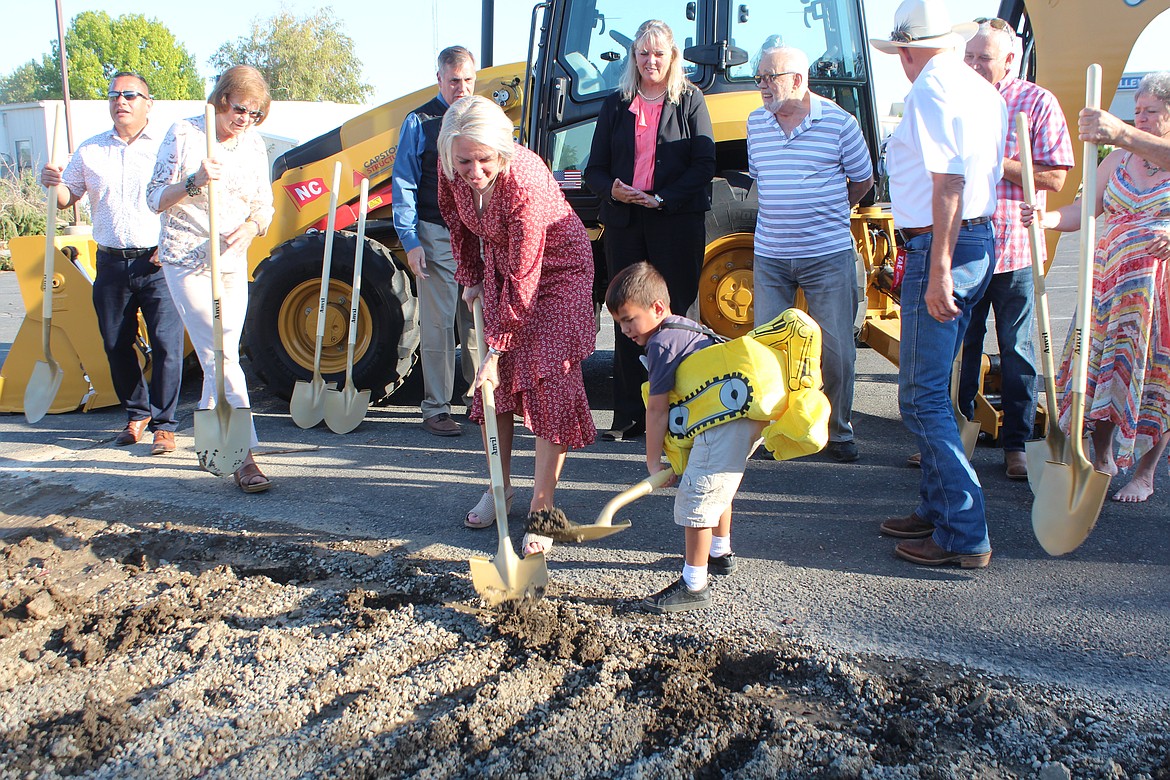 Quincy Valley Medical Center CEO Glenda Bishop, left, and Ezra Massey, right, turn some dirt at the groundbreaking ceremony for the new hospital Saturday.
Previous
Next
by
CHERYL SCHWEIZER
Staff Writer
|
September 11, 2023 4:27 PM
QUINCY — Quincy Valley Medical Center CEO Glenda Bishop characterized the new Quincy Valley Medical Center as a project about the past, present and future.
The future was represented by Ezra Massey, who lives across the street.
He's in kindergarten and has been watching the hospital site; he came to the groundbreaking ceremony for the new hospital Saturday afternoon in his construction costume. Bishop said he asked her a few weeks ago when construction would start.
"Today we answer that question for you, buddy. We start today," Bishop said.
Bishop also talked about the past, and some of the people who supported the hospital helped lay the groundwork for it and have since passed away. Mark Call was a pioneering pharmacist in Quincy and a chair of the hospital board in the late 1950s. Jack Tobin was a Quincy business owner and a member of the QVMC Foundation board. Evan Landon also was a hospital commissioner. Quincy physicians James Stansfield and John Trantow campaigned for a hospital in Quincy. Darrell Van Dyke urged the board members to buy the land on which the new hospital will sit, and put money toward the purchase, Bishop said.
She credited the Port of Quincy, Commissioner Brian Kuest in particular, for working on the project to plan and build a new hospital since its inception.
"We've come a long way from that napkin," Kuest said.
He referred to a dinner one night at a local restaurant, Bishop said.
"He drew it out on a napkin and said, 'Glenda, I've been thinking. What if we did something like this?'" Bishop said.
Project manager Joe Kunkel said port commissioners sought and obtained a grant that allowed the completion of a feasibility study. That helped speed up the process, Kunkel said.
Hospital district voters approved a bond for up to $55 million to pay for a new hospital in August 2022.
"Quincy is behind it," said state Senator Judy Warnick (R-Moses Lake). "They passed their own bond - they're willing to support it. When a good medical facility is built, you attract more people to the community, you attract more businesses, and I think the residents recognized that by helping pass that bond."
Kunkel said the project has moved very quickly from approving the bond through design and development.
"I'll tell you, it's remarkable that we are standing here today, this quickly after we got started," Kunkel said. "Some of you may not think it was that fast, but those of us who do this work, this is really fast."
He credited the hospital commissioners, administrators and staff for their work on the project, which helped speed the process along.
Construction of the existing QVMC was approved in 1957 and opened in 1959. General Services Director Newton Moats calculated the hospital had been open 560,640 hours. State Representative Tom Dent (R-Moses Lake) recalled visiting the hospital when he was about 12 years of age when his father was treated there.
"You update things. What's not good about a new hospital?" Dent said.
"To me, it solidifies the future of healthcare in Quincy for the next 50, 100 years," said hospital board member Anthony Gonzalez.
Board chair Randy Zolman said the start of construction was also an anxious time, given the size of the project. But it was good to start moving dirt, he said.
"For all the money we've spent at this point, it's good to see it finally moving forward," Zolman said.
Kunkel said activity at the site has already begun, with construction crews removing hazardous materials from three buildings on the site slated for demolition. The first visible sign of activity will be the construction fence, which will start going up in about two weeks, he said.
"What a blessing, really it is, for the community," Gonzalez said. "It just solidifies the health care for the kids — and their kids."
"It's going to be fun," Zolman said.
Cheryl Schweizer may be reached via email at cschweizer@columbiabasinherald.com.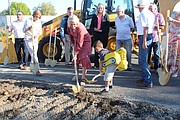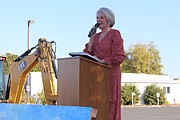 Recent Headlines
---