Garden party!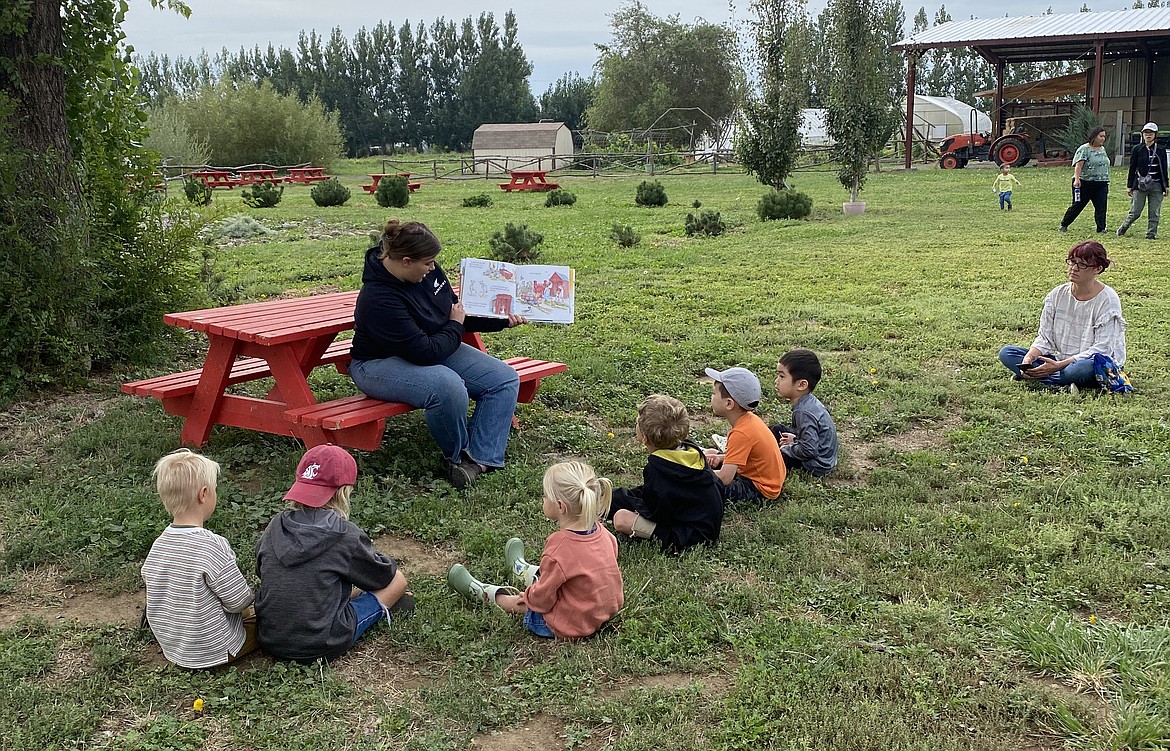 Storytime in the Learning Garden at Cloudview Farm during one of Cloudview's Lil' Sprouts Nature Playgroup, one of the programs that will be funded by the Garden Party fundraiser.
COURTESY PHOTO/CLOUDVIEW FARM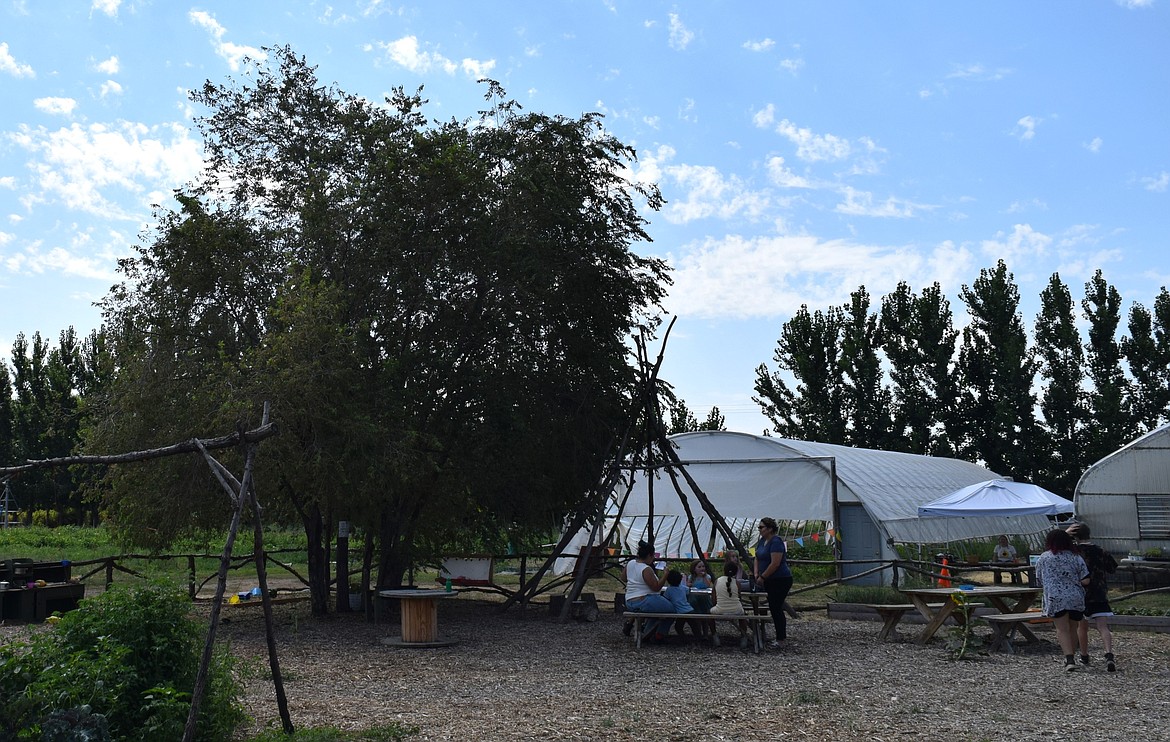 The Learning Garden at Cloudview Farm, where the Garden Party fundraising event will be held Sept. 16, and where Cloudview holds several of its educational programs.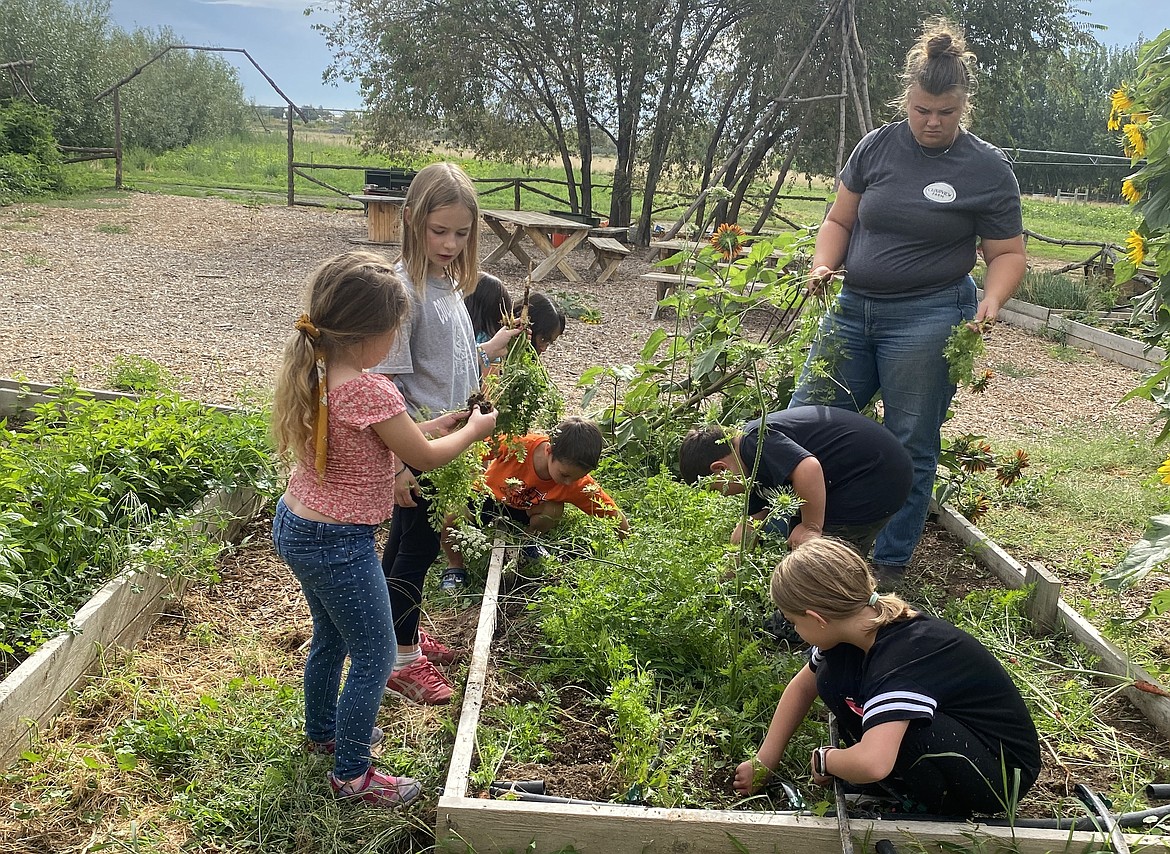 Children picking vegetables to cook for one of Cloudview's cooking classes, another of Cloudview's education programs that the Garden Party will fundraise for Sept. 16.
Previous
Next
by
GABRIEL DAVIS
Staff Writer
|
September 6, 2023 1:30 AM
EPHRATA – Nonprofit Cloudview Farm will be hosting a Garden Party fundraiser for their Educate and Empower programs Sept. 16 from 5 to 8 p.m. The event is for adults only, with dinner and drinks included in the cost of the $30 ticket.
The main fundraising portion of the evening will be a silent auction for items donated by local and regional businesses, said Cloudview's Education and Community Coordinator Julie Johnston.
"It's open to the public but adults only," said Johnston, "and it's specifically to raise funds for our Educate and Empower program. And we will have a silent auction with a bunch of items from mostly local businesses within Grant County, but also some stuff from Spokane, from Tri-Cities … ranging from just little gift baskets of items to vacation experiences."
Johnston said that the sponsors include The Old Hotel Art Gallery in Othello, Sleeping Lady Mountain Resort in Leavenworth, The Coeur d'Alene Golf & Spa Resort in Spokane, Clover Island Inn in Kennewick, Moses Lake Distillery, the Bookery Espresso in Ephrata, Columbia Basin Allied Arts and dozens more organizations.
This is the first year that Cloudview has put on a Garden Party fundraiser, said Johnston. It will be held outdoors in the farm's Learning Garden, where several of their education programs take place. Johnston also said that the event will feature live music from local musician Kari Champoux.
The dinner will be informal and self-serve with food featured from Cloudview Kitchen, Cloudview Farm's sibling business in Soap Lake. In addition to the individual ticket, potential event attendees have the option to purchase a table for six and ensure a spot at the picnic tables.
"We'll have some fresh veggies and salads and things from the garden, from our farm," said Johnston. "We will have a signature cocktail (and) mocktail at our bar. I'm not sure what that drink is going to be yet but we're coming up with something…we want it to have some herbs from the garden."
Johnston said that the Educate and Empower programs included events and activities for children including the Lil' Sprouts Nature Playgroup, summer camps, field trips and assorted events like workshops or cooking classes, among other things.
"It will help fund anything that we may need to purchase and then it will help provide scholarships, which is a big part of what we are able to offer to some of the kids," said Johnston. "That's mostly what it would cover. Sometimes we have to buy art supplies, sometimes we have to buy more garden tools … the seeds that we plant, sometimes we have repairs in our learning garden, things like that. But mostly what it goes to is to help fund scholarships."
The funding will support upcoming fall and spring projects at the farm. Cloudview doesn't do winter events because people don't visit much in the winter and Cloudview doesn't have an indoor space to host events during the winter.
"But as soon as spring hits again, we have a lot of field trips. We sometimes will do some open play days at the farm."
For more information on Cloudview Farm's upcoming events and to purchase tickets for the Garden Party, visit cloudviewfarm.org.
Gabriel Davis may be reached at gdavis@columbiabasinherald.com. Download the Columbia Basin Herald app on iOS and Android.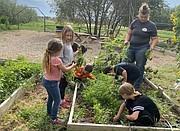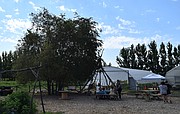 Recent Headlines
---