'There were carp everywhere'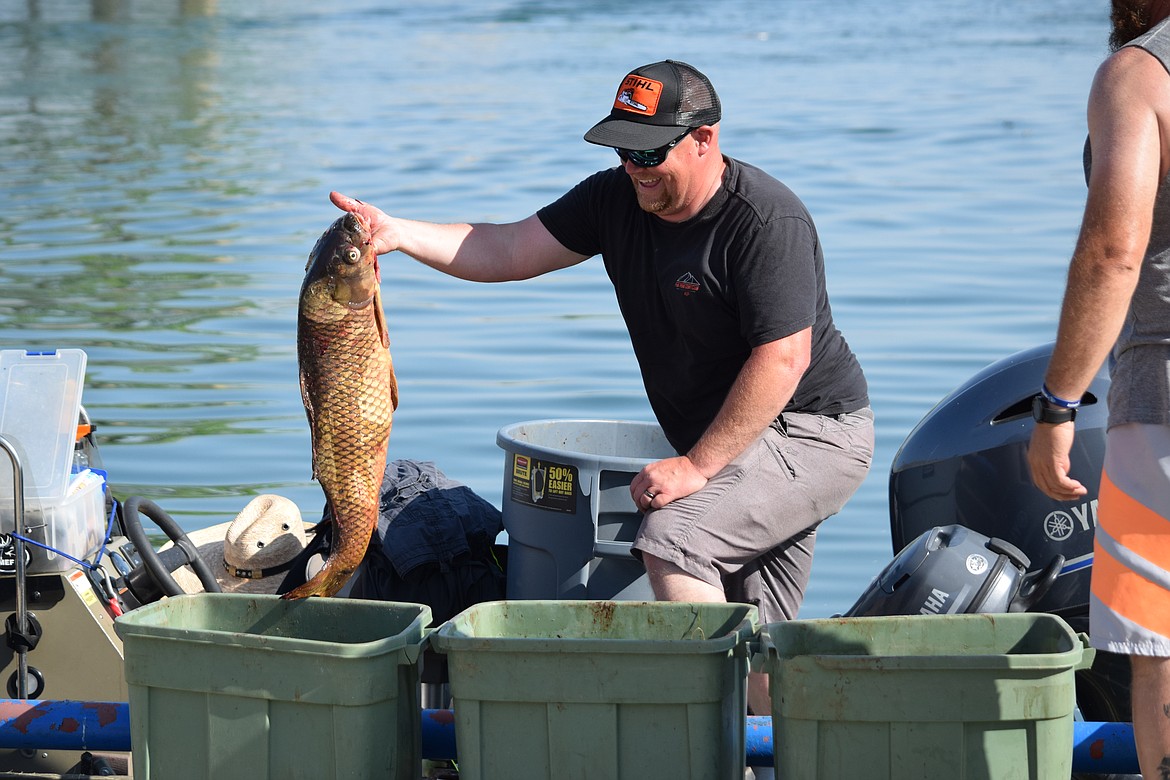 Carp shooter Kyle Lundeen unloads carp he and his teammates shot on May 20, during the annual Moses Lake Carp Classic. Shooters in 21 boats shot over 13,000 pounds of carp that day, according to organizer Ty Swartout.
Charles H. Featherstone/Columbia Basin Herald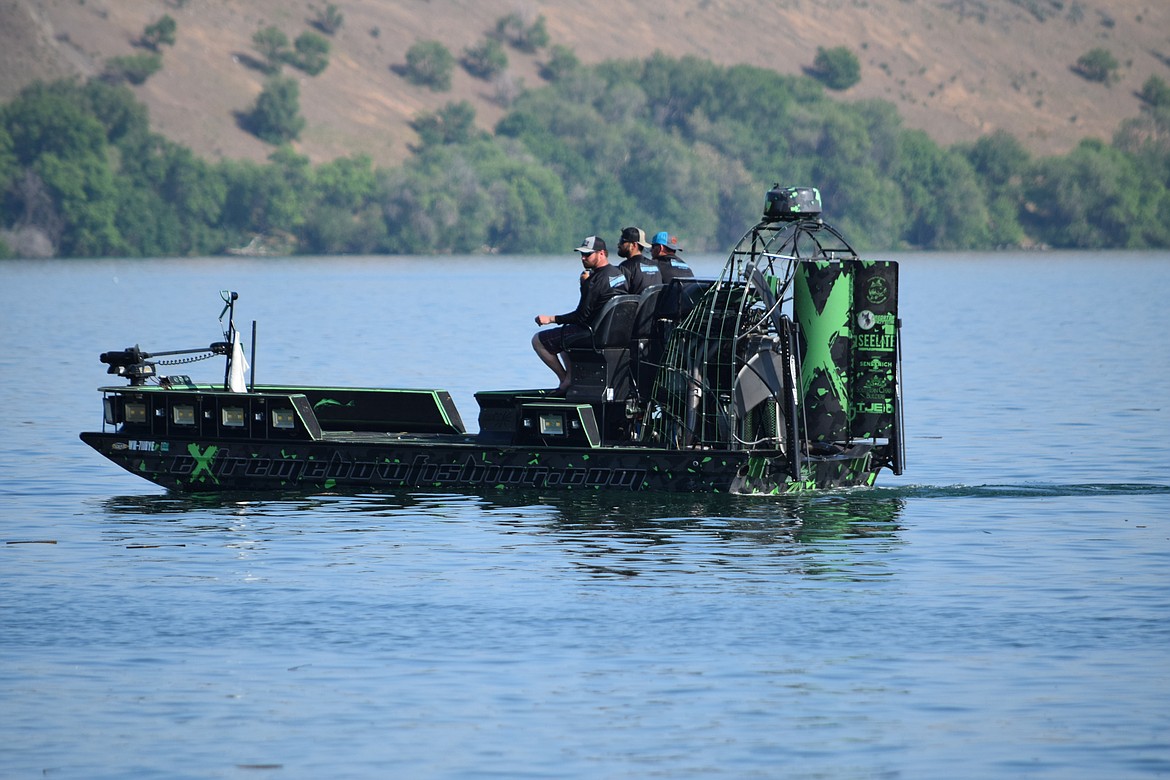 A team of carp shooters in a fan boat, which looks like it would be more at home in the bayous of Louisiana or the Florida Everglades, return from a day of carp shooting during the Moses Lake Carp Classic on Saturday, May 20. "That boat's loud," said tournament organizer Ty Swartout.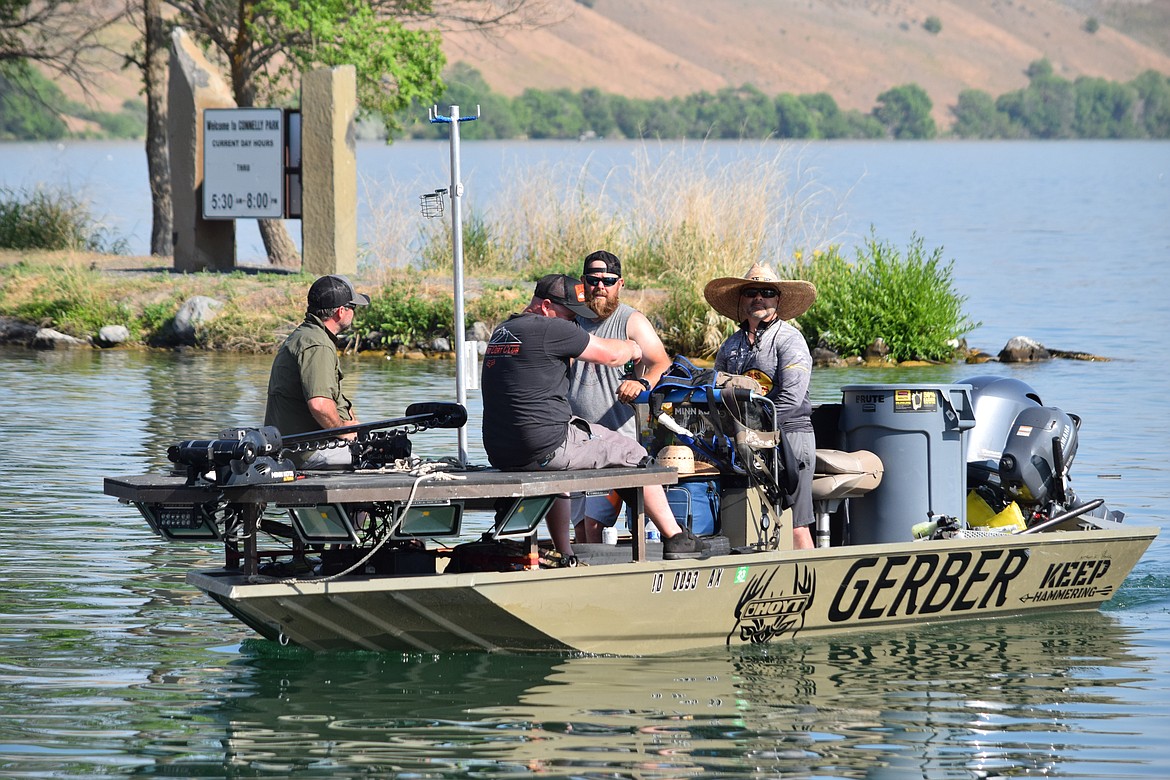 A carp shooting team returns to the boat launch at Connelly Park to weigh their catch at the end of the Moses Lake Carp Classic on Saturday, May 20.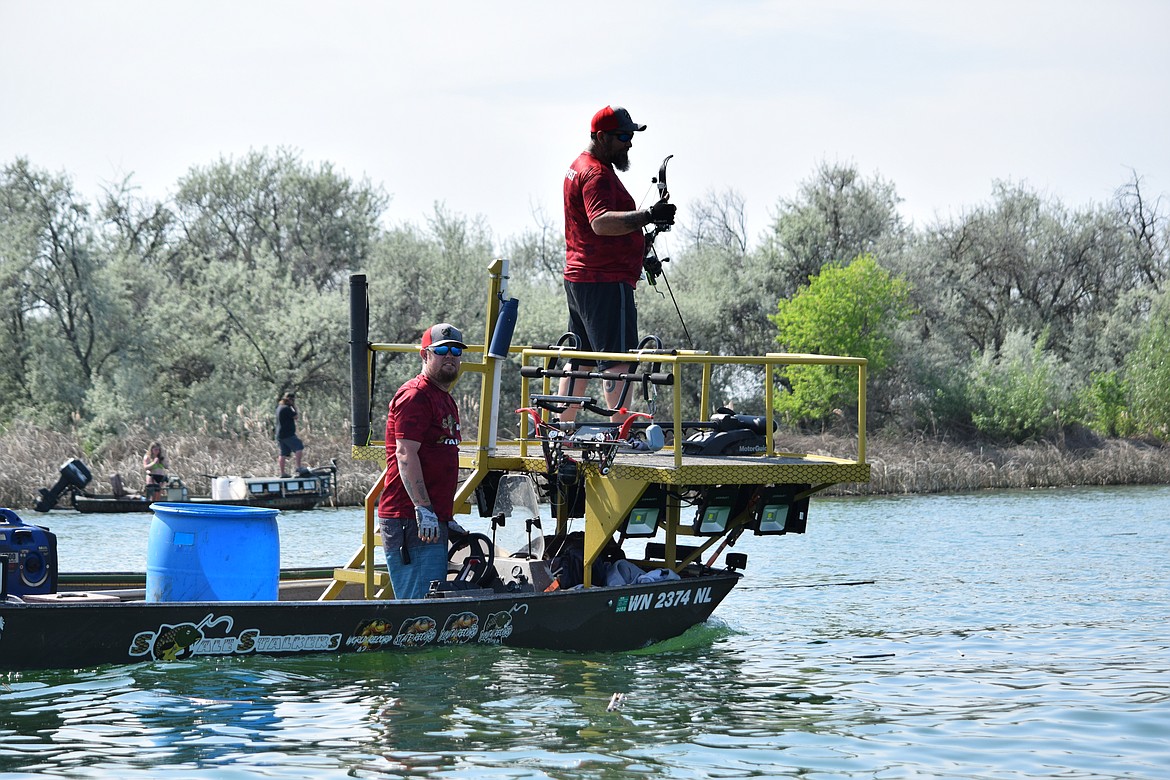 A pair of carp shooters on a specialized fish shooting boat during the Moses Lake Carp Classic on Saturday, May 20.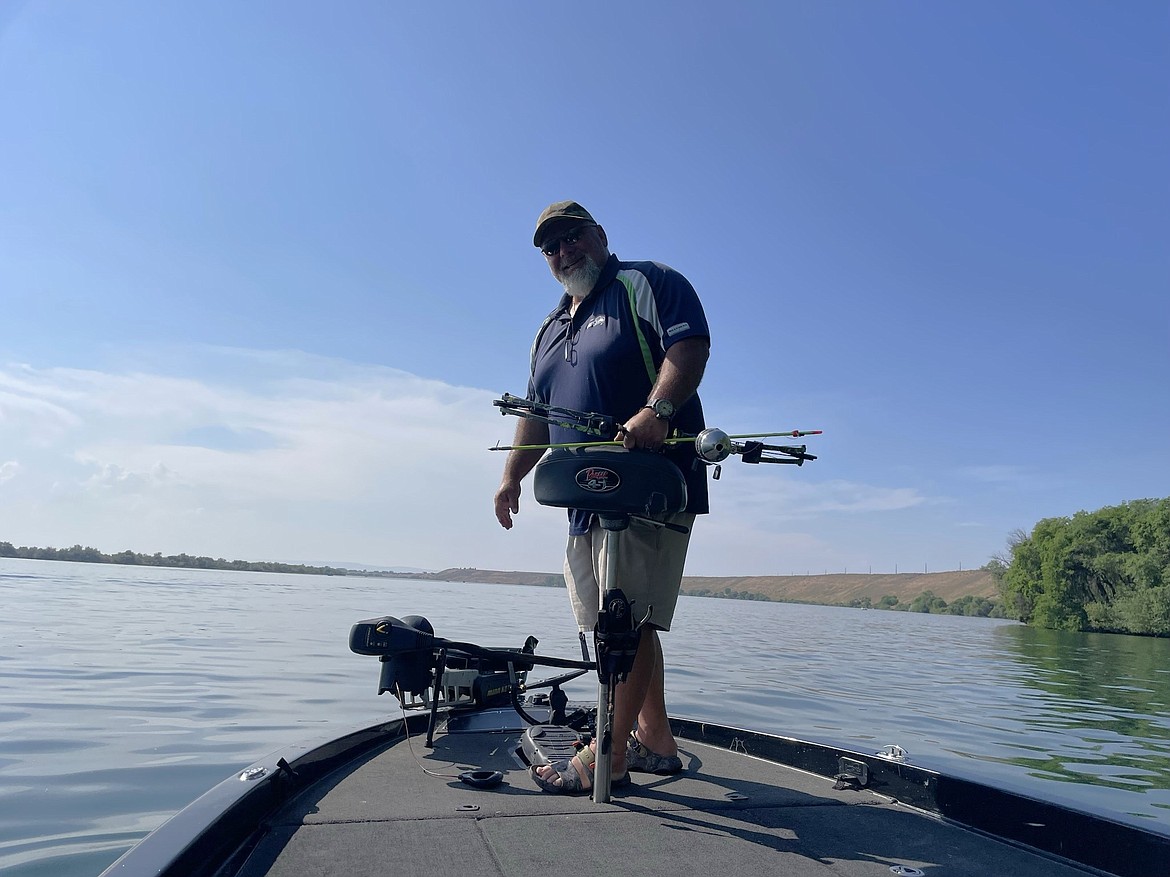 Ty Swartout stands on the bow of his bass fishing boat and prepares to shoot carp as the boat drifts along the shore of Moses Lake on May 20 during the Moses Lake Carp Classic.
Previous
Next
by
CHARLES H. FEATHERSTONE
Staff Writer
|
May 30, 2023 1:00 AM
MOSES LAKE — Ty Swartout said I came close to spearing a carp, but I honestly don't think so.
"Oh, that was close," Swartout told me as we stood on the bow of his bass fishing boat as it slowly drifted across a very shallow portion of Moses Lake parallel to SR 17. "I think you got a piece of his tail."
I was holding a green compound bow with a reel attached by a long string to a big yellow arrow. It had been a long time since I shot a bow, and even longer since I went fishing. Standing on a boat trying to shoot fish? Well, this I'd never done before.
"Remember to aim below the fish," Swartout told me.
I pulled the arrow back and held it. Swartout, who himself has only been bowhunting for a few years despite a lifetime of fishing on lakes like this, said the refraction of the light in the water means while the arrow travels a straight line, it doesn't look like it. It bends a little down, and so the carp isn't quite where it appears to be when viewed from the surface.
Mostly I saw dark forms in the water. When I could see anything.
As we drifted, we saw a lot of bass, which are much smaller than the carp, many of which grow to the size of house cats or even small dogs. Swartout pointed out bass nests. He said not to worry if I couldn't spot the carp on the bottom of the lake.
"Forty years of bass fishing has taught me how to see," Swartout said.
His voice got excited. "There's one!"
Swartout pointed. I didn't see it, but I shot anyway. Nothing. I wasn't spearing any carp today.
It was a beautiful Saturday on Moses Lake. The sun was shining, the sky was clear and it was hot, 93 degrees according to the National Weather Service. It was a perfect day for Moses Lake Carp Classic, the annual carp shooting tournament Swartout has helped organize as part of an overall effort to reduce the carp population in Moses Lake.
Teams of carp shooters came from across the region to see who could bag the most carp, the biggest carp, and even the biggest koi or goldfish — once freed from the confines of a tiny bowl, they can grow quite large.
"It's going great. We have beautiful weather," Swarthout said as he sat behind the wheel of his boat. "The carp are in spawning mode and people are shooting tons of them. But we've only had 21 boats this year. Last year we had 38. I'm not sure if it's inflation or gas prices or what, but we don't have as many boats."
Which is a pity, Swartout added, because he expected they were going to shoot a lot of fish.
And the bow fishers in those 21 boats did catch a lot of fish — 13,000 pounds of carp, to be precise, with the biggest weighing in at 26.7 pounds caught by Kenny Vansteenkist and Nick Jamison, who won $1,000, also caught the 10 biggest fish as well with a top 10 catch of 228 pounds.
Alex and Victor Mendoza caught 102 carp, the most this year, while two teams were each recognized for catching goldfish that weighed in at over five pounds: one team of Bricyn Abdul, Hunter Foultner, Dakota Kole and Patrick Stewart, and a second team comprised Jack Mattson, Jeremy Raymond, T.J. Briggs and Patrick Rust.
It all helps to get the carp out of the lake, Swartout said, which is good because the fish stir up phosphorus-filled lake-bottom sediments that contribute to potentially dangerous blue-green algae blooms later in the summer. Swartout said by late morning, boats were already returning to the boat launch at Connelly Park to unload in order to go out and shoot more carp.
"It's perfect conditions," he said.
"I don't know how many we caught, but we've got two garbage cans," said Spokane resident Kyle Lundeen as he got ready to lob dead carp into a plastic tub to be weighed.
Lundeen grimaced as he grabbed a bloody fish and tossed it. No one will eat these fish, so they were carted away by a commercial crawfish fisherman from Portland who will use the carp as bait.
Because carp are considered invasive, there is no state license for carp shooting. In fact, as Swartout and I were out on the lake, we ran into a boat full of carp shooters who had no idea there was an actual tournament that day.
"Register for next year!" Swartout told them as his boat drifted away.
Lundeen said he goes out carp shooting as often as he can, a sentiment echoed by teammate Brian Gerber.
"When we're not making money to play our games," Gerber said. "I will tell you, this is probably one of the best days of carp shooting that we've had. There were carp everywhere."
UPDATE: This story has been updated with the names of the teams that caught the largest goldfish.
Charles H. Featherstone can be reached at cfeatherstone@columbiabasinherald.com.
Recent Headlines
---