Honoring heroes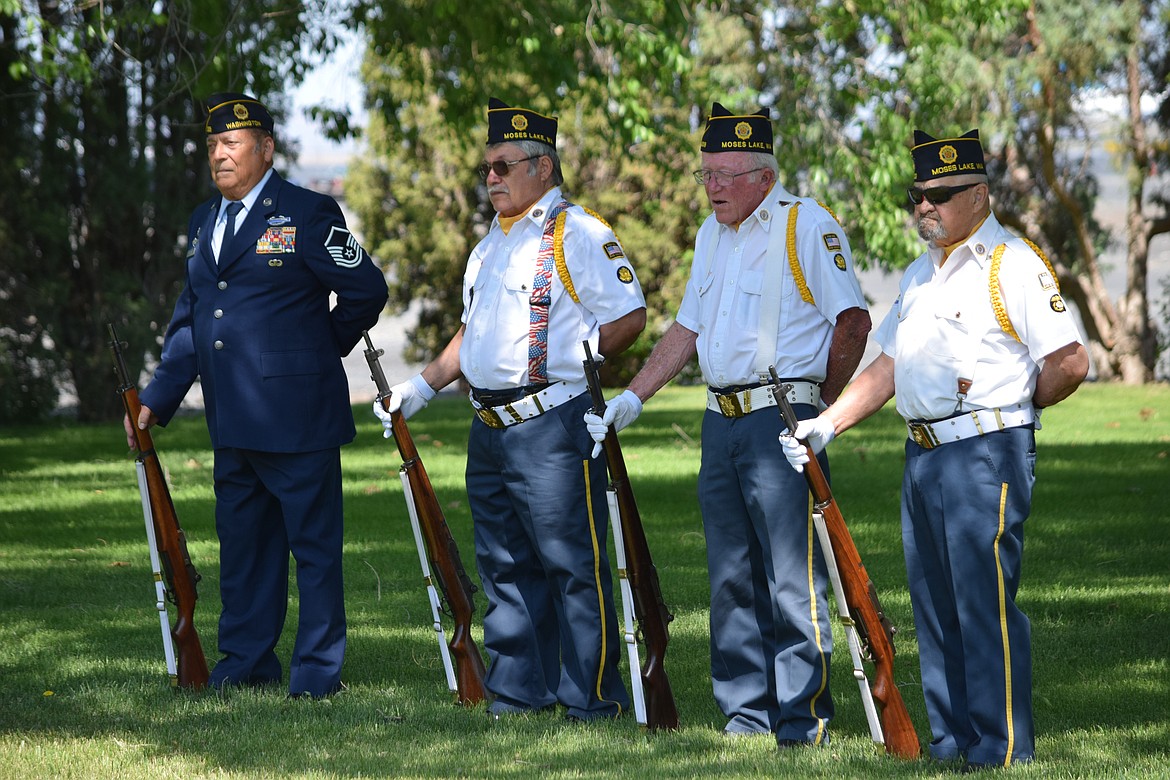 Members of the American Legion honor guard at the memorial service for the 87 servicemen who died in an airplane crash at Larson Air Force Base in December 1952.
CHARLES H. FEATHERSTONE/COLUMBIA BASIN HERALD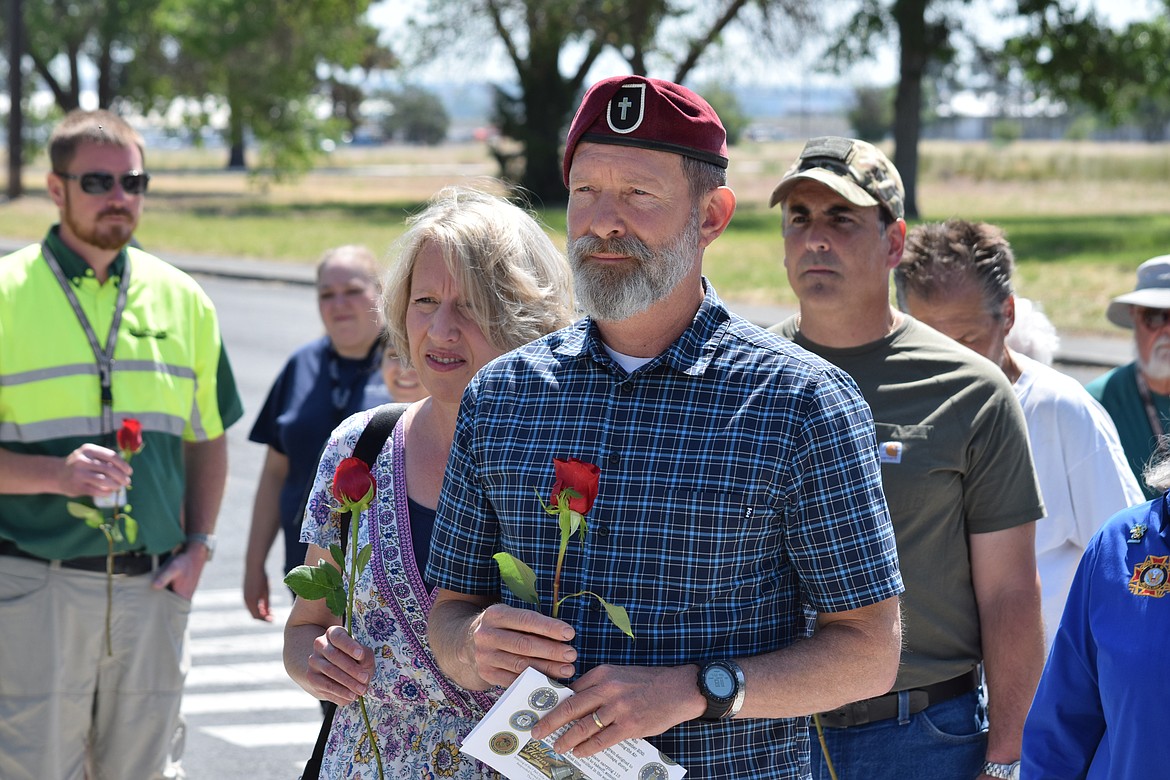 Pastor and U.S. Army veteran chaplain Mike Swartz and his wife Lesa prepare to lay roses at the memorial for 87 U.S. service members who died when their transport aircraft crashed at Larson Air Force Base on Dec. 20, 1952.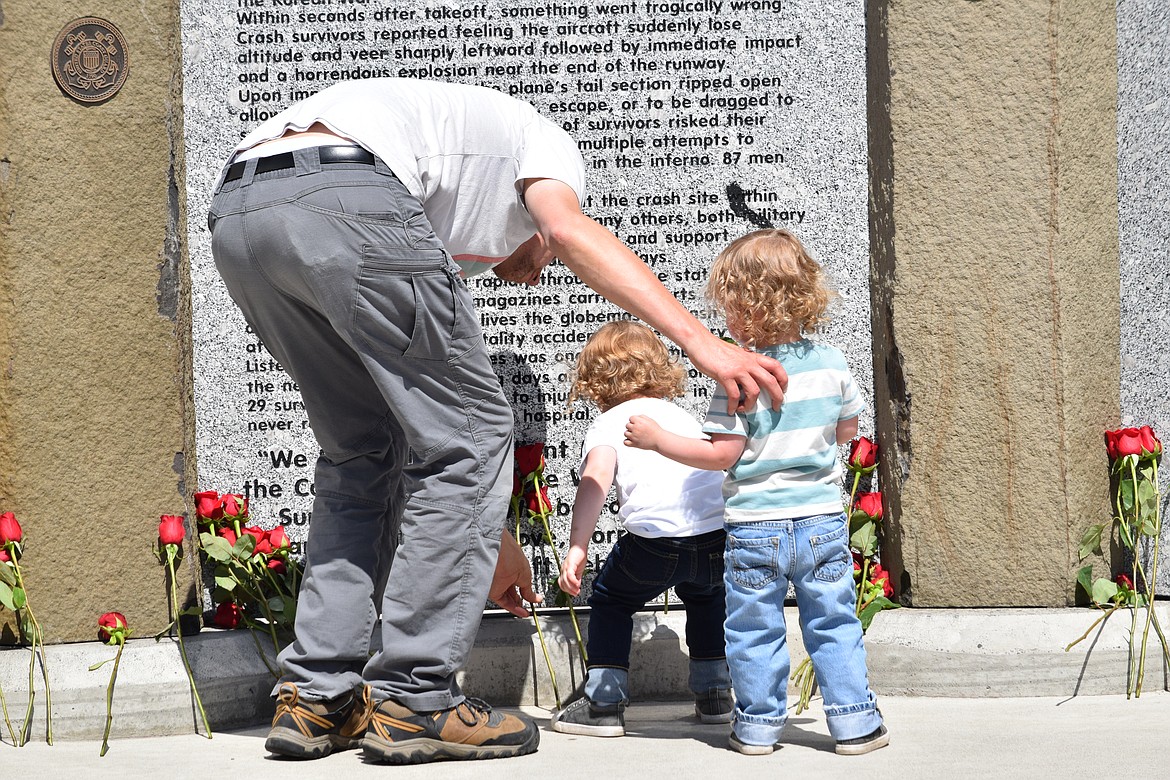 A man helps his two children lay roses at the 87 Forgotten Heroes memorial at the Port of Moses Lake on Monday.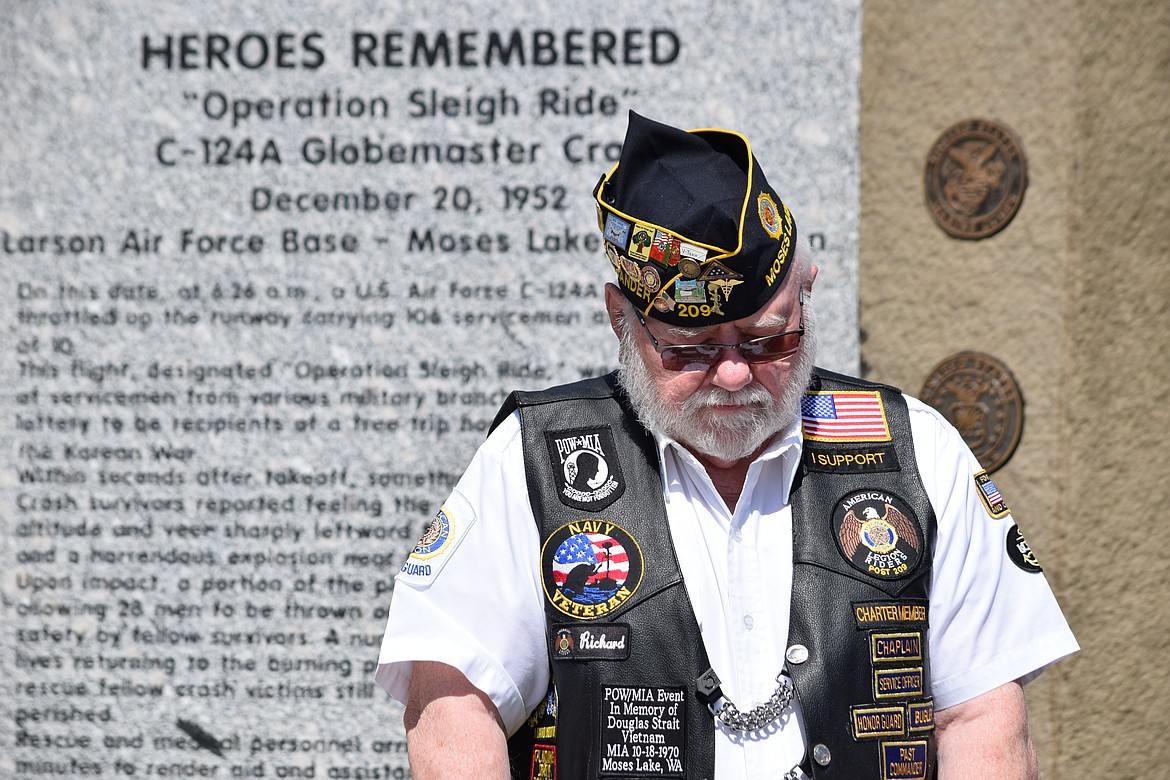 American Legion Joe Hooper Post 209 chaplain Richard Radder leading the memorial commemoration for 87 U.S. service members killed when their Air Force C-124 transport crashed at Larson Air Force Base on Dec. 20, 1952.
Previous
Next
by
CHARLES H. FEATHERSTONE
Staff Writer
|
May 30, 2023 12:57 PM
MOSES LAKE — A small crowd gathered at the Port of Moses Lake on Monday to honor the 87 members of the U.S. military who died in a plane crash at Larson Air Force Base in 1952.
"So many things go unnoticed or they get forgotten over the years," said Larry Godden, general manager of Million Air at the Grant County International Airport and one of the people who helped get the memorial built in 2020. "We're just here to keep the memory alive."
The memorial honors 87 service members killed when a C-124 Globemaster carrying 115 passengers and crew crashed right after takeoff Dec. 20, 1952. The airmen, soldiers and sailors were all serving in Korea at the time and were going home for holiday furloughs as part of Operation Sleigh Ride. It was, according to memorial organizers, the worst air disaster in the world at that time.
"I'm here with my family because of the sacrifice of so many out there," said Mark Bonaudi, a former U.S. Army officer who will replace Godden as head of Million Air in June. "And that's exactly why we're here today. It's not about barbecues or sales. It's about honoring the supreme sacrifice that our service members made that we can be here today."
Million Air is a Dallas, Texas-based fixed-base operator providing services to pilots and private aircraft that use the GCIA.
Bonaudi urged those in attendance to remember those who have lost loved ones in the line of duty.
Richard Radder, chaplain of American Legion Joe Hooper Post 209 in Moses Lake, read the names of each of the 87 who died while attendees placed roses at the memorial.
"We who are living honor those who have passed on one way or another. We will not forget them," he said.
Charles H. Featherstone can be reached at cfeatherstone@columbiabasinherald.com.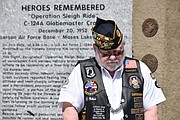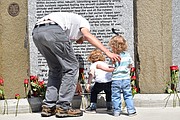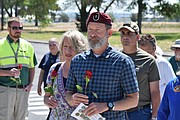 Recent Headlines
---