Greater love hath no man ...
by
JOSH McDONALD
Hagadone News Network
|
May 30, 2023 1:05 PM
KELLOGG, Idaho — There is a hill on the southeast side of Kellogg — at the top of that hill is Greenwood Cemetry.
To find the headstone belonging to First Lieutenant Frank Stanley Reasoner, you'd have to make your way to the back of the cemetery where the veterans have their own special section.
It's not a fancy marker by any means, in fact, it's very much like many of the other surrounding veteran's grave markers. Walking up to it, you would never guess that you were at the final resting place of a Medal of Honor recipient.
Behind that medal, our country's highest honor, is the story of a hero.
Frank Reasoner is a part of the fabric of the Kellogg community. As a decorated war hero, he is often remembered for how he died — at the Kellogg High School Sports Awards ceremony, they remember him for how he lived.
Reasoner was born in Spokane in 1937, but after his family relocated to Kellogg in the late 1940s he became a Wildcat for life upon graduating from KHS in 1955.
Local historian and longtime Kellogg School District employee Stephen Shepperd always presents the McCoy-Reasoner Award during the ceremony — where he details the lives and deaths of Ronnie McCoy and Reasoner.
"Both were scholar-athletes graduating near the top of their respective classes and both were top performers for the school and community teams for which they played," Shepperd said. "As graduates, both attended and earned degrees from a United States military academy. Both men also tragically lost their lives in service to our country."
Second Lieutenant McCoy (U.S. Air Force) was just a few years younger than Reasoner — he tragically passed away during a training exercise in Del Rio, Texas, in 1965.
Reasoner enlisted in the U.S. Marine Corps in 1955, three months shy of his 18th birthday — his initial training was as a radio operator, but his determination to be an officer quickly helped him rise through the ranks of the enlisted and landed him a spot at the Naval Academy Preparatory School (NAPS) in Maryland.
"While at NAPS, Frank studied hard and passed the entrance exams for America's military academies, then accepted an appointment from Idaho Sen. Henry Dworshak to the U.S. Military Academy at West Point," Shepperd said. "He began his collegiate time there in the summer of 1958. Cadet Reasoner did so well in his 'Plebe' or freshman year at the academy that he was named 'Outstanding Plebe."
After graduating from West Point, Reason still had one major hurdle to achieving his goal of becoming an officer – the completion of a grueling six-month course at the Officer Candidate School (OCS) in Quantico, Va.
All available reports, including that of Shepperd, stated that he finished OCS rather easily — and after he finished the course he rejoined the USMC in 1963 as a first lieutenant.
During the height of the Vietnam War, Reasoner was assigned to the Pacific Fleet, which eventually took him to the Republic of Vietnam as part of the 3rd Reconnaissance Battalion in 1965.
"Frank requested and was awarded command of the 3rd Recon Battalion's Alpha Company, and ignoring the fact that he no longer was obligated to lead teams on patrol, he continued to join his men whenever possible," Shepperd said. "Such was the case on the 12th of July of 1965, as Frank joined a platoon of men on patrol near Dai Loc south of the city of Danang in the Quang Nam province of South Vietnam."
This would be Reasoner's final mission — and his actions would be forever immortalized in words from President Richard Nixon, who posthumously awarded him the Congressional Medal of Honor.
"For conspicuous gallantry and intrepidity at the risk of his life above and beyond the call of duty. The reconnaissance patrol led by 1st Lt. Reasoner had deeply penetrated heavily controlled enemy territory when it came under extremely heavy fire from an estimated 50 to 100 Viet Cong insurgents. Accompanying the advance party and the point that consisted of five men, he immediately deployed his men for an assault after the Viet Cong had opened fire from numerous concealed positions. Boldly shouting encouragement, and virtually isolated from the main body, he organized a base of fire for an assault on the enemy positions. The slashing fury of the Viet Cong machine-gun and automatic-weapons fire made it impossible for the main body to move forward. Repeatedly exposing himself to the devastating attack he skillfully provided covering fire, killing at least two Viet Cong and effectively silencing an automatic-weapons position in a valiant attempt to effect evacuation of a wounded man. As casualties began to mount his radio operator was wounded and 1st Lt. Reasoner immediately moved to his side and tended his wounds. When the radio operator was hit a second time while attempting to reach a covered position, 1st Lt. Reasoner courageously running to his aid through the grazing machine-gun fire fell mortally wounded. His indomitable fighting spirit, valiant leadership, and unflinching devotion to duty provided the inspiration that was to enable the patrol to complete its mission without further casualties. In the face of almost certain death he gallantly gave his life in the service of his country. His actions upheld the highest traditions of the Marine Corps and the U.S. Naval Service."
"He was also posthumously awarded a Purple Heart medal," Shepperd stated. "Reasoner's Medal of Honor was the first to be earned by any U.S. Marine for gallantry in the Vietnam War, and he was the first of eight West Point graduates to be awarded the honor for service in that war."
Following his death, the former military base in central Vietnam known as Hill 327, was renamed Camp Reasoner, with a hand-painted sign outside of it that read "Greater Love Hath No Man."
Each year, the McCoy-Reasoner Award is presented to a senior male and female student-athlete from Kellogg High School who have maintained a GPA of 3.0 or better into their senior year and have demonstrated those qualities of leadership, scholarship, character, and service that were so characteristic of both Reasoner and McCoy.
This year, KHS seniors Haylee Potts and Nate Turner were the awardees — their names will be added to a memorial plaque outside of Andrews Gymnasium.
But you would never guess any of this, by just visiting the top of that sunny hillside in Kellogg.
And that's probably the way First Lieutenant Reasoner would've wanted it.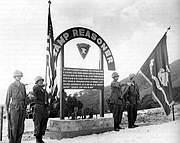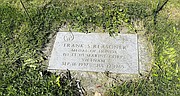 Recent Headlines
---