'Beautiful cars'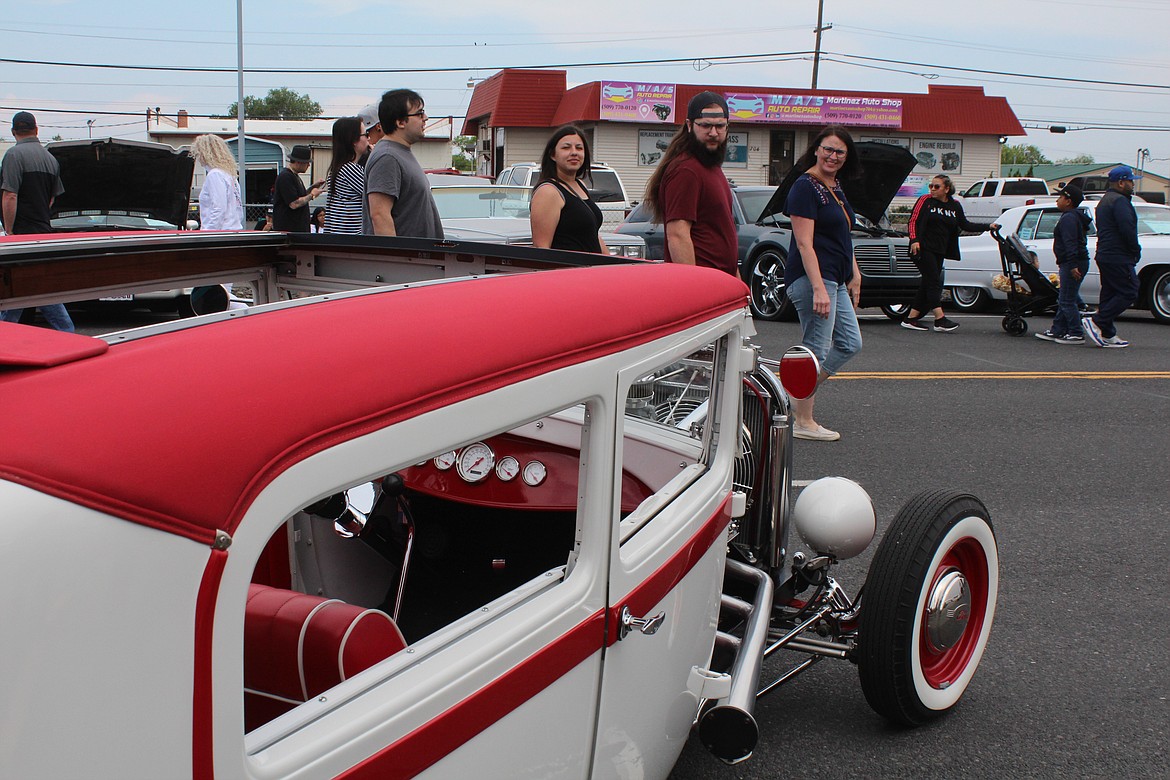 Melvin Cherry's 1929 street rod gets a look from the crowd at the 2023 Spring Festival car show.
CHERYL SCHWEIZER/COLUMBIA BASIN HERALD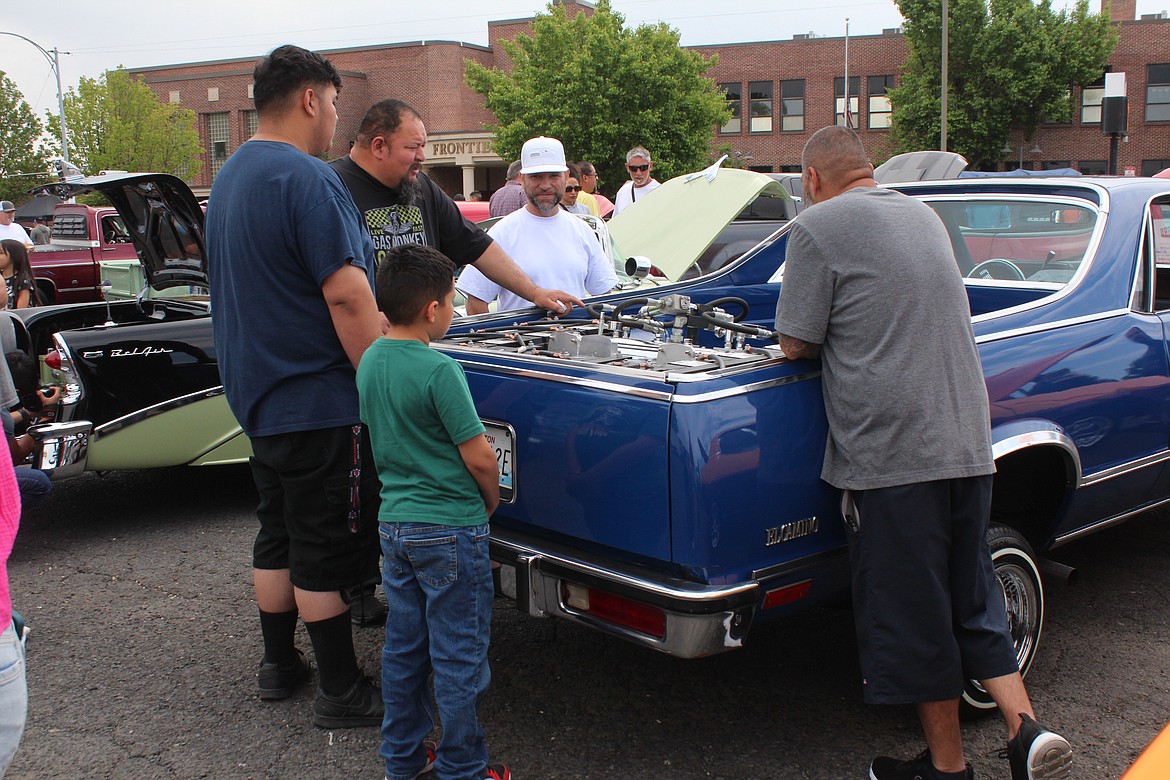 A car owner explains the work he did on his car during the Spring Festival car show.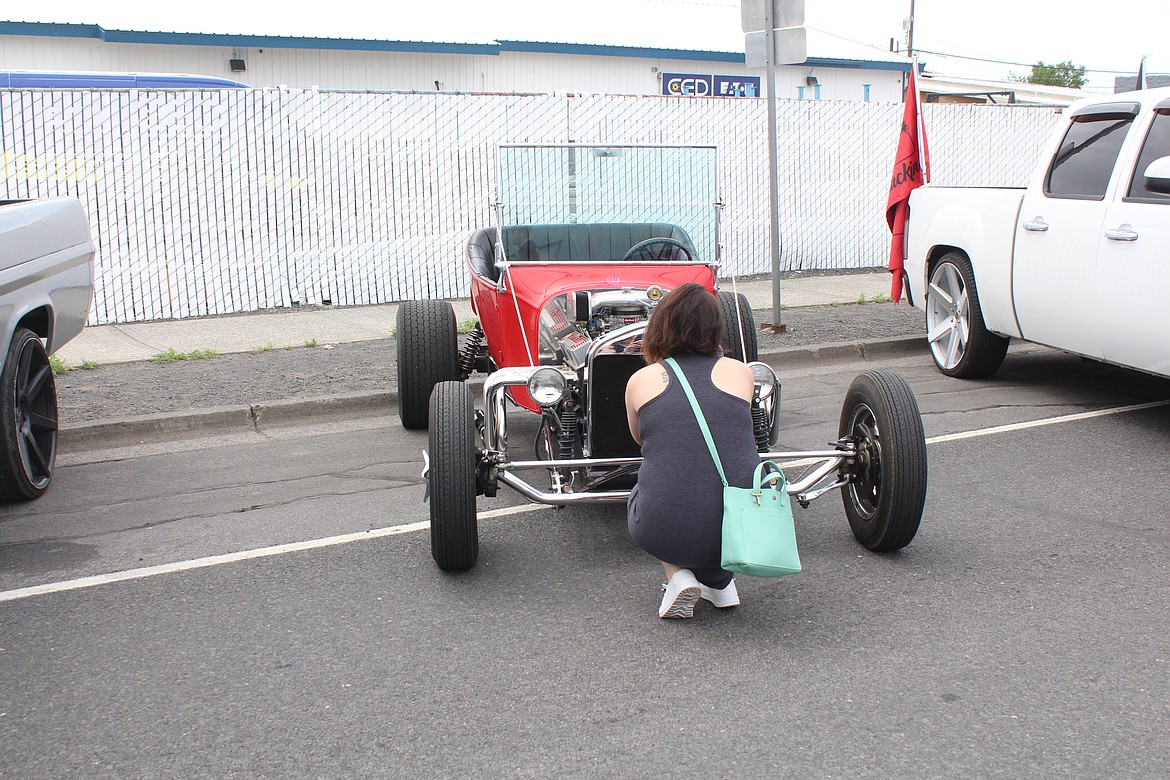 A bystander gets down for a close look at a car.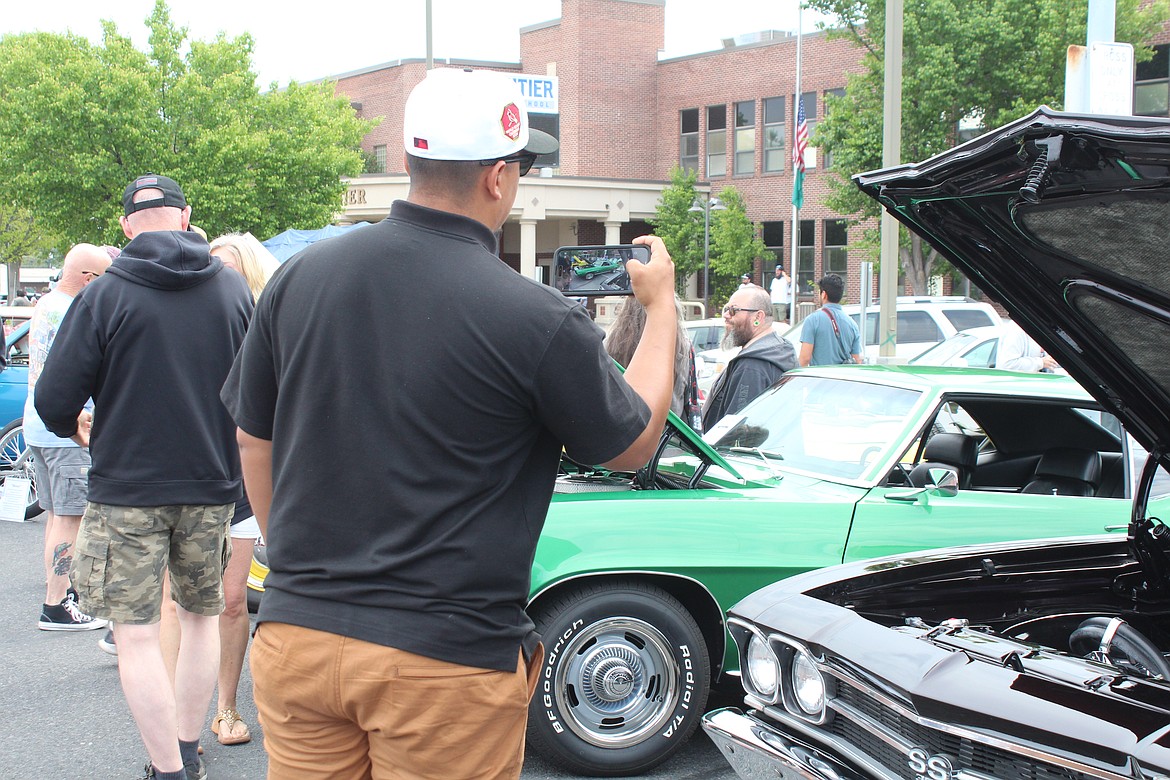 A car enthusiast snaps a picture during the Spring Festival 2023 car show Saturday.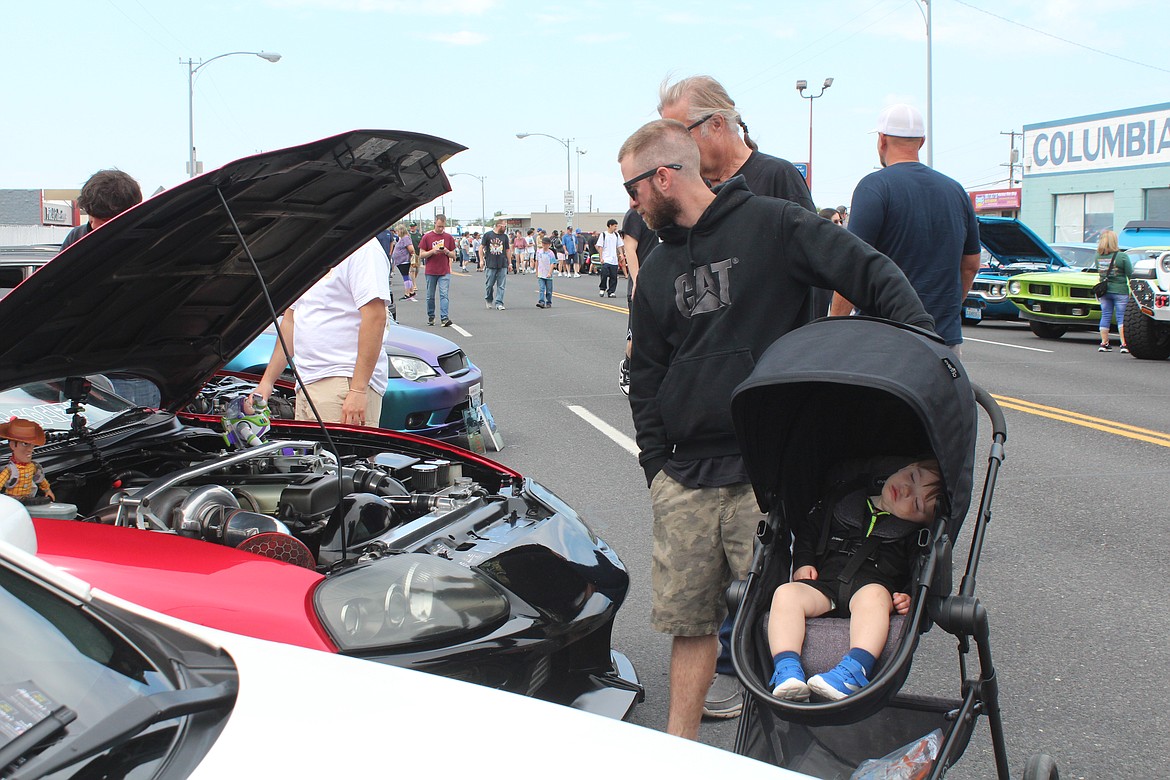 Looking at cars was fun but tired some people out.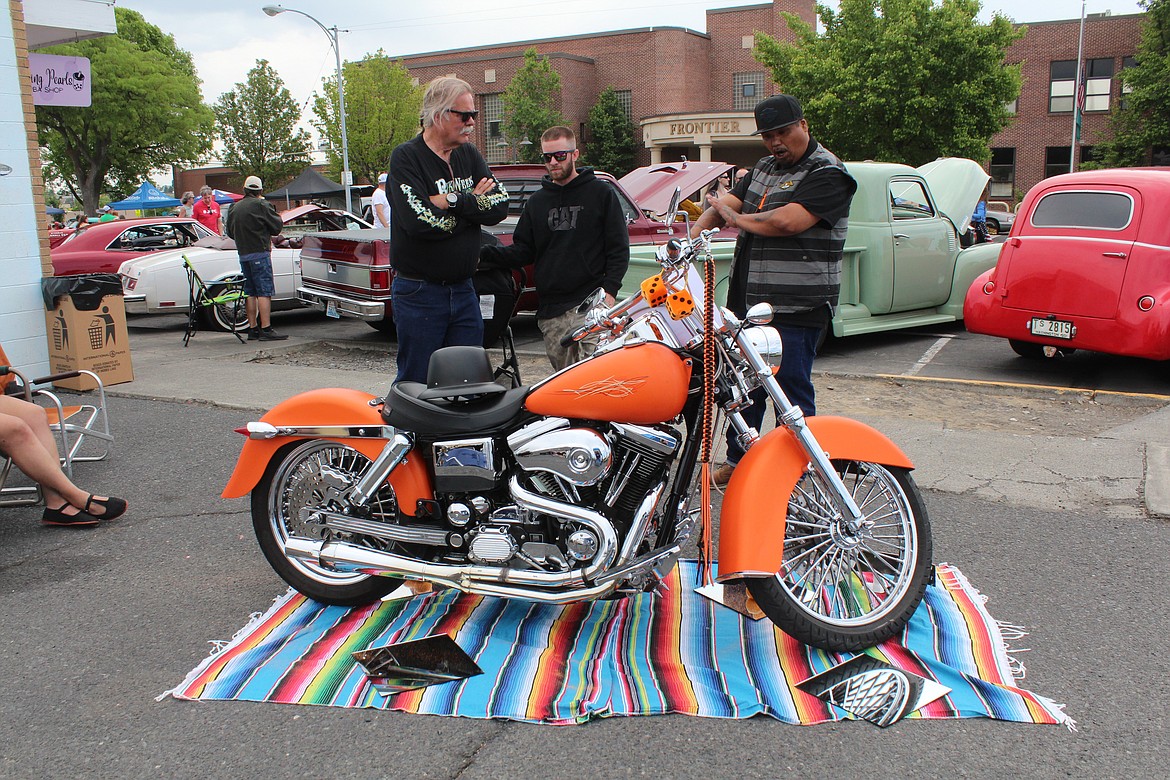 A motorcycle owner, right, shows off his bike build at the car show Saturday.
Previous
Next
by
CHERYL SCHWEIZER
Staff Writer
|
May 29, 2023 11:19 AM
MOSES LAKE — Two full blocks of cool cars.
Their owners thought so, of course, and so did the spectators that filled West Third Avenue in front of Frontier Middle School for the Spring Festival car show Saturday.
"Beautiful cars. Beautiful cars I haven't seen in years," said Noland Dominguez of the Lakesiders Car Club.
The car show drew elaborately tricked-out classics, antiques rebuilt from scratch, cars with sound systems with so much power they caused nearby cars to vibrate when the volume was turned up. Owners of rat rods, lowriders, modern compacts and motorcycles brought their rides, not to mention the pair of classic tractors.
The Lakesiders sponsored the show for 2023.
"This is our first year doing it, and we did not expect this," Domingez said.
He estimated the show drew about 150 entries, a lot of them local cars but also drivers who brought their rides from Seattle, Tri-Cities, Spokane and Yakima, among other places.
Frank Sanchez brought his showstopping 1950 Chevrolet Fleetride from Connell - deep maroon, trunk converted into a rumble seat upholstered in velvet, gold wire rims. It's a car more than 20 years in the making, Sanchez said.
All the modifications mean it has a very short cruising range.
"The gas tank only holds two gallons," he said.
Jeff Isaak, Moses Lake, found the initial piece of his car, the body of a 1917 sedan, in a field. It took him 12 years to turn it into a two-seater street rod and he did it all, from the engine to the upholstery.
"I built this car myself," he said. "Every bolt, every weld I did myself."
He cut down the top, hunted down a chassis and transmission that would work, found an engine he preferred. It evolved as he worked on it.
"I was kind of flying blind as I went," he said.
The rat rod owned by Kevin and Sara Ray, Soap Lake, also started with a few parts found in a field.
"It was just the cab and the hood," Sara Ray said.
"I pieced the rest of it together," Kevin Ray said.
It took about four years of sporadic work, Kevin Ray said, to get where it is now.
"It's never finished, to be honest," Sara Ray said.
"I kind of had a vision I was going for," Kevin Ray said, and hunted down old car parts wherever they went.
They worked on it together in their driveway, a husband and wife project, Sara Ray said.
"We drive it everywhere," she said.
Melvin Cherry and his son Brian Cherry, Yakima, built the body for their 1929 street rod on Melvin Cherry's carport. Melvin is the mechanic and Brian is the bodywork guy, Melvin said.
"The top has been chopped four inches. And it's been channeled over the frame four inches," he said. "If you know what that means."
For the record, it means the body has been lowered over the frame four inches.
They drove it over from Yakima for the car show Saturday and got a lot of attention from drivers on the way.
"I get a lot of thumbs-up," Mevlin Cherry said.
Matt Johnson, Moses Lake, has been working on his 1951 Chevrolet for about a decade, off and on. And it needed a lot of work.
"It came in about five different buckets of parts, and my wife was like, 'What did you just do?'" he said.
He too lowered the top by about five inches in front and seven inches in back. It's a little tricky to get in, and it looks like it would be difficult to see out the windshield, but it's not, he said.
Dillon Arcega, Moses Lake, wanted his 1956 Chevrolet to reflect south central Los Angeles, where he grew up. It's emblazoned with the name of the car club he belongs to, the South Central East Sidaz. And It is what he wanted.
"I kind of saw it as I was going through building it. When you see it done, it's like, 'Okay, that's what I was seeing,'" he said.
Cheryl Schweizer is a senior reporter with the Columbia Basin Herald and recently celebrated 11 years on staff. She may be reached at cschweizer@columbiabasinherald.com.
Recent Headlines
---