Council OKs changes to Moses Lake parking code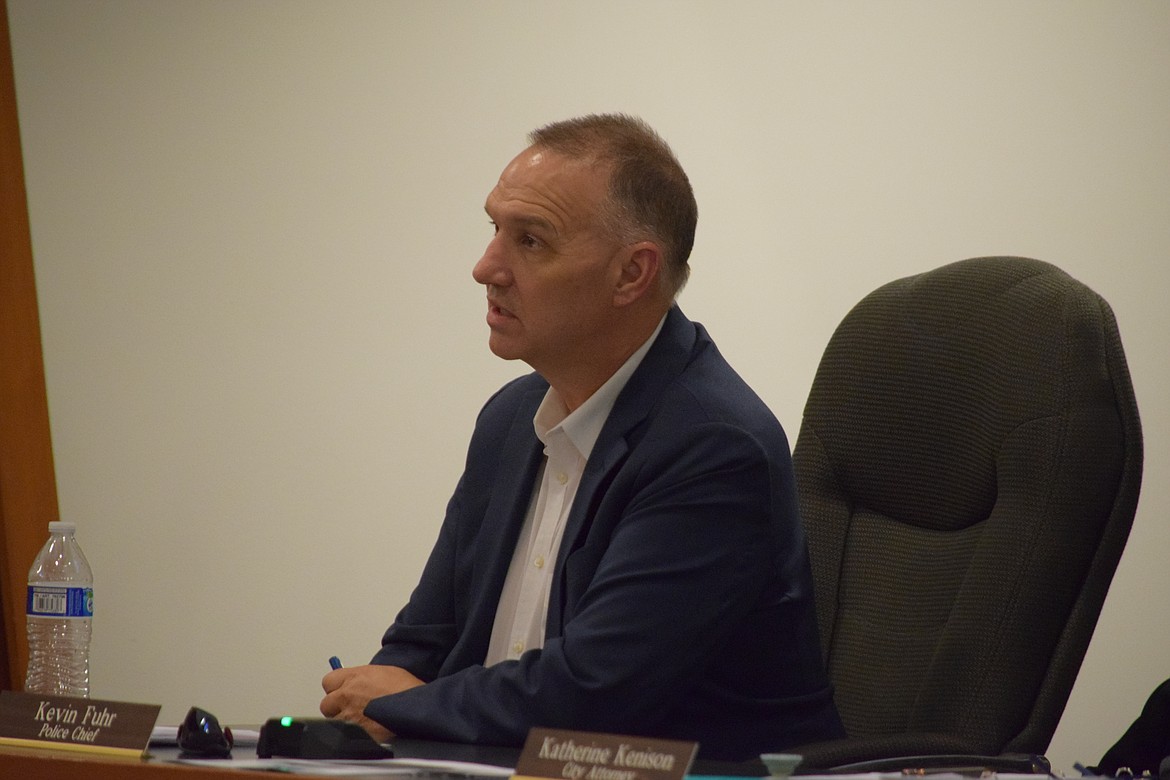 Moses Lake Police Chief and Interim City Manager Kevin at Tuesday's regular meeting of the Moses Lake City Council. Fuhr is also president of the Moses Lake School Board.
MOSES LAKE — The Moses Lake City Council on Tuesday unanimously approved changes to the city ordinance governing when and how the city can impound vehicles, including those being used as residences and parked illegally.
"What we've done is we've taken your nuisance and junk vehicle chapter and added to it the ability and the subsection revolving around them to impound unauthorized vehicles or those that are parked where they're not supposed to be parked," City Attorney Katherine Kenison told members of the city council at a lengthy regular meeting on Tuesday.
Under the approved changes, Moses Lake Police officers may now impound vehicles illegally parked on public streets or rights of way or in city parking lots for longer than 24 hours unless the parking lot is governed by separate rules or the owners of the vehicle have obtained a parking permit from the city manager, according to the ordinance.
The changes were proposed to give the MLPD the ability to cite and tow any vehicle within 72 hours of being cited that is parked on public property or city streets used as a residence by homeless city residents.
"Our city officers would then be issuing impound notices similar to what a tow truck company would be required to do under the statute," Kenison told council members. "If the owner wants to come redeem that vehicle, they have to meet certain criteria. And that's going to be difficult for many of them to meet as we know."
Both Kenison and Interim City Manager and Police Chief Kevin Fuhr said the criteria involved the ability to prove ownership of the vehicle, up-to-date registration and possession of a valid driver's license. Fuhr also noted that vehicles parked on city streets or parking lots with registration that have expired more than 45 days can be towed immediately.
"So if we are impounding them, and they're not being redeemed by the entitled owners, then we may end up keeping them much longer than we would like to," Kenison warned.
Fuhr said because the city would have to absorb nearly all of the costs of impounding, towing, storing and likely eventually destroying impounded vehicles, it will mean the council will need to eventually budget more money to cover those increased costs.
Council members also approved a seven-day grace period for anyone living in a vehicle the police have cited for impounding if that person can prove they are in some kind of program, such as drug treatment or is seeking employment or transitional housing, that would be renewable until the homeless resident exits homelessness or is no longer in a program.
"They would have to show proof that they are working with Renew (Grant County's mental health agency) or another agency that they are in the process of exiting a homeless situation through either treatment, mental health assistance or some sort of transitional housing," Kenison said. "If they can't meet those definitions, then they would not be entitled to those additional time frames."
While council members said they want homeless residents and their vehicles off city streets, they also expressed concern and sympathy for people who are dealing with difficult circumstances — the inability to pay high local rents, for example — and are trying to better themselves.
"Whether it's partially their fault or it's just, you know, a set of bad circumstances," said Deputy Mayor Deanna Martinez. "My preference would be if they can establish that they are actively working to change their lot in life, we allow them a little more time."
Council members also unanimously approved revisions to the city ordinance prohibiting camping on public property, adding language suspending enforcement of that ordinance if the city has no space for homeless residents in the sleep center.
Charles H. Featherstone can be reached at cfeatherstone@columbiabasinherald.com.
Recent Headlines
---