'Big Bend Changed that for me'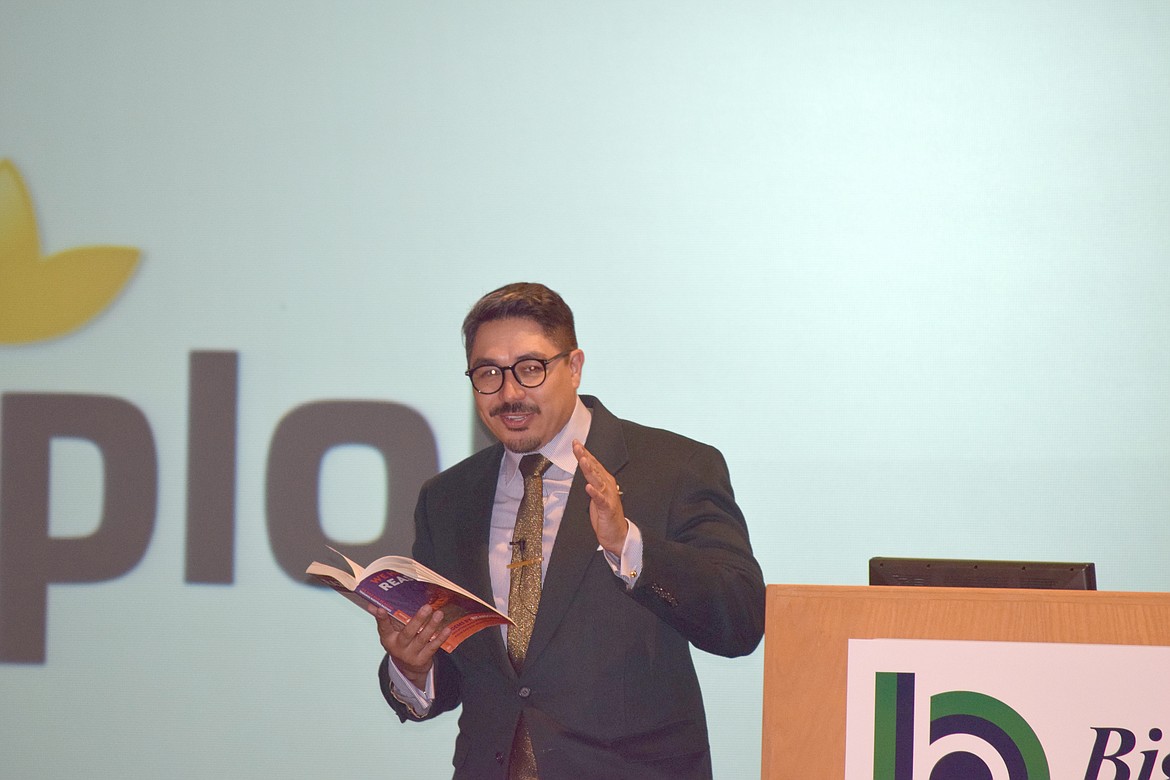 Poet and Big Bend Community College alumnus Ricardo Ruiz reads a poem from his collection "We Had Our Reasons" at the Cellarbration! Dinner and auction Saturday. Ruiz credits BBCC with giving him a path to success after his military service.
R. Hans Miller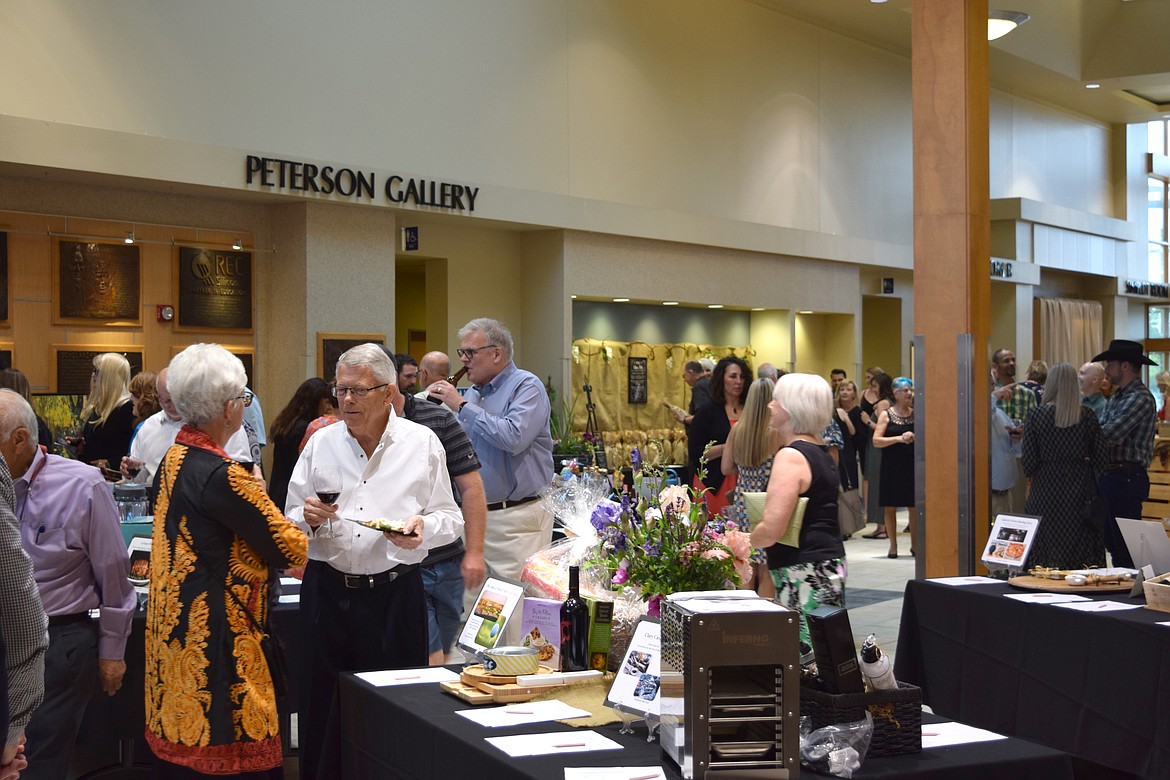 Attendees sip wine and check out the silent auction offerings at the silent auction at Cellarbration! Saturday evening. The event raised $167,000 for scholarships.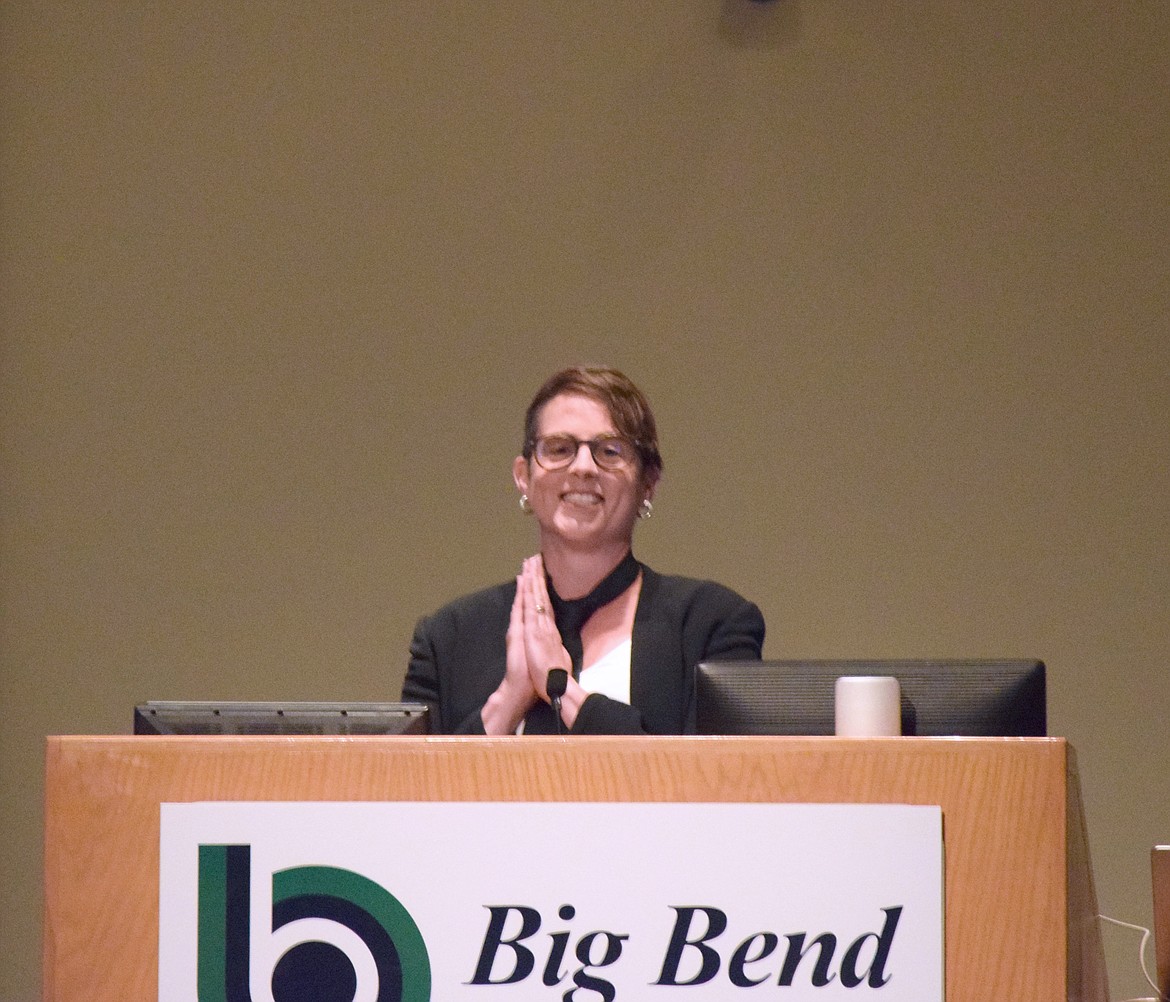 BBCC President Sara Thompson Tweedy addresses the crowd at Cellarbration! Saturday.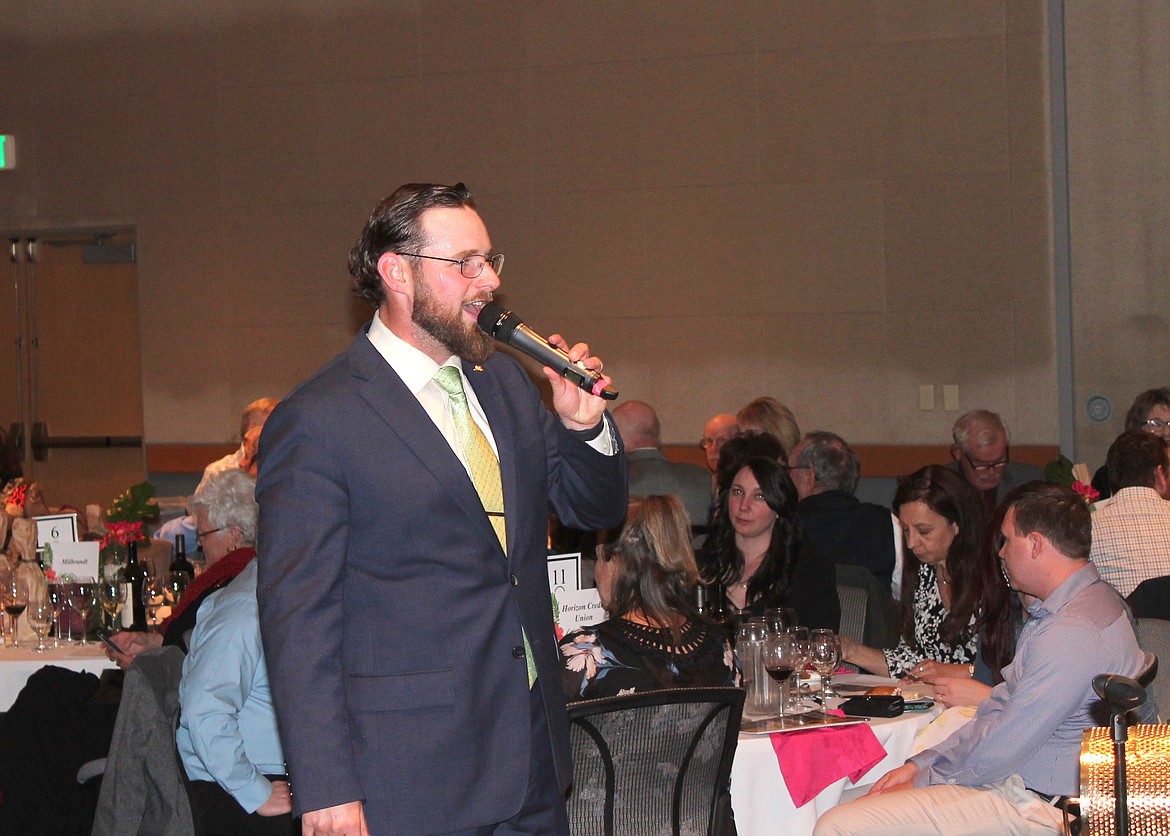 Auctioneer Jacob Barth takes bids at the Cellarbration! live auction Saturday. Barth also serves as chairman of the Big Bend Community College Foundation.
Previous
Next
by
JOEL MARTIN
Staff Writer
|
May 25, 2023 1:20 AM
MOSES LAKE — The community once again showed its commitment to education Saturday with a full turnout at Big Bend Community College Foundation's 22nd annual Cellarbration! For Education banquet and auction. The event, which brought in about 225 people, raised $167,000 to put toward scholarships for Big Bend Community College students, according to college spokesman Matt Killebrew.
"We support all of the 19 high schools in our service district," said the foundation's executive director Leanne Parton in her introductory remarks. "At least one scholarship goes to each of those high schools, and the larger high schools receive multiple scholarships. We also have scholarships for returning students. So if you're out of high school at least one year, and haven't been in college, there are scholarships for you there. Then we have, for each and every one of our workforce education programs, at least one scholarship. These scholarships are all $1,500. So it makes a significant impact on our students."
The evening began with two silent auctions in the foyer of the ATEC building at BBCC, accompanied by appetizers and a variety of Washington wines. Dinner was provided by Michael's on the Lake and consisted of prime rib or shrimp scampi with roasted red potatoes and veggies sauteed with bacon and onion. In keeping with the event's theme, local wines were also paired with the meal. The live auction was led by Jacob Barth of Chuck Yarbro Auctioneers, who also serves as the foundation's chairman.
Besides the auctions, attendees had the chance to raise their paddles to contribute to the foundation's emergency assistance program.
"So when an unfortunate circumstance happens to one of our students, we have a way to help them continue and/or complete their education," Parton said. "It's amazing how a little bit of money at the right time can help them persevere."
BBCC President Sara Thompson Tweedy addressed the crowd next.
"In June, when we have graduation, Big Bend is going to graduate our first class of bachelor's degree-prepared students," Thompson Tweedy said. "That particular degree came about by the vision and the work of individuals in this community who saw a need and brought it to fruition. And now, we're going to be putting out our first class of graduates. I can't tell you how proud I am of this institution, this college."
Thompson Tweedy then introduced the evening's keynote speaker, BBCC alumnus Ricardo Ruiz. Ruiz, who grew up in Othello, is the author of "We Had Our Reasons," a collection of poetry in both English and Spanish about the lives of Mexican workers in Eastern Washington.
Ruiz took the microphone and addressed the room as dinner was ending.
"I'm Mexican. We're loud. We love to eat together," he said.
He read the audience a poem from "We Had Our Reasons," then spoke about his journey from migrant worker to published poet.
"Like many families in our community, my parents worked tirelessly to provide for their family," Ruiz said. "However, I lacked direction and struggled to envision the possibilities for my life. I made poor decisions, and eventually dropped out of high school, coming to Big Bend and getting my GED. I found myself on a path that led to incarceration. In 2003, I briefly attended Big Bend for one quarter, where I failed every class except for bowling."
The pivotal moment in his life came when he joined the Army, Ruiz said. There he learned toughness and resilience, he said, and also, through the deaths of two friends on the battlefield, the sacredness of life. Ruiz served seven and a half years, he said, including two deployments to Afghanistan.
"In my time overseas, I suffered several physical injuries, having been involved in three different IED attacks, and more gunfights than I can count," Ruiz said.
He returned after his discharge in 2016, Ruiz said, with a different perspective on life.
"I was excited to come home," Ruiz said. "I was excited to eat my mom's menudo and Mexican food; I was excited to be back in the sun of the 509. I was a completely different person, though, from the one that I was when I left. I now had a global perspective, and a completely different outlook on life, relationships and hardship. How do you reenter regular normal life after something like that?"
The answer was in education, Ruiz discovered. Big Bend offered him a haven, he said, a soft landing back into the community. He credited Dr. Allison Palumbo, his English instructor at Big Bend, with giving him an outlet for his emotions and encouraging him in his writing.
"As a kid, I had no first language," Ruiz said. "I can say that I've never had a conversation with my mom in English. I've always struggled with grammar and syntax. I failed every writing class that I had in high school. It was part of the reason why I dropped out, because I felt I couldn't write. Dr. Palumbo changed that for me. Big Bend changed that for me."
Ruiz earned his associate's degree in business and accounting, and then transferred to the University of Washington to earn a bachelor's in English creative writing.
"Throughout my journey, I owe a debt of gratitude to the launching pad that Big Bend is providing," he said. "I was a recipient of one of those scholarships, as a nontraditional student. The scholarship I received while at Big Bend played a crucial role in my success. (It) allowed me to focus on my studies and eased my transition from the military … If it weren't for the supportive community at Big Bend, the financial assistance from the scholarships, I might not be standing here today."
Ruiz is paying those gifts forward now, he said, teaching classes for veterans, incarcerated youth and migrant children.
"I can truly say I am living my life's purpose," he said.
"He (Ruiz) started in our English language acquisition classes," Thompson Tweedy said. "Imagine what that must be like, to be in a place where you don't know the language that well. You come to learn the language through classes at a college. You go on to continue your education, maybe get a GED along the way. Maybe go on to get your associate's degree and then go on to get your bachelor's degree. That's what Big Bend does for students. And that is the effort that you are here to support tonight."
R. Hans Miller contributed to this story. Joel Martin can be reached via email at jmartin@columbiabasinherald.com.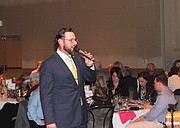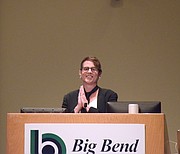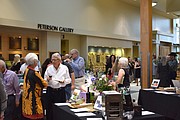 Recent Headlines
---