Ritzville mayor, Lind council races attract multiple candidates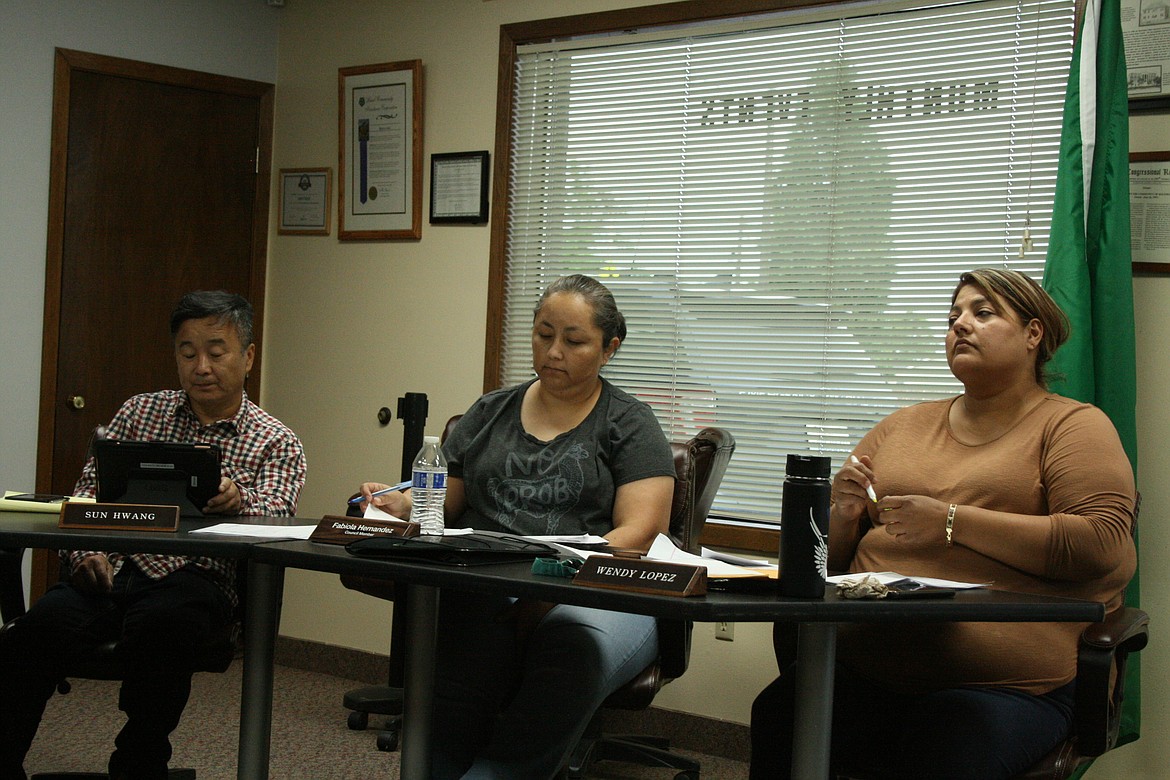 Mattawa City Council member Fabiola Hernandez, center, will face a challenger for her seat in the November general election. The filing period for city, school board, fire and hospital district and other offices was last week.
File photo
by
CHERYL SCHWEIZER
Staff Writer
|
May 24, 2023 1:20 AM
RITZVILLE — The mayor's job in Ritzville, Ritzville City Council and Lind Town Council positions will be on the August primary ballot, some having attracted five candidates. The filing period for elected offices open in 2023 was last week.
The two candidates receiving the greatest number of votes in the primary will advance to the general election in November.
The candidates for Ritzville mayor are Scott Yaeger, Cory Bartlett, Jack Curtis, Glen Stockwell and Keanu Niezwaag. They are competing to replace incumbent Linda Kadlec, who did not file for reelection.
Lind Town Council member Myra Horton filed for reelection, and will have four challengers for her seat. They are Heather Reed, Richard Baldwin, Jamie Schmunk and Christopher Olson. Lind council incumbent James Dworshak also faces four challengers, Denise Snead, Briana Osborn, P.J. Jacobsen and Jim Weidemann.
One at-large seat is open on the Ritzville City Council; an at-large position means the person elected can live anywhere in town. Incumbent Marsha Smith filed for reelection and attracted four challengers, Jen Verhey, Gregory Granger, Dan Peters and Charles F. Jingling.
The remaining seats on the Ritzville council are divided into wards, meaning candidates must live in a designated area of town. Dede Boyer, the incumbent in Ward 1, will have two challengers for her seat, Jessica Quinn and David Dahill. That race too will be in the primary.
Other seats in Adams County and nearby sections of Grant County attracted multiple candidates but not enough to qualify for the primary ballot. They will be contested in the general election.
Eugene Bain and Darryl Barnes will compete for a seat on the Othello City Council, replacing Jon Erickson, who did not file for reelection.
Washtucna will have a new mayor. Brett Guske and Carisha Smith will compete for the job being vacated by Brian Hille.
Mattawa Mayor Maria Celaya will face a challenger, Jaime Gutierrez, for her job. Incumbent Fabiola Hernandez has a challenger, Amanda Havens, for her seat on the Mattawa City Council.
Two incumbents will be challenged for their seats on the Othello School Board. Incumbent Kelli Camp will face Aaron Gerber, and Thalia Lemus-DeLeon is being challenged by Isauro Pruneda Jr.
There will be two contested races for the Lind School Board in November. (Lind has a combined district with Ritzville but a separate school board.) Rosemary Elkington and Breanne Williamson will compete for one of the open seats, vacated by Jim Weidemann, who filed to run for the Lind town council. Incumbent Kevin Starring is being challenged for his school board seat by Vernon Shepard.
All three incumbents on the Odessa School Board attracted challengers. Ed Diefe will be challenged by Zach Schafer, Carmen Weishaar by Amanda Wallace, and Chris Crossley by Cory Cramer. Incumbent Patricia Walker will be challenged by Ciera Valdez for a seat on the North Franklin School Board (Connell).
Homer Montemayor and Owen Olsen filed for the open seat on the Port of Othello commission. Incumbent Ken Schutte did not file for reelection. Riley Hille and Guillermo Mendez filed for an open seat on the East Adams Rural Healthcare commission. The position was empty at the time of filing.
Cheryl Schweizer can be reached at cschweizer@columbiabasinherald.com.
Recent Headlines
---