Learning to fly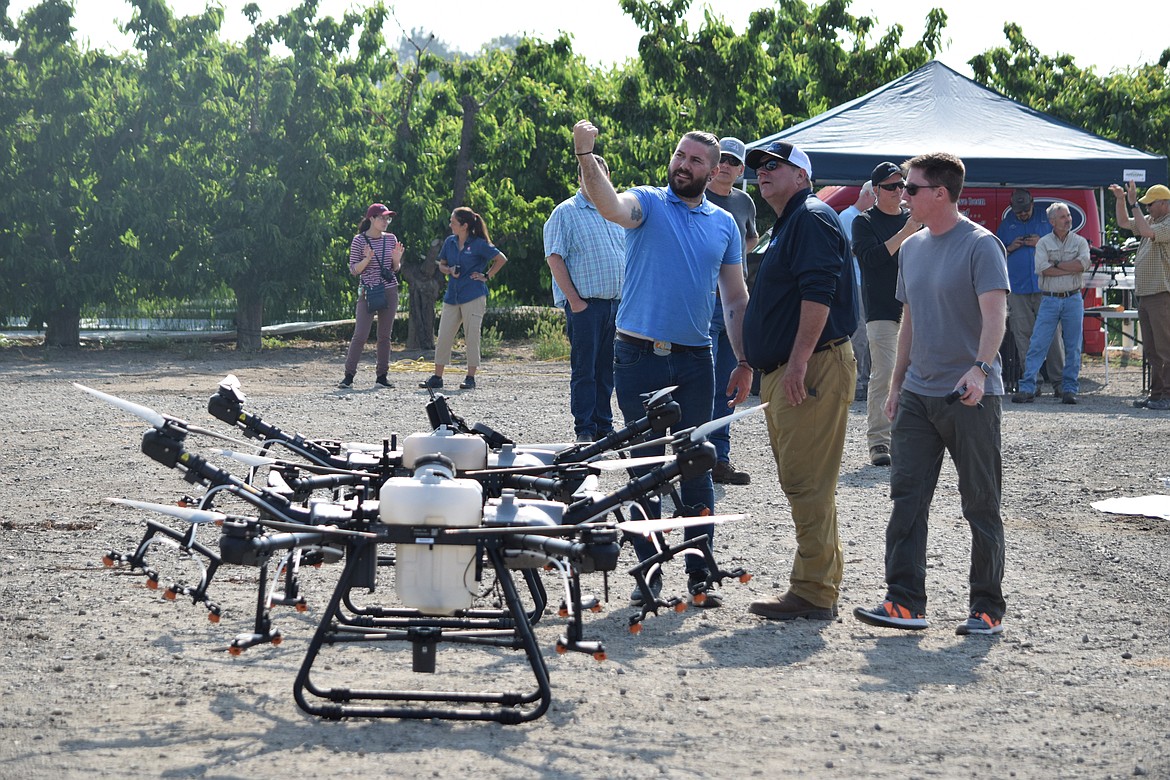 Charlie Lautenbacher (in light blue shirt), a drone pilot for Altitude Agri Services, talks with company owner Kurt Beckley as they stand over two of the company's DJI Drones' T-30 sprayer drones during Washington State University's Spring Drone Day at Hayden Farms north of Pasco.
Charles H. Featherstone/Columbia Basin Herald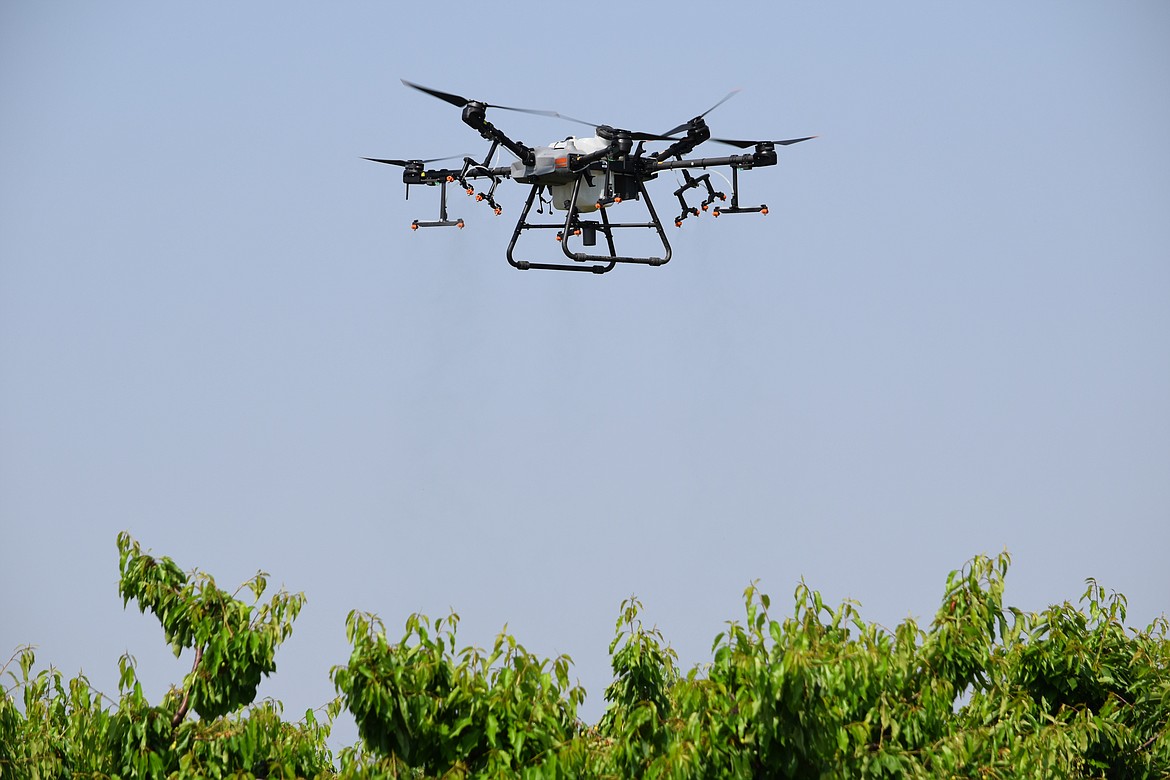 A DJI Drones' T-30 owned and operated by Altitude Agri Services hovers as it sprays a row of cherry trees with water as part of a demonstration of its capabilities during WSU's Drone Day event last week.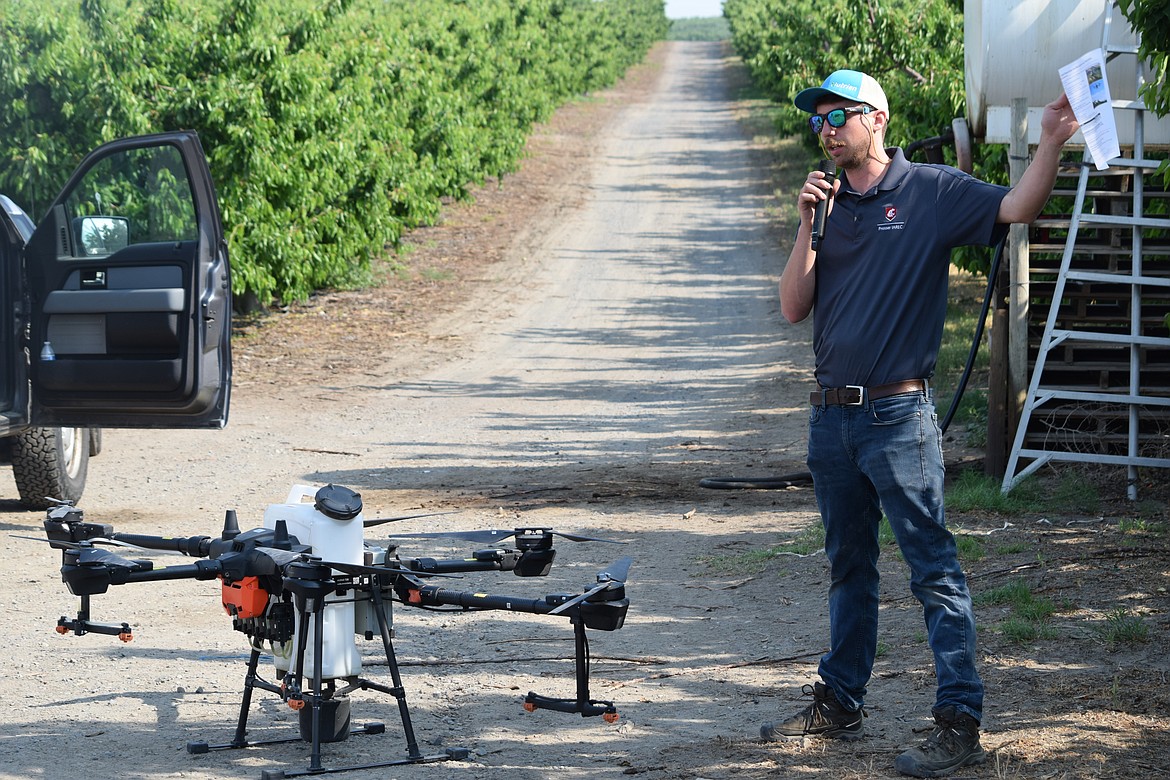 Washington State University smart farm specialist Jake Schraeder says it's easy to learn to fly drones. "Any kid who grew up playing video games would get it pretty quickly," he said during WSU's Drone Day demonstration last week at Hayden Farms near Pasco.
Previous
Next
by
CHARLES H. FEATHERSTONE
Staff Writer
|
May 24, 2023 1:00 AM
PASCO — It's not too hard to learn to fly a drone, according to Washington State University smart farming expert Jake Schraeder.
"Any kid who grew up playing video games would get it pretty quickly. It's fairly intuitive," Schraeder said on a recent Friday in a cherry orchard north of Pasco.
"The kids, when they crash, they can start their game over," responded orchard owner Denny Hayden, pointing at one of the larger WSU drones sitting on the ground near Schraeder. "How much are those?"
"Those? Maybe $15,000 with a university discount," Schraeder replied.
While Schraeder didn't show off any of the WSU drones — or his flying skills — at the WSU Spring Drone Day this hot Friday morning, some of the other participants did. Organized and sponsored by WSU Extension, the Washington Tree Fruit Research Commission, and AgAID Institute, an agricultural technology research initiative based at WSU, Spring Drone day brought interested growers together with Richland-based Altitude Agri Services, Cle Elum-based Ag Drones Northwest, Union Gap-based G.S. Long Company, and Issaquah-based Tyton Aviation to the Hayden Orchard to show off what their machines can do.
"We have been doing drone workshops and data analytics and all those things, but because of COVID we stopped," said Lav Khot, head of WSU's AgWeatherNet and a specialist in precision agriculture, which includes the use of drones and other advanced technologies. "And now we wanted to start somewhere. … (We said) let's do this, let's see how much interest there is from growers."
Khot described an agricultural drone as just another piece of farm machinery, one that has the ability to revolutionize agriculture.
"A drone is nothing but a tractor," Khot said. "It's really a platform that you can attach anything to."
Not too long ago, drones were limited to taking pictures and making maps, Khot said. Those were important uses, allowing farmers to use cameras and sensors to create precision maps of their land, soil types, nutrient needs, plant health and even how much water is being used, where it might be needed and where it might be wasted.
However, companies providing drone services — and most are focusing on providing services with drone fleets rather than selling the drones themselves — engage in a lot of trial and error to figure out how else drones are useful in agriculture.
"Turning it into something that really makes sense and fits in our business has been tricky," said Jeff Allen, director of field support and technology for G.S. Long, an agricultural drone service company based in Union Gap with operations in both Washington and Oregon. "You'd look at all the ads, and you'd hear people talk about it, that this is going to revolutionize the industry. And it hasn't. Not yet."
Among the better uses the company has found for its larger drones is the dispersal of beneficial insects like the lacewing in orchards and vineyards, said Aaron Avila, head of growers services for G.S. Long. At the Drone Day event, G.S. Long showed how one of its larger drones dispersed lacewing eggs along with chaff over cherry trees.
"We can get a much more even distribution that doesn't require two hands and we can do it a lot faster," Avila said.
Bill Kuper, founded and chief pilot of Ag Drones Northwest, said most agricultural drones in service right now are made in China by DJI Drones in Shenzhen, China. Most have settings that send them back to their home base when their power gets too low, or if whatever they are dispersing or spraying gets too low as well.
He pointed to a large, six-rotor DJI drone he called a T-30, which refers to the 30-liter tank of liquid the drone can disperse from its collection of attached nozzles and sprayers. Kuper said a drone like the T-30 can fly for anywhere from 10 to 15 minutes, depending on wind conditions and the speed at which it is flying or spraying. A drone like this might cost as much as $30,000, Kuper said, but a fast charger and multiple batteries will help keep the drone in the air as much as possible.
"It's like a NASCAR pit stop," he said. "You land, you fill the tank, you swap the battery at the same time even if the battery has 40% left on it. … With a generator that can fast-charge, you need a 10,000-watt generator; it can recharge them as fast as you use them. And that's the whole key."
Denny Hayden, one of the owners and operators of HaydenFarms, said he opened up his orchard to WSU for the Drone Day demonstration because they've been using drones for five years to deal successfully with codling moths, and found drones an effective way to dry cherries on the tree prior to harvest.
Hayden, however, said he was still a little wary of drones working as well as more tried-and-true methods even as younger people in the orchard operation were pushing for them.
"There's no way you can move as much air as a helicopter can move. And they don't move as much air, but they move it differently," he said.
The demonstration, however, helped him see some potential uses that he hadn't seen before, such as applying pesticides, growth regulators and other specialty chemicals.
"If we could save some time on the tractor seat for our guys," he said. "The economics of that isn't cheap anymore, you know. They're the highest-paid guys on our staff outside the supervisors. So I think there's a real application, we've just got to find them."
Charles H. Featherstone can be reached at cfeatherstone@columbiabaisnherald.com.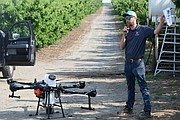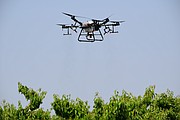 Recent Headlines
---