Joyce Lund
October 11, 1929 – April 18, 2023
Joyce Stella Lund passed away on April 18, 2023, at the age of 93. She was born on Oct. 11, 1929, in Benge, Washington, to Dick and Marion Parish. She was the oldest of four children, having two brothers and one sister. She attended Benge Elementary School and graduated from Washtucna High School in 1948. Joyce grew up in Benge, far removed from today, in a house with no indoor plumbing and a wood stove for heat and cooking. She learned to garden, cook, sew and can and, being the oldest sister, helped to care for her younger siblings. She worked in many different jobs throughout her life, from being switchboard operator out of her home to working summers cooking for the wheat harvest crews.
She married Ralph Lund, a dairy farmer from Benge, on May 18, 1951, and lived at the Lund dairy until 1964, when they moved to Othello, Washington and Ralph became an alfalfa farmer. Together they had a son, Eric Anders Lund, in 1954.
Joyce was a devoted daughter, wife and mother, and was also an accomplished businesswoman. She was a fantastic cook, grew beautiful flower gardens, produce gardens and loved canning her fruits and vegetables. She worked as a bookkeeper and later as a real estate agent. She loved traveling, planning family vacations, camping and fishing, enjoying nature and the mountains, deserts and especially beaches of the western United States.
Joyce also had many other interests outside of work and home. She was very artistic, took painting classes and was a prolific photographer. She was one of the original founders and major driving forces of the Old Hotel Art Gallery, which opened in 1975. She served as the Old Hotel treasurer and board member, and remained involved in it for the rest of her life. She loved birds and was also a devoted supporter of the Othello Sandhill Crane Festival. She had a beautiful personal collection of crane and bird art.
She was the family historian and loved researching genealogy. She maintained extensive files on her ancestors going back to the Revolutionary War and beyond. She enjoyed sharing stories about family history, about what it was like growing up in Benge and all that followed in her life.
She loved helping others and was always available whenever someone needed a hand.
Joyce was dearly loved by her family and well-loved in her community and is greatly missed by those she leaves behind. She was preceded in death by her spouse Ralph and her brother, Barney. She is survived by her brother Paul, her sister Joanne, her son Eric and daughter-in-law, LeAne, two step-grandchildren, four step-great-grandchildren and a large extended family of nieces, nephews and cousins.
Joyce was cremated and her ashes interred with her husband Ralph at Danekas Funeral Home in Ritzville, Washington. A memorial reception will be held at a later date.
Memorial contributions may be made to the Old Hotel Art Gallery or charity of your choice.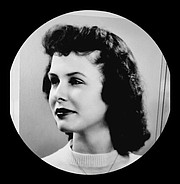 Recent Headlines
---