City seeks port help for water cleanup funds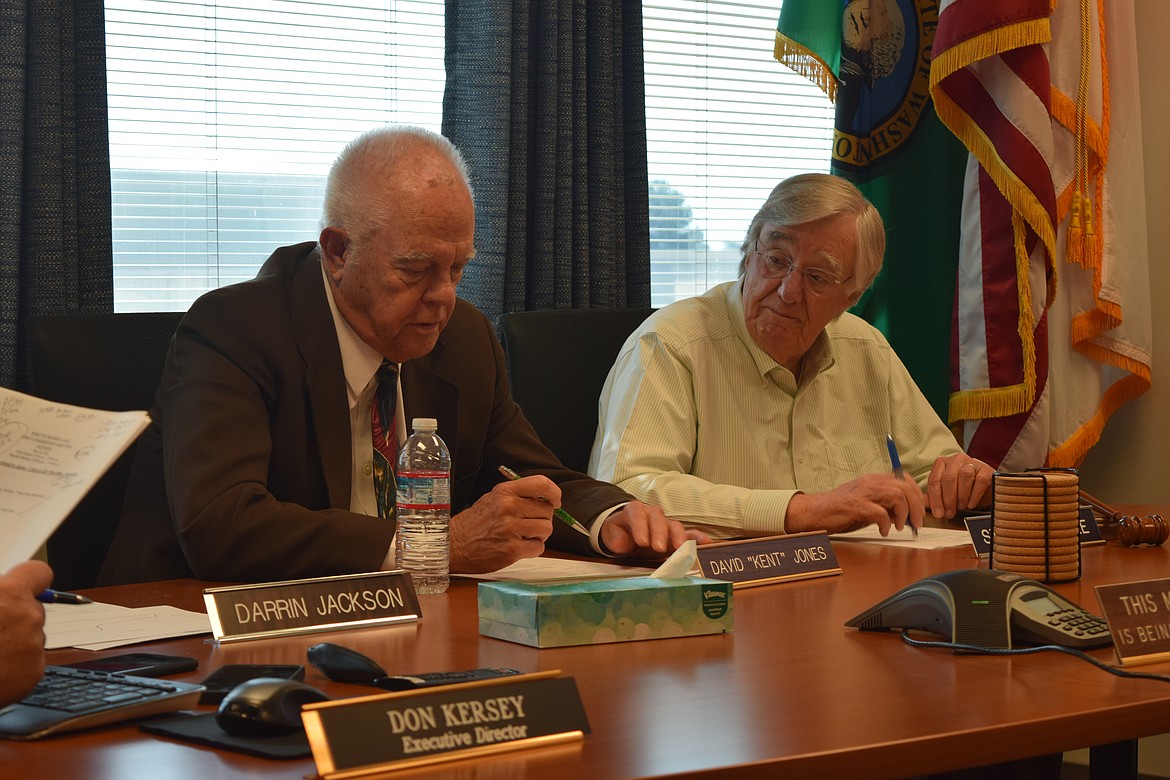 Port of Moses Lake Commissioners David "Kent" Jones and Stroud Kunkle at Monday's port commission meeting.
Charles H. Featherstone
by
CHARLES H. FEATHERSTONE
Staff Writer
|
May 23, 2023 1:20 AM
MOSES LAKE — The city of Moses Lake is looking for assistance from the Port of Moses Lake to lobby for state and federal funding to help deal with the chemical contamination found in three of the city's wells located in and around the port on the grounds of the former Larson Air Force Base.
"As we look at putting in requests to the state and federal legislatures for funding support for treatment, support from the port for these requests is probably among the most important and biggest things you could do for us," said Assistant City Manager Rich Huebner during a port commission meeting on Monday.
Huebner was joined by Moses Lake City Public Works Superintendent Tony Massa and Water Services Manager Chad Strevy. The three briefed Port of Moses Lake Commissioners Darrin Jackson, David "Kent" Jones and Stroud Kunkle and port staff about the situation in the three city wells found to have levels of PFAS chemicals — per- and poly-fluoroalkyl substances used in everything from firefighting foam to non-stick and water-resistant materials.
In March, tests found levels of PFAS chemicals in three of four city wells located at the former Larson Air Force Base above the proposed new standard set by the Environmental Protection Agency of 4 parts per billion.
Currently, the city wells are governed by Washington State Department of Health "action levels" in regard to PFAS chemicals — a limit of 10 parts per billion for perfluorooctanoic acid (PFOA) and 15 parts per billion for perfluorooctane sulfonic acid (PFOS). Currently, the wells meet state standards, but once the new federal standards are in place, they will be out of compliance, Strevy said, adding he expects that will be sometime later this year or early in 2024.
"We're trying to keep those wells offline as long as we can," Massa added.
However, Strevy said, because of last week's heat, which saw temperatures in the Moses Lake area reach the 90s, the city was short on water and had to turn on one of the wells with lower levels of contaminants in order to help maintain water pressure for firefighting and safety equipment.
"We did have some industries north of the Boeing facility that had extremely low pressures, and for safety reasons, we had to turn Well 24 back on. They had safety showers and eye washes that needed pressure. So that's where we're at," Strevy said.
Strevy said that the city needs to study where the chemicals are coming from and if they constitute a plume similar to the plume of trichloroethylene, or TEC, emanating from the old Air Force base.
"We have sampled the wells. The next step is we're working with another engineering firm to possibly start testing ground samples and see if we can find if it's a plume, or a specific site, or if it's widespread," Strevy said. "It's too early to tell."
Strevy said the preferred long-term solution is filtering the PFAS chemicals out of the water, which must be done before the water enters the city's distribution system. He told commissioners treatment would likely cost around $3 million to filter each 1,000 gallons per minute of pumping capacity.
Huebner said the city is also looking at a regional treatment center for all of its wells around the Port of Moses Lake. However, that option would be significantly more expensive than the roughly $12 million to have individual filters at all four wells on the site of the old base.
"We've heard estimates potentially as high as $45 million for such a facility, and we actually put a request to the federal government for that," he said. "We have not heard back on it yet."
Frank Chmelik, an attorney with Bellingham-based CSD Attorneys at Law who represents the port, said the port has had some success suing former insurers over groundwater contamination in the past, noting that insurers can be compelled to cover remediation and cleanup costs as part of their general liability coverage.
"One of the things the city may want to do is go back in your archives and see if you have those policies," he said. "There's enough numbers here that that might be worth thinking about."
Port of Moses Lake Facilities Director Milton Miller wondered if the EPA, which is currently cleaning up the plume of TCE in the groundwater on the southern and western ends of the old Air Force base, would take responsibility for the PFAS cleanup.
"Not currently," Strevy replied.
"I can't imagine the Department of Defense just automatically jumping in there," Commissioner Kent Jones added.
"There's going to probably need to be litigation," Huebner said.
Charles H. Featherstone can be reached at cfeatherstone@columbiabasinherald.com.
Recent Headlines
---